I'm guessing you've arrived here in search of Tampa Bay date night ideas, right? Let us help you out with our expert list of 100 top date night ideas. You can thank us later!
1. Stroll hand in hand along the Tampa Riverwalk
The Tampa Riverwalk is one of downtown's best features. Waterfront views, a wide multi-use trail and plenty of activities along the way make it a one-stop shop for a fun and cheap date night by the water. There's even a new Riverwalk Pass that grants you access to seven iconic attractions along the Riverwalk, to be used in one day or across three days.
2. Tampa EDITION Hotel
The Tampa EDITION hotel is a one stop date night shop. Grab coffee, hit the spa, or totally go for it with an overnight staycation. Dine in one of a myriad of on property restaurants including Lilac, which is one of three Tampa restaurants that recently earned a 2023 Michelin Star. You'll love this gorgeous property.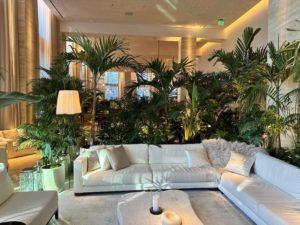 3. Have a romantic picnic in one of Tampa Bay's best parks
Lucky for Tampa locals, there are loads of scenic places for a picnic from the quintessential Curtis Hixon Waterfront Park to more romantic spots like Honeymoon Island State Park. There are plenty of Top Tampa Bay Parks for the Perfect Picnic Date. There are also several fun ways to Plan a Romantic Tampa Bay Picnic for Two, which includes local picnic companies that will do all of the work for you!
4. Soak up the sun at Fort De Soto Park
From renting kayaks to playing on the beach with your four-legged friend, hiking the trails or hopping on the ferry to visit nearby Egmont Key, Fort De Soto Park is ideal for a full-day outdoors date. FYI: Admission is $5.
5. Bike the Pinellas Trail
The 38-mile Pinellas Trail is a former railway that was repurposed as a multi-use trail. Make pit stops to check out the Tarpon Springs sponge docks, and park for a refreshing brew and stroll through hip downtown Dunedin. If you don't have wheels of your own, rentals are available through companies like Kafe Racer in downtown Dunedin. Read our guide to the Best Bike Rides in Tampa Bay for even more ideas.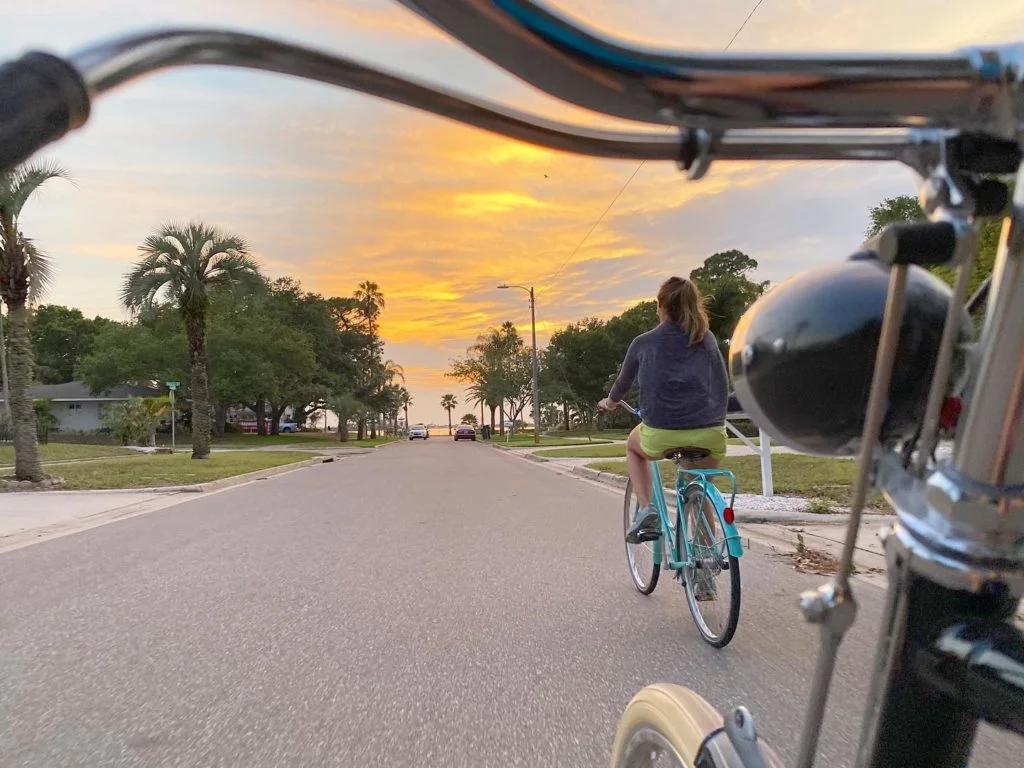 6. Have a legendary date at Bern's Steak House
No list of date night ideas in Tampa is complete without mentioning this historic eatery. In business for more than 60 years, Bern's Steak House is the best place in Tampa for a romantic steakhouse date night. Enjoy top-notch steaks, sip wines from one of the largest wine collections in the world, and finish the night with an indulgent treat in the sultry Harry Waugh Dessert Room. Reservations are a must, and we recommend making them well in advance.
7. Take a cooking class
It's getting hot in the kitchen, baby! Taking a cooking class together is a great way to level up your date nights at home. Our top cooking class picks include The Epicurean Theatre (events with top chefs, Sur La Table in Hyde Park Village and more.
8. Toast to your love at a rooftop bar
Nothing says romance like watching the sun set over the downtown skyline or the ocean. Take the stairs or elevator up a few floors to one of these rooftop bars in Tampa Bay and see the city from a different angle while enjoying a drink or two.
9. See a show at The Straz
Impress your date with tickets to see a Broadway production at The Straz Center. Tampa's top performing arts center features an annual Broadway season plus a lineup of stand-up comedy performances, concerts, opera, and more each season. Their calendar is full of amazing upcoming events.
10. Immerse Yourself in Art at Fairgrounds St. Pete
Fairgrounds St. Pete is an immersive choose-your-own-adventure experience sure to plunge you into a whimsical world of artistic wonder and mystery. The 15,000 square foot exhibit hall in St. Pete is a celebration of all things that make Florida weird, wacky, and wonderful.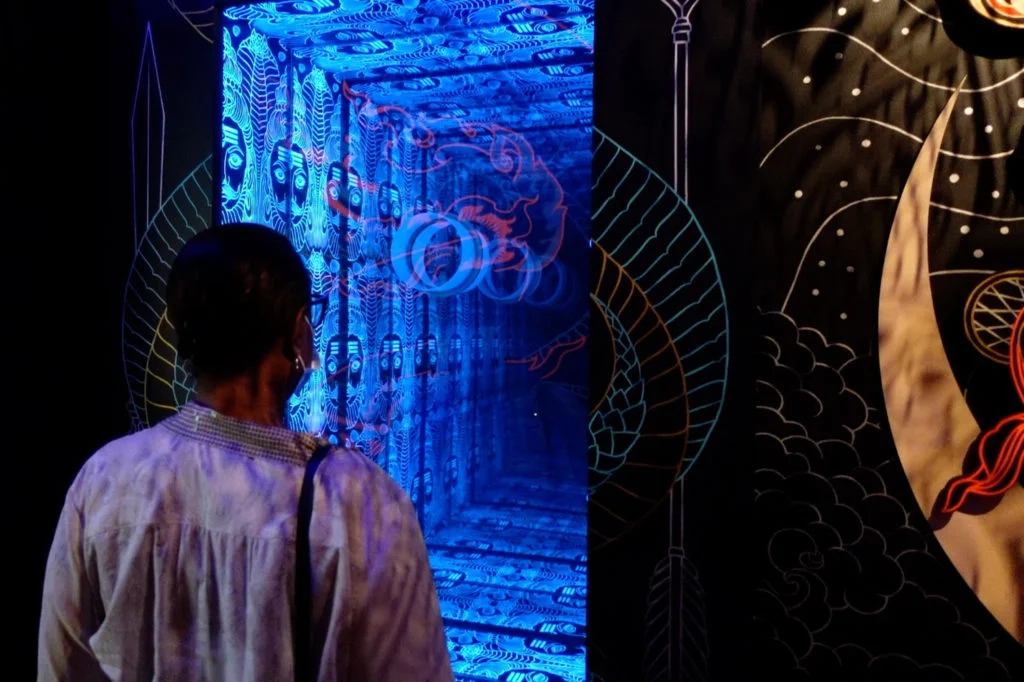 11. Explore the St. Pete Pier
The reimagined St. Pete Pier, situated along the waters of Tampa Bay, is a spacious attraction ideal for picnicking, biking, relaxing, waterfront dining and so much more. Date night highlights include waterfront dining, a rooftop bar, beach area, walking paths, public art and more.
12. Do a progressive dinner at Armature Works
Located in the Tampa Heights neighborhood, Armature Works is a public market and food hall. With a waterfront setting, rooftop bar, multiple food vendors, event spaces and large outdoor areas for eating and mingling, it's the perfect setting for a first date or your 50th. For a memorable date, stop at a different food vendor to pick up appetizers, drinks, entrees and dessert. There are also two great full-service restaurants to choose from.
13. Take a sunset cruise
If you really want to wow your date, book a sunset cruise. There are loads of options throughout Tampa, but our top picks for date night include the Yacht Starship which includes dinner and open bar and Island Ferry's St. Pete Beach Sunset Cruise. The sunset cruise is a private experience limited to no more than 6 people. You'll enjoy dolphin sightings along with a stunning Gulf sunset.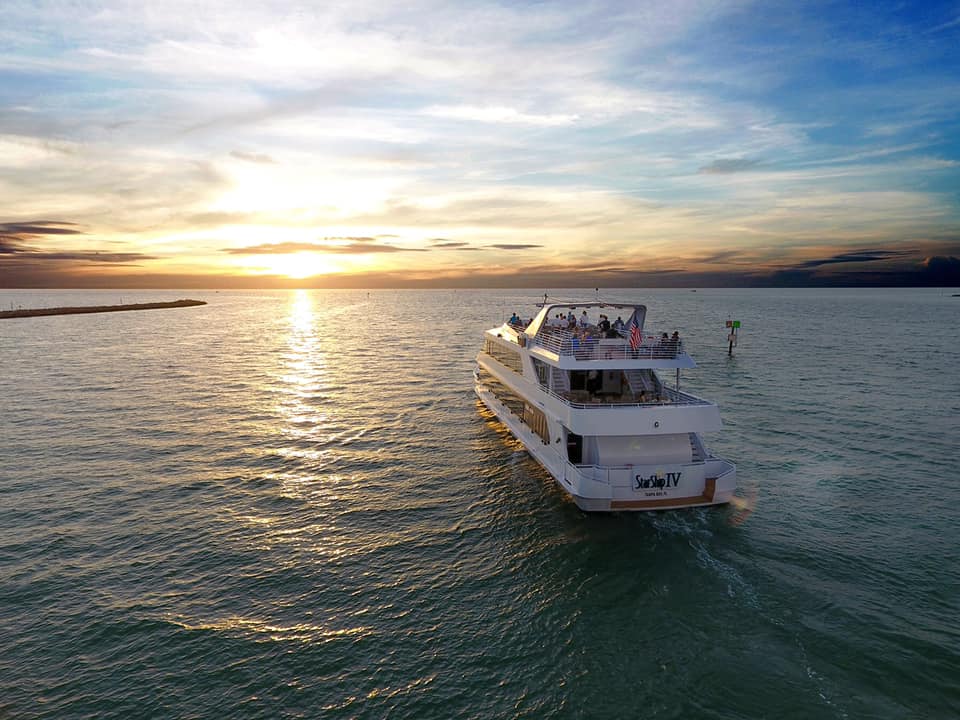 14. Pick up provisions at a local farmer's market then cook dinner together
Whether you're seeking honey produced in nearby apiaries, baked goods lovingly prepared in nearby kitchens or greens grown in nearby fields, this guide to our local farmers market scene will help you dive into close-to-home cuisine in and around Tampa Bay.
15. Get day passes to a local resort
ResortPass is a unique website that allows you to purchase day passes to local resorts without having to stay overnight. Enjoy special perks like pool and beach access, poolside food and beverage service and more. There are plenty of participating Tampa Bay hotels and resorts to choose from.
16. Treat yourselves to a couples massage
Several Tampa Bay area spas offer luxurious and unique options for couples. Book wine-inspired treatments at Spa Evangeline, unwind with a custom playlist and feel the bass through the massage table at The Rock Spa & Salon, or release stress together side by side in a spa suite at Spa Jardin.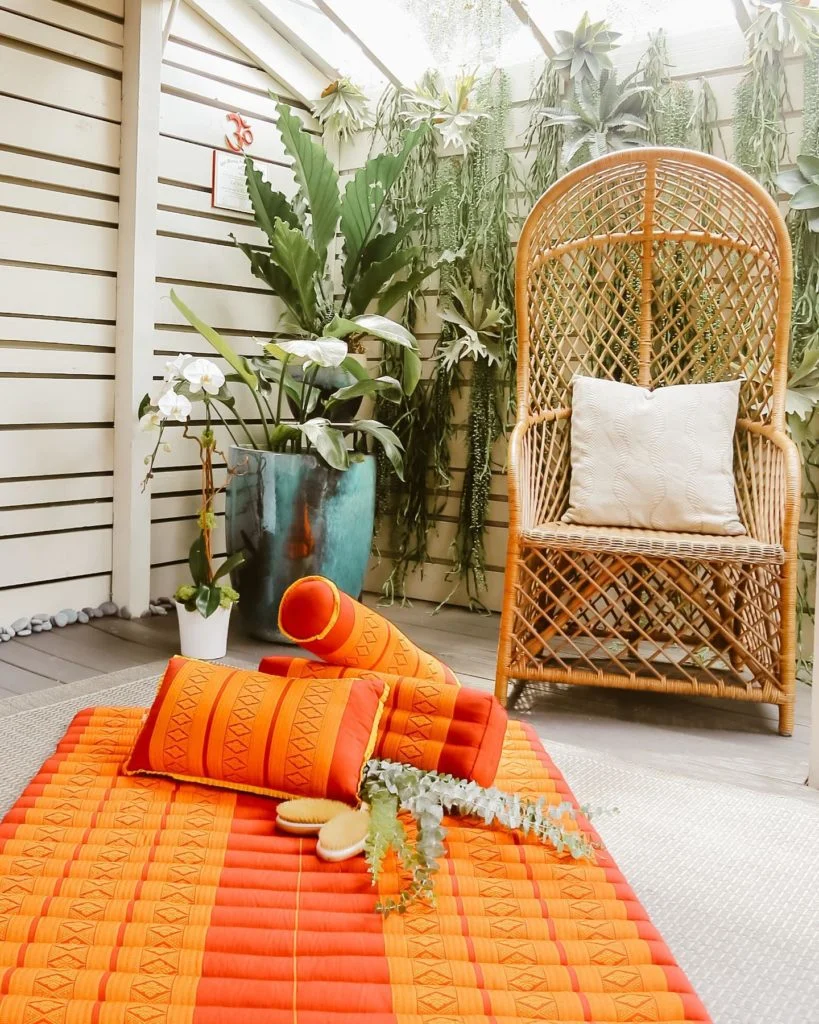 17. Spend the day (or weekend) on Anna Maria Island
Calm turquoise water, white sandy beaches, homemade ice cream, and a quaint beach town are just a few of the things you'll find on Anna Maria Island, a 7-mile island about an hour south of Tampa. Plan a romantic getaway with our guide to Three Perfect Days on Anna Maria Island, which details where to stay, activities, and top spots to dine and drink.
18. Splash and play in one of Florida's springs
Hop in the car and arrive to scenic cold springs in as little as an hour. Nearby springs include Weeki Wachee Springs State Park (home of the world famous mermaid show), Crystal River National Wildlife Refuge (for spotting manatees), Rainbow Springs State Park (for an epic day floating down the river in a tube) and many more.
19. Cuddle up and watch a movie at a local drive-in movie theater
For a nostalgic date, pack snacks and park the car for an old school date night at the local drive-in. Multiple drive-in movie theaters are accessible from Tampa including Ruskin Family Drive-In and the Silver Moon Drive-In in Lakeland, just 30 minutes away. Admission is affordable at $6-$7/adult for both movies being screened that evening.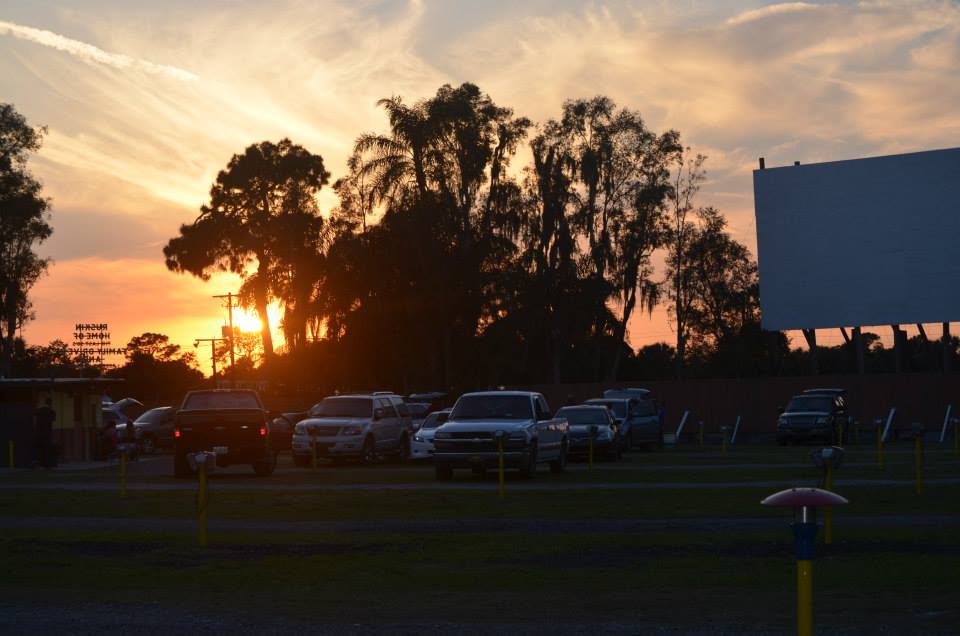 20. Listen to live jazz
Break the monotony of dinner and a movie with some good music and great company while checking out our local jazz scene. There are several great places in and around Tampa Bay where you can spend your date night listening to live jazz.
Bonus Idea
Spice things up with the #1 home date night program.
Date Night Dancing is an easy to follow program that will have any couple laughing, loving and most importantly dancing together in no time. All from the comfort of your own home!

**NO dance experience needed
**Perfect for anyone with "two left feet"
**Fun & entertaining lessons
**Universal moves taught: dance to any music
**Instant streaming access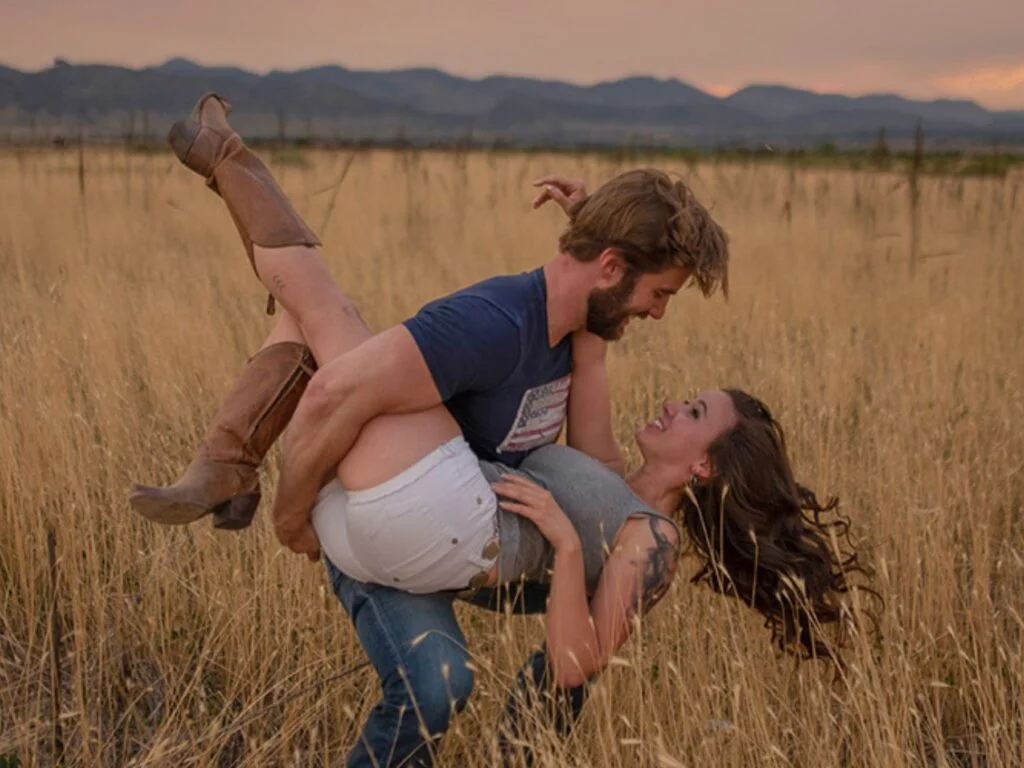 21. Spend the afternoon at The Dalí
Experience the awe-inspiring surrealist works of Spanish artist Salvador Dalí at The Dalí Museum in St. Pete. The outdoor garden, waterfront setting, artful café and impressive collection make for an awesome day date sure to spark creativity and connection. Be sure to check out the new Dali Alive 360 in the brand-new dome. 
Image credit: Stephanie Patterson
22. Go on a mural tour in St. Pete
St. Pete's colorful murals are a fixture of the vibrant city, adding pops of color and interest to local buildings. Map out a route for a self-guided tour of your favorites using this handy map or join an official St. Pete Mural Tour. On the guided walking tour, you'll visit 30+ murals while learning more about the artists who created each.
23. Explore some of Tampa Bay's best kayaking spots
Kayaking is pleasurable year-round in Florida, but especially during the breezy, cooler months of spring and fall. Paddle among dolphins and other wildlife in a clear kayak at Shell Key Preserve, weave your way through mangroves in Lido Key and Weedon Island Preserve, or visit a sandbar and paddle out into the gulf from Longboat Key. Our list of 10 Great Spots to Go Kayaking in Tampa is full of ideas for an active date.
24. Take a hike at a local nature preserve
For a totally free date, visit a nearby nature preserve to climb a lookout tower, search for local wildlife, stroll on a boardwalk or hike quiet trails. Weedon Island Preserve features a multiple trails and observation towers, plus scenic boardwalks for walkers and paddling trails for kayakers. Also check out the Lower Hillsborough Wilderness Preserve, which includes 60 miles of hiking trails and loads of wildlife.
25. Go horseback riding on the beach
If your idea of romance includes galloping along the beach with your love on horseback, Florida Beach Horses offers this unique beachfront experience for horse lovers. For extra romance, opt for a sunset tour. The Real Beach Horses also offers beachfront rides in the same area.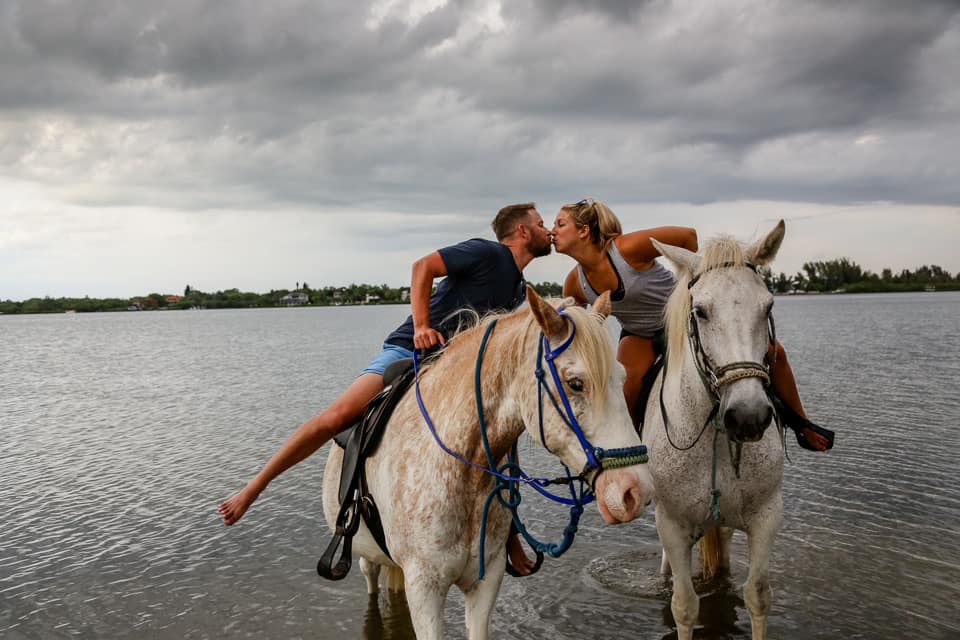 26. Try zip lining
From aerial adventure courses to dedicated zip line parks, there are a handful of awesome places to soar above the trees throughout Tampa Bay. Empower Adventures in Oldsmar is one of our favorites, thanks to the 2.5-hour Zip Line Adventure. Highlights include 5 zip lines, a suspension bridge and aerial challenges. There are Five Places to Go Zip Lining in Tampa Bay and Beyond that we recommend for an adventurous date!
27. Visit flora and flamingos at Sunken Gardens
Get lost in a botanical oasis together while walking hand in hand through St. Pete's lush Sunken Gardens. Besides the gorgeous plants lining the paths of the 100+ year old park, the resident flamingos are a main draw.
28. Get up close and personal with animals at ZooTampa
Enhance your next date day at the zoo by adding on an animal encounter experience. Get backstage access to the zoo's Manatee Critical Care Center, meet penguins or a koala, feed an Indian rhino, and more.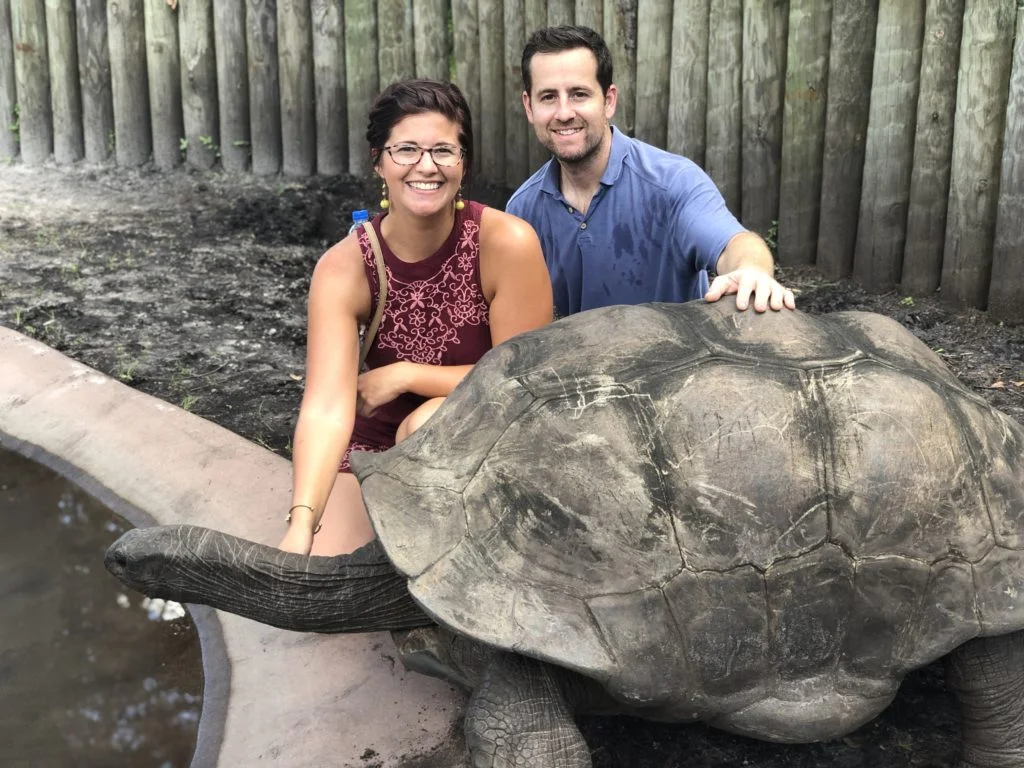 29. Rent a mini powerboat
Did you know you can rent a mini powerboat for two to cruise Tampa's waterways? Riverwalk Boating Company rents these cute two-seaters. Pick up your rental along the Riverwalk and then head out on a self-guided adventure in any direction you choose. The boats go between 10-20mph, so plan for a relaxed trip on the water with your love.
30. Join the daily sunset celebration at Pier 60
A rite of passage for locals and visitors alike, the lively and iconic sunset celebration at Pier 60 in Clearwater is a fun way to end a perfect day at the beach. The daily festival kicks off a few hours before sunset and lasts several hours after the sun has dipped below the horizon. After a romantic stroll on the beach towards the pier, sit and stay awhile to interact with street performers.
31. Rent paddleboards
For fans of water sports like kayaking, stand-up paddle boarding (referred to as SUP) is an equally fun activity that's surprisingly easy to pick up, even as a first timer. Tampa Bay SUP offers rentals, lessons and eco-tours from their location along the Tampa Riverwalk downtown. Urban Kai also offers rentals plus fun tours through Downtown Tampa or in dense mangroves.
32. Plan a Tampa Bay Lightning game date
If you and your loved one are Lightning fans, or simply love the game of hockey, there is no better date night than a Tampa Bay Lightning Game at the infamous Amalie Arena.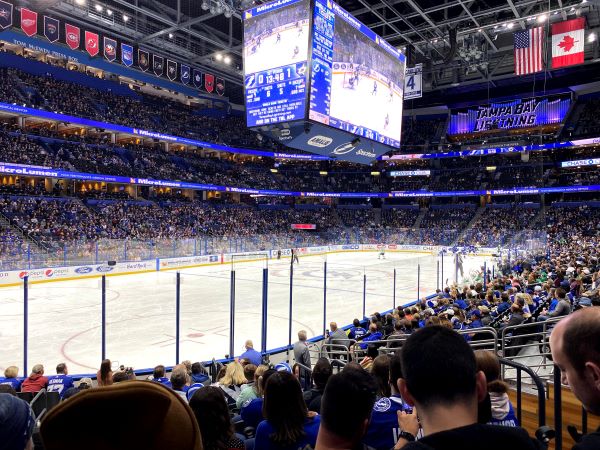 33. Attend Gasparilla together
You can't call yourself a true Tampa local until you've experienced your first Gasparilla. This annual festival is a rite of passage and draws a huge crowd every January for the epic Gasparilla Pirate Fest, which includes the legendary Gasparilla Invasion and Parade of the Pirates. This is one event you don't want to go into without a solid plan, so keep our Ultimate Gasparilla Guide handy.
34. Complete an Escape Room
Put your problem-solving skills to the test as you work to solve mysteries and decode clues to escape your themed room before your designated time is up. Our Guide to Local Escape Rooms includes six mind-bending options.
35. Hang out at a Tiki Bar
Immerse yourself in paradise at one of Tampa Bay's authentic tiki bars. Our picks include tiki-inspired and authentic tiki bars, along with a list of tropical and beach bars worth a visit.
36. Laze the day away at a local Lagoon
Epperson Lagoon is an over the top, 7-acre manmade lagoon located in Wesley Chapel and now has two more sister properties – Southshore Bay in Wimauma and Mirada in San Antonio. All three are open to the public by way of day passes. You can upgrade your experience by renting a private cabana or paddling the lagoon on a paddle board or in a kayak. Did we mention there's a swim-up bar?
37. Sip bubbly at the Champagne Bar and explore Oxford Exchange
Sip bubbly at Oxford Exchange's bright and cheery Champagne Bar. Located within The Shop, you can slide up the bar to order wine, champagne and champagne cocktails (we love a good French 75). Sip while you shop, then continue on for a meal at Oxford Exchange's restaurant and pick up a new book to dive into together at the bookstore.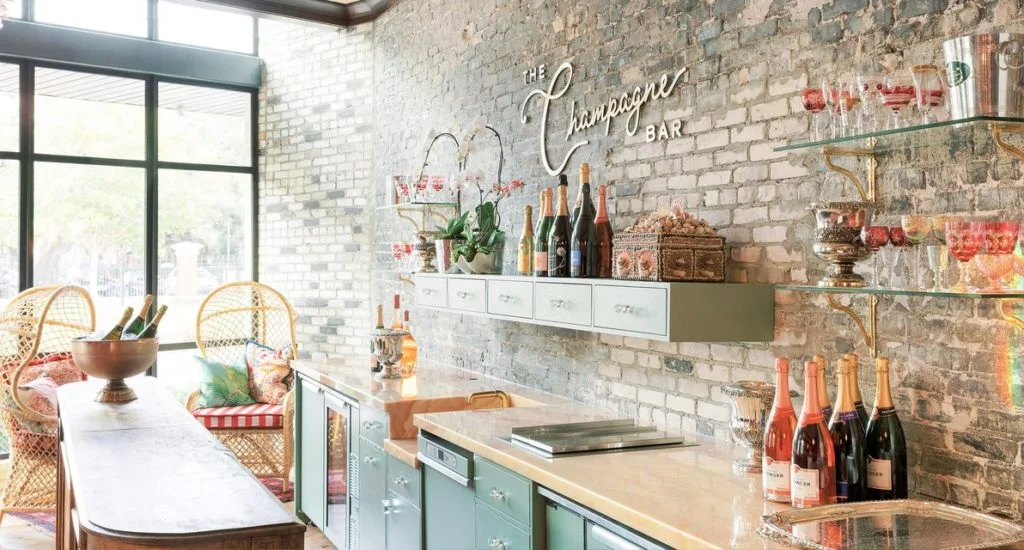 38. Play bar trivia
Inject a bit of healthy competition into date night by playing bar trivia. There are so many great places around the Tampa Bay area that offer weekly challenges and theme nights. Bonus – most of them include prizes for the top winners, so brush up on your general and pop culture knowledge!
39. Plan a French-inspired date
From French restaurants and bakeries to ways to immerse yourself in local culture, treat the Francophile in your life to a French-inspired date night in Tampa Bay with our tips.
40. Join an outdoor community fitness class
Work up a sweat together at one of Tampa's notable outdoor fitness events. Yoga in the Park is a free weekly class at Curtis Hixon Waterfront Park every Sunday with a class led by local studio Yoga Loft. You can also flow with fellow yogis at Armature Works during weekly yoga sessions or in Hyde Park select days during Hyde Park Sweat.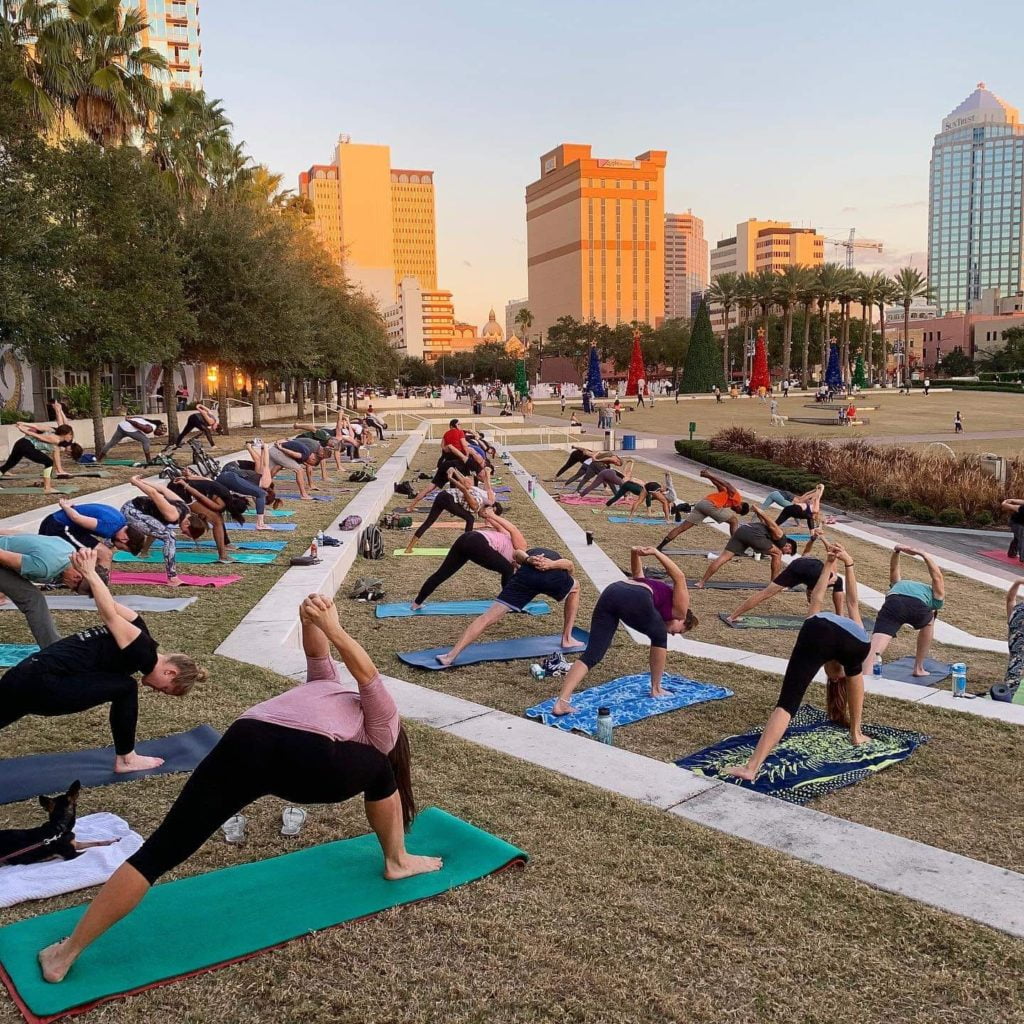 41. Cheer on the Tampa Bay Rays
Calling all baseball fans! Enjoy a classic ballgame date cheering on the Tampa Bay Rays in St. Pete.
42. Join a local food tour
Get a taste for Tampa Bay by joining a knowledgeable guide for a food tour through various Tampa Bay neighborhoods. From Ybor City to St. Pete and Safety Harbor, there are several Food Tours in Tampa Bay that offer affordable options for your next foodie date.
43. Go on a booze cruise with Kraken CycleBoats
If a booze cruise if your idea of a good day, book a trip with Kraken CycleBoats, frequently spotted along the Hillsborough River. You will have to do a little work, pedaling the boat to earn your sips. You'll need to supply your own alcohol while your captain supplies the cups and ice. The tour also includes a bit of sightseeing as you paddle past the Tampa Riverwalk, Armature Works, Curtis Hixon Park and more.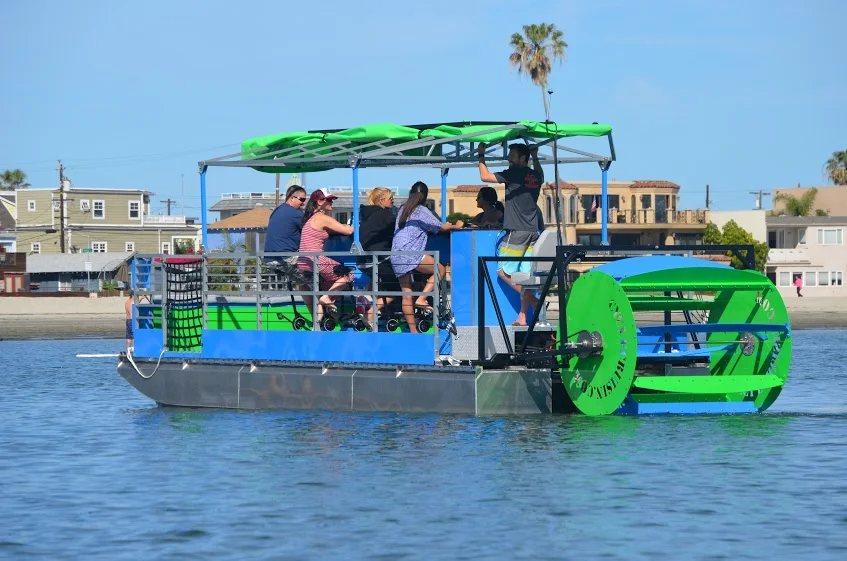 44. Give axe throwing a try
Axe throwing is one of the latest out of the box experiences to take Tampa by storm. Get in touch with your adventurous side by visiting one of Tampa's axe throwing venues or go all out by visiting a smash room where you can smash and break things, sans guilt.
45. Go on a u-pick date to pick fruits and flowers in season
During the winter and spring months, you can pick your own berries, fruits and flowers at multiple farms throughout the Tampa Bay area.
46. Spend the day at Honeymoon Island
Situated off the coast just minutes from Dunedin, Honeymoon Island State Park offers natural beaches, crystal clear waters, spectacular sunsets and unspoiled coastline dotted with unique shells. Besides lazing on the beach, there are kayak rentals and nature trails to explore. For an added fee, you can hop on the ferry to secluded Caladesi Island for more fun in the sun. Admission to the park is $8 and the ferry to Caladesi Island is $18/person.
47. Have dinner at a local wine bar
Wine and dine your date, literally, by hitting up a cozy local wine bar for your next night out. Sip on a glass of your favorite red or white wine while sharing a cheeseboard and indulging in light bites. Get inspired with our picks for the Best Wine Bars in the Tampa Bay Area.
48. Explore Ybor City
Take a scenic stroll through the Ybor City Historic District for a fun way to spend an afternoon. Enjoy a free visit to Jose Marti Park and the Oakwood Cemetery or peruse the local art galleries. And for a nominal fee, you can stop by Ybor City Museum State Park housed inside a historic bakery from the 1920s. You'll also be able to check out the museum's cozy Mediterranean-style garden. Here are some more Ybor City Date Night Ideas.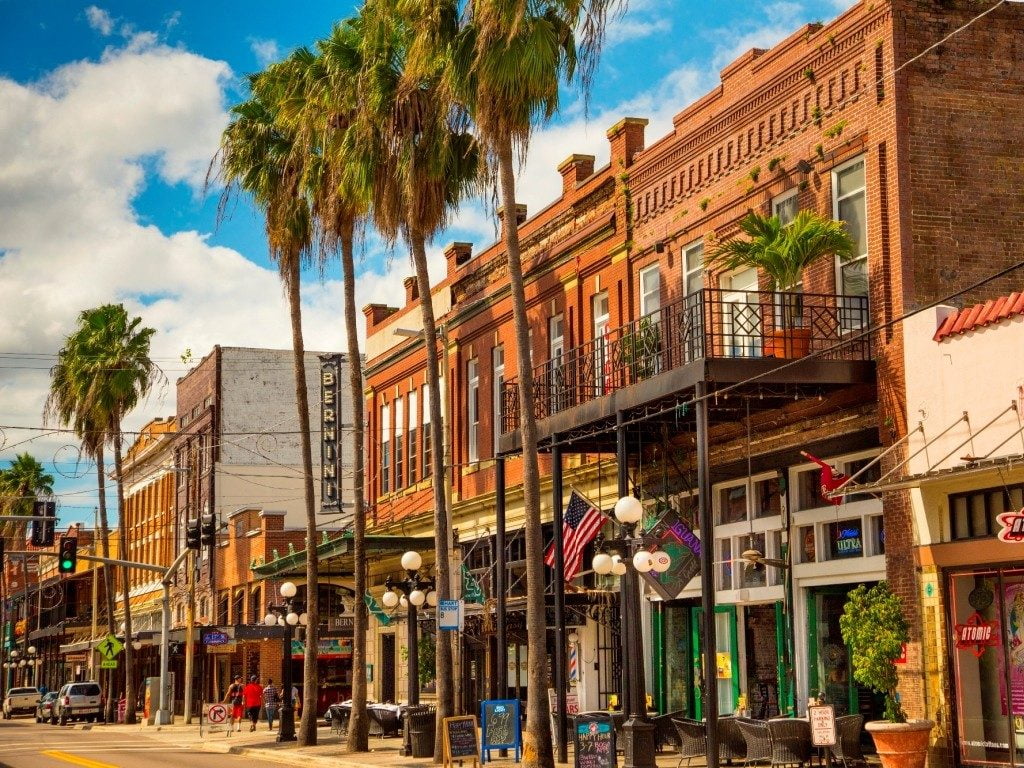 49. Hang out at Sparkman Wharf
Sparkman Wharf is a one stop shop for date night with multiple dining options, a biergarten, and outdoor activities right along the water. Make it a complete date by visiting during a special event, including movies on the lawn select nights, live music, trivia and more. Be sure to stay up to date with their event calendar.
50. Relax at Marie Selby Botanical Gardens
Situated along Sarasota Bay, Marie Selby Botanical Gardens' Downtown Sarasota location boasts 15 acres of lush gardens to discover. Walk the mangrove boardwalk, marvel at the large banyan trees, and take in the waterfront views. The gardens are open daily from 10am-5pm.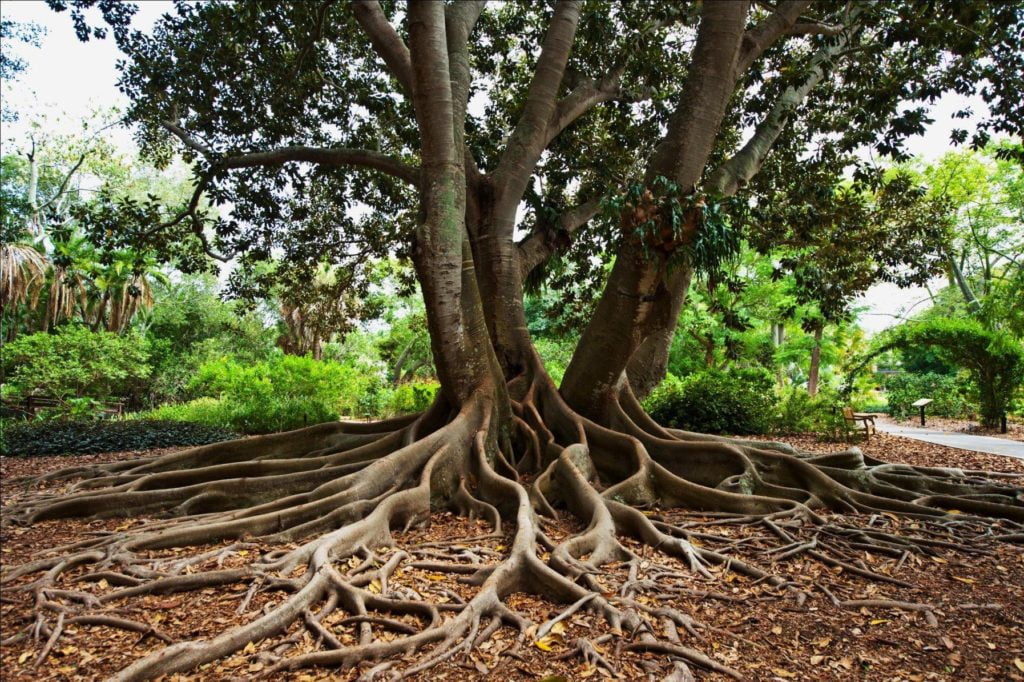 51. Sip brews at a local craft brewery
Discover new locales and sip local brews by visiting one of Tampa Bay's dozens of breweries. We've listed out a few of our favorites here. We've also got your covered with our neighborhood brewery guides:
52. Kayak or Swim with manatees at Crystal River
Crystal River is the only place in the entire country where you're legally allowed to hop into the water and come face to face with manatees as a passive observer–without touching the animals which IS against the law. There are dozens of tour companies offering tours including the Plantation on Crystal River (also try swimming with manatees), River Ventures and Manatee Tour and Dive. While manatee season lasts from mid-November to March, it's best to go during the colder months.
53. Join a Tampa tour
Whether you want to check out local art, cruise around on a bike while learning something new, or join a food tour, Tampa has endless tour options for couples. Take your pick from Tampa Downtown Partnership's awesome list of local tours.
54. Check out free planetarium shows
Stargaze with someone special select Friday nights at St. Petersburg College's Planetarium & Observatory. When school is in session, the Planetarium opens up to the public for Friday night shows at 7pm and on Thursdays at 8pm. Admission is on a first-come, first-served basis, so make sure to arrive early to snag a seat. After the show, head up to the rooftop observatory to gaze at the night sky through the 20-inch reflecting telescope.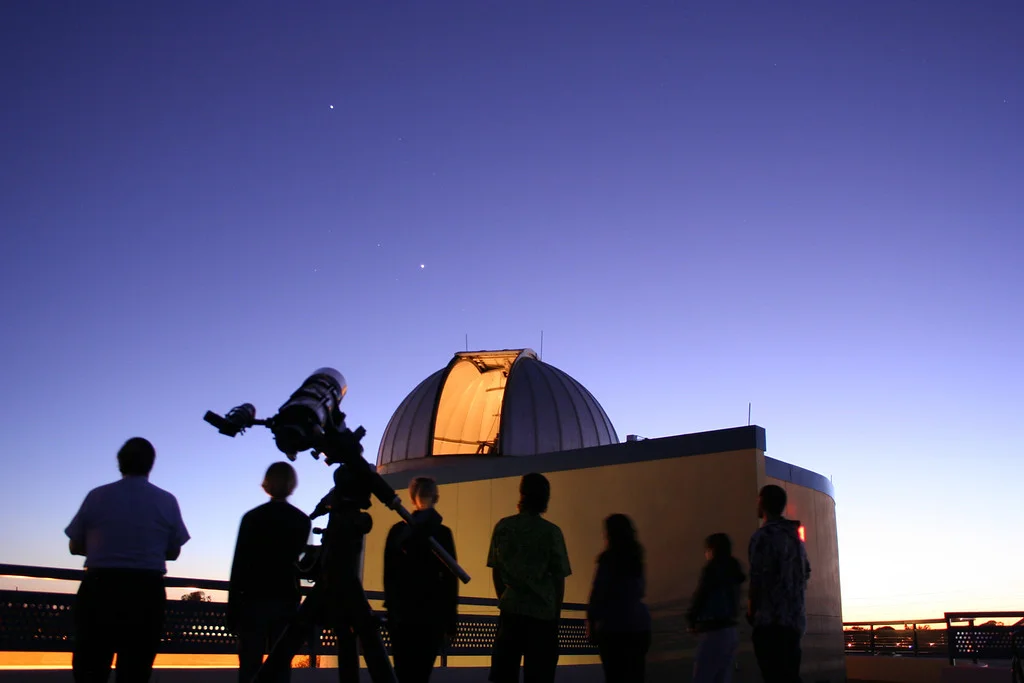 55. Midtown Tampa
Tampa is booming with new development, and Midtown Tampa is just one great example. It seems a new restaurant or shop opens every month. Go extra high end with dinner at Ponte, or keep things low key with drinks at Aloft's Sal Y Mar rooftop bar. There's takeout, bubble tea, ice cream and so much more.
56. Attend a local street festival or art walk
Each month, a handful of street festivals and art walks pop up all throughout Tampa Bay. Check out St. Pete's Second Saturday ArtWalk for an after-hours visit to multiple art galleries. Or find food truck fare and live music at 3rd Thursday Tampa and peruse goods from local artisans at the Heights Night Market on the 2nd Wednesday of each month.
57. Stroll Florida Botanical Gardens
Fourteen themed garden and natural areas comprise this nature oasis including a butterfly garden, shaded tropical walk, and succulent garden. Couples will love the Wedding Gardens decked out with white flowers plus a jazz garden, rose garden, topiary garden and cottage garden. There are also several art installations throughout the grounds. Their website can fill you in on what's in bloom before your visit. Oh and, admission is free!
58. Learn shuffleboard with St. Pete Shuffle
For a truly out of the ordinary date night idea in Tampa Bay, attend St. Pete Shuffle's weekly Friday session. Learn the basics from a volunteer and get your game on afterwards. The cost is $10 for non-members, and free for members and their guests.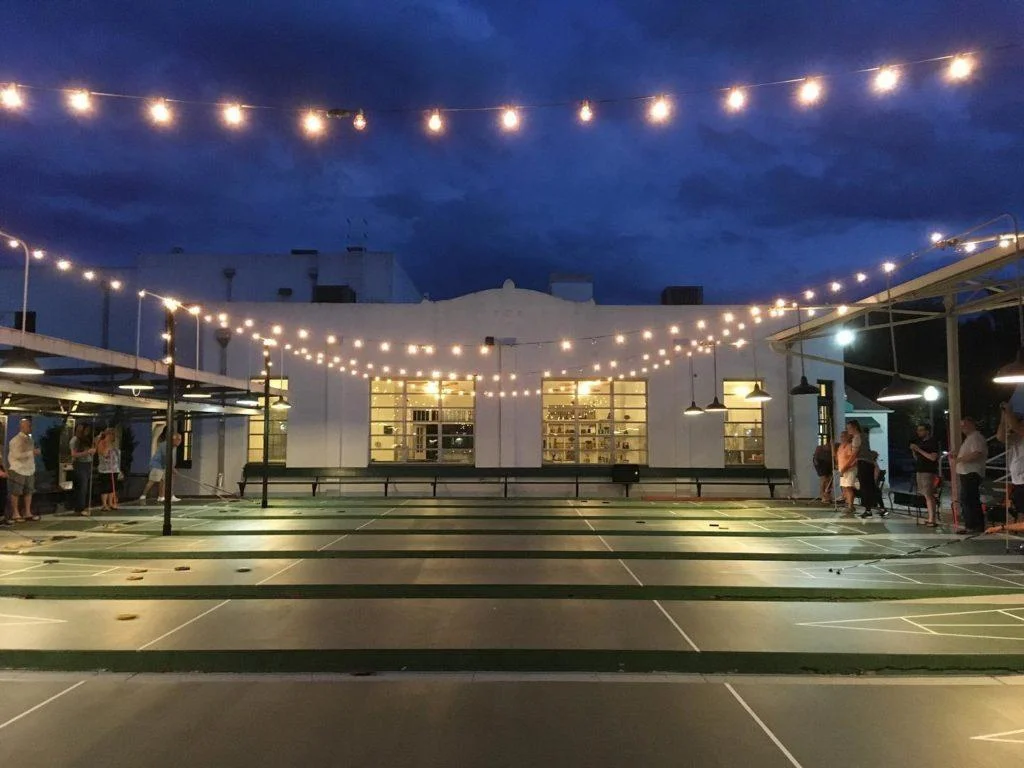 59. Have a coffee date
Short on time? Meet your favorite person for a coffee date at one of Tampa Bay's best coffee shops. We put together a comprehensive Guide to Coffee Shops in Tampa Bay to help you sift through the options.
60. Go on a beach picnic
For an affordable date, hit up a nearby beach and pack your own romantic picnic to enjoy instead of dining out or hitting the closest snack shack. Want to bring along some adult beverages in an insulated cup? These local beaches allow alcohol on the beach (just remember – no glass bottles).
61. Visit a local speakeasy
Take a step back in time to the roaring twenties at Ciro's Speakeasy and Supper Club. You won't find the venue easily, but here's a tip: the speakeasy is tucked inside the historic Bayshore Royal building. True to speakeasy form, you'll need to knock — and offer up the daily password — to get in.
We also love Dirty Laundry in St. Pete, a "laundromat" and coffee shop with a secret passage through a washing machine into a stylish cocktail bar. Read our full review for the scoop!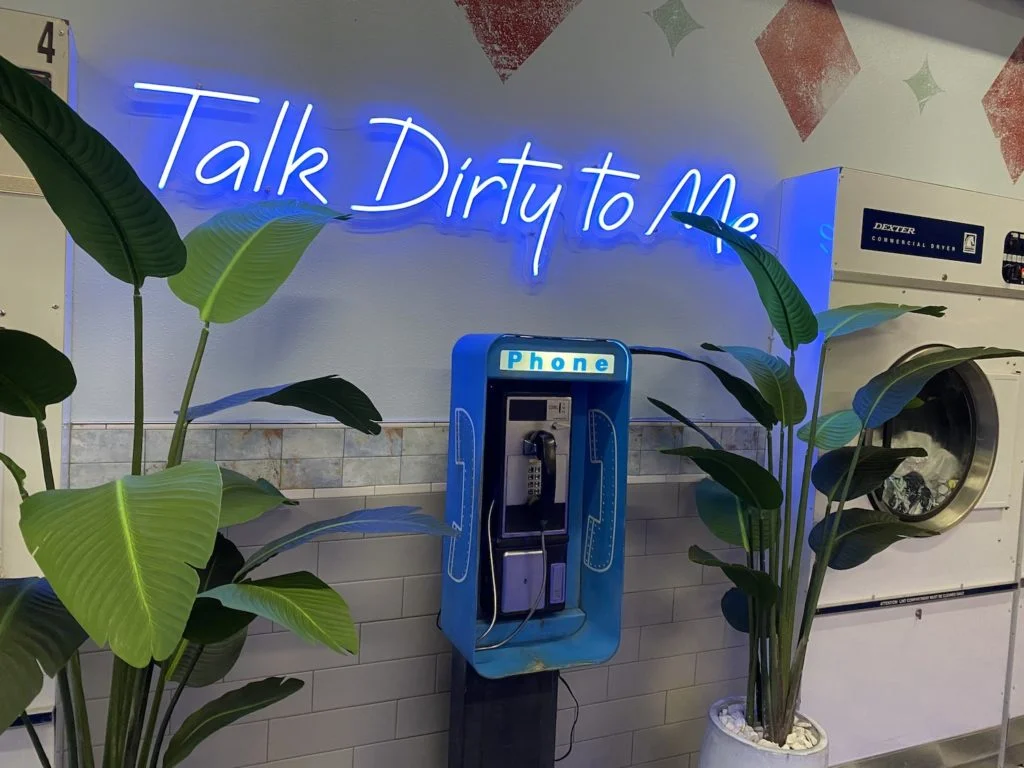 62. Go on a self-guided Riverwalk pub crawl
Do you know about the Riverwalk cup program? 10+ Riverwalk restaurants offer special to-go cups that you can take with you as you stroll along the Riverwalk. A few participating restaurants include Columbia Cafe at Tampa Bay History Center, Ulele, Malio's Steak House and Anchor & Brine at Tampa Marriott Water Street. The full list of participating stops can be found on the Riverwalk's website.
63. Join a dinner cruise
Enjoy dinner and dancing on a romantic sunset cruise along Tampa's waterways. Yacht Starship is one of Tampa Bay's premier dinner cruise options. Besides enjoying a 2.5-hour cruise with romantic sunset views, you'll also be treated to a 3-course meal, open bar (beer and wine) and plenty of time for dancing. StarLite Cruises offers sunset dining cruises departing from St. Pete and Clearwater. Your ticket includes admission for the 2.5-3-hour cruise with dinner as an add-on once you board.
64. Do date night dinner at the historic Columbia Restaurant
Open since 1905, this Ybor City staple serves up Cuban cuisine and boasts the title of Florida's oldest restaurant. While there are multiple Columbia Restaurant locations throughout the state, the Ybor City institution is where it all began. The layout is well known for being a "city within a city." Maxing at over 1,700 people, this restaurant has customers spread throughout fifteen distinct spaces each with their own story.
65. Book a getaway at a boutique hotel
The Tampa area is home to plenty of great hotel options with a smaller, boutique feel that will set your stay apart from the big chains and their hundreds of rooms. Typically, boutique hotels are hotels with 10-100 rooms with a unique atmosphere. We shared our personal favorites in our Guide to the Best Boutique Hotels Across Tampa Bay.
66. Stay in a tiny home
For a unique staycation not too far from Tampa, spend a few nights in a tiny home! There are two fun tiny home villages nearby offering overnight stays: Tiny House Siesta and Matlacha Tiny Village. The former is located just across the bridge from Siesta Key beach and has 10 available tiny homes for a mini getaway. Each tiny features colorful beachy decor, and some even incorporate lifeguard stands into the exterior design. The latter is located a bit further south near Cape Coral in Matlacha right on the water. You'll love strolling the tiny town to check out the funky boutiques and eateries along the water.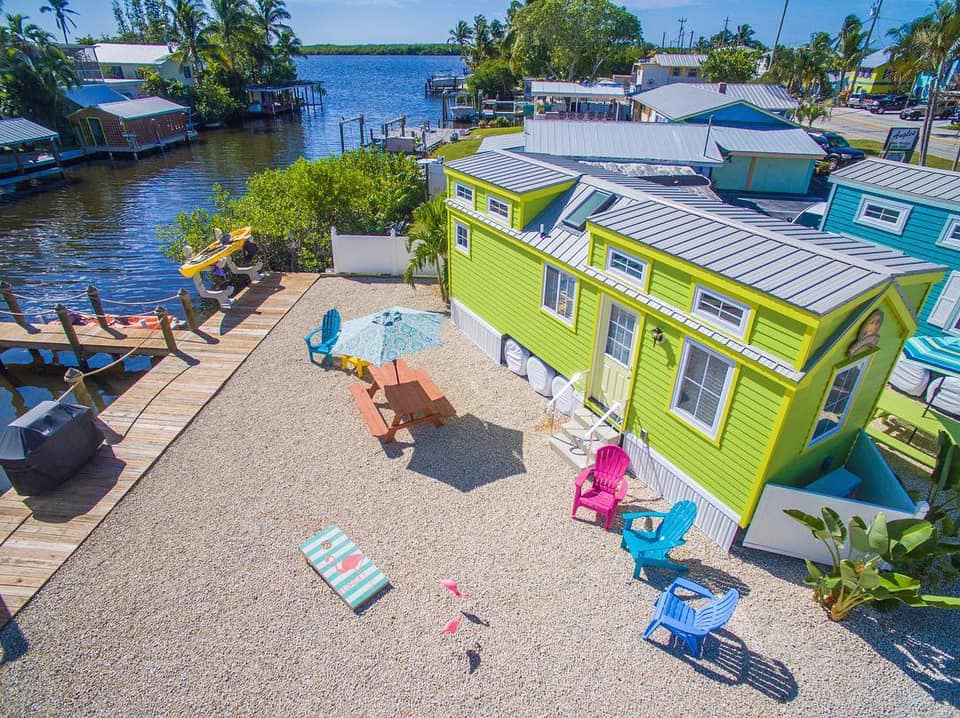 67. Go on a self-guided selfie tour for new photos with your boo
Everyone wants to capture the perfect photo, and if you're on the hunt for Tampa's Instagrammable spots for your next date, look no further! We've compiled a list of photo-worthy places for you to explore and take the best selfie with bae.
68. Discover Weedon Island Preserve
Weedon Island Preserve is a 3,190-acre nature preserve located in St. Petersburg ideal for hiking and kayaking. As an added bonus, admission to the preserve is free. You can rent kayaks from Sweetwater Kayaks or bring your own to the launch site to explore the 4-mile loop South Paddling Trail. Paddle your way through shady mangrove tunnels while watching for wildlife including mangrove crabs and wading birds.
69. Go horseback riding
Immerse yourself in a slice of Old Florida on a peaceful horseback trail ride right outside of downtown Tampa. Local companies In the Breeze Ranch and Cypress Breeze Farm both offer guided trail rides for couples to enjoy. The former is a fully operational horse ranch, and the latter specializes in guided trail rides.
70. Root for the Bucs
Tampa Bay is home to a number of incredibly talented athletes that represent our great city on a professional scale. From baseball to hockey to soccer and football, Tampa Bay has a sports team for everyone. Cheer on our local football champs, the Tampa Bay Buccaneers at Raymond James Stadium for a sporty date night you won't soon forget.
71. Spend the day in Gulfport
Located between Downtown St. Pete and St. Pete Beach, Gulfport is an artsy locale with a waterfront village comprised of adorable eateries (try Pia's Trattoria), independent shops, galleries and boutiques, all locally owned. Line your visit up with the first Friday of each month, when artisans gather along Beach Boulevard to showcase their creations for the Gulfport Art Walk. There's also an Indie Fare on the third Saturday of each month.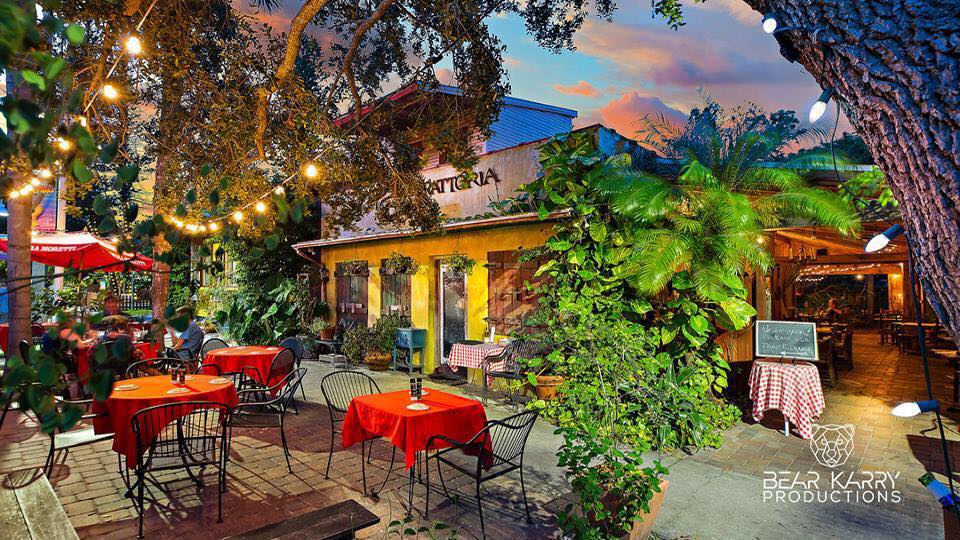 72. Tour a local distillery
Situated in Historic Ybor, Florida Cane Distillery is a local distiller specializing in a variety of Florida Cane vodkas made with Florida Sugar Cane, plus rum, gin, moonshine and Bourbon whiskey. Dark Door Spirits and Tampa Bay Rum Company also have fantastic local sips. We have a whole guide to make a date night of distillery hopping.
73. Book a staycation at a beachside resort
Soak up the stress-relieving vibes only the beach can provide by booking a weekend away at a beachfront resort. A few of our local favorites include the luxurious Don CeSar, the cozy Postcard Inn and the sprawling Tradewinds Island Grand Resort, all located along St. Pete Beach.
74. Visit Egmont Key
If you find yourself at Fort De Soto Park, don't leave without taking the 30-minute ferry ride over the Egmont Key. Enjoy the secluded beach, search for shells, wander around Fort Dade and splash in the water.
75. Try goat yoga
The goat yoga experience at Grady Goat in Thonotosassa is best described as delightful, hilarious chaos. As the gate is opened, a herd of playful goats gallop out, dispersing through the crowd. Goats jump on your back, nibble on your hair, jump from your back to your neighbor's back and more. Expect 95% goat love and 5% yoga.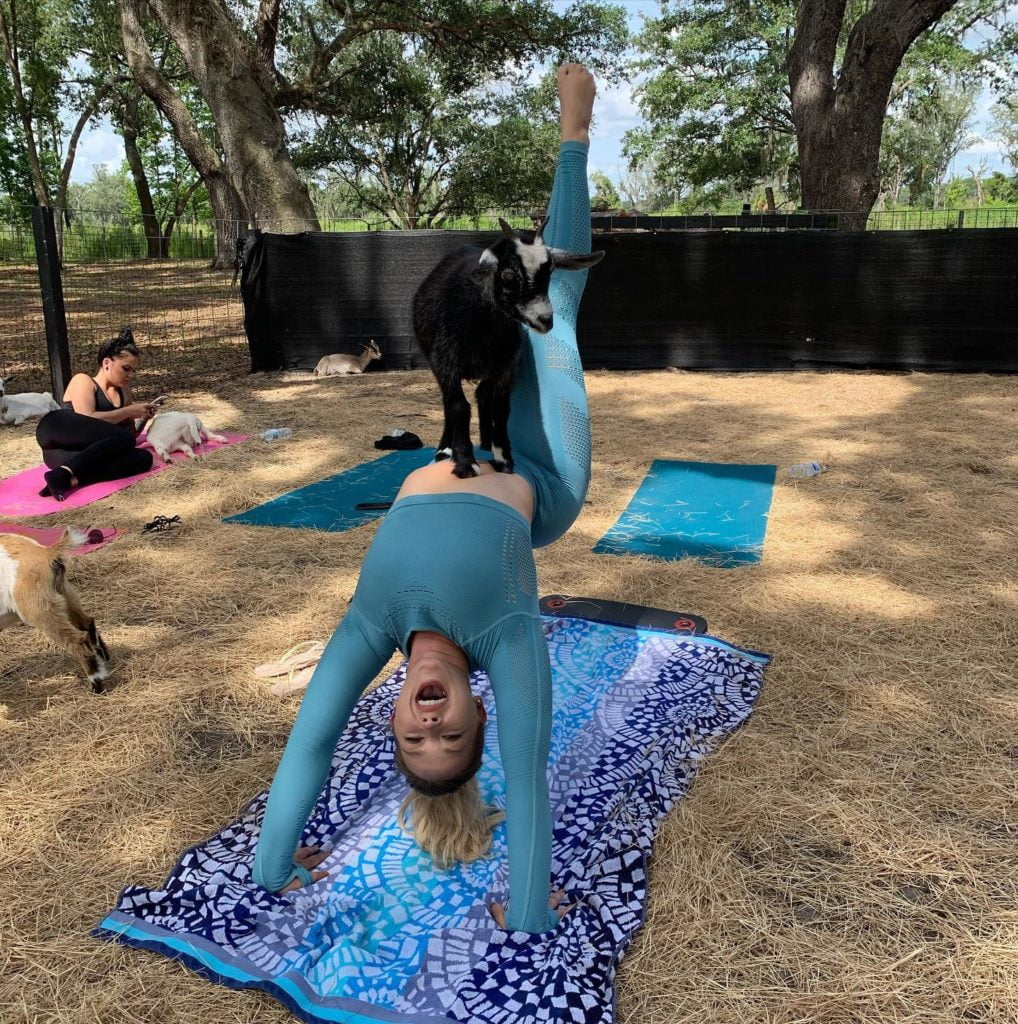 76. Take a walking tour
Many self-guided walking tours are available online and in person for free. Marvel at local buildings on an architecture tour through Downtown, Ybor City and Hyde Park. Or join one of the Tampa Downtown Partnership's walking tours ($5 donation suggested) October-May on select Fridays at noon. You can also enjoy the free Postcard Tour, an audio tour that will take you around the grounds of the historic Tampa Bay Hotel.
77. Visit a nearby state park
Enjoy some refreshing time in the great outdoors by visiting one of Florida's fabulous state parks. Here are a few of our favorite Florida State Parks near Tampa:
78. Dine at one of Tampa's most romantic restaurants
Over the years, we've discovered quite the assortment of romantic locales throughout Tampa Bay worthy of inclusion in your date night rotation. To help you sift through all of the options and to better aid you in your quest to have a perfect romantic evening, here's a summary of top picks based on accolades and ambiance.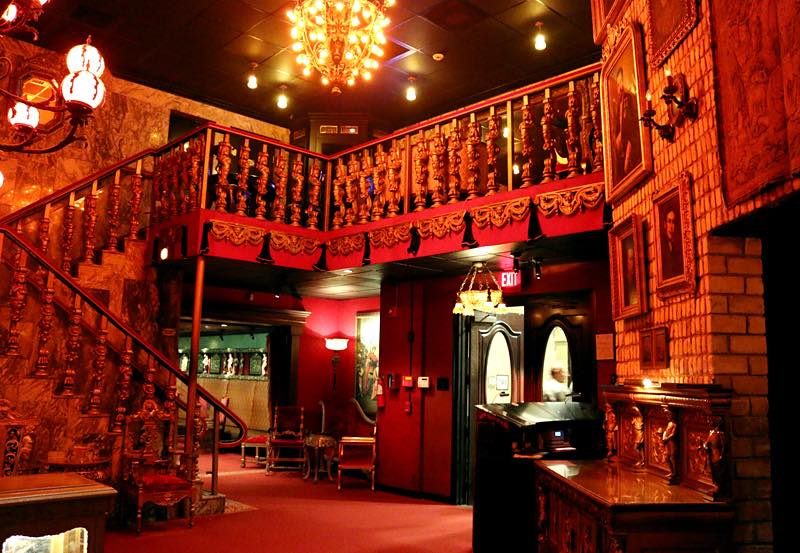 79. Plan a romantic date in Hyde Park Village
Home to dozens of shops and eateries, Hyde Park is a picturesque district located in South Tampa that's perfect for date night. Check out a community event, have dinner at one of the restaurants (we love bartaco and On Swann) and do a little shopping for the perfect Hyde Park date night.
80. Take a day trip
Hop in the car and head to a nearby town or attraction for a change of scenery. Here are a few nearby ideas:
81. See a movie at Tampa Theatre
It doesn't get more classic than a movie date at Tampa's stunning historic movie palace, Tampa Theatre. Enjoy first-run movies and classic flicks plus special events throughout the year. You can also check out their Summer Classics every weekend from June through August.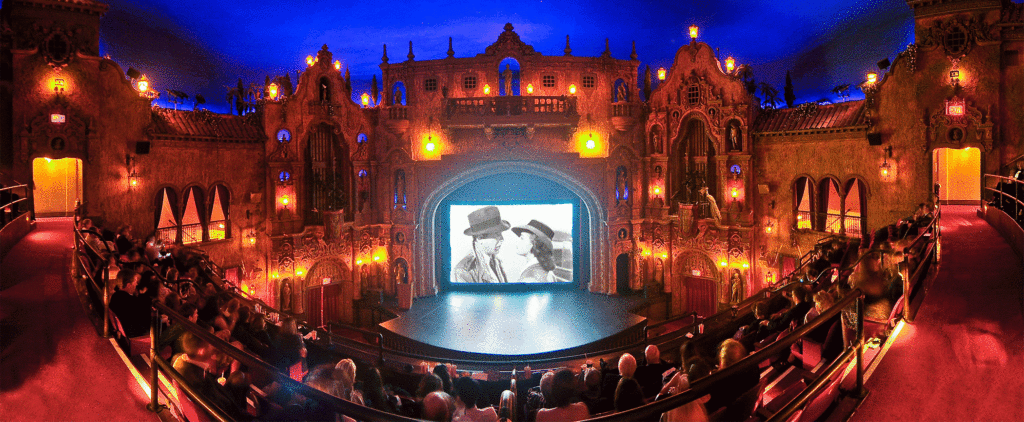 82. Drive along a scenic highway together
Whether you and your honey are planning to hit the road for a weekend away, or if you just need to get out of the house for a change of scenery, Florida offers a collection of scenic roadways. These designated scenic highways are woven throughout the entire state of Florida.
83. Have a Happy Hour date
What's better than drinks and apps with someone special? Partaking at discount prices. There are plenty of happy hour gems all over Tampa Bay to kick off your evening early and at a discount, to boot.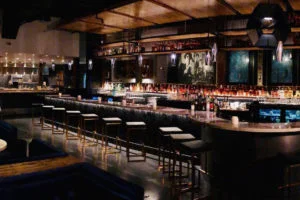 84. Explore local attractions together with CityPASS
CityPASS is a ticket experience you can purchase online to enjoy multiple attractions across Tampa Bay. Here's how it works: Tampa residents can purchase mobile or printable tickets and begin using the pass right away, or within one year of the purchase date. Once you begin to use your CityPass, it's good for a 9-day period. Each pass includes admission to five popular local attractions, including Busch Gardens, The Florida Aquarium, ZooTampa at Lowry Park, Clearwater Marine Aquarium, MOSI, and more!
85. Have a dinner date on a patio
Take your food, drinks and conversation outside. A few of our personal favorites include Ulele, Pia's Trattoria, and Red Mesa Cantina. Refer to our epic Outdoor Dining Guide: 50+ Places to Eat Outside in Tampa Bay for all of the best outdoor seating spots in town.
86. Go on a moonlight kayaking tour
There are dozens of amazing places to kayak throughout Tampa Bay, but at Canoe Outpost Little Manatee River you can embark on a truly unique kayaking tour. The monthly moonlight paddling trip invites you to cruise the serene Little Manatee River under the light of the moon. Tours last approximately four hours.
87. Hit the beach
A major perk of living in the Tampa Bay area is close proximity to the area's incredible, award-winning beaches. Head to Madeira Beach to stroll the shops at John's Pass Village & Boardwalk or laze the day away on the quaint and full of character Anna Maria Island. Other local go-to spots include St. Pete Beach, Indian Rocks Beach, Fort De Soto ($5 beach parking), and Clearwater Beach. Or do as the locals do and watch a sunset from Ben T. Davis Beach.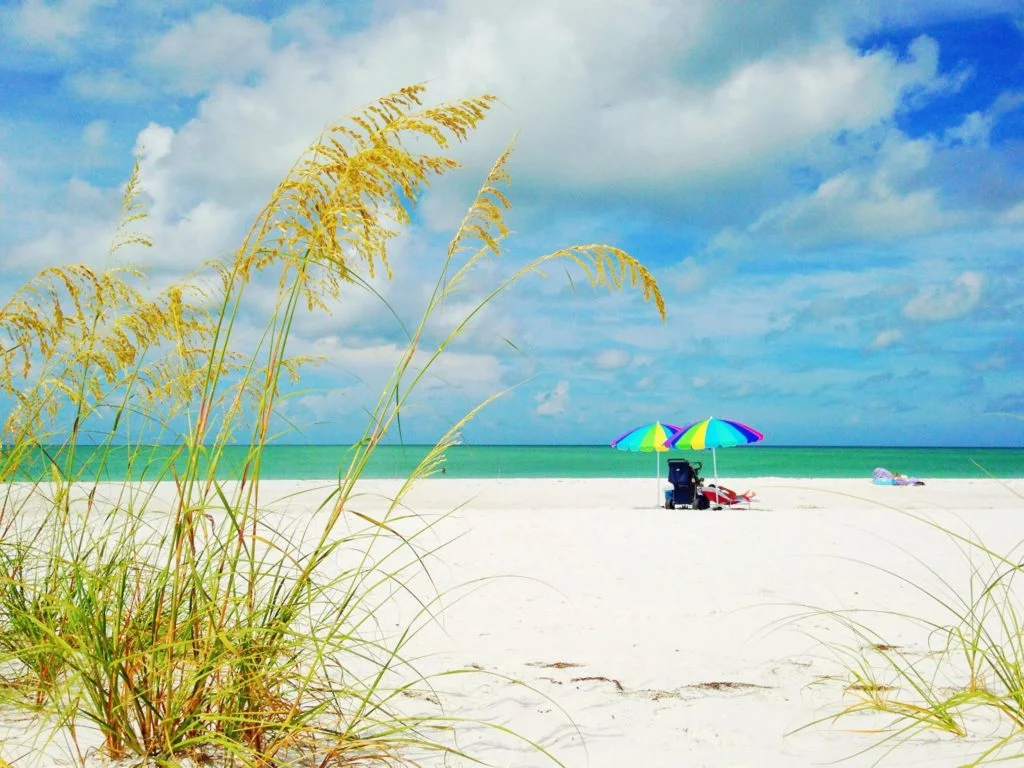 88. Plan a Tampa Bay getaway
Put together the perfect weekend with our Guide to Tampa Bay Getaways or get even more in depth by following one of these Three Itineraries for a Tampa Bay Staycation.
89. Make your own Tampa themed "Instead of Netflix" date jar
One of our team members came up with the "Instead of Netflix" Jar for the nights she and her husband look at each other and don't know what to do, and thus end up just watching Netflix. Check out what Sarah and her husband put in their jar in our post here or come up with a list of Tampa adventures to add to your own.
90. Day trip to Dunedin
Planning a beach day to Honeymoon Island? Make it a full day trip by stopping to explore downtown Dunedin, too. You'll find several craft breweries (I love 7venth Sun), access to the Pinellas Trail, a waterfront marina and pier, scenic park, and dozens of shops and eateries.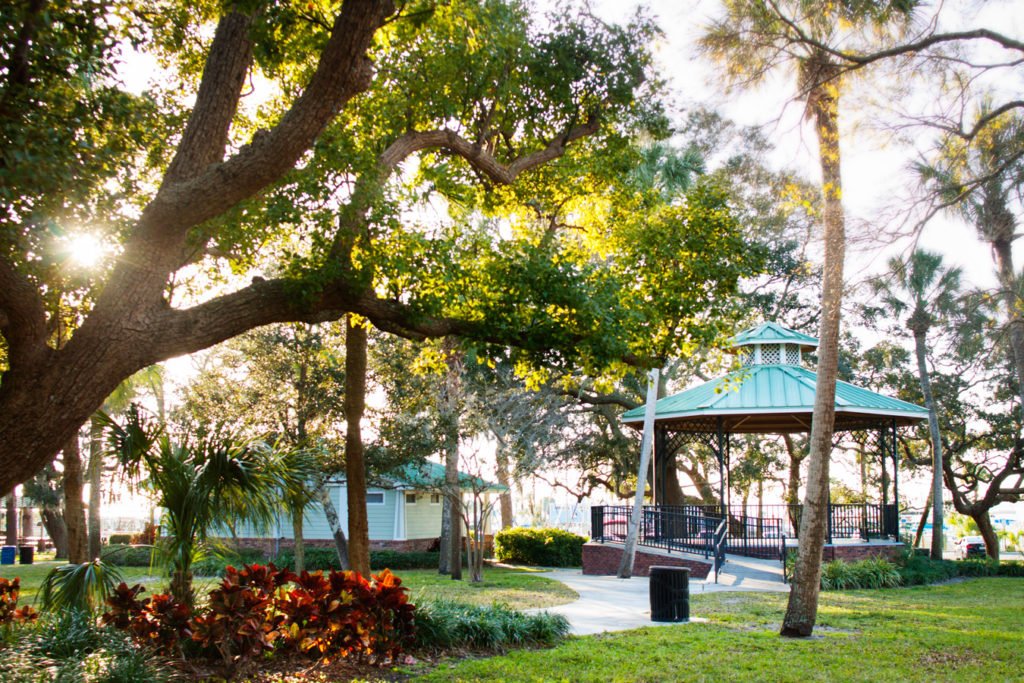 91. Support the arts at Mahaffey Theater
From Broadway musicals to concerts from top performers and dance productions, the Duke Energy Center for the Arts – Mahaffey Theater is a jewel of St. Pete's vibrant cultural scene. The waterfront location and European box-style seating lend an extra romantic ambiance.
92. Enjoy a concert from The Florida Orchestra
Romance your date with the sound of the symphony by snagging tickets to a concert from The Florida Orchestra. Each season features dozens of concerts at venues like the Straz Center, Mahaffey Theater and Ruth Eckerd Hall. Season highlights include Masterworks performances, pops concerts and coffee concerts.
93. Share cheese & charcuterie
Calling all cheese lovers! Enjoy your own cheese and charcuterie date night by hitting up a local restaurant or wine bar known for its fabulous spreads. We recommend The C House (champagne, charcuterie, cheesecake), Cepa's, Haven, On Swann, and Oak & Ola.
94. Water Street
Stroll straight off the Tampa Riverwalk and onto the Water Street district. While Sparkman Wharf quickly became a Tampa staple, new shops and restaurants are popping up as the district expands. Tack on nearby attractions like the Florida Aquarium and truly make a day of it while visiting Water Street.
95. Enjoy a garden dinner for two
If you're in search of a dining spot with an extra romantic setting, head to a local restaurant that has garden or courtyard seating. Our guide to Gardens & Courtyards: Tampa's Prettiest Dining Spots includes several options.
96. Explore Mazzaro's Italian Market
If you and your partner are dreaming of Italy, travel to Mazarro's Italian Market to stock up on all of the Italian goodies you need for an Italy-themed date night at home. Soak up more Italian vibes with our guide to An Italian Inspired Date Night in Tampa Bay.
97. Join Oxford Exchange's monthly book club
If you and your partner are bookish types, join Oxford Exchange's monthly book club. In-person events typically take place on the second Tuesday of each month. Tickets include wine and light bites plus the book discussion.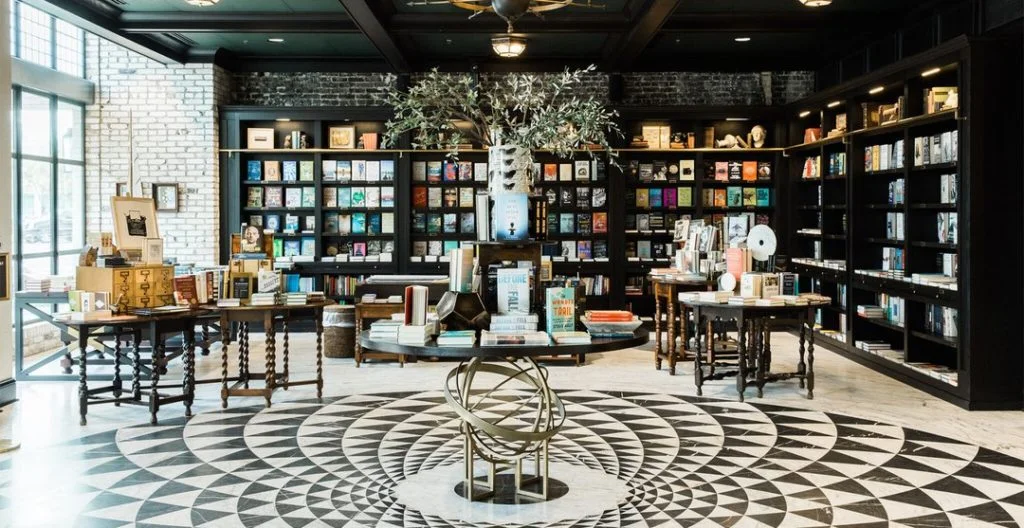 98. Hitch a ride on the Pirate Water Taxi
If you get tired of walking along the Tampa Riverwalk, just hop aboard the Pirate Water Taxi to get to fun stops like The Florida Aquarium, Curtis Hixon Waterfront Park, Armature Works and more. You can hop on and off all day long for a single fee. Show your wristband for deals at select restaurants, bars and attractions along the route.
99. Go indoor rock climbing
Ready to try something new and adventurous? Vertical Ventures St. Pete is a 20,000 square foot indoor rock climbing gym with routes up to 40 feet tall. Memberships are available if you fall in love with the experience and want to make it a regular date night challenge.
100. Do date night around the world
Travel the world without leaving town by planning an international date night dinner. Our Date Night Around the World dining series features picks for Indian, Mexican, Italian, Thai, French and German-inspired dates.
Still looking for more date night ideas in Tampa Bay? Read our list of some incredible things to do in Tampa, Clearwater & St. Pete!
Feature image credit: The Tampa Riverwalk