An abundance of natural beauty awaits you and your date at Fort De Soto Park in Pinellas County. Considered one of the most ecologically diverse parks, Fort De Soto weaves a majestic tapestry of birdlife, sea life, wildlife, plant life and history, ready and waiting to be explored!
Once a military outpost, Fort De Soto Park is spread over five interconnected islands (or keys), and 1,136 acres. Whether your adventure includes beaches, snorkeling, an island excursion or hiking, biking and camping … one visit to Fort De Soto and you'll see why it's been voted the nation's #1 beach.
Water Fun at Fort De Soto
As if exploring the seven miles of waterfront and beaches isn't enough, a plethora of kayaks and canoes are available to rent at Topwater Kayak Outpost.
Explore a 2.25-mile paddling trail, where you may spot manatees, egrets and dolphins on a self-guided eco-tour. Solo kayak/canoe rentals are start at $23 for one hour and tandem rentals start at $29.
If boating and fishing are your water sport of choice there is a boat ramp with ample floating docks and two fishing piers with bait and concession within the park.
Furry friends are welcome to splash and play, too. The Fort De Soto Dog Park is one of the few that allows your pets on the beach (in designated areas).
It includes two fenced areas for large and small dogs and includes watering stations so your pooch can stay hydrated. See more dog-friendly beaches here form our sister-site, Tampa Bay Parenting.
Speaking of beaches, the main beach areas are the North Beach and East Beach. Both provide restrooms, picnic shelters, parking and plenty of shoreline.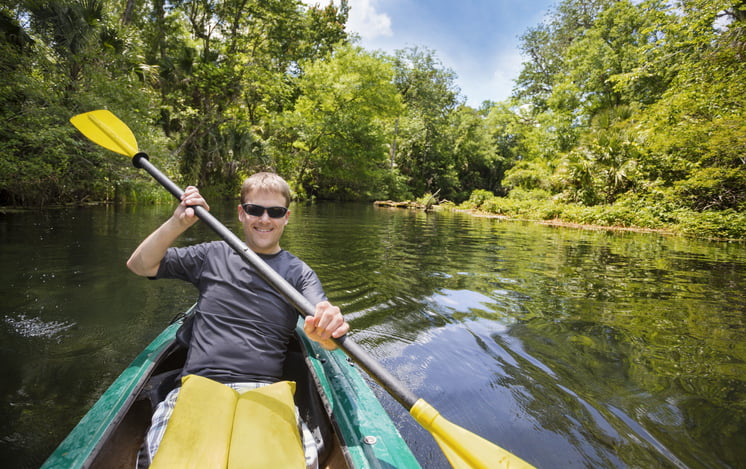 Hiking, Biking & Camping at Fort De Soto
If you and your date are looking for something a bit more primitive, consider a trek through the lowlands or flatwoods. There is a one-mile nature trail in the Arrowhead Picnic area and a ¾-mile trail in Soldier's Hole.
Keep your eyes peeled for an endangered gopher tortoise on your hike; these large slow movers are abundant in the park. There is also a 2,200 ft self-guided interpretive trail that is accessible to nature regardless of physical ability.
A seven-mile paved trail (no motorized vehicles) connects the beaches, a boat ramp and the camping area. Take a stroll or cruise around on one of the many available bikes for rent.
Bicycles, tandem bikes and multi-passenger bikes that seat up to eight are available within the park. Prices range from $8 to $27 an hour depending on the type of rental.
If an overnight trip into nature sounds like the perfect way to end a day of trekking through the woods, Fort De Soto also offers camping and has 238 sites available. Reservations are required.
No date at Fort De Soto would be complete without a ferry ride out to the pristine island paradise of Egmont Key. Leaving from Fort De Soto's Bay Pier, the 30-minute ferry ride gives you a chance at spotting dolphins, sea turtles and sometimes manatees.
Once at Egmont Key, enjoy the beaches and splash in the crystal blue waters, grab a bucket and do some shelling, explore Fort Dade (existing since the Spanish American War), or even book a snorkeling cruise.
During the snorkeling cruise divers will be in the water approximately one hour and have the opportunity to dive the sunken ruins of Fort Dade, or the grass flatbeds teaming with sea life (depending on weather and tides). Snorkeling can be booked during the ferry ride out to Egmont.
The ferry operates daily in spring and summer and nearly every day in the fall and winter. Due to its popularity, an advanced reservation is recommended and can be made online here.
The island is also home to a protected nature preserve, so there are no concessions or bathrooms on the island. However, a walk back to the ferry will provide both. Since there is no shop on the island, be sure to pack your own water and food and bring sunscreen.  More information can be found on the Egmont Key website.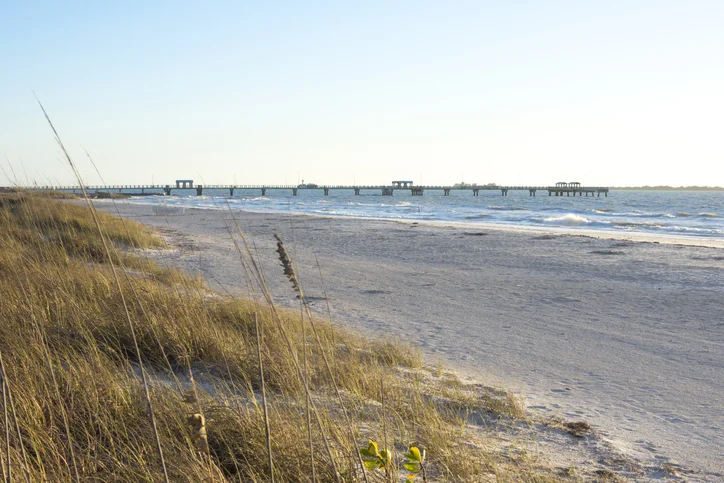 Fort De Soto History
Take time to explore the rich history of the Fort De Soto area at the Quartermaster Museum. You'll find it located on Mullet Key within the park. Upon entering, visitors will see the post's quartermaster surrounded by supplies he would have issued to the soldiers.
Wall panels reveal the earliest history from the 16th century when Spanish conquistadors encountered the Tocobaga Indians, moving through time to the impact the Spanish-American War had on the Tampa Bay area. For more information visit the Quartermaster Museum web page.
More Information
The park is open from 7am to dusk every day. The entrance fee is $5 per vehicle.
Food concessions, a souvenir shop, bathrooms, picnic shelters, and playgrounds are also available in Fort De Soto Park.
More information on the park, bike and kayak rentals, and camping reservations can all be done online at the Fort De Soto Park website. Fort De Soto Park is part of the Pinellas County Parks & Preserves and is located at 3500 Pinellas Bayway S., Tierra Verde, FL 33715. 727-582-2267.
---
*Article originally published in July 2020 and updated in March 2023.
Feature image credit: Visit St.Pete/Clearwater