One of the joys of the Tampa Bay area is close proximity to an abundance of islands and keys. As an Orlandoan myself, I am often envious of the sheer amount of pristine beaches and islands available to those in the Tampa area. On a recent weekend getaway to the Compass Hotel at Anna Maria Sound, a budget-friendly Margaritaville hotel, my husband, son, and I booked the ferry to Egmont Key State Park. This pristine key is a gem that should be added to your must-do list this summer.
Getting to Egmont Key State Park
Egmont Key is just a few miles from Anna Maria Island. In fact, on a clear day you can see Egmont Key from the Anna Maria Island area. But, there is no direct way to get to Egmont Key from Anna Maria Island other than a handful of private (and expensive) ferries.
Most people, like my family, instead book the popular Hubbard's Marina Ferry, which departs from Fort De Soto Park near St. Pete. This ferry is the most affordable option I found when researching our trip. The cost is $40 per person ages 12 and up ($20 for kids ages 3 -11).
Departure times are at 9:00 a.m., 11:00 a.m., and 2:00 p.m. However, you'll be asked to arrive 45 minutes prior to your departure time in order to get through the park's entry gate ($5 per car), park by Bay Pier, and check in.
We chose the 11:00 a.m. time slot and arrived around 10:15 a.m. on a Sunday. Parking at the designated lot was already becoming scarce at that time, so I suggest booking the 11:00 a.m. ferry, especially on weekends.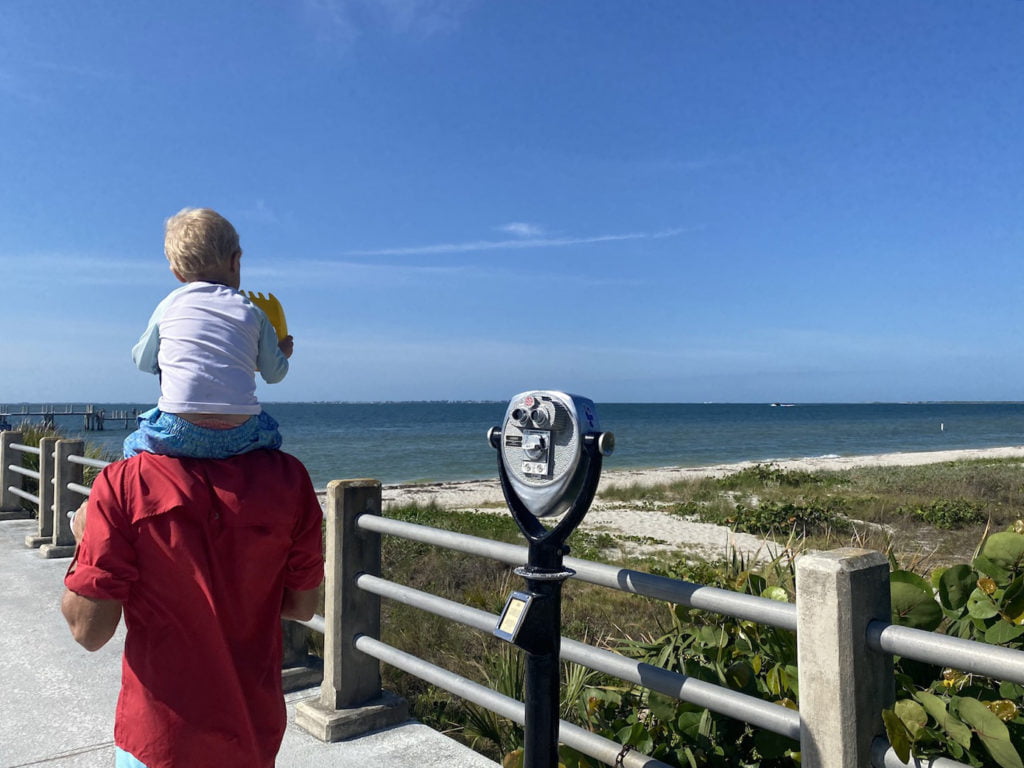 After parking, we unloaded our beach bags and walked over to the trailer to check in for our ferry time. At check in, a staff member will review the map of Egmont Key with you and answer any questions. I recommend bringing some cash for tips for the check-in and ferry staff.
The ferry ride over from Fort Desoto Park reminded me of going on an excursion when on a cruise vacation. I could feel the excitement and anticipation of everyone on board. The turquoise water rocked the ferry boat ever so gently as the captain shared some information about Egmont Key. The ride over lasted about 15 minutes.
FYI: There are no facilities for snacks, drinks, or beach equipment rental on the island. So come prepared with your own food, drinks, and beach equipment. The Hubbard's Marina Ferry does have snacks like chips and cookies as well as canned soda and bottled water for sale on board the ferry. They also have some beach chairs, umbrellas, and snorkel equipment available for rent. It is cash only.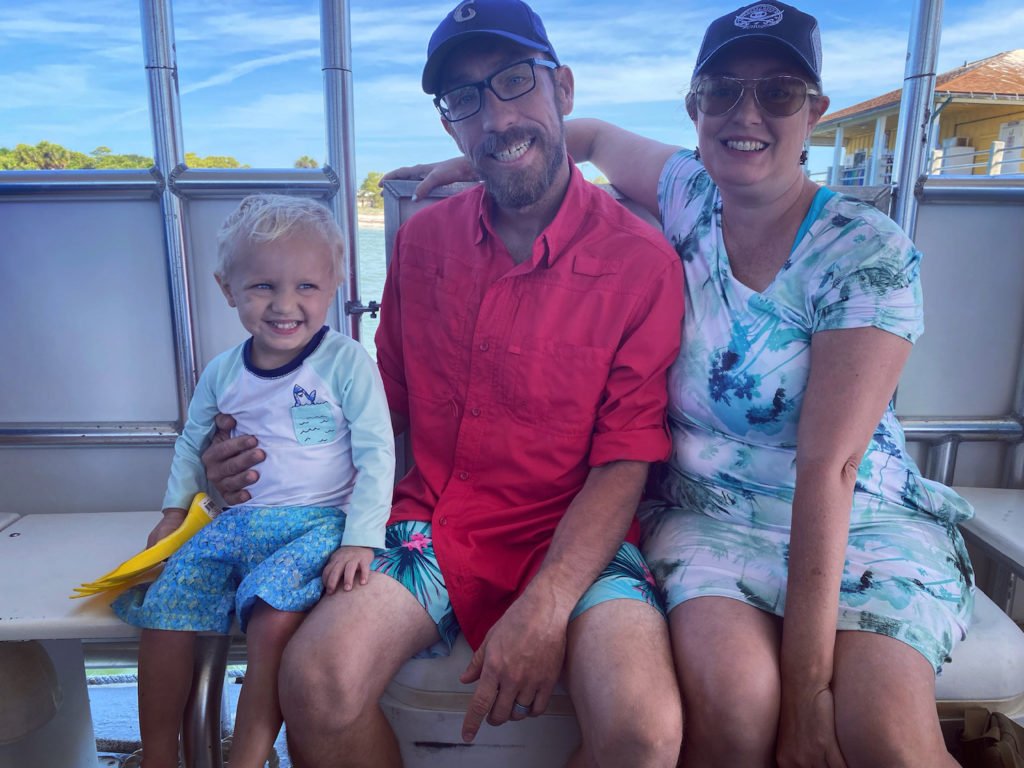 What to do at Egmont Key State Park
Egmont Key is a secluded island acting primarily as a wildlife refuge; part of the island is inaccessible to visitors. Most people head to Egmont Key to swim, snorkel, hike, see wildlife (including dolphins, sea turtles and marine birds), and view the Egmont Key lighthouse and ruins from Fort Dade.
Booking the ferry gives you three hours to explore the island, which is plenty of time to see it all and have time to relax.
When we disembarked the ferry, the bulk of the crowd headed up the main walkway that bisects the island, ultimately walking less than ten minutes to the other side of the island. Being the family that likes to chart our own path, we headed to the right. We soon learned the beach is nicer on the opposite side, where most of the crowd headed initially. Still, we enjoyed our first stop. We walked through some seagrape tree canopies and saw multiple gopher turtles, which are a protected species.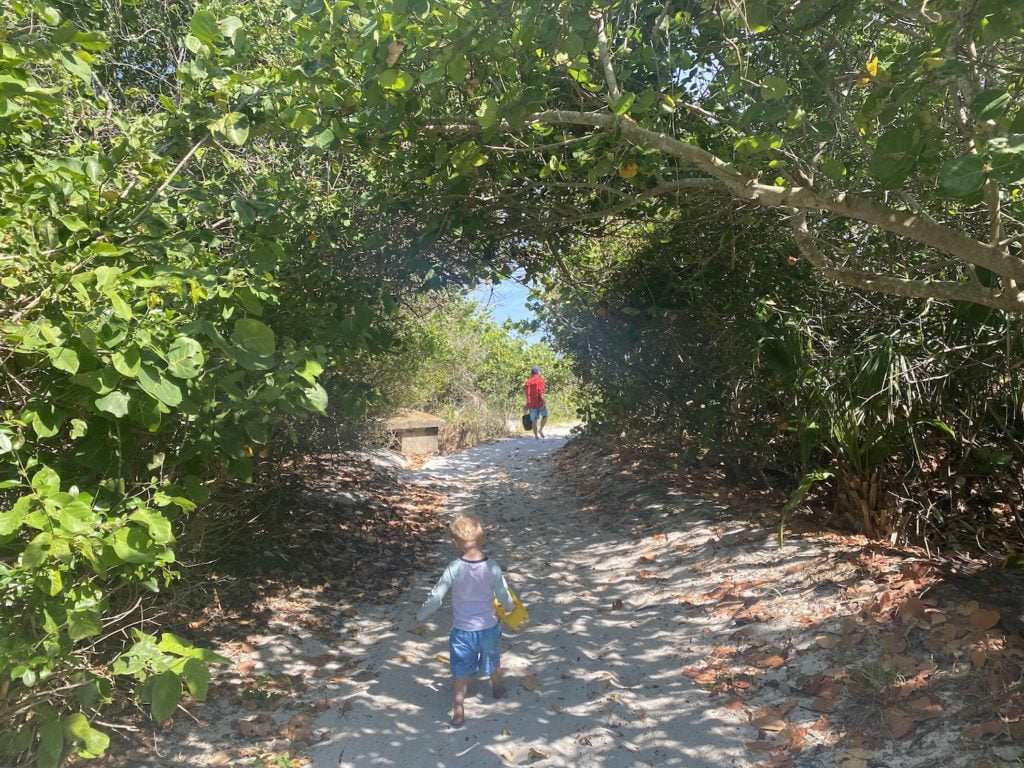 The first beach that we came to was quiet with only one other family in sight. It felt secluded and special. The one downside of this side of the island is that due to erosion, there is a drop off of a few inches when stepping into the water.
After some time on the quieter side of the island, we walked along the shoreline and came to the ruins of Fort Dade. Used during the Spanish-American War, Fort Dade saw lots of battles and was also used during the Civil War. My husband and son enjoyed exploring the ruins. There are quite a few photo opportunities, and I personally enjoyed the shade some of the ruins provided. I would recommend having closed toed shoes for this part of the trip as there are sharp and rough edges all around the ruins.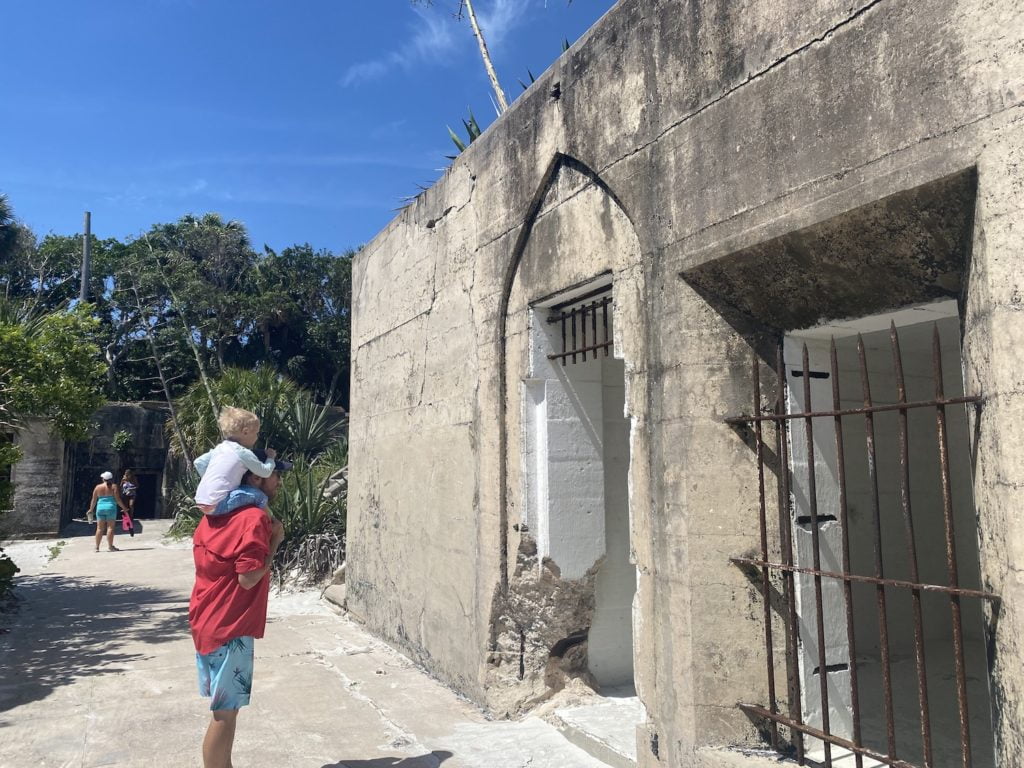 After exploring, we followed the pathway that runs along the ruins. We saw a few sandy paths leading toward the beach and decided to follow one. At last, this is where everyone had headed to in the first place. The sand was pristine and there were fellow ferry passengers having a great time. Quite a few boats had pulled up to this shore as well. A few boats had music playing, and suddenly our secluded island felt more like a hangout spot. We enjoyed the calm waters with our little guy who is still learning to be a strong swimmer.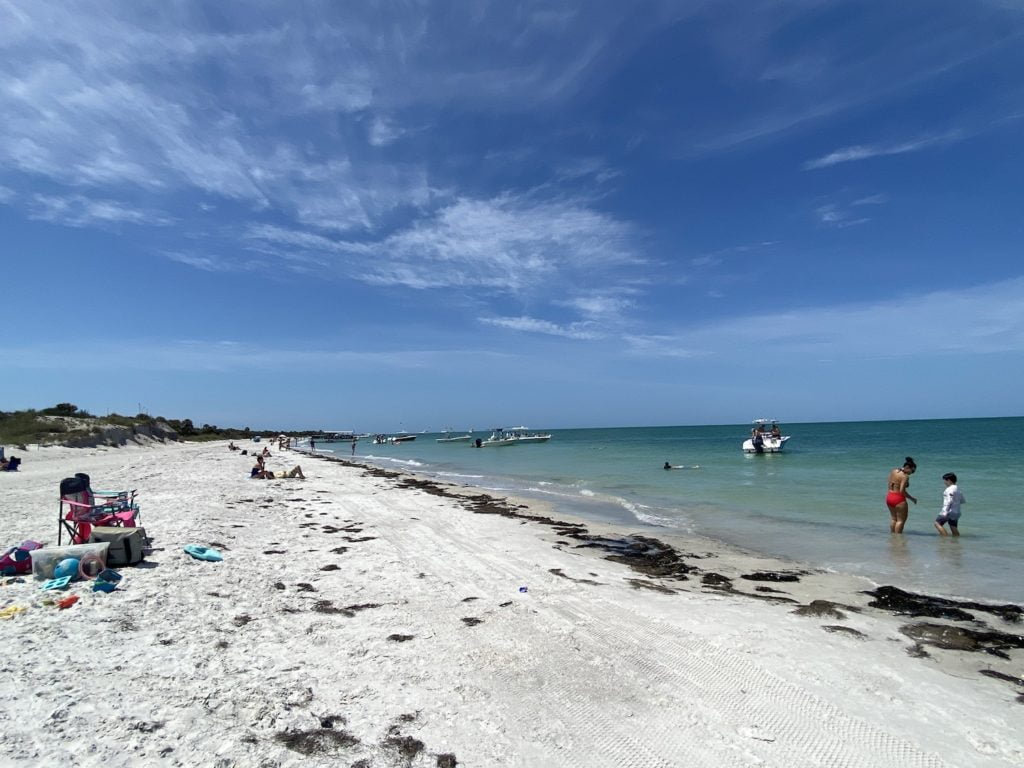 We ended our time on Egmont Key by checking out the lighthouse. Built in 1858 and still operating to this day, it is the longest-running lighthouse still in operation in the state of Florida. You cannot go into the lighthouse, since it is still a functioning lighthouse. But we enjoyed taking photos and reading the historical plaques. It felt like the perfect way to cap off our time here.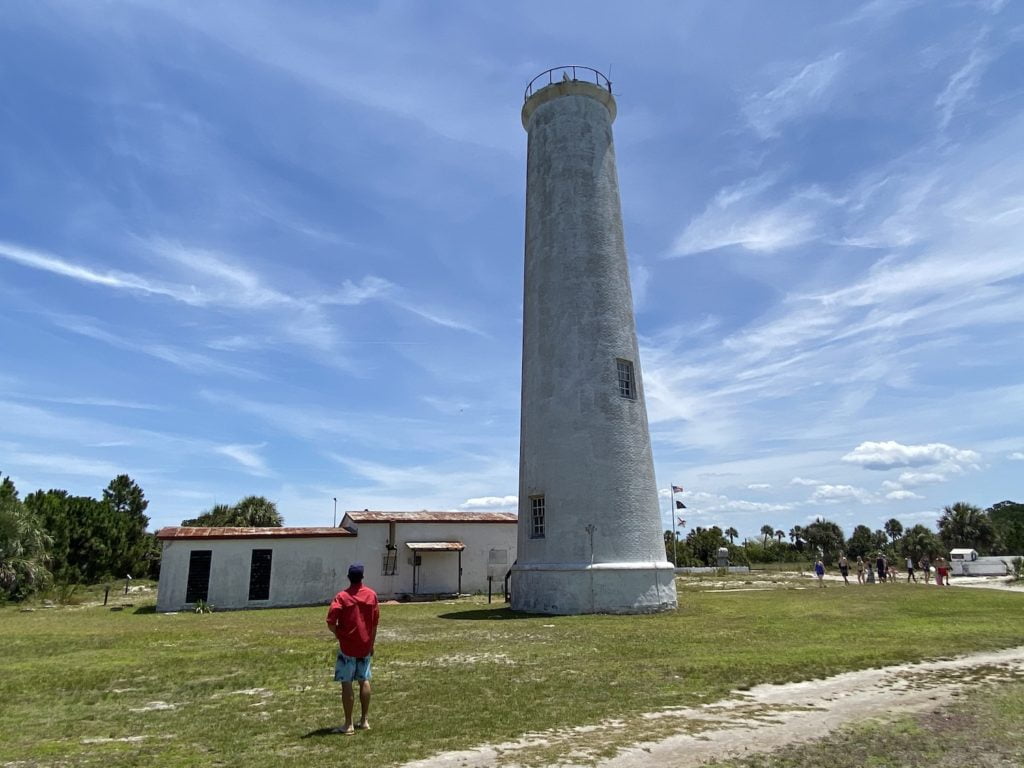 Make it a Getaway
Visiting Egmont Key is a fun excursion to tack onto a local staycation. You could replicate our trip by stating in the Anna Maria Island area. Or, make it part of your plan for a weekend getaway in St. Pete or Indian Shores.
We chose Anna Maria Sound because of great deal I found at Compass Hotel. I am a big Jimmy Buffett fan so the chance to stay at a more affordable Margaritaville brand hotel appealed to me.
I absolutely fell in love with this hotel. Some of the features of a big resort are missing, but it did not feel lacking. Compass Hotels pairs the tropical flair associated with Margaritaville and Jimmy Buffett with the spirit of adventurous travel.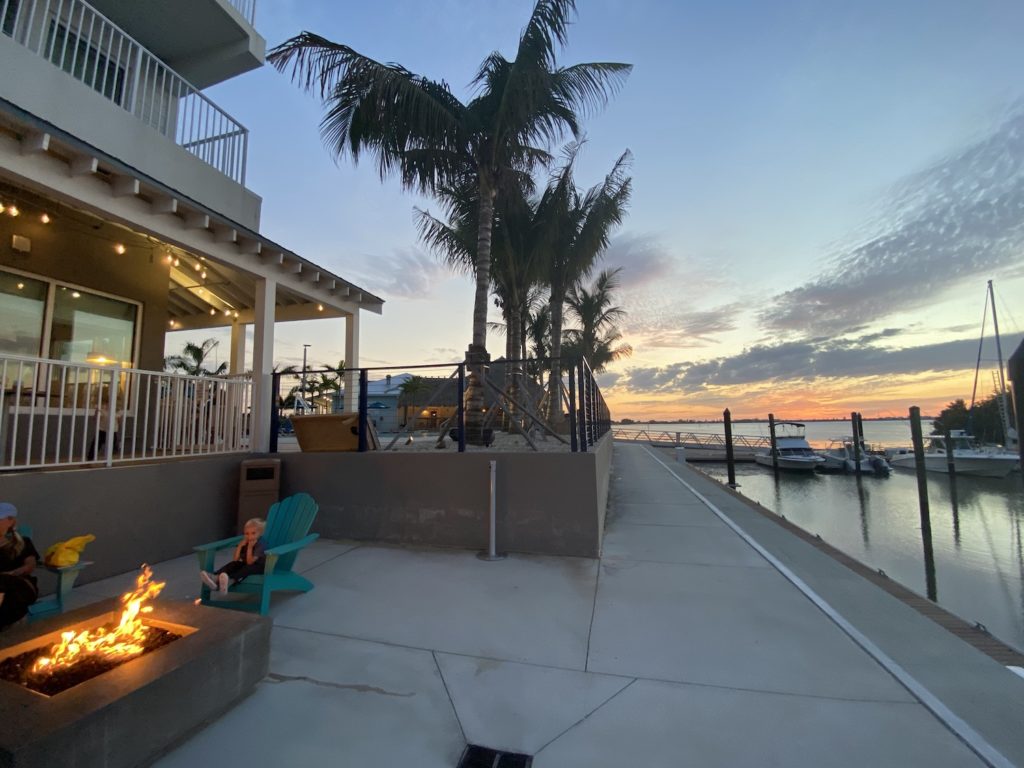 Rather than beckoning you to spend all your time at a sprawling resort, the Compass Hotel serves as a splendid jumping off point to go explore. While we chose to save money by taking the ferry to Egmont Key and opting for a longer drive, private charters are available from the Safe Harbor Marina directly behind the hotel. Hotel staff can help you arrange a private charter. Alternatively, Coastline Dolphin and Snorkeling Excursions offers three and four hour excursions to Egmont Key, also departing from Safe Harbor Marina. Numerous private charters from other companies depart from various points on Anna Maria Island.
Our king bed room gave us plenty of space and comfort. We booked a standard view, which we would do again rather than spend more money on the marina view. The standard view does overlook the parking lot and street, but it also offers views of Neal Preserve, a lovely nature preserve right across the street from the hotel.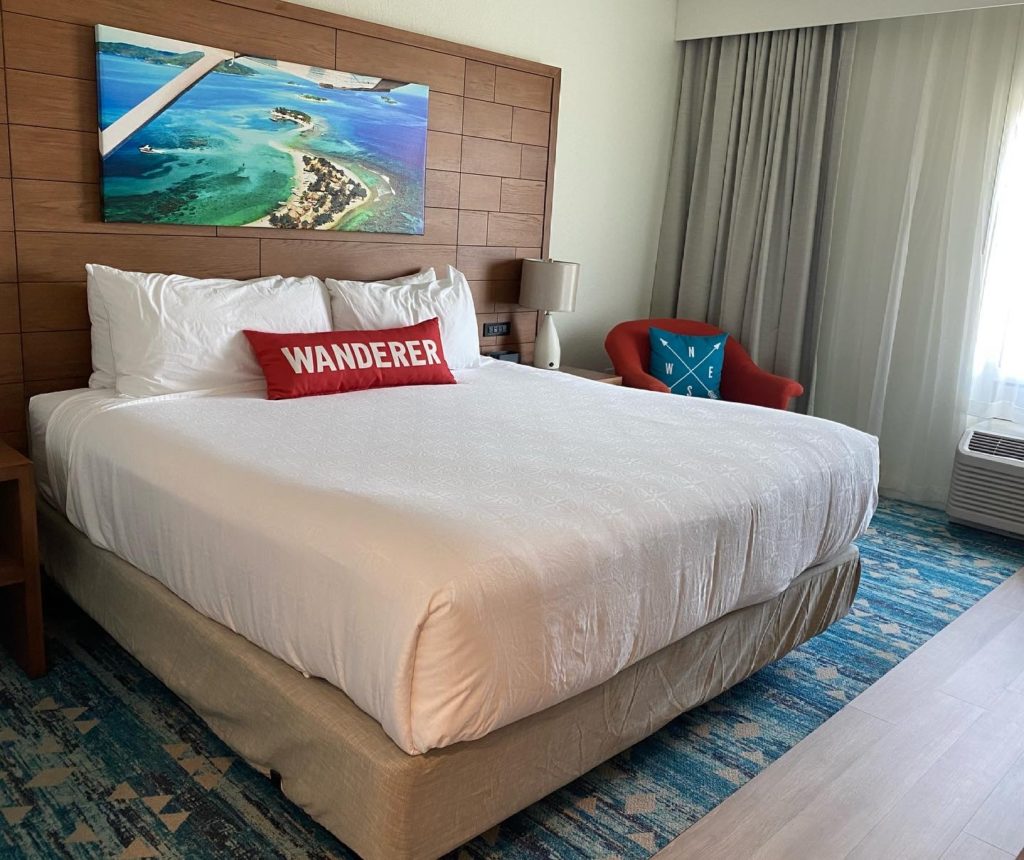 Breakfast is included with each reservation, or I should say in the modest resort fee. We loved starting our days with breakfast here, which featured plenty of hot selections like eggs, potatoes, bacon, and sausage, as well as yogurt, fruit, and cereal. The morning sun sparkled on the water as Jimmy Buffett songs and tropical music filled the air.
The pool is pretty basic, but it does overlook the water. When we arrived on Saturday afternoon, a live musician was performing poolside. We walked across the pool deck to Floridays Woodfire Grill and Bar. This Florida-themed restaurant is named after a Jimmy Buffett song and is open to the public, not just hotel guests. It has an outdoor bar that overlooks the hotel pool and the water. We grabbed some craft beer and delicious smoked fish dip to kick off our arrival. On our last night we decided to have dinner here. As a Florida native I absolutely loved the fried fish and grits.
Between our time at Egmont Key, the Anna Maria area, and our time at the Compass Hotel, this trip ranks up there in my list of favorites. I am already trying to figure out when we can do it all again.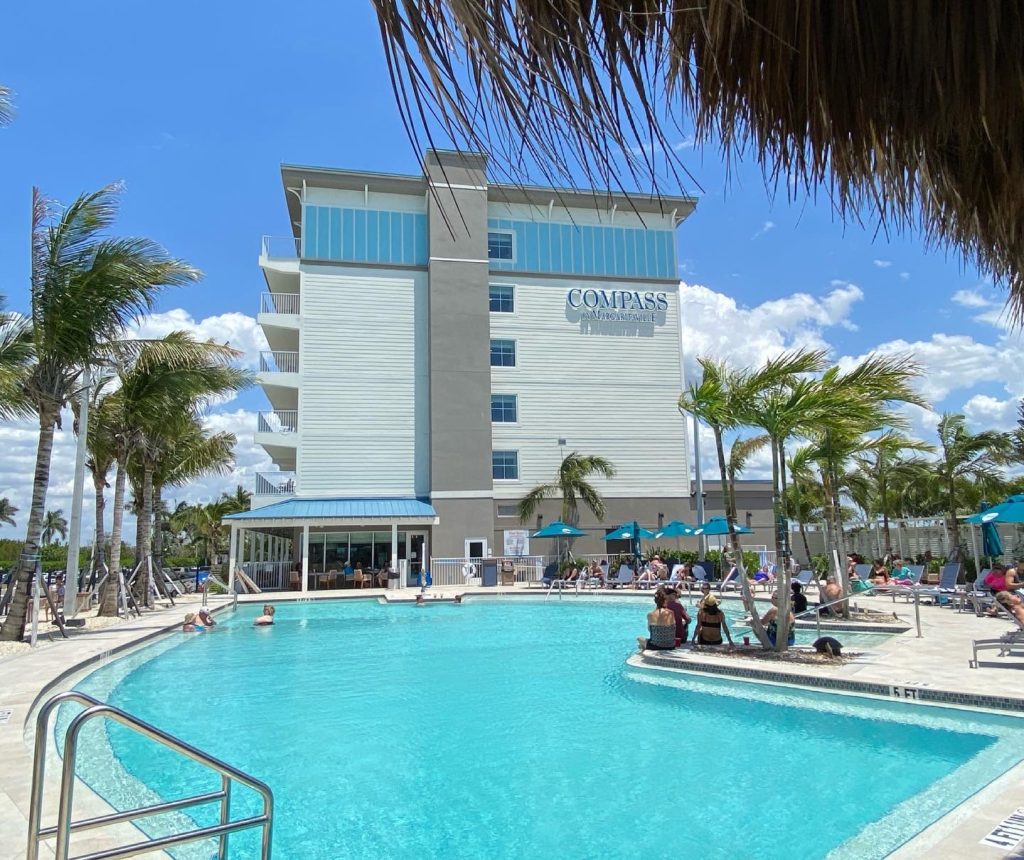 Know Before You Go
Other than a few picnic tables near the lighthouse, there are no formal facilities on the island, which means no restrooms, snacks, etc. Pack only what you need (food, lots of water, beach gear, sunscreen). Most importantly, bring a small bag for trash as there are no trash cans, and this is a wildlife refuge. We want to keep the island unspoiled so it can continue to be a treasure.
The pathways are plentiful and well marked. When checking in for the ferry, a staff member will also review a map of Egmont Key with you.
Wear shoes with good traction or be ready to take them off. A ramp is used to disembark the ferry, and depending on the water it can be a little bouncy to walk down the ramp onto the island.
If you do take the ferry from Fort De Soto Park like we did, plan some time to enjoy the park itself when you return from Egmont Key. Biking, hiking, fishing and relaxing by the beach are a few of the amenities. You paid to enter the park in order to board the ferry, so enjoy it.
All images by Dani Meyering