Honeymoon Island State Park is the oasis that awaits you at the end of the Dunedin Causeway. Whether you crave a romantic beach day or you want to bond while doing your favorite outdoor excursions, Honeymoon Island is a favorite among local couples. In this quick guide we'll highlight the five best things to do at Honeymoon Island.
This beautiful beach park was once home to over 50 bungalows and a premier spot for honeymooners back in the 1930's. Fun fact: Honeymoon Island got its name from a Life Magazine contest for newlyweds in 1939! Now visitors come to this location to enjoy the beach and outdoor recreation.
Water Fun
Rent a kayak from the South Beach park concession on Honeymoon Island or bring your own. There are inlets to explore around Honeymoon Island and mangrove waterways just across the channel. You might see dolphins chasing their prey into the intercostal waterway or manatees taking shelter among the mangroves.
If you and your date are fond of fishing, Honeymoon Island is home to tons of great fish such as snook, trout, and mackerel.
For those looking for something a little adventurous, surfing is allowed in the park and is best on the north end by Bathhouse 3. 
You can bring your pet along on your date to Honeymoon Island's pet beach. North Beach provides great shallows to cool off in the crystal clear waters of the gulf. Chair and umbrella rentals are available if you don't have your own. Honeymoon Island is also an excellent place to collect shells.
Romantic Honeymoon Island Dining
The private romantic dinners for two are not being offered at this time, however there are a few dining options on Honeymoon Island. There are two cafes located within Honeymoon Island State Park for casual dining: Cafe Honeymoon and South Beach Pavilion Cafe. On Caladesi Island, there's a third cafe called Cafe Caladesi.
For your own private dining experience, consider ordering food to-go or pack your own picnic and create your own special picnic area on the white sand! If sitting in the sand isn't for you, there are also plenty of picnic tables scattered around.
Romantic Honeymoon Island offers wedding packages as well, if you've been dreaming of a beachside wedding or even vow renewal!
Honeymoon Island Trails
There are 2.5 miles of nature trails within Honeymoon Island State Park to explore and go hiking through the slash pine forests. The Osprey Trail meanders through the heart of the island to the most northern point. Get lost with your love while observing wildlife like gopher tortoises, armadillos, raccoons, egrets, great-horned owls, and even eagles. There is also tons of great shelling to do while walking along the North End.
If you'd rather traverse the island on two wheels, you can rent bicycles, tandem bikes or multi-passenger beach surreys. Regular bike rentals are available for $12 per hour, $26 for a half day, or $32 for the full day.
Sunset Views
North Beach provides the perfect location to enjoy stunning Tampa Bay sunsets. You can watch from the shore or sit in one of several wooden Honeymoon Island swings and benches along the beach. The benches are great if you just want to come to enjoy the sunset and not have to bring your own chair and beach gear. The entrance fee for the park is reduced from $8 to $4 per vehicle if you come an hour before sunset.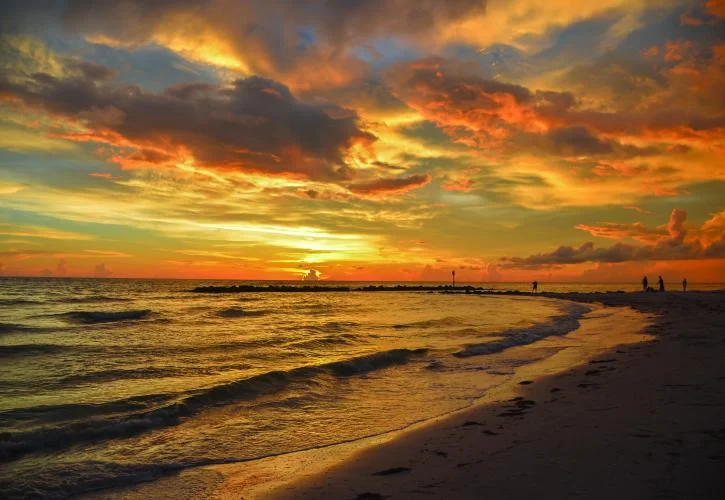 Caladesi Island
A visit to Honeymoon Island also grants you access to another state park, Caladesi Island State Park. In 1921, Honeymoon Island and Caladesi Island were split in half during a hurricane, getting the name Hurricane Pass.This barrier island is only accessible by private boat or ferry service from inside Honeymoon Island State Park. The ferry runs every day (weather permitting) from 10am to sunset every half hour or hour, depending on the season. The ferry is $16/person roundtrip and includes a 4-hour stay on the island (Kids 6-12 are $8, 5 and under are free).
It's worth the trip and additional cost to experience Caladesi Island's pristine beach and turquoise waters. It's less crowded and less rocky than the beaches of Honeymoon Island. There is a concession stand on Caladesi with food and supplies and you can also rent beach chairs and an umbrella if you don't want the hassle of packing your beach gear.
What you need to know before you go to Honeymoon Island
Honeymoon Island State Park is open daily from 8 a.m. to sundown. The entrance fee is $8, or $4 if you're arriving an hour before sunset. Visit the Honeymoon Island State Park website for more details.
The Rotary Centennial Nature Center is open for guests to check out daily 9:00am-5:00pm.
Feature Image Credit: Florida State Parks
Looking for other beaches? Check out Three Perfect Days on Anna Maria Island or A Weekend Getaway to Marco Island: Food, Beaches, and More.
---
*Originally published in August 2020. Updated in September 2023 by Brie Gorecki.
About the Author: Lauren Gay is a local travel blogger, photographer, and foodie with a passion for adventure, all things water, and glamping. Find her online on her blog Misadventures of an Outdoorsy Diva and Outdoorsy Diva on Instagram.