The beach is always an option for an outdoorsy day, but the Tampa Bay area is filled with so many parks and nature preserves to check out, too. The fact that admission is free for most of the parks and preserves on this list is an added bonus! From spacious outdoor expanses to beachfront parks and smaller preserves, head outdoors together to discover one of our favorite nature preserves in Tampa Bay.
Looking for more parks and preserves? The Hillsborough County website is a great resource to find even more parks and preserves to visit on your days off and find exciting things to do.  Also, our constantly updated list of activities and things to do this month in Tampa Bay is filled with great ideas!
Weedon Island Preserve
Weedon Island Preserve is a 3,190-acre nature preserve located in St. Petersburg. Follow along for a guided tour or wander around on your own to see the Cultural and Natural History Center and the boardwalk trails through multiple ecosystems. The close proximity to the Bay makes this preserve a popular birding and fishing site. This is also a great spot for kayaking. You can rent kayaks from Sweetwater Kayaks or bring your own to the launch site to explore the 4-mile loop South Paddling Trail. Paddle your way through shady mangrove tunnels while watching for wildlife including mangrove crabs and wading birds.
FYI: this park is not pet-friendly, so leave your pup at home to help preserve the park's native plant and animal life. Admission is free.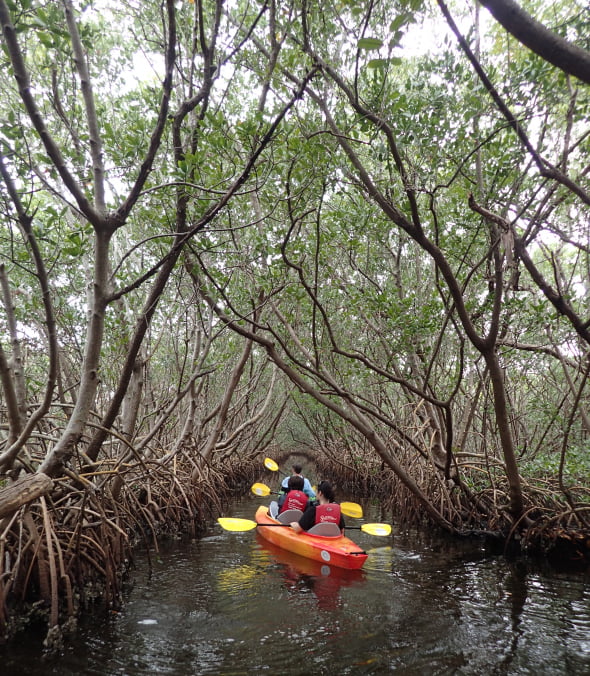 Brooker Creek Preserve
This local preserve 45 minutes outside of Tampa spans a whopping 8,700 acres. Plan an afternoon to explore Brooker Creek Preserve's six unique hiking trails. There are trails of varying lengths weaving through diverse ecosystems including wetlands, oak hammocks, pine flatwoods and cypress swamps. The preserve also boasts 9 miles of equestrian trails. Admission is free, too!
Robinson Preserve
Instead of spending a full day at the beach, visit Robinson Preserve during your next visit to the quaint and full-of-character Anna Maria Island. It's free to explore the preserve's multiple hiking trails and observation deck with views of the Sunshine Skyway Bridge.  The park is open year round from sunrise to sunset.
You can also access this preserve via kayak. Stop along Manatee Avenue W (before reaching Anna Maria Island) to rent kayaks from SurferBus. You'll paddle through a mangrove tunnel and wind your way through the paddling trail which you can follow all the way to the preserve's observation tower. This is a lengthier paddle, so bring plenty of water and wear sunscreen.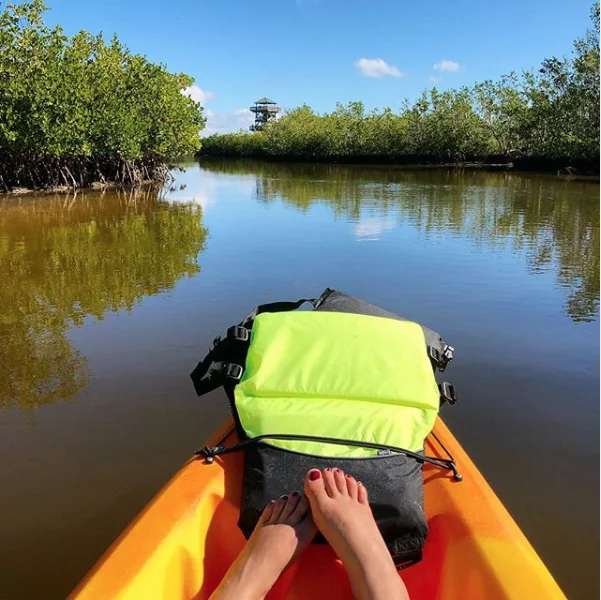 Lower Hillsborough Wilderness Preserve
The home of one of the largest contiguous recreation areas in Hillsborough County is the Lower Hillsborough Wilderness Preserve. At the preserve you may spot alligators, different species of birds, and turtles while paddle boarding or kayaking. There are almost 60 miles of forrest trails and spaces to grill or set up a picnic after your hike.
Fort De Soto Park
Fort De Soto Park is a popular beach spot because of its powdery white sand and clear water. There is a ton of wildlife roaming the park no matter the season. There are also a bunch of activities besides beach lounging such as kayaking and camping. The campsites are located near the beaches and waterfront sites are available for only a couple dollars more. Sites are equipped with an electrical plug and a nearby bathroom with showers if staying outdoors is something that doesn't sound super attractive to you. If the showers didn't sell you on camping at Fort De Soto, then the sunset views from your campsite will! Read more about this park in our post Nature Calls at Fort De Soto Park.
FYI: beach parking is $5.
Lettuce Lake Park
Lettuce Lake Park is a 240-acre natural oasis that typically sees over a million visitors a year. Visitors can hike, kayak, exercise and fish. Don't miss the 3,500-foot boardwalk and observation tower, which overlooks the Hillsborough River and the floodplain that makes up the majority of the park. Weekends feature guided tours from park rangers focused on nature education throughout the park. This park is also one of our favorites for setting up a picnic! Admission is $2/vehicle.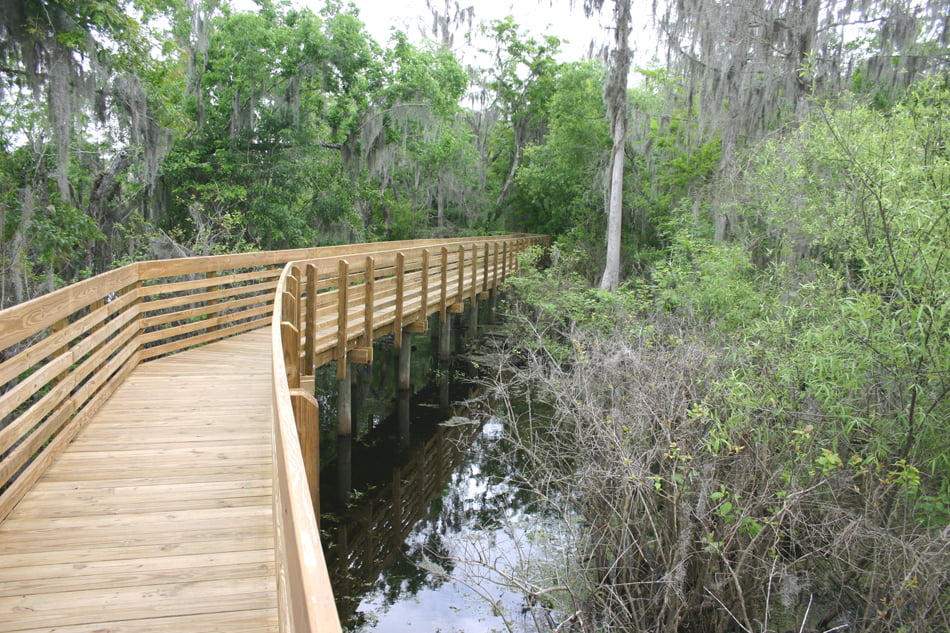 Feature image credit: Weedon Island Preserve and Natural History Center
Other Fun Things to Do in Tampa
Tampa, Clearwater and St. Pete have so many fun and interesting things to do – ranging from things to do this week for families to things to do for couples – that we're never out of options!  Check out our great resources to finding the perfect activities and stuff to do today and tomorrow!