Did you know that Tampa was ranked as one of America's best picnic spots by Travel + Leisure magazine? And it's no wonder! Tampa Bay parks serve up huge helpings of year-round sunshine, sweeping waterfront views and beautiful flora. With fall on the horizon, what better way to spend the day than on a romantic outdoor date?
Drizzle in fascinating wildlife and captivating sunsets and you have the perfect recipe for a romantic picnic date. So grab your picnic basket filled with homemade or neighborhood bites and head to one of the best parks in Tampa Bay. Now's the perfect time to find a plot of shade to enjoy an open-air feast.
Picnic Tip: Put your basket together with goods from a local farmers market.
Best Tampa Bay Parks for Picnics
Here are our favorite romantic picnic spots for the perfect date in and around Tampa:
Lettuce Lake Park
Honeymoon Island State Park
Vinoy Park
Gizella Kopsick Palm Arboretum
Curtis Hixon Waterfront Park
North Straub Park
Edgewater Park
Fort DeSoto Park
Coachman Park
Lettuce Lake Park
Once a cattle-grazing pasture, Lettuce Lake Park is a pastoral oasis located on the scenic Hillsborough River and one of the most beautiful parks in Tampa. This pristine public park is home to 240 acres of breathtaking hues and views.
Nature lovers can enjoy lush mangrove forests with sprawling foliage (a maple tree with crimson leaves on the trail is the favorite) and a 3,500-foot wooden boardwalk winding through the trees featuring observation tower for a birds-eye view of the water and a panoramic view of the flood plain forest.
This Tampa Bay park is packed with plenty of places to picnic—big lawn spaces, picnic shelters, abundant tables and shady trees. Or, rent a canoe and have a picnic on the water! Wildlife to spot includes scarlet spoonbills, egrets, ibis, alligators and a barred owl that hangs in a tree at the north end of the boardwalk. FYI: there's a $2 entrance fee.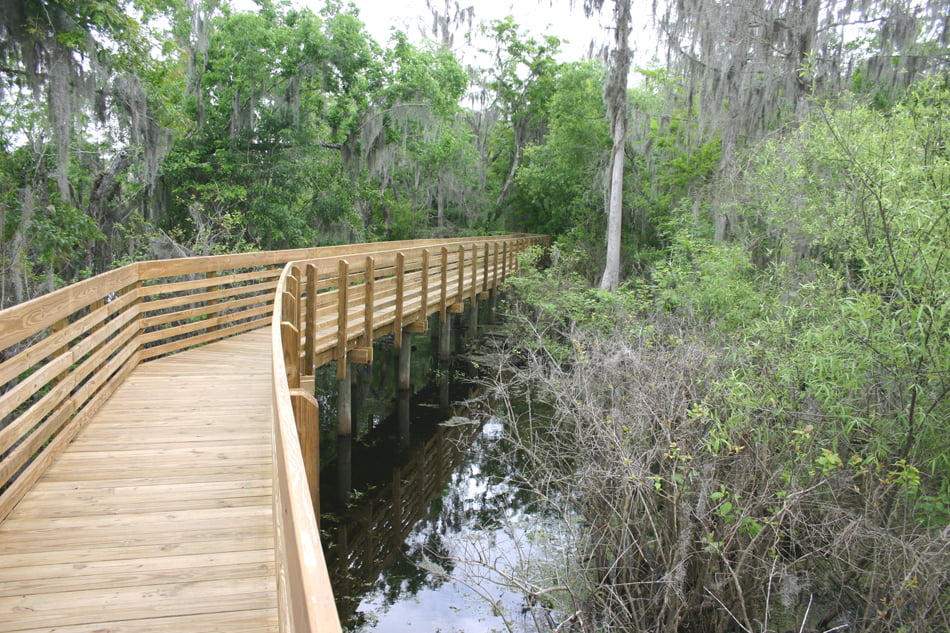 Honeymoon Island State Park
The name says it all. Honeymoon Island State Park is a romantic undeveloped barrier island off the Dunedin Causeway right on the Gulf of Mexico. This glorious nature-inspired state park is home to 385 acres of raw natural beauty, including four miles of pristine white sands, stunning mangroves, tidal flats, a slash pine forest and a 2.5-mile Osprey trail ideal for bird watching. It's one of our absolute favorite Tampa Bay parks.
The beach is the perfect place to throw down a picnic blanket for a romantic picnic, but there are plenty of other spaces to nosh if you don't like the sand. Pick up wine and fish and chips at either of the park's cafes which also rent kayaks, bikes and beach chairs.
FYI: Alcohol is only permitted in the vicinity of the cafes. You'll love walking hand-in-hand along the warm Gulf waters with someone special. A perfect day! Parking is $8.
Vinoy Park
Situated on the downtown waterfront in St. Pete, Vinoy Park boasts 11.6 acres of beautifully manicured open green spaces. You'll see bayside trails, jogging paths, and romantic nooks sprinkled throughout the park. This lovely Tampa Bay park features year-round music festivals, art shows, and sporting events. But the bottlenose dolphins and pelicans by the sea wall are the real showstoppers.
Sit on the wall in the afternoon with a charcuterie board and watch the dolphins swim up to you and frolic beneath your feet. If you stay until sunset, gaze at the brilliant hues in the sky that carve through gorgeous Tampa Bay and admire the St. Pete skyline. It will be a day worth remembering.
Gizella Kopsick Palm Arboretum
Walk just north of Vinoy Park and you'll find Gizella Kopsick Palm Arboretum, a lush park filled with–you guessed it–hundreds of palms. This tropical paradise offers 2 acres of waterfront zen where you can see more than 500 palms and cycads from around the world.
Winding red brick paths lead you through the park and past green spaces perfect for setting up your picnic. Parking and admission are free.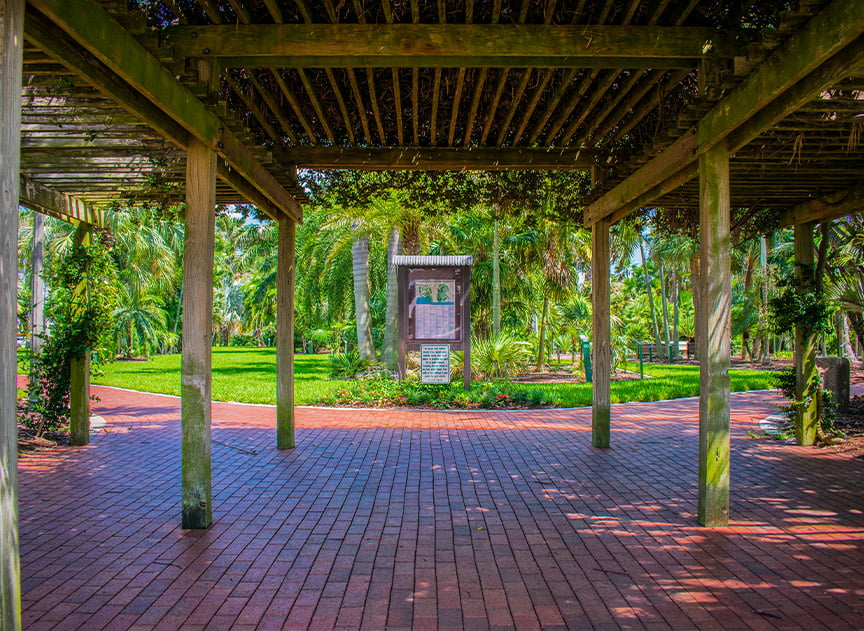 Curtis Hixon Waterfront Park
With sweeping views of the waterfront and steps from the Tampa River Walk, Curtis Hixon Waterfront Park offers abundant open-air breezes for your romantic picnic.
Peppered with towering palms and rushing fountains, this picturesque Tampa Bay park draws many couples to its beautiful and sprawling green-filled space. Claim your spot near the water and view the enormous cruise ships in the bay. Take a romantic stroll on the Riverwalk to complete your date.
North Straub Park
Located on the downtown waterfront in St. Pete, this grassy refuge boasts glorious bay views perfect for spreading out your picnic blanket. North Straub Park hosts music festivals and events year-round, but the real stars are two fairytale-like Banyan trees that are right out of the Wizard of Oz.
Open-air dining enthusiasts can be spotted picnicking on the grass, benches, and snuggling under shady trees. Watch the boats sail into the marina and dolphins play in the bay. After you eat, rent bicycles and work off your lunch on the bike path. You can avoid weekend parking and take the trolley for only 50 cents.
Other nearby parks to check out in the vicinity include:
Edgewater Park
Edgewater Park is a small but scenic 4-acre park smack dab in the middle of Dunedin. You'll be rewarded with waterfront marina views, a cute gazebo (you can rent it for events and weddings), multiple picnic tables just a short hike from the parking area and plenty of shade.
Pack your own picnic to enjoy in the park or grab some takeout from one of Dunedin's numerous nearby eateries. Walk off some calories after your picnic by taking a stroll out to the Dunedin Pier, or hop on the Pinellas Trail just a few blocks from the park.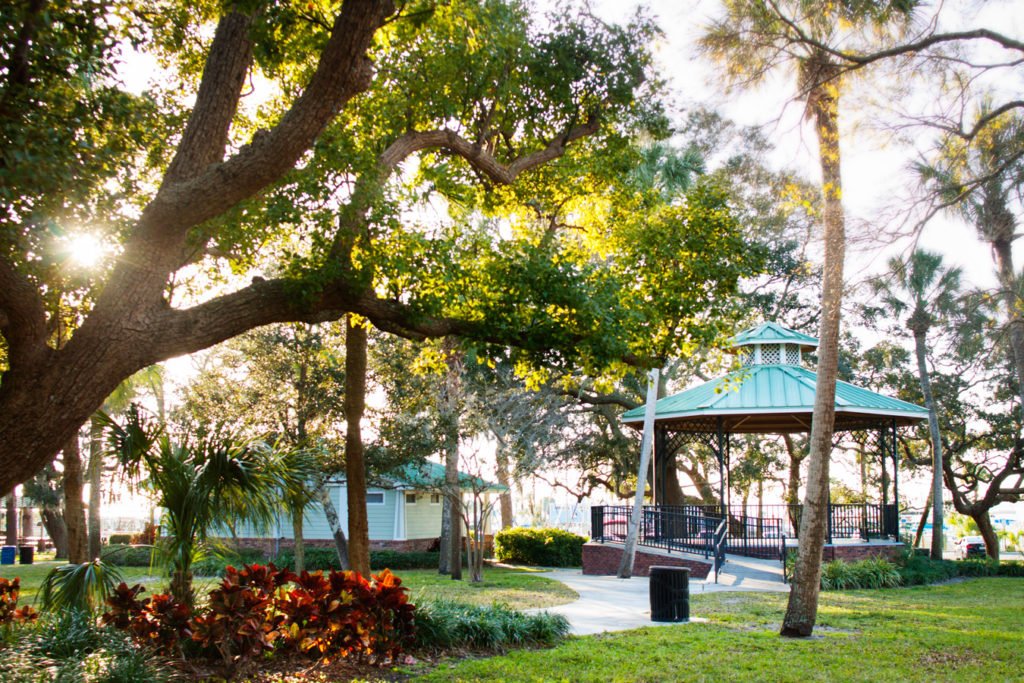 Fort De Soto Park
At more than 1,000 acres, Fort De Soto Park is a beachfront park comprised of five separate islands and the perfect respite from the hustle and bustle of the city. Go lazy and lounge in the sun in your beach chair with provisions, or work up an appetite on the hiking trails before settling down in a quiet spot to indulge in your feast.
There's also a concession stand on site at this Tampa Bay park if you aren't planning to pack your own snacks. Other activities include kayaking, biking, snorkeling, camping, or hopping on the ferry to Shell Key and Egmont Key.
We love this beach option because there's easy access to restrooms and even a snackbar for food to create a picnic once you get there if you don't feel like packing. Beach parking is $5 for the day.
The newly reimagined Coachman Park in Clearwater opened this summer and is the perfect waterfront spot for a picnic. The large open area of the Greens features 19 acres of park space. There is also a tree-lined gateway plaza and bluff walk as well as an upper plaza area with a shaded pedestrian promenade overlooking the intracoastal.
On select days, you can enjoy a free performance on the stage at The Greens or catch a concert on the lawn at The Sound amphitheater.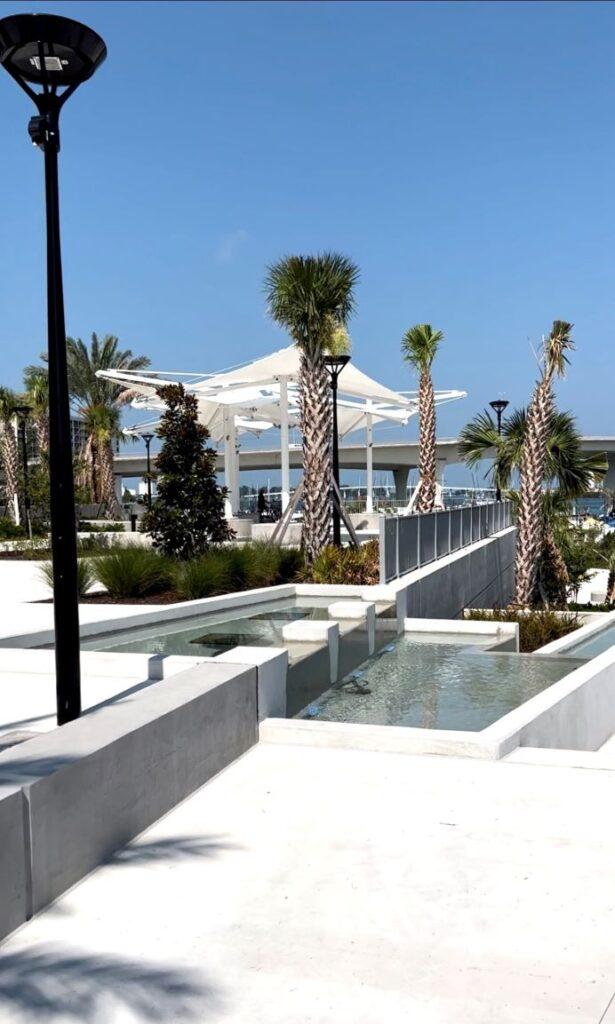 Feature image credit: City of Tampa (location: Curtis Hixon Waterfront Park)