Stretching 2.6 miles, the Tampa Riverwalk along the Hillsborough River in downtown Tampa is a fun, festive and extremely popular destination for Tampa Bay residents and visitors alike! With a growing list of waterfront dining options, museums, a steady stream of outdoor festivals, and a growing list of water activities, it's easy to plan the perfect Tampa Riverwalk date night.
Whether you prefer a leisurely stroll or a more active itinerary, the Tampa Riverwalk has something to fit every style.
Updated August 2023, by Zoë Joiner
What is the Tampa Riverwalk and How Long is it?
The Tampa Riverwalk is a unique 2.6-mile waterside walkway along the shores of downtown Tampa. Great for biking, walking, jogging, strolling and (for parents) strollering, the Tampa Riverwalk connects parks, attractions, restaurants, bars, hotels, sporting venues, meeting spaces, offices, convention spaces and cultural landmarks.
Where Does the Tampa Riverwalk Begin and End?
The Tampa Riverwalk walkway begins north of downtown Tampa at the Heights Public Market inside the Tampa Armature Works building, by the North Blvd. Bridge. It continues south along the shores of the Hillsborough River, finally terminating by the Tampa History Museum and Channelside Drive, home to the redeveloped Sparkman Wharf.
Can I Bike or Scooter Down the Riverwalk?
Absolutely! The Tampa Riverwalk isn't just a pedestrian walkway. You can walk, bike, or even use an electric scooter to get around and there are rental spots all along! Just watch out because pedestrians have the right of way, and they like to walk in big groups!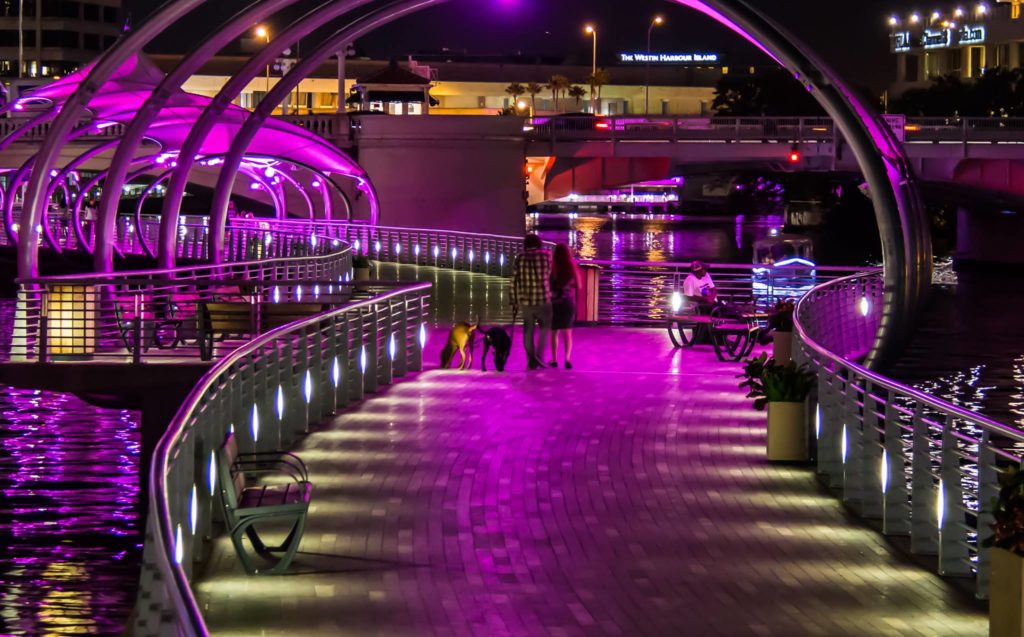 What are Some Things to Do Along the Tampa Riverwalk?
Tampa Riverwalk Bike Tour
With multiple Coast Bike Share rental kiosks along the Riverwalk, it's easy to explore along the paved walkway on two wheels. This is a fun, active option to see Tampa from a whole new point of view. It's also affordable at around $15 per hour.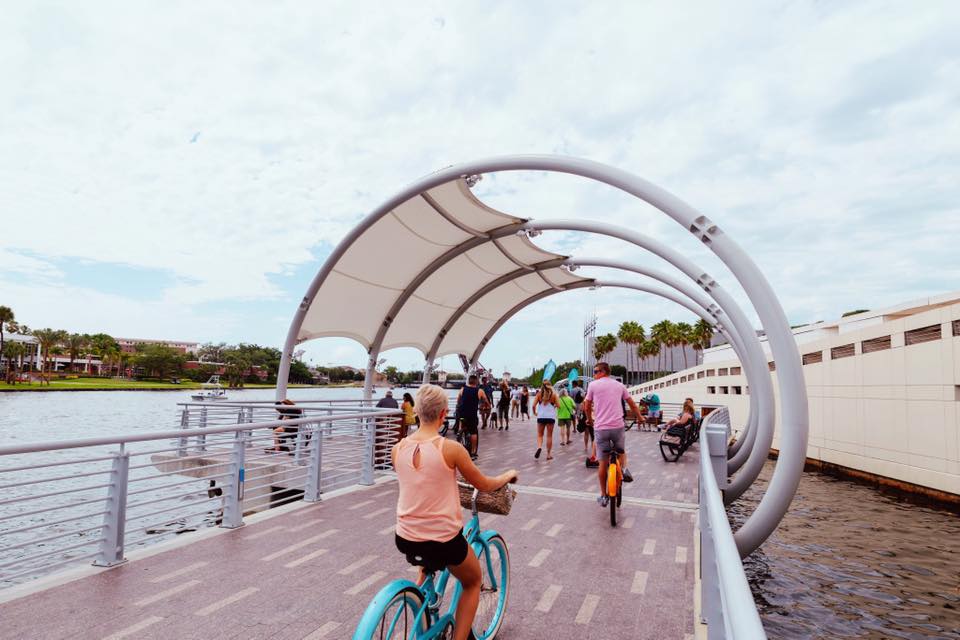 Festivals, Events & Live Music
Festivals and special events have become a mainstay along the Tampa Riverwalk with most of the festivals happening at Curtis Hixon Park. There are monthly events like Fourth Friday Tampa, food truck rallies, themed events like the Margarita Festival and FREE Rock the Park concerts on the first Thursday of each month.
Check out our curated list of Clearwater, St. Pete and Tampa events and things to do for happenings along the Riverwalk and beyond each month.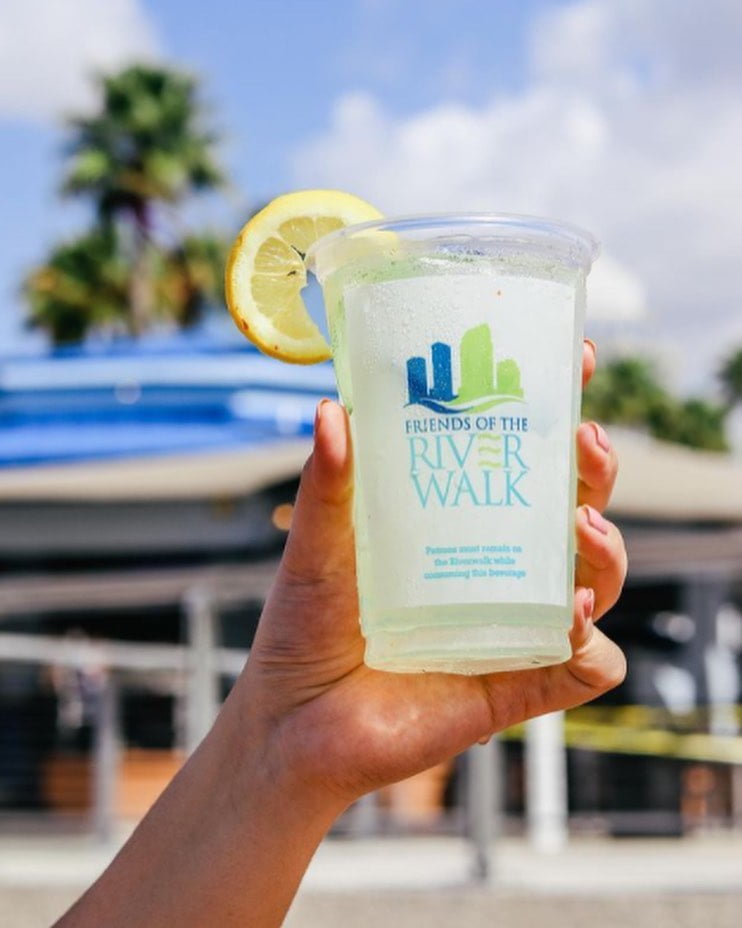 Riverwalk Attractions
Riverwalk Attractions
The Tampa Riverwalk is dotted by several cultural attractions worth stopping for. If you begin at the northern end, first you'll come across the Straz Center for Performing Arts. This is where you'll find all the big traveling broadway shows, as well as smaller theaters for more intimate performances.
Continuing south you'll find the Tampa Museum of Art right next door to the Glazer Children's Museum bordering Curtis Hixon Park. The Tampa Museum of Art has an excellent collection of permanent exhibits, as well as a steady stream of traveling exhibits, and the Glazer Children's Museum recently acquired the world's largest Triceratops fossil.
Central to downtown along the Riverwalk is Curtis Hixon Waterfront Park, the perfect spot for a picnic or game of frisbee. Regular host of Yoga in the Park and other meet-ups, there's also a dog run, playground, and a small stand for concessions (and bathrooms). Make sure to check out the primo view of The University of Tampa across the river, with its eye-catching Moorish spires.
If you're up for an easy detour off the Riverwalk and into downtown, The Tampa Theatre is a totally memorable and historic "movie palace" just a few blocks away from the river that hosts Summer and Holiday movie classics series' as well as other fun, movie-themed events. If you go, stop for drinks at The Dan inside the Floridan Palace Hotel, just another block up, which has live jazz and prohibition-era style cocktails.
Back to the Riverwalk along the southern edge of Curtis Hixon Park are a couple of iconic buildings, including the old Florida Museum of Photographic Arts building with its wall of windows (which is moving to a new location in Ybor City), and the "Beer Can" building (properly named Rivergate Tower/The Sykes Building).
Continuing south you'll pass some swanky hotels with rooftop pools, MacDill Park military history site, and then, the Tampa Convention Center with The Sail (pavilion) right on the water. Be sure to grab a famous Grouper sandwich from Big Rays at The Sail.
Right around the corner is the Tampa Marriott Water Street, home of the beautiful Anchor and Brine restaurant, as well as the hugely underrated Cotanchobee Fort Brooke Park, between Amalie Arena.
The Riverwalk ends at the Tampa Bay History Center, with the famous Colombia Café. Continuing your walk farther east, you'll find a plethora of dining and entertainment options within Sparkman Wharf, which has a similar "group hang" vibe as Armature Works, and even farther past the cruise port is the Florida Aquarium with its eye-catching 80′ tall glass domed "Wetlands" habitat.
Water Activities
Rent an eBoat (open late until 10pm) or mini powerboat (last rental at 6pm) to explore the downtown waterways. There are multiple restaurants where docking is permitted, and no boating license is required. For more of a workout, Tampa Bay Waterbike Co. offers a unique experience to pedal your way down the river on water bike or in a biyak (bike-powered kayak).
Alternatively, hop on and off the Pirate Water Taxi at various stops along the Riverwalk while taking in scenic views of the waterfront, including stops at Channelside for shopping, Harbor Island, and Davis Island's restaurant row.
Prefer a booze cruise? Enjoy pedal-powered fun on the Kraken Cycleboat or make your way down the river on a floating tiki boat with Cruisin' Tikis Tampa Bay. Both tours are BYOB.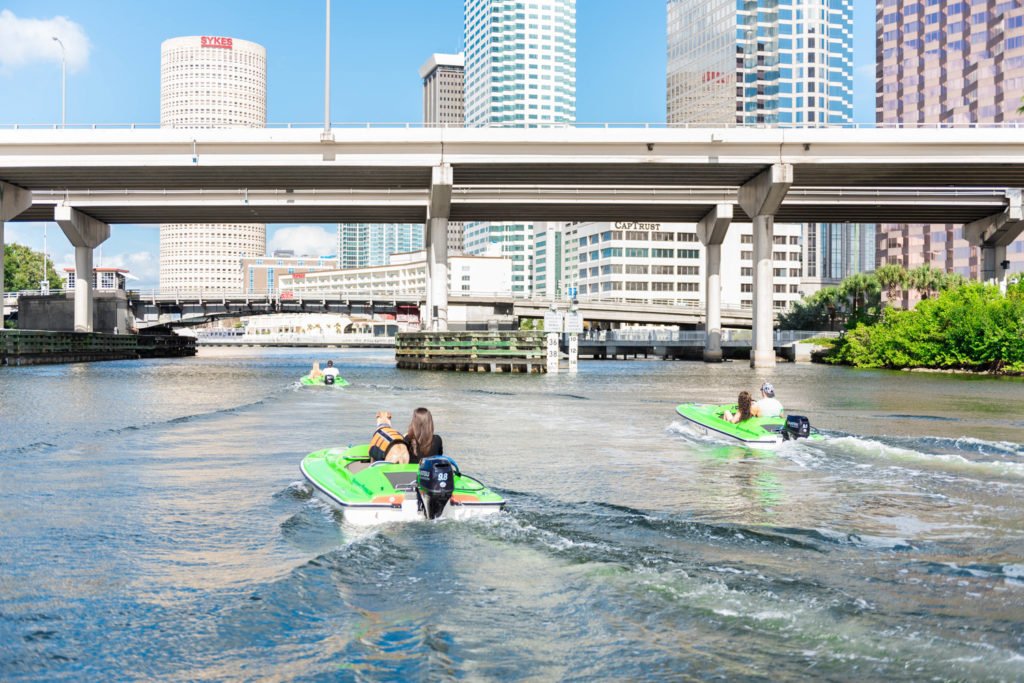 Are The Places to Eat & Drink Along the Riverwalk?
Most of the food and drink spots along the Tampa Riverwalk are concentrated within Armature Works and Sparkman Wharf. You can find the full Armature Works vendor list here, and the full Sparkman Wharf vendor list here. Below, we've highlighted a few of our favorites from Sparkman, Armature and throughout the rest of the Tampa Riverwalk.
Located right around the middle of the Tampa Riverwalk, at the southern edge of Curtis Hixon Waterfront Park, you'll find remedy. Remedy is a great outdoors spot with shaded seating, an excellent bar and a build-your-own menu for pizza and burgers. Remedy is temporarily closed but word is it is set to re-open in the fall.
Astro Craft Ice Cream, located inside the Height's Public Market at Armature Works, creates ice cream to order, right in front of you. Make your own indulgent creation from a variety of flavors and add-ons, including a fun "shot" of honey, caramel or chocolate injected into your masterpiece by way of a plastic syringe. You'll want to put this ice cream on your Instagram.
Related: Over The Top Tampa Ice Cream Shops
For those times you're craving an authentic Italian Neapolitan pizza cooked in a piping hot oven straight from Italy, Ava delivers. Aside from pizza, the menu also features other rustic Italian flavors. Eat your pizza with a fork and knife if you want to do it the true Italian way! There are three locations throughout the Tampa area, including one inside of Armature Works along the Riverwalk.
Also located inside of Armature Works, it doesn't get more Instagram-worthy than Bake'n Babes' over the top desserts. From the unique taiyaki cone to Nutella stuffed chocolate chip cookies, this is the spot to let your sweet tooth go wild. Exclusive to this location is "The Works," an over the top ice cream treat topped with an assortment of sweets (think donuts, oreos, popcorn, candy, etc) that rotates monthly.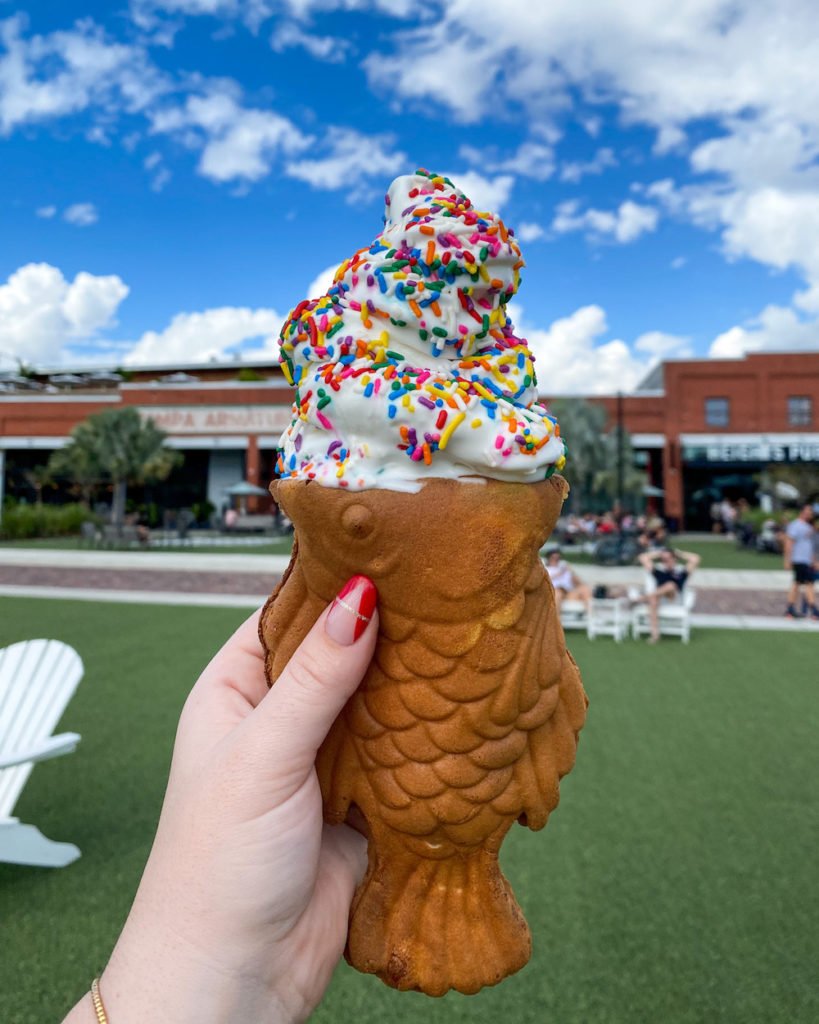 Bar at Armature Works, at the northern starting point of the Tampa Riverwalk, is a creation from the cocktail masters at Ciro's Speakeasy in south Tampa. It's hard to miss the stylish bar standing proud inside the market. Stop and stay awhile for a delicious craft cocktail made with care.
Butcher n' Barbeque (BnB) serves up tasty made-to-order sandwiches, house-smoked meats and more within Heights Public Market. Feast on house-smoked meats like brisket, pulled pork, spare ribs and whole or half chicken. 
Cru's downtown location is a cozy fixture inside the Armature Works building, part of the Heights Public Market, along the Tampa Riverwalk's northern end. The location offers a smaller menu highlighting dishes like sandwiches, cheese & charcuterie and wines by-the-glass. Oh and, you can take that wine to go as you peruse the rest of the market!
Swigamajig bills itself a no-frills dive bar and fish kitchen. Seafood loves will delight in tasting Chef Pierola's seafood menu alongside craft cocktails, beer, and wine.  Find it in Sparkman Wharf's dining garden at the end of the Tampa Riverwalk.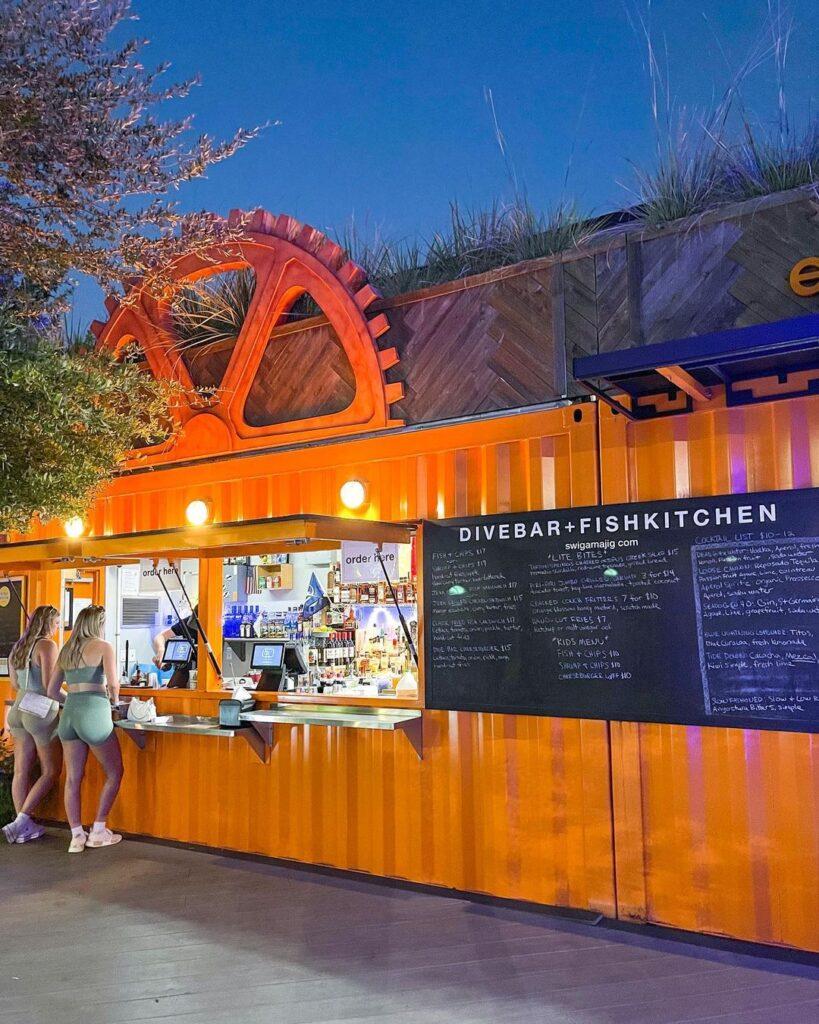 Handwrapped with Love at Armature Works along the Tampa Riverwalk, Empamamas serves delicious empanadas and tacos.
At the Sparkman Wharf end of the Tampa Riverwalk is Chef Ferrell Alvarez and restaurateur Ty Rodriguez's Gallito. Gallito is a modern taqueria serving up a twist on classic Mexican street food. The menu includes everything from Duck Carnitas to Barbacoa Butternet tacos.
If you're looking for a place where breakfast is served all day, Graze 1910 in The Heights Public Market inside Armature Works is your spot! The menu includes breakfast and brunch favorites like house made waffles, artisan burgers, and gourmet toasts. There are also some healthier options available. Soak up scenic downtown Tampa skyline views while you dine.
Beat the heat with a cold one at the reimagined waterfront biergarten at Sparkman Wharf by the Tampa Riverwalk. This outdoor biergarten offers over 30 beers, many of which are craft beers local to the Tampa Bay area.
---
Check out our sister site at TampaBayParenting.com for more ways to enjoy Tampa Bay's Riverwalk!
---
Take in the spectacular views of downtown as you venture to the rooftop of Armature Works to M.Bird. Treat yourself to craft cocktails and small plates while you enjoy the view. Rain or shine, M.Bird has a covered patio to keep the party going (and provide some much-needed shade).
New at Sparkman Wharf, Murph's Barbecue made its debut in January 2021. Sink your teeth into pulled pork, chopped chicken, brisket, mac-and-cheese, baked beans and coleslaw. Named after co-founder Scott Roberts' childhood canine, Murph's welcomes all friendly pups and even offers homemade dog treats.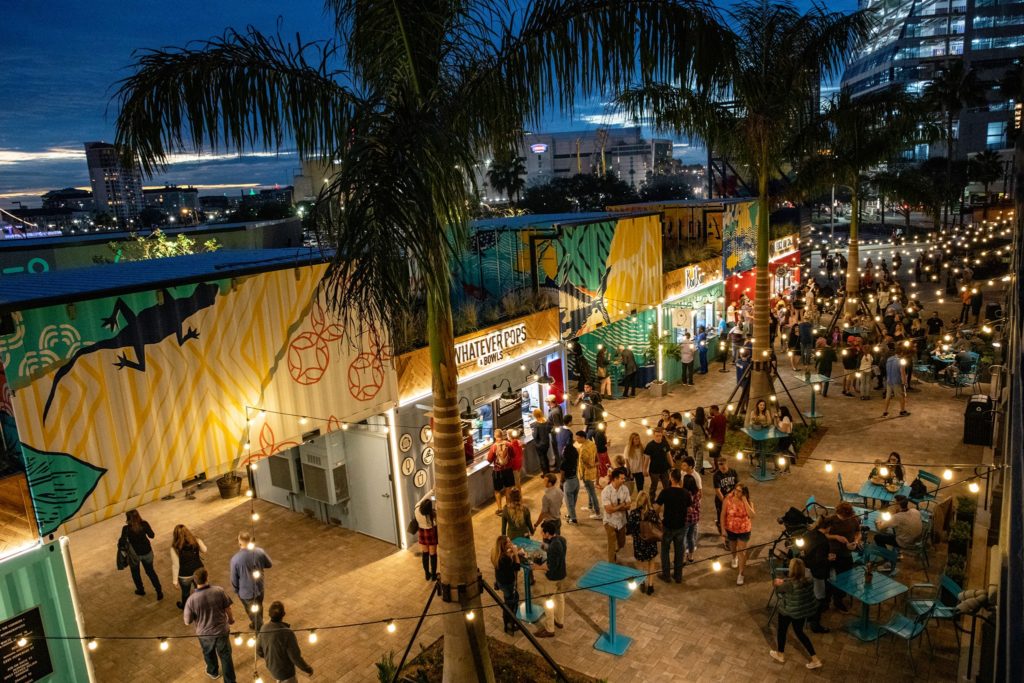 Created by a group of close friends, Oak & Ola is a EuroAmerican romantic restaurant located right in Tampa's Armature Works. Enjoy a classic and comfortable setting with a timeless design. Check out the Blue Crab Spaghetti for a fun twist on a classic Italian dish.
Located directly on the Tampa Riverwalk by the Tampa Convention Center is The Sail, a 360 degree waterfront bar.  The Sail is a great spot for a cocktail and a bite to eat while strolling along the Tampa Riverwalk. It offers unparalleled views of the water and is also a great place to watch the sunset.
Splitsville is a one-stop shop for bowling, arcade games and a tasty bite. You'll find it located at Sparkman Wharf along the Tampa Riverwalk. The menu comprised of Southern fare is inspired by James Beard Award winning Chef Art Smith. Hang out here before attending a Lightning hockey game or event at Amalie Arena.
Located inside of Armature Works, Steelbach's chophouse menu includes local grass-fed beef and Southern-inspired favorites. Steaks are cooked over a 1000-degree oak fire grille, lending a unique flavor. Looking for something other than a dinner date? Check out the sweet and savory brunch menu while sipping on mimosas.
Related: Tampa Bay's Best Brunch Spots
Near the northern starting point of the Tampa Riverwalk, by Armature Works and the North Blvd. Bridge, is Ulele. Ulele is owned by The Columbia Restaurant Group and features a seafood-heavy menu utilizing ingredients from Florida's waters. It also pays homage to the many Native Americans who once lived in the area. The outdoor dining area has the perfect waterfront view of the Hillsborough River and plenty of space to lounge.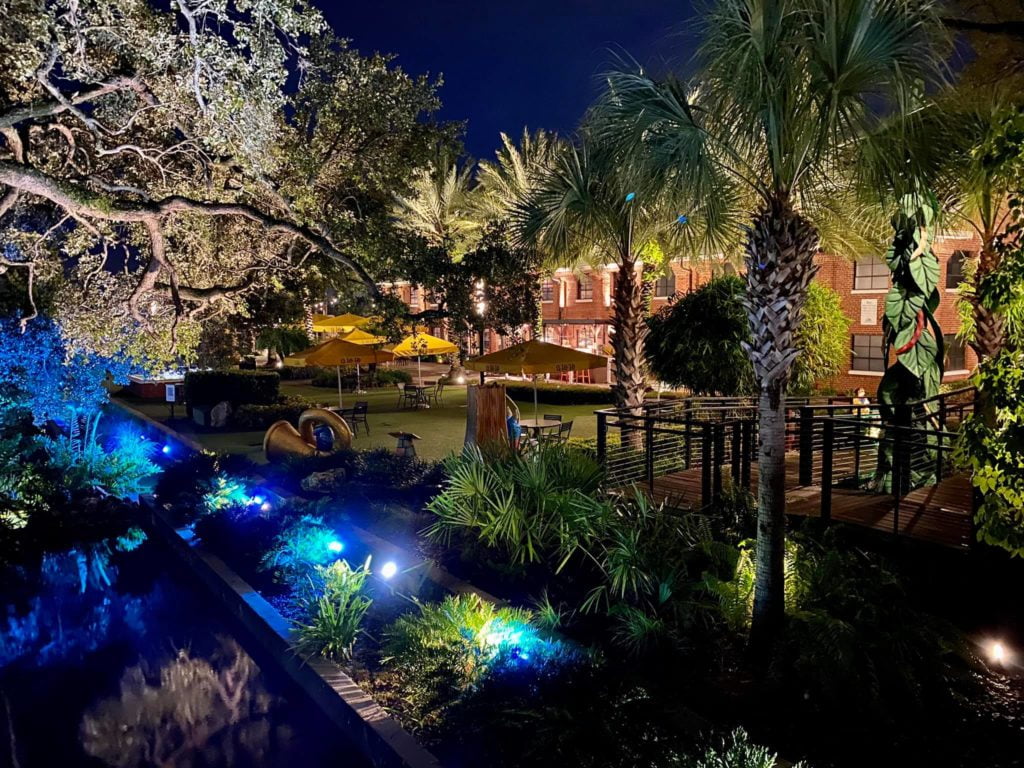 At Zukku inside the Height's Public Market at Armature Works, you create your own sushi creation in roll, bowl or burrito form. The DIY-menu approach allows you to pick a style, protein and a few finishing touches to make a one of a kind sushi creation. Or, choose from a selection of Zukku's own sushi rolls, bowls and burritos.
How Can I Go Down the Riverwalk on the Water?
Going by water is one of the best ways to see the sights on the Tampa Riverwalk! You can rent boats, kayaks, paddleboards, and even water bicycles and enjoy a leisurely cruise down the river. There are even a few places to dock and walk around! If you own a boat, kayak, or paddleboard you can take that down the river as well.
---
About the Author
Lauren Gay is a local travel blogger, photographer, and foodie with a passion for adventure, all things water, and glamping. Find her online on her blog Misadventures of an Outdoorsy Diva and Outdoorsy Diva on Instagram.
Feature Image Credit: The Tampa Riverwalk