One of the best things about living in the Sunshine State is the beautiful weather year-round! With so many water access points across the Tampa area, there are tons of places to go kayaking near you. whether you choose to book a guided tour or rent from a local kayak rental company.
Kayaking in Tampa Bay, Clearwater and St. Pete offers a unique way to get out on the water and spend some quality time with loved ones. You'll definitely want to set aside time to venture out into the waters at these awesome kayaking locations! We've rounded up our top picks for where to go kayaking in Tampa Bay below.
River Kayaking
Weeki Wachee River
The crystal-clear water of the spring-fed Weeki Wachee River will make you feel as if you've been transported to another world. While you can rent a kayak or paddle board at the Weeki Wachee Springs State Park for a 1.5 hour long kayaking adventure, you can also head a little further downstream to the Kayak Shack in Spring Hill which is right across the river from Rogers Park.
You can rent a single kayak or paddle board for $35, a tandem kayak for $51, or a canoe for $35. They only launch from 8 am-12 pm and you must be back by 5 pm. Keep in mind that exiting your kayak or paddle board to swim is discouraged because trampling on the bottom of the river can destroy the natural vegetation that is critical to the ecosystem. You can learn more about what you need to know about kayaking on the Weeki Wachee River here.
Downtown Tampa Kayaking
Want to kayak the Hillsborough River with the scenic Tampa skyline as your backdrop? Urban Kai is best known for stand up paddle (SUP) board rentals, but kayaking and Starship (Starboard's huge, 8-seater inflatable SUP) rentals are also available.
What makes Urban Kai kayaking unique is they offer kayak rentals at their Tampa and St. Pete locations as well as the option to bring kayak equipment to a designated location for you for a delivery fee. Hop into a tandem kayak with your love for $45 for a two-hour rental, which is plenty of kayak time to explore.
Other options for kayaking the downtown waterways include Tampa Bay SUP ($45 for two hours; tandem kayak) and WhatSUP Paddle Sports ($55 for two hours; tandem kayak).
Little Manatee River Kayak Tour
Located 30 minutes from downtown Tampa, Canoe Outpost – Little Manatee River offers multiple kayaking adventures at various levels of difficulty. Whether you're a beginner or a seasoned kayaker, you'll enjoy paddling out and back, or embarking on a longer journey with a return trip by shuttle bus.
For something out of the ordinary, reserve your spot on one of the monthly moonlight kayak paddle tours which includes a stop for snacks and music around a campfire (yes, there are s'mores!). Reservations for kayak rentals are recommended, but not required. Tandem kayak rental rates depend on the specific self-guided trip you choose but are all between $49-$79.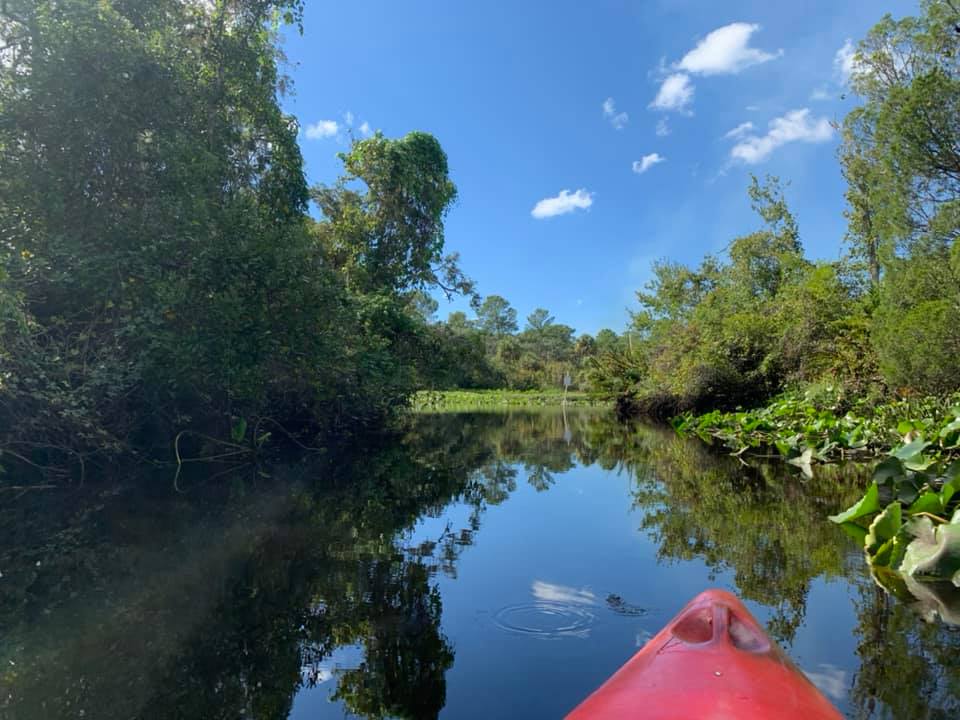 Gulf and Bay Kayaking
Shell Key Preserve
Manatees, dolphins, starfish and birds, oh my! Multiple kayak tour companies, including Coastal Kayak Charters, offer guided kayaking tours exploring the serene Shell Key Preserve near Tampa Bay and St. Pete.
Depending on the tide, you may be able to paddle through mangrove tunnels. If you're lucky, you may have a dolphin swim near your kayak, a once in a lifetime experience (and so romantic!). The cost for this tour is $49/person.
Honeymoon Island/Caladesi Island
Boasting natural beaches, stunning sunsets, top-notch shelling and more, Honeymoon Island State Park is an unspoiled paradise just minutes from hip downtown Dunedin. Cross the Dunedin Causeway, pay the $8 park entry fee and access is yours.
While lazing on the beach and exploring the hiking trails are popular park activities, kayak rentals are also available at the park concession or you can bring your own kayak.
Alternatively, you can rent a tandem kayak outside the park from Sail Honeymoon. Set your sights on scenic Caladesi Island for a secluded beach day. Splurge on the full day kayak rental so you can explore at your leisure.
Lido Key Kayaking
Lido Key may be a bit of a trek from Tampa, but the drive is worth the reward of paddling through scenic mangrove tunnels. Pack a plastic bag for your phone because you'll definitely want to snap some photos while exploring.
Rentals are available from several companies, including Sea Life Kayak Adventures ($65 for a half-day tandem kayak). While guided tours are available for $59/person, the tunnels are surprisingly simple to navigate and the current will help you along. Beginners up for a bit of adventure can totally tackle this experience. Your kayak rental company should also offer a map to help you get oriented.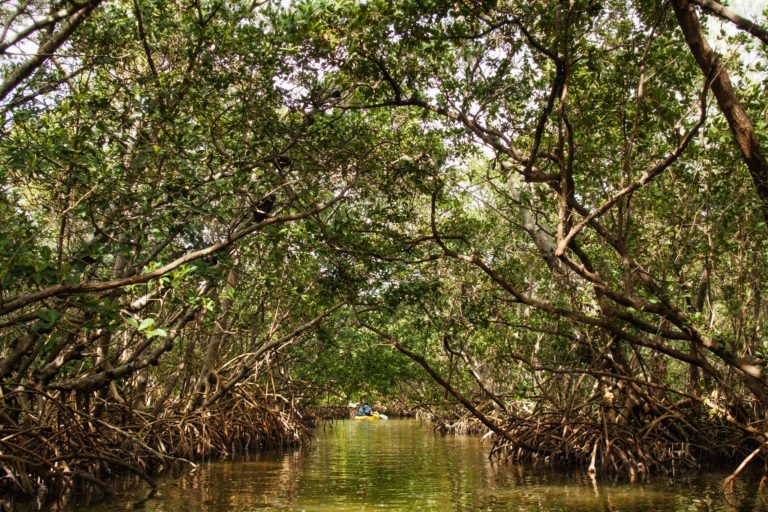 Tarpon Springs
For kayakers who want a leisurely trip paired with manatee sightings, a manatee tour kayak trip is the way to go. Get Up and Go Kayaking offers guided kayak tours in tandem clear kayaks for $49/person, giving you an unobstructed view of any manatees you're lucky enough to spot.
Once you paddle out to the manatee hangout, you'll have plenty of time to sit back in your kayak, relax, and wait for the gentle giants to pop up and say hello. When I did this tour, a manatee popped up right in front of my kayak!
Stick around the area after your kayak tour for a visit to the touristy but fun Tarpon Springs. The area is most famous for sponges and you'll find them everywhere, along with an abundance of tasty Greek eateries. Tours last about 2.5 hours. Note: this tour is only offered during manatee season in the colder months of December through March.
Weedon Island Preserve
Enjoy an adventurous paddle through scenic mangrove tunnels. ECOmersion is located at Weedon Island Preserve and provides kayak tours and rentals. Kayaks can be rented for one, two, or four hours with singles starting at $25 and tandems starting at $35. Stand up paddleboards are also available starting at $25 and canoes can also be rented beginning at $40. You can also take a two-hour guided tour in a tandem kayak for $80.
ECOmersion donates a percentage of all profits to local and national groups including Clearwater Marine Aquarium, the Audobon Society, and the Tampa Bay Watch. They also coordinate weekly cleanups around their local shorelines.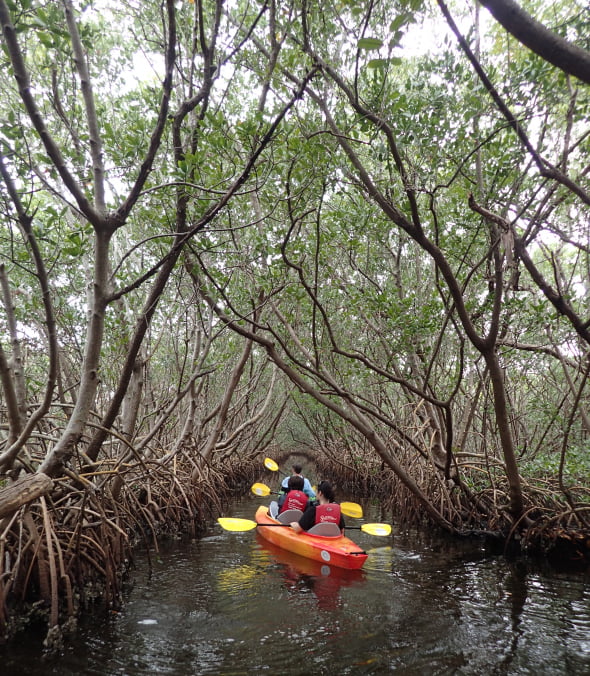 Longboat Key
South of Anna Maria Island, Longboat Key is a ritzy haven with stunning shorelines and fantastic restaurants. Exploring on the water offers a unique vantage point of both Anna Maria Island and Longboat Key, while also inviting you to stop off at a sandbar or peruse mangroves.
Happy Paddler Kayak has several rental locations, but I'm partial to Longboat Pass. After boarding your vessel, you can paddle out and around to the sandbar in front of Jewfish Key near Longboat Pass. If you're feeling adventurous, make your way under the Longboat Pass bridge and out into the gulf for views of AMI and Longboat Key from the clear water. Tandem rentals are $65 for a half day (4 hours).
Fort De Soto
Offering daily tours in Fort De Soto and Shell Key south of St. Pete, See Through Adventures is a glass-bottom kayak experience where you're almost guaranteed to spot friendly Florida wildlife. Choose from a 1.5 or 2.5-hour tour option and keep your eyes peeled for manatees and dolphins which are commonly seen in the shallow, calm waters. Reservations are required and pricing differs per tour, with a 1.5 hour tour at $69 per person and a 2.5 hour tour at $99 per person. For a unique experience, book one of their illuminated glow kayaks for a nighttime paddle.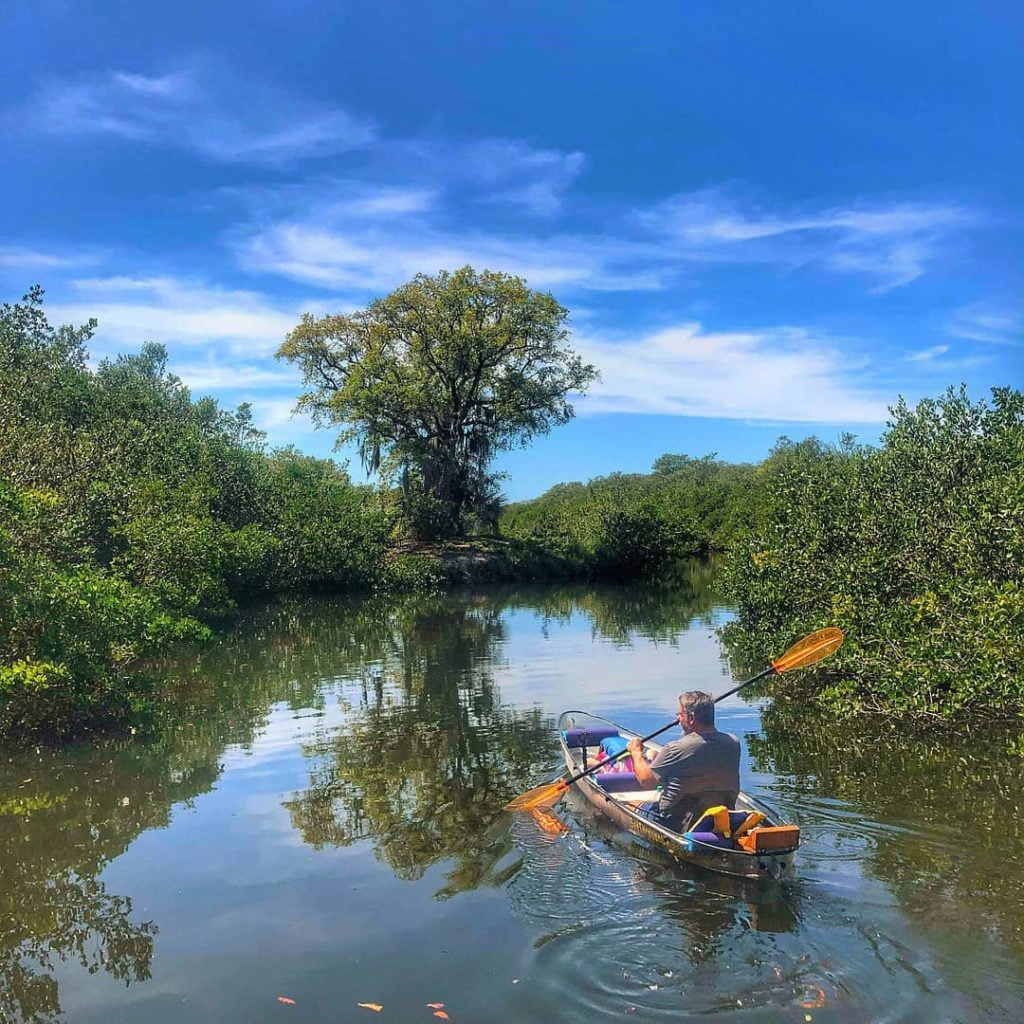 Robinson Preserve
Headed to Anna Maria Island for a laid-back beach day? Combine soaking in the sun with a morning kayak trip through the mangroves and calm waters of Robinson Preserve.
The iconic Surfer Bus, which you can find parked along Manatee Ave before reaching the island, offers kayak rentals just a short paddle away from the entrance to the preserve. You'll paddle through several short mangrove tunnels and open water and can paddle all the way to the preserve's lookout tour which offers scenic views of Anna Maria Island and the Sunshine Skyway Bridge. Single kayaks run $35 and tandem kayaks are ~$52; tours are 2.5 hours and paddlers must be off the water by 6pm.
Feature Image Credit: Step Outside
*Story updated in May 2023. Prices subject to change. Check with each company before you head out on your kayaking adventure. Enjoy!
Related stories we think you'll LOVE: