Every winter season, manatees from all over the world migrate to the warm Florida waters to escape the cold. Crystal River is about two hours outside of Tampa Bay and it is not only home to the beautiful spring of Three Sisters but is a favorite spot for manatees. Different refugee organizations shelter the migrating manatees and give locals a chance to experience these extraordinary creatures within the crystal clear spring.
For a date a little more out of the box during these cold months, head on down to Crystal River to kayak or canoe with the manatees!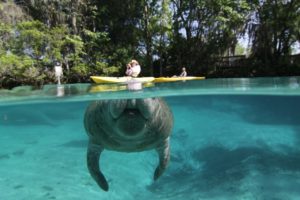 There are many different companies that allow couples to have this firsthand experience with the manatees, but Crystal River Kayak and Dive Company is one of the most popular and reliable. "Manatee season" as they call it runs from Nov. 15- March 31st. You can choose to rent a kayak/canoe and explore with your loved one alone or join other couples for a guided tour of the area. Rental prices range from $25-$45 for a single kayak or canoe and $35-$55 for a tandem (double) kayak or canoe depending on how long you want to be on the water. In addition, there are different tours one can take in the Spring. These tours offered, including a romantic sunset tour, run for about $55. This is extremely affordable for the experience of a lifetime!
Crystal River and Dive Company also offers scuba diving and snorkeling for those trying to get even closer to the manatees. Regardless of what you choose to do, you and your date can hop in the water to swim with these creatures. They are open seven days a week from 8 a.m. to 5 p.m. giving you tons of flexibility to organize this memorable date with your loved one!
Address: 1422 SE US Hwy 19 Crystal River, FL 34429