Welcome to Tampa Bay picnic season! The air is (slightly) less humid, the sun is shining, and that means it's time to break out those checkerboard blankets and charcuterie boards.
From Downtown Tampa's Curtis Hixon Park to St. Petersburg's Crescent Lake and beyond, plenty of locales exist here for you to enjoy an unforgettable date night. Chill your favorite chardonnay and surprise your significant other with a creative picnic soiree for just the two of you. Here's how to plan it.
Updated March 2023 by Ciara Johnson
CONSIDER THE MENU
Leave picnic packing to the pros and purchase a ready-made spread of jams, cheeses, specialty cured meats and more. Sure, you could toss some water crackers and a few hunks of cheese into a basket, spread out a blanket and enjoy. There's something to be said for luxury convenience, though.
These local experts are ready to elevate your Tampa Bay picnic to phenomenal.
Whether you want a cute little charcuterie to-go box or a full on grazing table, Life is Gouda has a wide assortment of spreads to meet your needs. They do the cutest seasonal boards as well. Each board and box is made to order, so submit your details on their website for more information.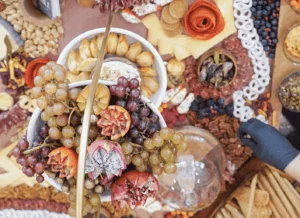 Yummy Tablas bills itself as The Most Elegant and Delicious Grazing Tables & Platters Impressively Delivered with White Gloves. Their featured fall spread is a bright collection of yumminess, from the golden apricots to bright jams and gleaming honey, with generous salami slices and other meats curled in between.
Picnic-friendly options include spreads like The Epicurean ($60), which serves four and comes with a selection of cheeses, charcuterie, jam, honey, and plenty of other accouterments. Or, go for the mini Cheese Lover's box ($29.50), perfect for 2. Yummy Tablas also offers some amazing grazing table setups if your picnic is more of a party.
Ordering is super easy online.
Delivery is available pending date, time and order size. Pickup is in Wesley Chapel.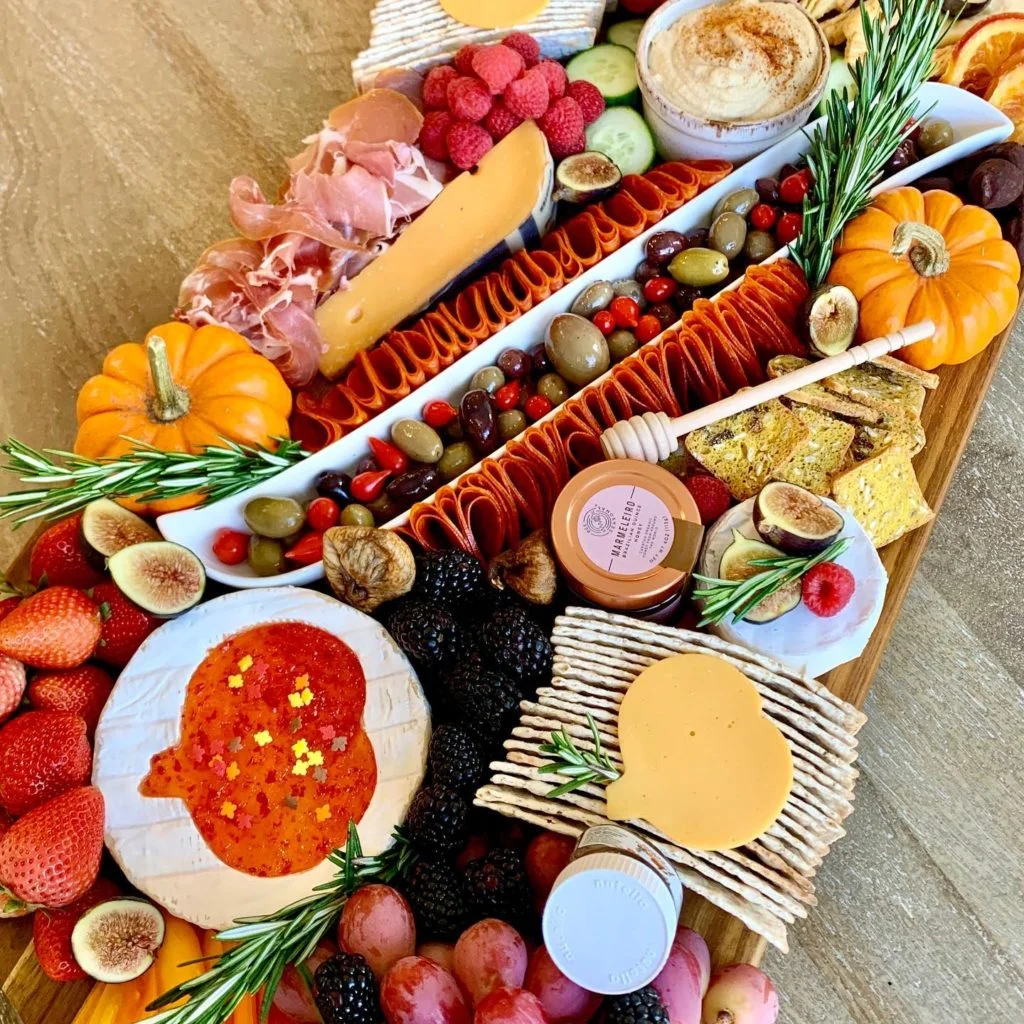 Gracious Grazing features boards and to-go boxes, plus occasional workshops. One of their creative 'to go' concoctions is a 'digital learning assortment' complete with an encouraging message. Signature 'Boat day' boards are covered in antimicrobial plastic wrap and all items are disposable.
Gracious Grazing provides culinary highlights for special events – like that romantic Tampa Bay picnic you're planning.
Send them a direct message for more information and to order.
For DIY provisions, stock your own basket with delicacies from Mazzaro's, the Italian market in St. Pete known for its cheeses (the dairy delights have a room all of their own; varieties number 300+). Watch as prosciutto is sliced perfectly thin and pile your cart with crackers – or order a custom cheese and charcuterie board.
Just don't forget the famous cannoli for dessert.
Check out our guide to planning a Gourmet Tampa Bay Date Night at Home for more local spots offering picnic-worthy goods.
PERFECT YOUR TAMPA BAY PICNIC SETUP
While you could certainly pack your own picnic basket and blanket, why not leave the whole set up to those who know best. These local Tampa Bay picnic companies specialize in elaborate setups ideal for a romantic picnic.
Wine? Check. Cheese? Double check. Ambiance? Triple check. The Picnic Social specializes in luxury Tampa Bay picnics. Their Instagram pictures on @thepicnicsocial showcase beautiful flower arrangements and other inviting 'picnicscapes.' The Picnic Social offers a variety of packages from a simple setup with a charcuterie board, pillows and rugs and a Bluetooth speaker for music to an upgraded setup with a lace canopy, upgraded drunks or even a professional photographer.
Book via their website.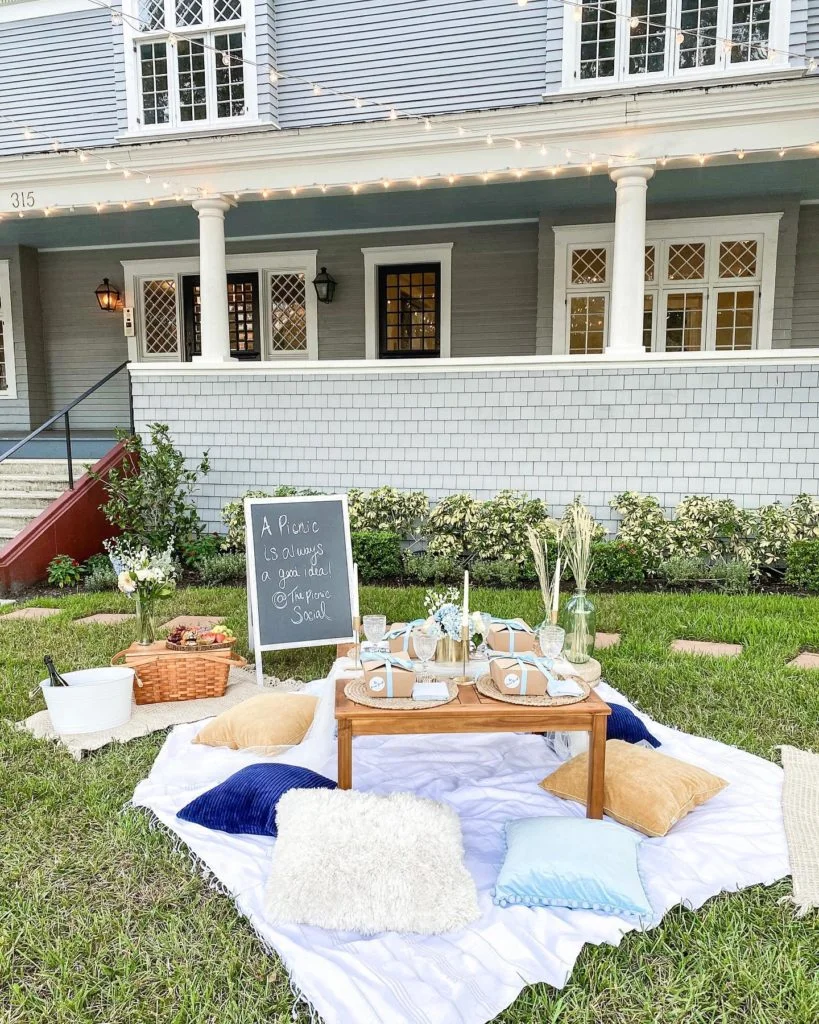 If the idea of a luxury Bohemian picnic sounds enticing, InstaPicnic & Co. can make that happen for you. There are an assortment of different options that include a Beer Tasting, Backyard Movie Night and Taco Tuesday. They'll also set up a Proposal Picnic for when you want something unique for that special moment. Want to do something special for your furry friend? Their "Pup"-nic package lets you throw a party for your pup complete with a Pawchuterie board loaded with gourmet dog treats and water bowls.
Fun Tampa Bay picnic add-ons include a cupcake Ferris wheel, champagne wall, and donut wall.
Book on their website after perusing packages and pricing.
PICK YOUR TAMPA BAY PICNIC SPOT
Choose your ideal ambience: Is it a picnic table with sailboats on one side and tiny planes taking off on the other? The Vinoy Park lawn, where people watching is at its finest? Are you hoping for the respite of nature (and the occasional alligator sighting)?
Picnicking is intimate, creative, and, with the help of the companies shared above, delicious.
Here are some suggestions to start off your 'must see' picnic destinations. Just don't forget the brie.
480 Bayshore Dr SE
St. Petersburg, FL 33703
701 Bayshore Dr NE
St. Petersburg, FL 33701
7400 25TH St N
St. Petersburg, FL 33703
3500 Pinellas Bayway S
St. Petersburg, FL 33715
600 N Ashley Dr
Tampa, FL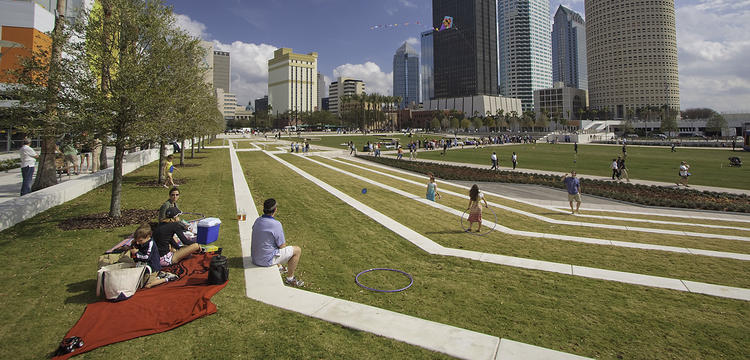 51 Main St
Dunedin, FL 34698
1825 4th St N
St. Petersburg, FL 33703
4810 N Himes Ave
Tampa, FL 33614
Refer to our list of Top Tampa Bay Parks for the Perfect Picnic Date for more ideas.