When you're sick of visiting the local grocery store week after week, consider adding a little gourmet flare to your normal shopping routine. Look no further than these local gourmet grocers and markets based here in the Tampa Bay area, which can provide a unique spin on a homemade dinner. Stop by one of these spots to gather the best ingredients and then head home to cook up your creations together for a gourmet Tampa Bay date at home. Don't forget the wine and dessert!
Mazzaro's Italian Market
2909 22nd Avenue N, St. Petersburg
Monday-Friday: 9am – 5pm
Saturday: 9am – 2:30pm
Sunday: Closed
This Italian grocer offers everything from fresh roasted coffee to gourmet meats, handmade pastas and specialty cheeses. Browse Mazzaro's impressive Italian selection indoors or opt for curbside pickup. If you are looking to experience a fun day date, check out the wine tastings offered on select Fridays and Saturdays.
Read our post on Mazzaro's Italian Market for more details on how to plan a date-worthy shopping trip.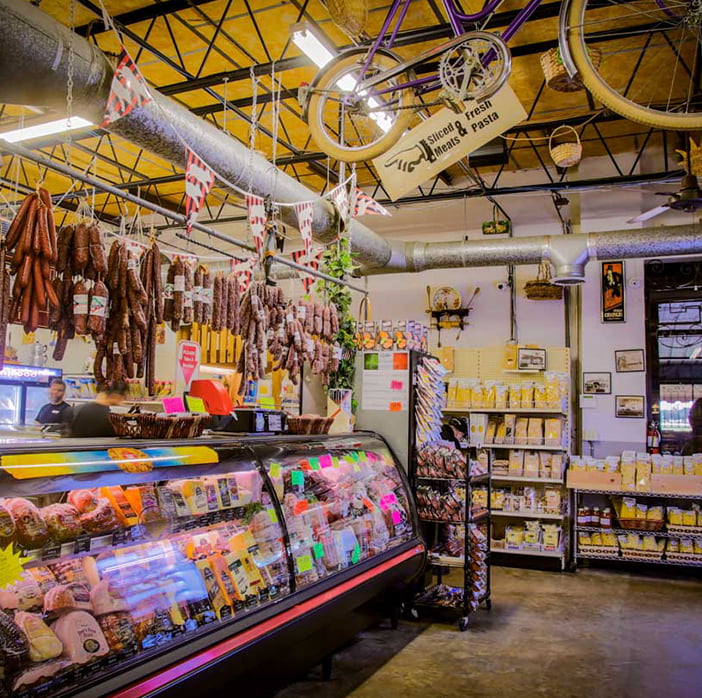 Fig & Julep – Hyde Park Village
1621 W. Snow Circle, Tampa
Monday-Thursday: 10am – 6pm
Friday-Saturday: 10am – 7pm
Sunday: 11am – 5pm
Fig & Julep here in the Tampa Bay area was created as an addition to The Ancient Olive, which serves the Orlando, Del Ray, The Villages, and St. Augustine areas. Fig & Julep is a gourmet food shop offering a selection of specialty foods, premium extra virgin olive oils and aged balsamic vinegars. If you are looking to spice up your food party game or even surprise a loved one with a unique dinner, try out the different pastas, Spanish olives, French mustards and more! Want to surprise the cook of the family with a fun gift? Check out the many offerings of culinary and home accessories.
Saturday Morning Market
Al Lang Stadium parking lot
100 1st St. SE (at 1st Ave S)., St. Petersburg
Drive-thru market Saturdays from 9 – 11am
Williams Park Summer Market Saturdays 9am – 1pm through August 29
Experience a new type of market with the St. Pete Saturday Morning Market, which has been reimagined as a drive through market. Open from 9-11 a.m. this market offers a limited number of vendors and farmers. Ppre-order in advance, and then drive up to 1st Street SE Entry and follow the directions that the vendor provides for you. Your food will be placed in your car and then you can enjoy!
Another fantastic experience is the Williams Park Summer Market. Running from 9am-1 p.m., the market offers a variety of products from local farm products to artisan cheeses and much more. Find it each week at shady Williams Park in the heart of downtown St. Pete.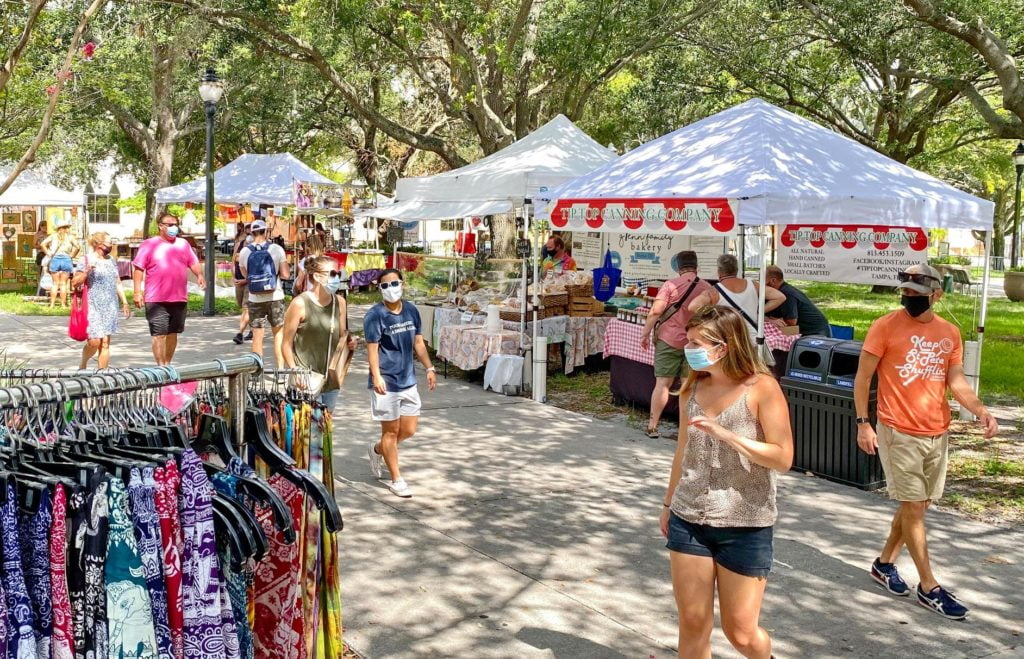 Renzo's
3644 W Kennedy Blvd., Tampa
Monday-Thursday 11am – 9pm
Friday 11am – 10pm
Saturday 10:30am – 10pm
Sunday 10:30am – 8pm
Renzo's is a gourmet grocer and restaurant that serves New American fare with a taste of Mediterranean and Latin American flavor. If you aren't interested in sitting down for dinner, check out the Butcher shop to pick up some meat to bring home and elevate your grill game. Renzo's also offers curbside pickup and a delivery option as well. Grab a bottle of wine and a sweet treat from the Bakery and Deli to complete your at-home dinner experience.
Plateroti's Italian Gourmet
1621 Gulf to Bay Blvd., Clearwater
Monday-Saturday: 10:30am – 7pm
Closed Sunday
Based out in Clearwater, Plateroti's Italian Gourmet is an authentic gourmet Italian grocer that has everything you need to create your dream Italian dinner! Explore the many aisles lined with olive oils, balsamic vinegars, imported cheeses, cold cuts, pastas, bread, cheeses and so much more. Stepping inside this grocer will make you feel like you are right in the heart of the Italian countryside.
Bayshore Market
5025 Bayshore Blvd., Tampa
Open daily 9am – 7pm
Bayshore Market is a gourmet market offers a selection of fresh greens, fruit, homemade soups, salads, and tapenades among a variety of other items. Besides selling food this market also sells hanging baskets, fresh flowers, pottery, orchids and more! Come in and explore to get a taste of local Tampa Bay flavor.