With pleasant weather finally here we are all searching for adventures in the great outdoors, Tampa Bay has it all. Recently, my oldest son and I embarked on a once-in-a-lifetime outdoor adventure you can only do right here in Tampa Bay…swimming with manatees.
Swimming with the manatees is still something that you should definitely add to your list of things to do.
Know Before You Go
Crystal River and Homosassa are the only areas in North America where you can legally swim with and passively observe manatees in their natural habitat. However, since manatees are protected by federal and state law, it's a good idea to review the rules before you go.
This is also why it's a good idea to book a tour with a reputable company like the Adventure Center at Plantation on Crystal River. Your guide and captain are experts when it comes to these rules. To ensure everyone is on the same page when it comes to the rules, your two-hour tour will begin with an 8-minute video produced by Florida Fish and Wildlife going over the do's and don'ts.
They also provide you with a towel, mask, snorkel and sanitized wet suit, which you will absolutely want since the 5 mm wetsuit helps keep you warm and buoyant. Added bonus, they bring a GoPro so you don't have to worry about snapping photos. They'll also give you hot chocolate and a shower to use in the dive shop to warm up after you return.
The earlier in the morning you can book your tour and the colder the day, the better. Private and semi-private tours start as early as 6 a.m. Our tour started at about 10:30 a.m., which meant there were kayakers and other tours on the water, but our guide Courtney and Captain Mike did a great job of finding us secluded spots for the magic that was about to happen!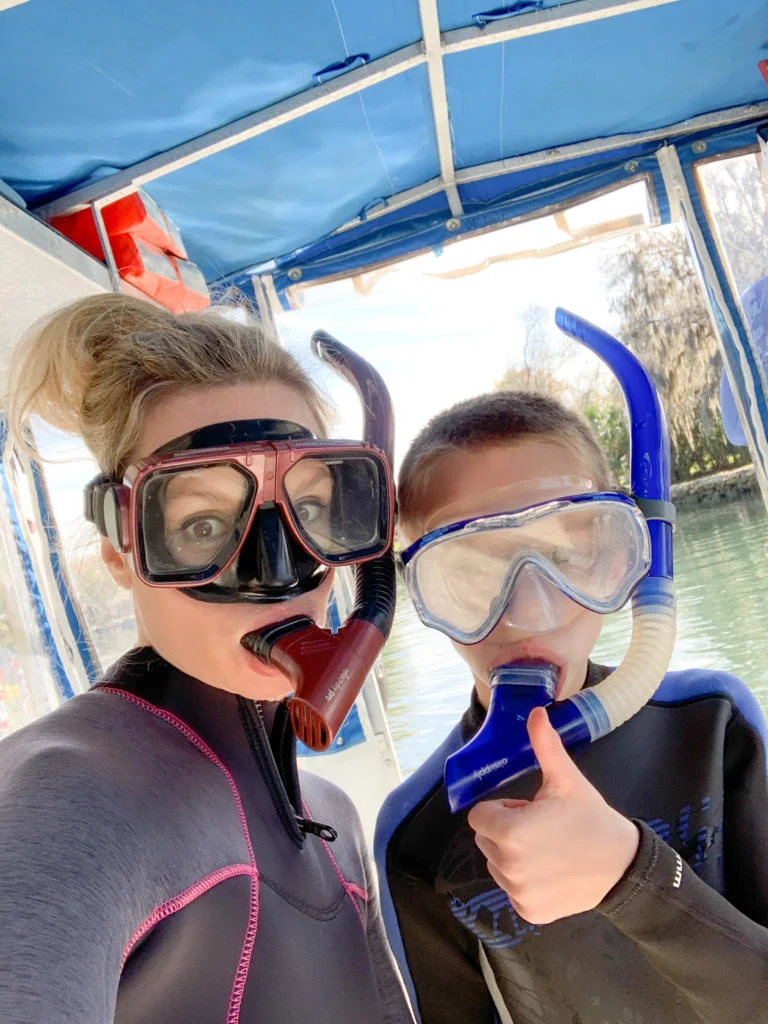 The Experience
We were reminded to quietly enter the water to avoid splashing, which could scare the manatees. Our guide asked us to use our ninja skills to quietly move through the water with our arms and hands and to avoid kicking with our feet. The buoyant wet suits definitely help take the pressure off trying to stay afloat while swimming.
Be patient; it doesn't take long before you encounter your first manatee.
We were simply floating in Kings Bay with our guide when we were suddenly face to face with a curious manatee! She did a little belly roll for us before she moved on about her day.
FYI: You are not allowed to touch a manatee unless they initiate contact and even then, it's with one hand only and only on their back or belly. A two-hand touch is illegal.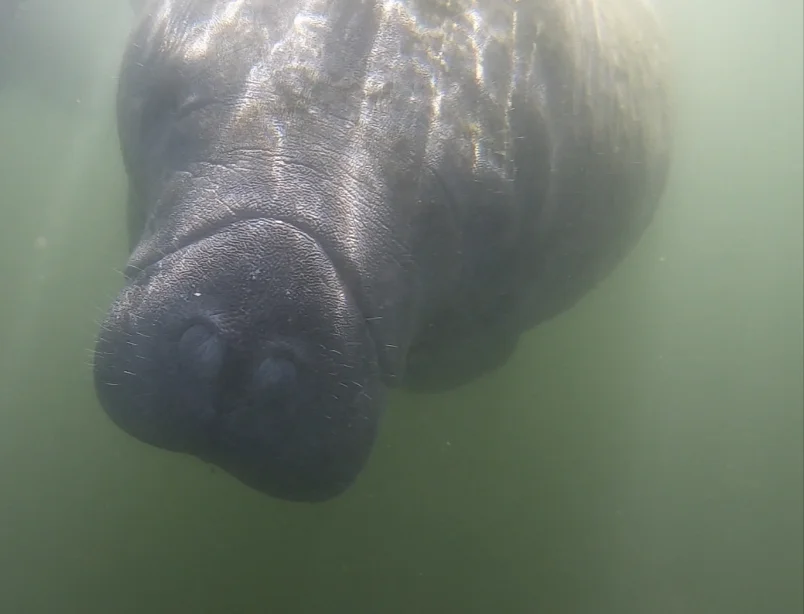 We saw a few other manatees near Three Sisters Springs–following the rules, we didn't approach them, but it was pretty neat to observe them in their natural habitat grazing on their greens. Our guide shared some fun facts like how much manatees eat—the herbivores eat up to 10% of their body weight in sea grass, algae and mangrove leaves. Weighing in at up to 1,200 pounds…that's a lot of greens! We even watched a manatee swim up to our pontoon boat to nibble on the algae on the side of the boat as we sipped our complimentary hot chocolate. Snack time for everyone!
One question we got from friends was, was it cold? The air was cold—it was in the lower 50s that morning, but the water is natural spring water which stays steady at about 72 degrees. The cozy water temperature is why manatees love to migrate here when it gets cold. In fact, as many as 600 manatees head toward Crystal River and Homosassa between November and March which is why this timeframe is considered "manatee season!"' Manatee tours are offered year-round here.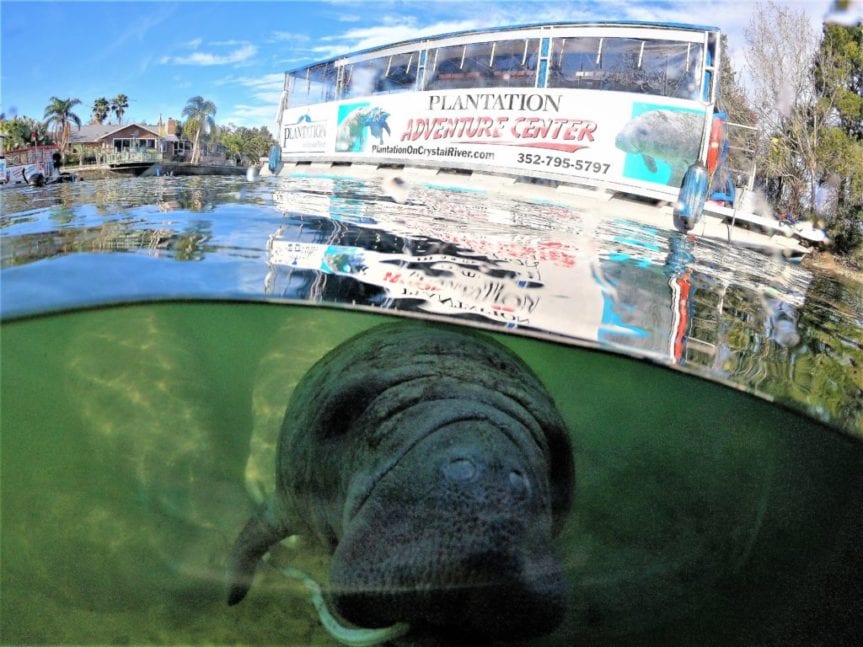 Even though manatees have no natural predators, humans are among their greatest threats. This is why if you're a boater, you should always look out for manatees, avoid shallow areas and sea grass beds and reduce your speed.
The manatee we saw nibbling the algae on our pontoon boat had what looked like healed boat propeller injuries on her back. It's experiences like this that remind us we need do what we can to protect these gentle giants and the waterways they call home.
Swimming with manatees in Crystal River was a bucket list item for us. I'm so glad I experienced it with my son. It was truly an unforgettable experience.
Details + Overnight Packages
Plantation on Crystal River offers manatee swim tours year-round starting at $75 per person.
To celebrate the winter return of the manatees, Plantation on Crystal River is offering the new Swim with the Manatees package starting at just $149 for per person. The package includes:
Overnight accommodations in a garden view room
Manatee snorkeling tour from the Plantation Adventure Center, with all equipment provided (mask, snorkel and wetsuit).
Breakfast at West 82⁰ Bar & Grill
Welcome bag with plush manatee toy, fun facts and manatee interaction guidelines.
For more details and to book, visit plantationoncrystalriver.com.
Note: This article originally appeared on our sister publication, Tampa Bay Parenting.
Feature image credit: Plantation on Crystal River