Tampa is known for its amazing breweries, but lately, the distillery scene has been booming here as well. Want a unique date night that's a little different from the typical bar scene? Check out our picks for our favorite local Tampa distilleries. There are several awesome places around where you can sip on local rum, vodka, or bourbon.
Local Tampa Distilleries
Tampa Bay Rum Company
Florida Cane Distillery
82 West Distilling
Dark Door Spirits
Kozuba & Sons Distillery
St. Petersburg Distillery
Tarpon Springs Distillery
Cotherman Distilling Co.
2102 E. 4th Ave, Tampa, FL 33605
Can't have a city notorious for pirates and not have an exceptional rum company, right? Owner Samuel Meyers fell in love with Tampa after traveling down for Gasparilla every year. He moved here and worked as a chiropractor, before realizing that a city so enamored with pirates and rum did not have a rum to call its own.
In 2018, he officially opened Tampa Bay Rum Company in Ybor. Guests can gather around the Buccaneer Bar and enjoy samples of their Gasparilla Spiced Rum, Coconut Rum, Silver Rum, Butterscotch Spiced Rum, and Scurvy Lime Rum. Tours are given Thursday-Sunday and bottles can be purchased to bring home.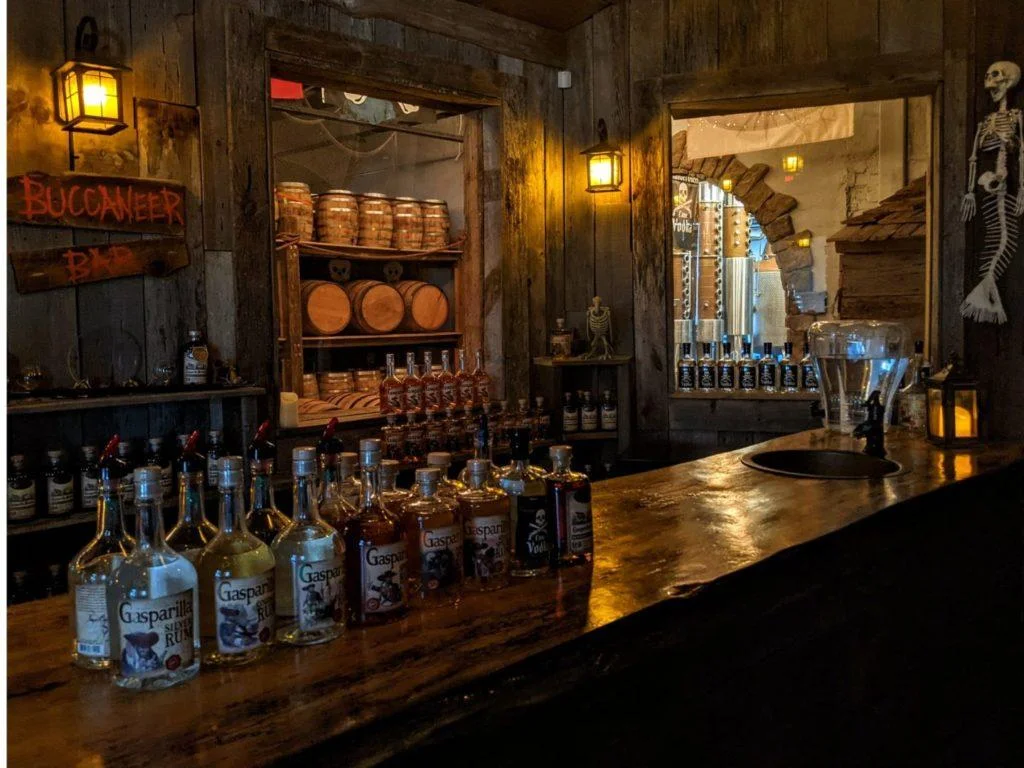 You have GOT to visit Tampa Bay Rum Company even if just for the fun pirate decor and theme.
READ MORE: 8 Great Hours in St. Pete and Ybor City
1820 N 15th St, Tampa, FL 33605
Florida Cane was founded in 2012 by two hockey buddies who had a vision of using local ingredients to make world-class spirits. Since then, they've developed over 30 spirits and five brands. Their flavored vodkas include an array of fun flavors that pay homage to Florida: Fire Ant Jalapeno, Key West Lemon & Lime, Okeechobee Cherry, Orlando Orange, Palm Beach Pineapple, Plant City Strawberry, Everglades Vanilla Bean, and seasonal flavors like Candy Cane.
They also have an assortment of rums, whiskeys, and moonshine. In addition to tastings and tours Thursday-Sunday, their retail shop transforms into a unique bar in the evenings where patrons can learn how to make craft cocktails. They also offer the nation's only 3-day whiskey distilling class.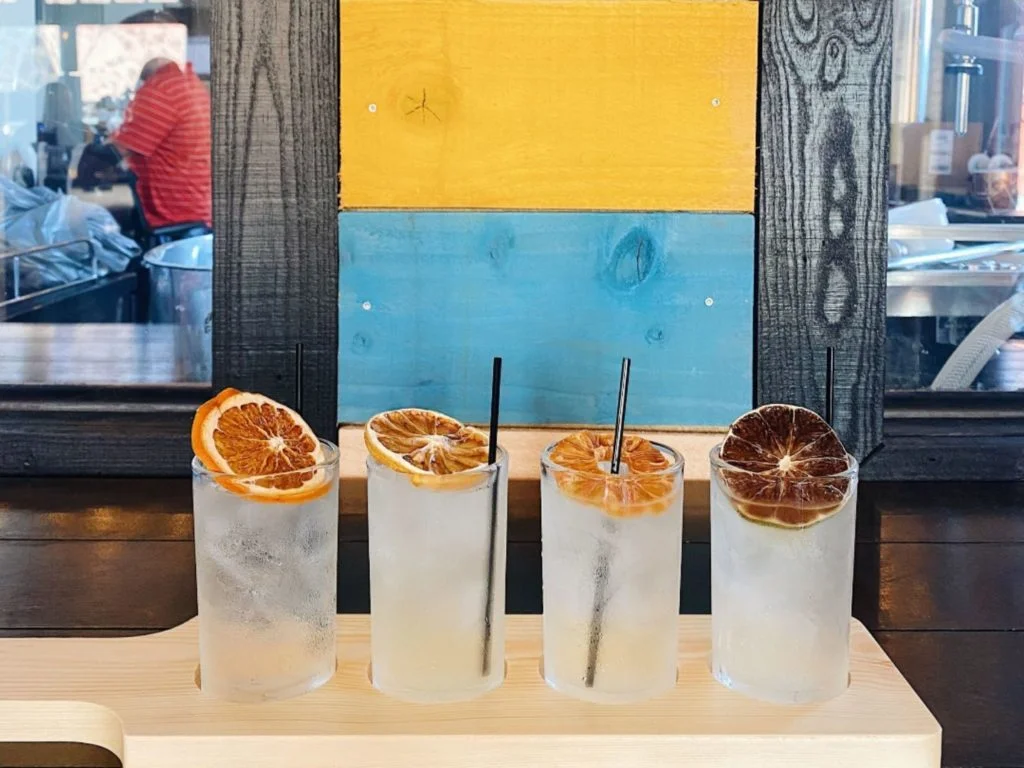 6430 N. Florida Ave, Tampa, FL 33604
The first craft distillery in Tampa, 82 West has become more than just a distillery. It's a gathering place where the people of Tampa can learn about high-quality spirit production, sample spirits, and enjoy great conversation. Located in Seminole Heights, the name refers to the longitude line that passes directly through Tampa Bay.
Though they're known for their rum, including unique flavors such as vanilla rum, deep blueberry rum, pepper spiced rum, and coconut rum, they also distill tequila and bourbon whiskey. Patrons can also sit at the bar Thursday-Sunday and enjoy a hand-crafted cocktail using any of 82 West's spirits.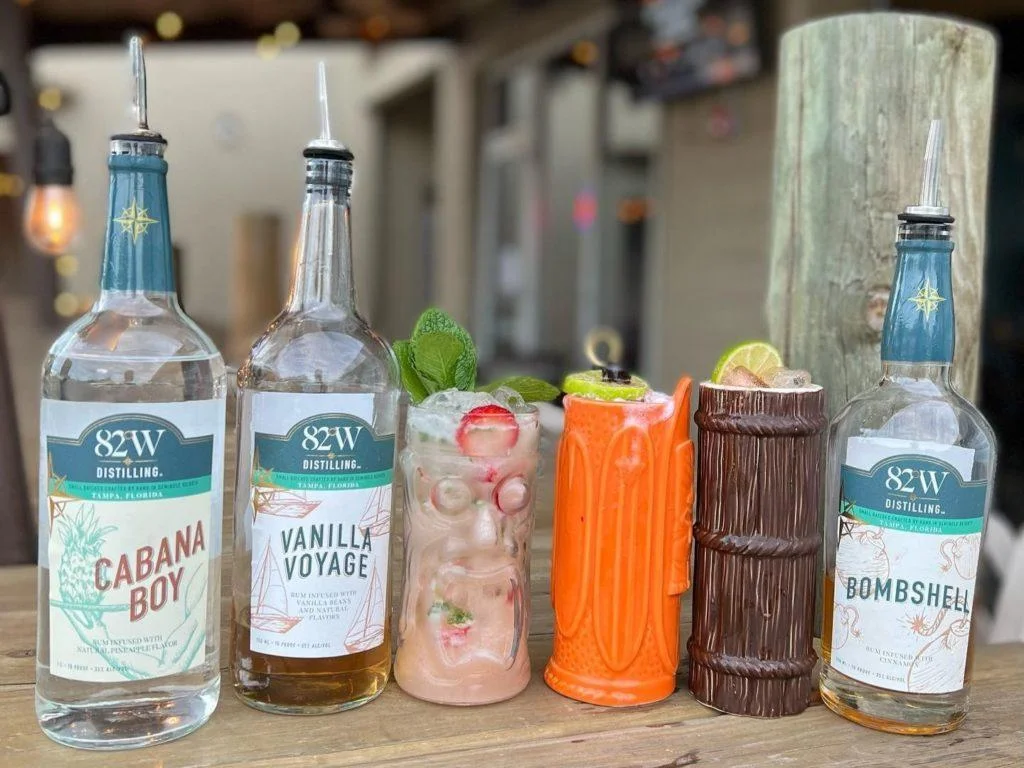 6608 Anderson Rd, Tampa, FL 33634
Dark Door Spirits loves supporting the Tampa Bay Community and collaborating with Tampa's best breweries to make specialty spirits. Wednesday-Saturday, they offer tours, tastings, and classes such as the Gin Experience, Whiskey Experience, and themed Cocktail Classes.
Their spirit list includes Pandemic at The Disco Vodka, Demeter Gin, Spirit of Prohibition Lavendar Gin, Smoked Rum, and an array of whiskeys, liquors, and collaborations (ever wanted to know what an IPA-infused whiskey tastes like?).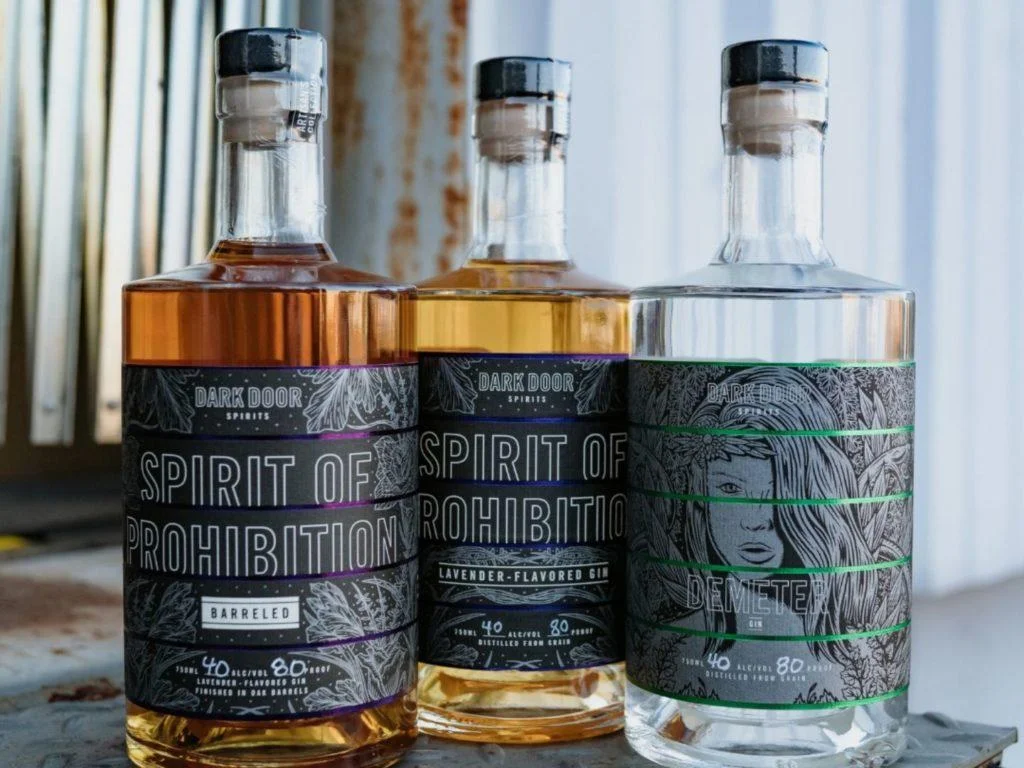 1960 5th Ave. South, St. Petersburg, FL 33712
In 2014, Zbigniew Kozuba and his sons, Matthias and Jacob, moved to St. Petersburg in hopes of introducing their traditional Polish vodka to America. Since then, they've created award-winning spirits and are creating more than just vodka.
Patrons can sit at the tasting bar Thursday-Saturday for a sampling of their Polish wheat, potato, and corn vodkas, along with their flavored cranberry and juniper and lemon-flavored vodkas. They also have an extensive line of whiskeys that include high wheat rye, Starkus light, straight bourbon whiskey, and straight rye.
Sample their Polish cordials including ratafia, triple sec, quince, cranberry, and amaro, and their silver and gold agaves for something unique.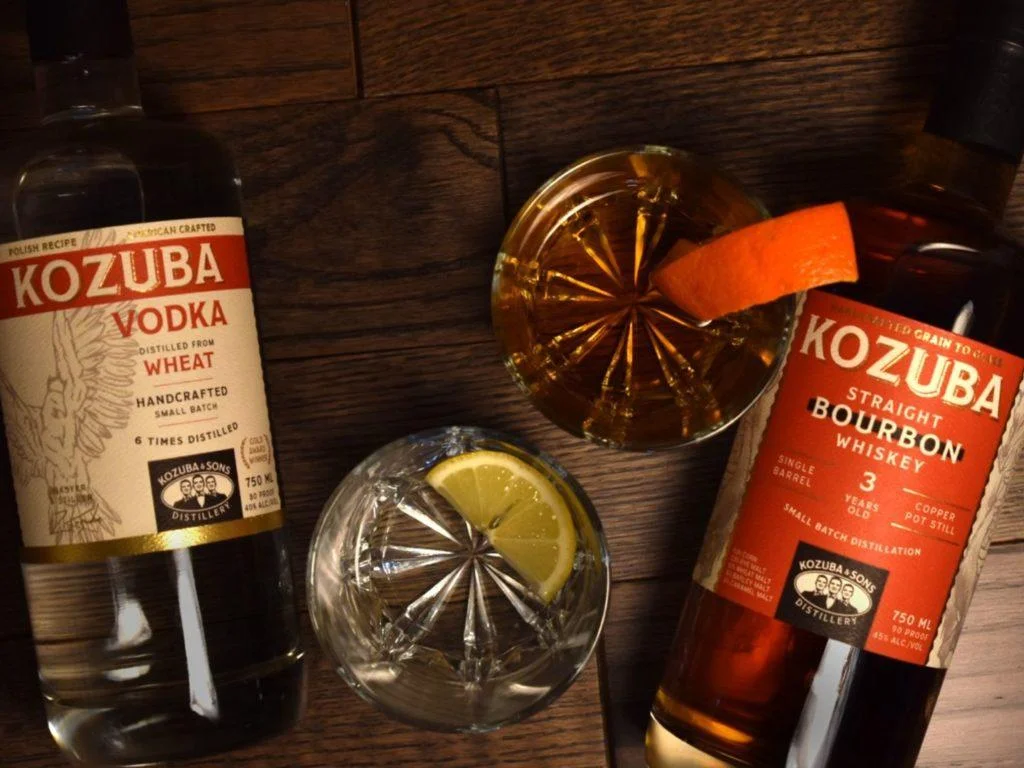 800 31st St. S, St. Petersburg, FL 33712
This award-winning distillery produces craft spirits using locally sourced ingredients fresh from Florida. The rustic market store serves up tastings every Tuesday-Saturday of their Old St. Pete rum, gin, whiskey, and vodka, their Banyan Reserve vodka, their Oak & Palm spiced and coconut rum, and their Tippler's Orange Liqueur.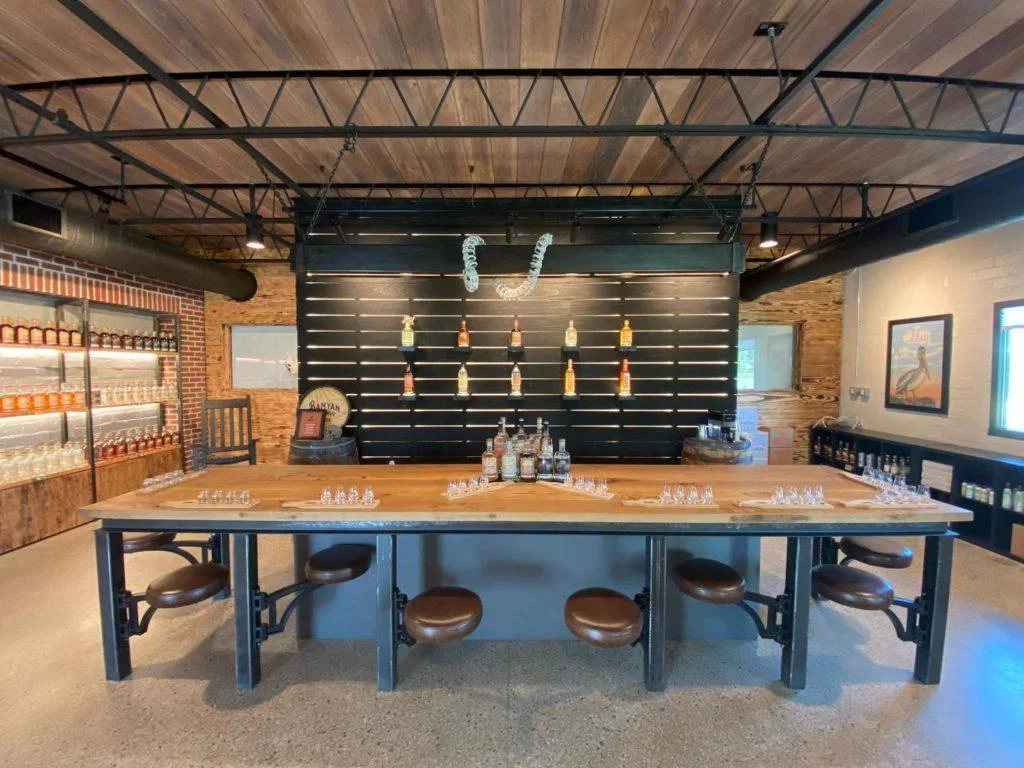 605 N. Pinellas Ave, Tarpon Springs, FL 34689
Located in the historic Stephen Katzaras Sponge Company building, Tarpon Springs Distillery produces award winning spirits from scratch right on site. Their artisanal spirits are touched with a Florida flair using premium malted grains. The distillery is open to the public for tours seven days a week. After the tours, visitors can stop by the tasting room to sip on some of their spirits such as the Papou's Ouzo, Anclote Gin, Claresso, Gramling Woods Moonshine, Anclote Orange Liqueur, and more. Be sure to check their calendar for live music events.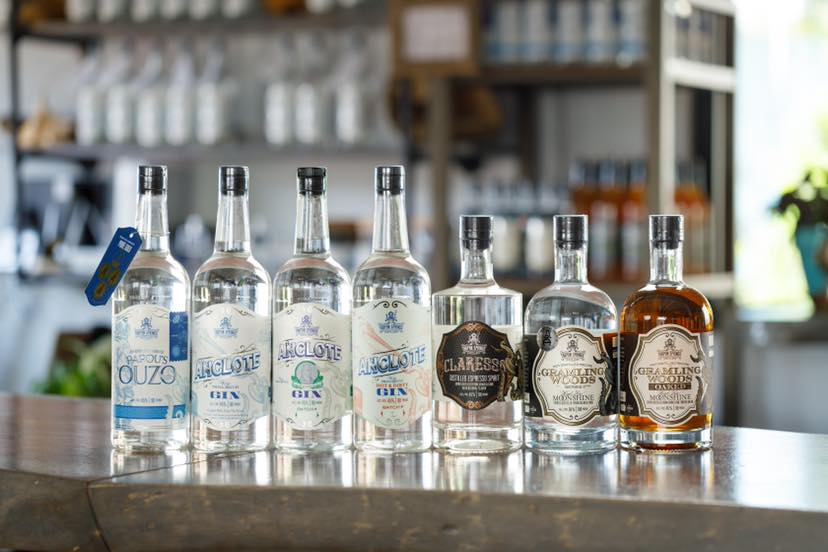 933 Huntley Ave, Dunedin, FL 34698
Cotherman is a veteran and female owned distillery in downtown Dunedin. Though their distillery is small, their spirits boast big flavor. Stop by their tasting room on Friday evenings from 6pm-10pm for a tour and to try their 727 Vodka, Half-Mine Gin, or their famous Palmer's Rum.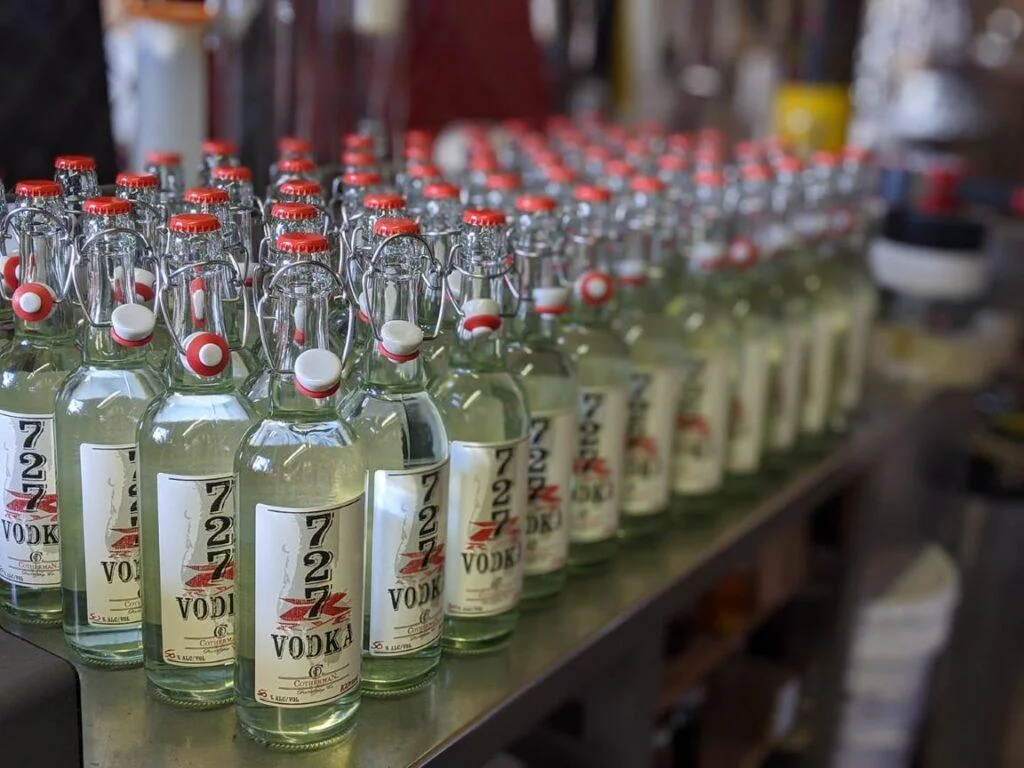 FLORIDA DISTILLERIES for a day trip
Prefer beer over liquor? Be sure to check out our local guides:
And if you ever find yourself in Orlando consider one of these Mixology Classes in Orlando.
Featured image credit: Dark Door Spirits