Ybor City secured Tampa's place on the map as a cigar mecca, and to some, the cigar capital of the world. It's a National Historic Landmark District with something sensuous around every cobblestoned corner. Not far from downtown Tampa, Ybor is a neighborhood filled with diversity and culture, with roots planted by immigrants from places like Spain and Cuba. Today, it has no shortage of entertainment venues, fun events, restaurants, and bars.
Whether you're looking for entertainment, want to visit one of their historic cigar factories, or feel like visiting one of the bars or restaurants along the 7th Ave strip, here are our picks for a fun date night in Ybor City.
Things to do in Ybor City for Date Night
Looking for something totally out of the box? Join the Ybor Misfits Microsanctuary when they take their rescue chickens out of the coop and into Hotel Haya for chicken yoga. Chickens are an integral part of Ybor City's history, as immigrants kept them in the area. Now protected by an ordinance that made all of Tampa Bay a bird sanctuary, the chickens make for an experience feathered with stress relief.
The yoga class, which occurs on select Sundays, is led by an instructor from Yoga Loft Tampa. Chickens are diapered, so yogis don't have to worry about chicken you know what. Each session is $15 per person and reservations via Eventbrite are required. It's a BYOM (mat, not martini) event, and Ybor has ample parking opportunities—be they metered spots or parking lots.
This event takes place certain times throughout the year. Be sure to check their website for upcoming dates.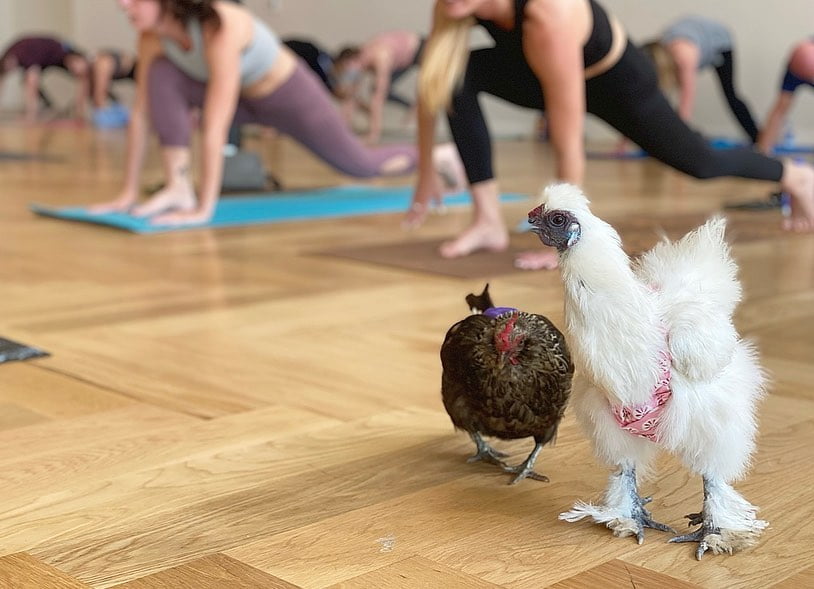 There's something romantic about traveling back in time with your love. You can do just that at Ybor City's three-day vintage market: Vintage Roost. Located at 2326 E 7th Avenue, the market takes place on the second and fourth weekend of each month, Friday through Sunday from 9am-5pm.
Perusing treasures from days-of-old makes way for conversations about previous pastimes, family traditions, and quirky interests. Helping each other either start or add to offbeat collections is pretty sweet, too. Vintage, blow mold Christmas decorations and glass ornaments make me weak in the knees in a way fresh flower bouquets just can't. The market is regularly edited to include finds from in-season-holidays…like Gasparilla.
Related: Tampa Bay's Unique Artisan Markets
Since the space is partially open air, make sure you are ready to embrace the all-too-familiar summer glow (an almost year-round feeling of thick humidity in Tampa); fans are strategically located throughout the market. There's typically water available, and you might even spot a tray of sweets. While handbags are allowed, it is truly a treasure trove; I recommend a small, crossbody bag for all of you day-date-outfit planners.
After your vintage treasure hunt, you and your sweetie deserve dessert. A less than five-minute walk from the market, Snobachi Handcrafted Ice Cream is the perfect way to put an exclamation point on this date. Found at 2206 E. 7th Avenue, Snobachi offers their signature snorolls, scoops, traditional desserts like cheesecake, and milkshakes.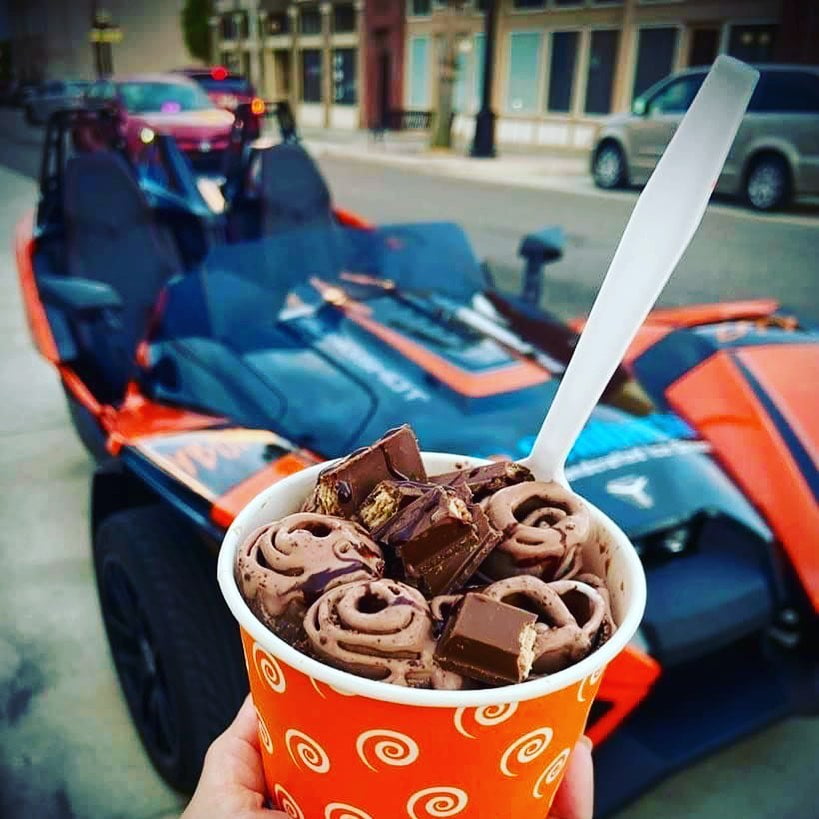 Related: Your Guide to the Ybor City Saturday Market
Do Really Inspirational Projects: that's the aim at DRIP YBOR and their new location DRIP SQUARED. Located in the heart of Ybor City, DRIP is open Monday through Saturday, and stays open late until midnight on Saturdays. If you get the itch for creativity after dinner and dancing, this is the place. For those who want to create during the day, the location opens at noon.
Pottery wheel throwing is a three-session commitment. Session one involves one of studio's expert potters; they'll guide you through the creative process of spinning a wine glass, vase, and just about anything your imagination conjures up. Gazing into your partner's eyes, both of you working with your hands…it's the epitome of sexy. Think of the famous scene in the movie Ghost.  A couple of weeks later, the second session entails painting your pieces. Aprons are available, so don't worry about ruining your date day finest. The third and final session is picking up your finished pieces. Plan for a couple of weeks between the first two sessions and a week between the second and third.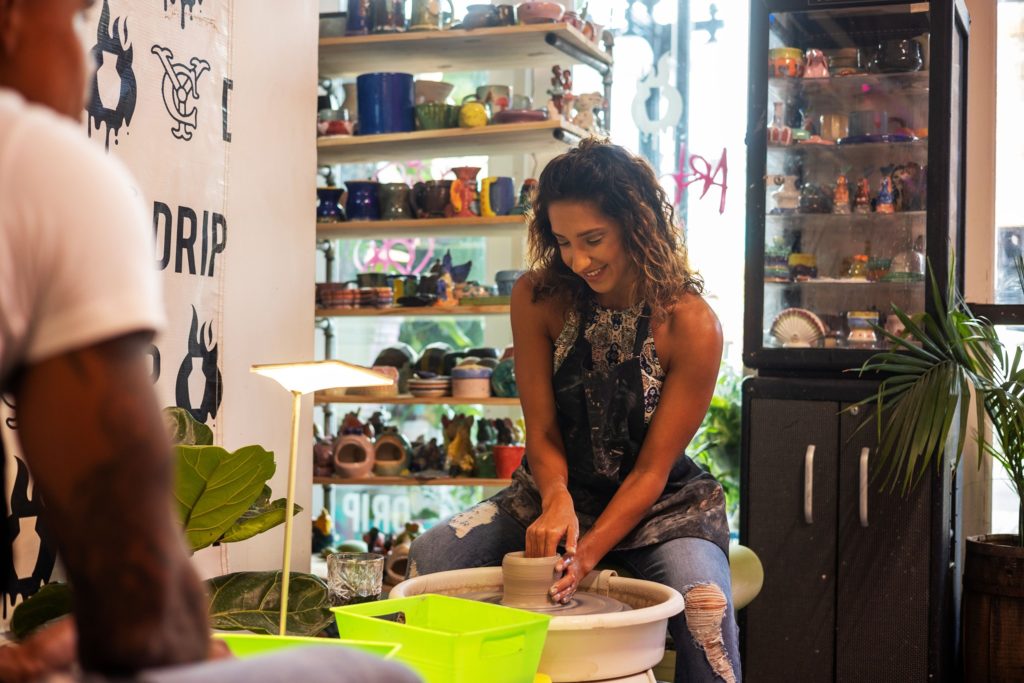 Laughing on a date—is there anything better? Improv Comedy Theater and Restaurant is located inside of Centro Ybor (1600 East 8th Avenue). The variety of comedians is fantastic: men, women, and both varied cultures and ages. Friday and Saturday night shows begin between 7 and 10:30 P.M.
As an added bonus, Improv has a full drink and dinner menu, making this a one stop shop for date night. It's the ideal place to laugh until you cry over an ice-cold Cigar City Jai Lai…maybe followed by a Yuengling.
FYI: Tickets must be purchased through the Improv's website. Events are 21+, so this is definitely an adults only date night. Lastly, arrive early, as seating is first come first served.
Head to Chill Bros Ice Cream post show. Open late on Fridays and Saturdays, the scoop shop is located at 1910 East 7th Avenue. Committed to sourcing the freshest and even local ingredients, Chill Bros also aims to serve up Tampa inspired flavors. Comedy and ice cream—issa real date night vibe.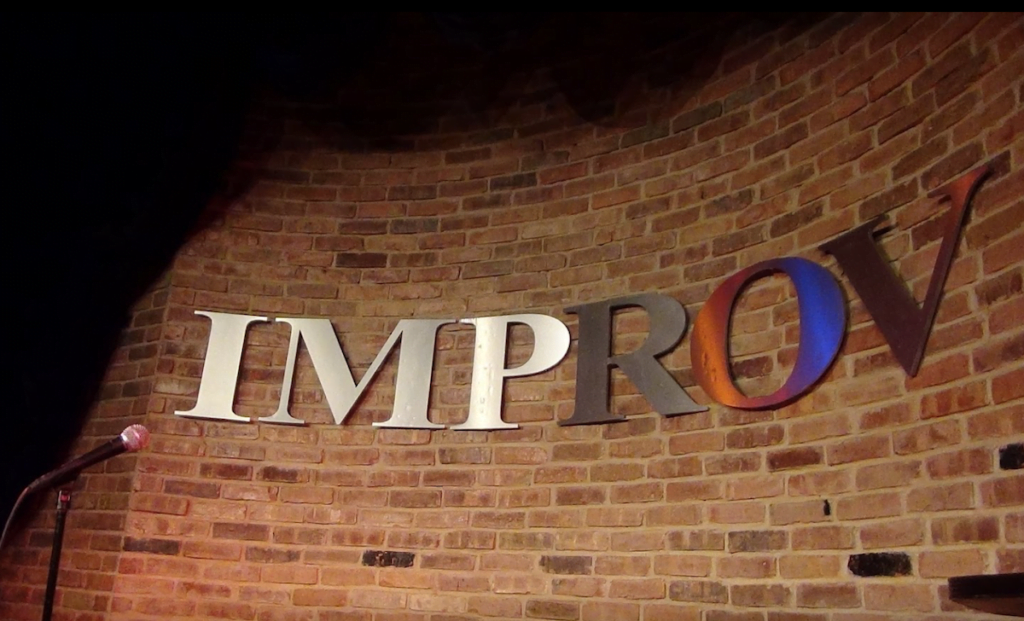 Crowbar is a live music and special events venue in the historic Ybor City District. You can catch shows there several days a week. Check out their Crow's Nest Beer Garden which is home to several weekly and monthly events including their Ol' Dirty Sundays.
1920 brings dining, drinks and entertainment to Ybor City. This new venue/ cafe and bar is also home to live music, local markets, and events of all types. Throughout the year, they also host events such as the 1920 Halloween Party and album release parties.
---
Ybor City Restaurants
One of Ybor's most traditional, delicious experiences is at Columbia Restaurant. Florida's oldest restaurant, founded in 1905, is home to the famous 1905 salad, along with the area's most delightful sangria, and a mouthwatering paella. Both locals and tourists flock to Columbia Restaurant for its authentic, Spanish cuisine.
The restaurant's old-world elegance is romantic in and of itself. Throw in the sounds of a Spanish guitar and you've just leveled up your date. Easy to do at the Columbia because, Tuesday through Sunday, the Columbia Restaurant Dance Troupe puts on a fiery flamenco show. There is an $8 charge, and dinner reservation times are based on the time of the show. For flamenco show reservations call 813-248-4961. Besides flamenco shows, live music fills the air on Friday and Saturday nights. By evening's end, you and your love will affectionately refer to each other as "mi amor."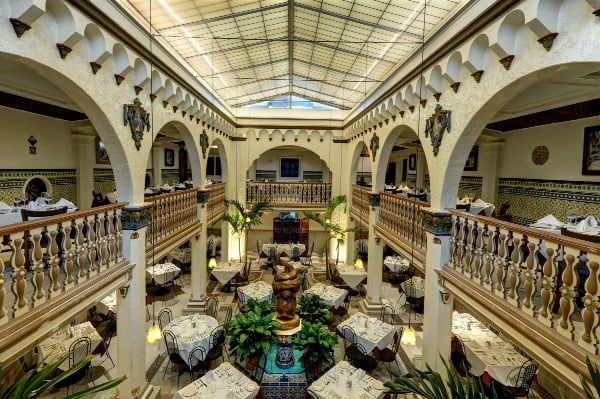 Related: Tampa's Most Romantic Restaurants
Sicilian fare is served daily at Casa Santo Stefano, one of Ybor's newest eateries. Not new is the building; the restaurant is located in a 1925 macaroni factory with beautiful architecture. Special details from the Ybor City memorabilia in the historic building to the hand-painted, Sicilian dinnerware enhance the experience. The downstairs dining room offers a grand view of the wood-fired grill. For dinner, dishes like Polpo Alla Griglia, Spaghetti Nana Maria, and Linguine Frutti Di Mare allow diners to travel with their tastebuds.
Whether before or after dinner, plan for some time upstairs at Santo's Drinkeria. The indoor-outdoor space includes an incredible, rooftop view of historic Ybor City. Dedicated to offering a complete Sicilian experience, owner Richard Gonzmart curated quite the wine list from the Mediterranean island. You can also have dinner on the rooftop.
Looking to really impress your date? Drop them off in the circular drive before going to park, for free, at any of the Columbia's parking lots.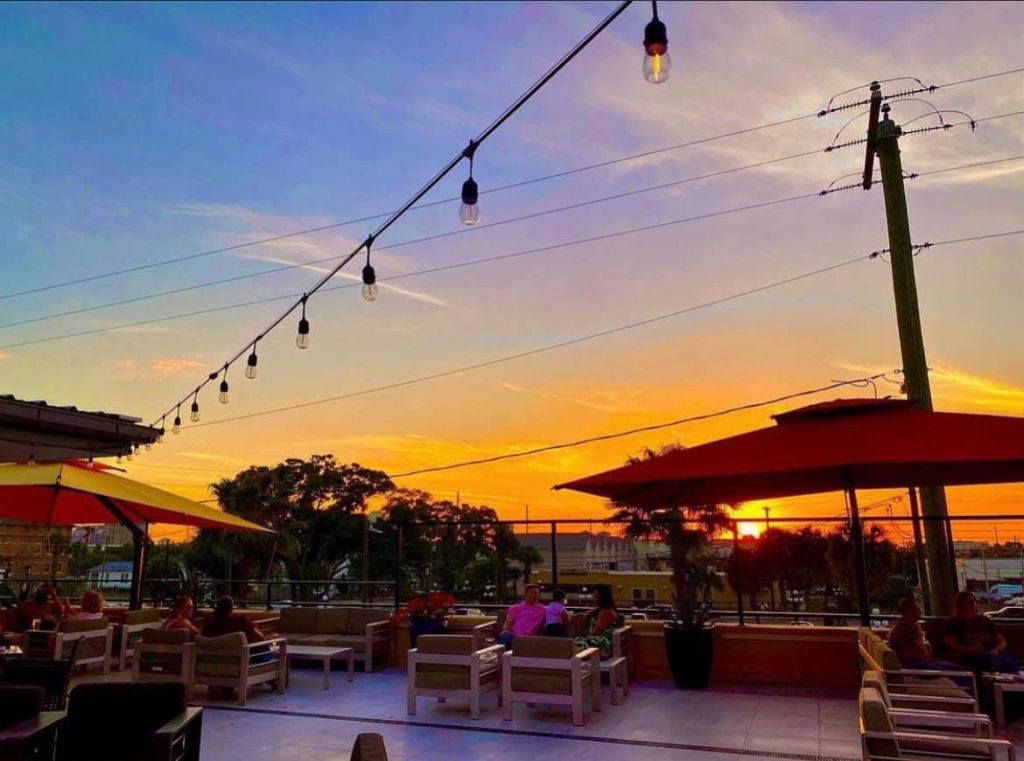 Celebrating the little things in life is one of the keys to happiness, and Ybor offers ample opportunities for a celebratory cocktail. Found at 1802 7th Avenue, Carmine's is an Ybor City staple. Nosh on deviled crab and Cuban sandwiches while enjoying a view of the historic district and sipping on a mojito.
Looking for the perfect place for Sunday brunch? Hotel Haya's Flor Fina restaurant will hit the spot. While you can never go wrong with pancakes, step out of the box by sampling the restaurant's Spanish Breakfast: it includes a tortilla espanola and ham croquettes. Brought to the table in a gorgeous box is the handcrafted cocktail Smokey Joe—made with Havana Club Clasico Rum, Wild Turkey Bourbon, demerara, coffee bitters, and smoke. Sunday brunch is served from 10am – 3pm, and reservations are strongly encouraged. The hotel is located at 1412 E 7th Avenue.
---
Breweries and Bars in Ybor City
From the owners of the popular 7th + Grove comes Tampa's latest hidden gem, Madame Fortune's Dessert + HiFi Parlor. Located through a secret door at Ybor's Roast Deli + Bakery, patrons can step back in time to a place that connects Tampa's history to the present.
Madame Fortune is named in honor of Fortune Taylor, a former slave who became a landowner in Tampa in the 1890s and gave permission for a bridge on her land to connect east and west Tampa (which is known today as Laurel Street Bridge).
To make your way into the speakeasy, try using the phrase "Find your fortune." From there, you'll be transported back in time to a place filled with cocktails and Caribbean-influenced food like their popular Lobster & Shrimp Curry Stew and Sweet Potato Cornbread.
21+ only.
If wine and cheese is your jam, head to Geo's for a swanky and memorable evening. This family-run gem opened in May, 2023, right in the heart of Ybor and serves up killer charcuterie boards, bubbles, and wines by the bottle or glass. Offering live music every night, you can sip on fine wines while listening to some of the best musicians in Tampa Bay.
If you're craving a NOLA type experience without the crowds, plan a date to Zydeco Brew Werks. All of the best NOLA flavors are captured in the craft brewery's ever-changing food menu. Feast on staples like gumbo, muffaletta, buffalo shrimp po boy and more. Dessert is always on my mind, and the bourbon bread pudding, complete with the candied pecans NOLA is known for, is on point.
If you and your partner like living on the dark side when it comes to brews, Zydeco's Rocksteady Brock—available from 4 ounces all the way up to a crowler, is 9.4% ABV. Beyond brews, Zydeco also has impressive cocktail offerings.
Music breathes life into any date, and Zydeco has a live music lineup every Thursday from 6-9pm. Utilizing the free TECO Line Streetcar System is an old-fashioned way to add some spark, and extra time, to your date. There are four stops in Ybor City, and the cars run until 11pm (2am on Fridays and Saturdays).
Kick back, relax and enjoy the fruits of over 150 years of brewing heritage at this German-style Biergarten. BarrieHaus is located just off the beaten path but right around the corner from the Centro Ybor parking garage (where it's recommended to park). The beer menu has styles for every taste, as well as wines and prosecco by the glass (judgement free), plus, tasty Bavarian pretzels.
The perfect place for a group hang, there's plenty of room to spread out either indoor or outdoors, and you can even bring your own food. BarrieHaus offers weekly Trivia and monthly "First Fridays" as well as special events like Oktoberfest!
More Ybor City Breweries to Try:
Cigar City Cider & Mead
Coppertail Brewing Co.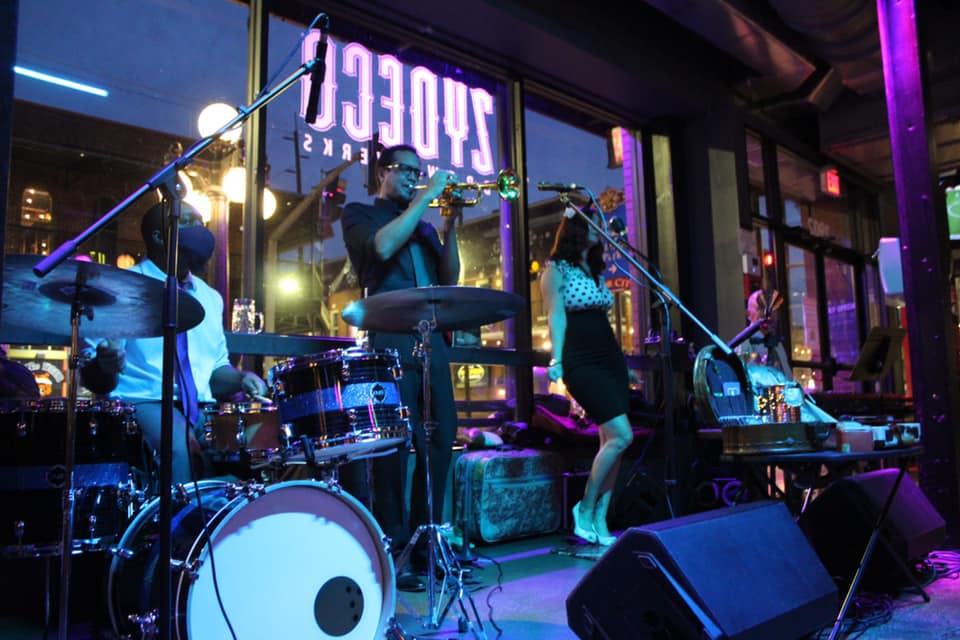 Ybor City Sightseeing and History
Wandering the streets of Ybor can be just as romantic as sitting at a rooftop bar. Architecture enthusiasts will appreciate the historic buildings, some dating back to the late 1800's and early 20th century.  Stepping through the Ybor City Historic District will make you feel like you've gone back in time. Take advantage of a nice day and wander through Centennial Park, Jose Marti Park, and Ybor square.
Ybor City Museum State Park (1818 E. 9th Avenue) is also a great place to learn about Ybor's history and its founder, Don Vicente Martinez-Ybor. The museum is housed in the historic Ferlita Bakery and traces the rich cultural history of Ybor and Tampa's cigar industry. Be sure to wander through the gardens (often a perfect backdrop for weddings), that mimics the look of those seen in Spain and Cuba in the late 1800's.
Featured Ybor City date night Image Credit: yborcityonline.com