Tampa's hotspot for local produce, food, and artisan goods can be found every weekend in the heart of historic Ybor City. The Ybor City Saturday Market is an outdoor market that provides the community with a taste of local, farm fresh vegetables, gourmet foods, crafts, and tons of fun shopping! Here you can see the whole Tampa area buying their weekly essentials and supporting small business owners year-round on Saturday mornings.
Ybor City Saturday Market
The Ybor City Saturday Market is extremely special, as it is located along Tampa's historic district of 8th Avenue. Shady trees provide a break from the summer heat. You may even see the city's famous chickens walking around the grounds and perusing the goods alongside you! It is the perfect spot to kick off the weekend – with great vibes, local shopping, and amazing products from local vendors, farmers and entrepreneurs.
Know Before You Go
The YborSaturday Market is held every single Saturday, year-round. Summer hours are 9am – 1pm from May – September. In the fall and winter months from October to April, the market extends its hours to stay open until 3pm to take advantage of cooler temperatures. The market is located at Centennial Park at 190119th Street, Tampa, FL, 33605.
The Ybor City Saturday Market is free to enter, and dogs are always welcome. If you're looking for parking, you'll find free parking along the street around the 8th Avenue area and a number of paid garages in Ybor City that have a low hourly fee.
Check out more details about the Ybor City Saturday Market. Vendor availability is subject to change, so be sure to check their websites prior to going.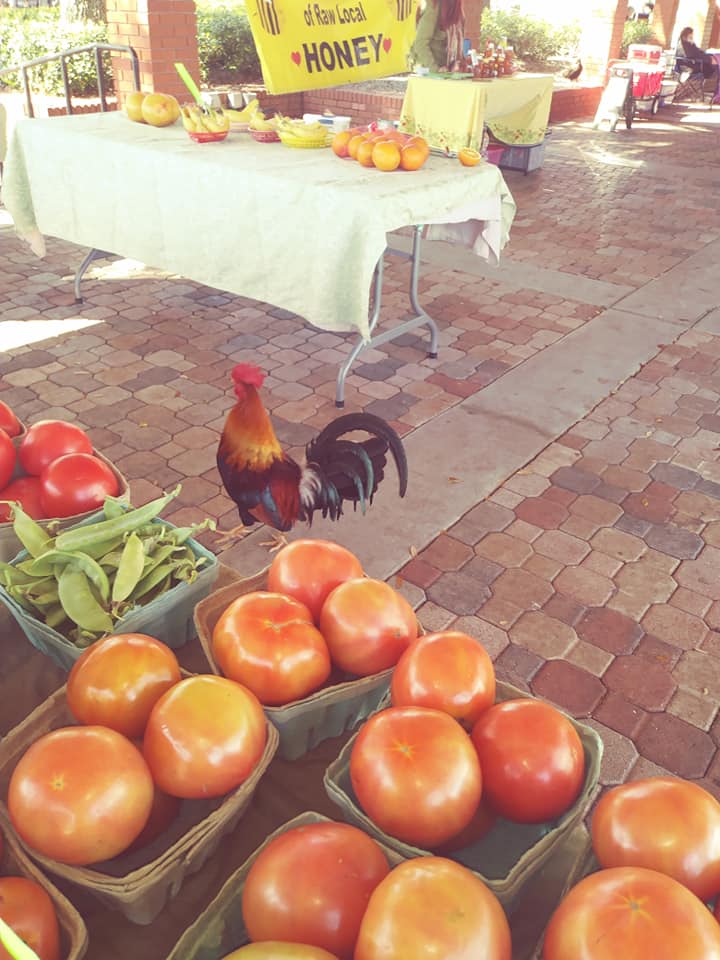 Ybor City Saturday Market Must-Dos
Grab your fridge essentials for the week
Snack on local gourmet treats
Pick up a gift for you or a friend
View art from local artists, sculptors and photographers
*Please note, some vendors may be seasonal or may adjust their hours or market visits depending on the hours. If you have a favorite vendor, be sure to reach out to them to see if they'll be there. You can also find updates on Ybor City's Saturday Market Facebook page. 
Grab your fridge essentials for the week
The featured farm fresh produce stall at the Ybor City Saturday Market is Tungett Produce & Citrus – a fruit and vegetable store that selects produce from the best local farmers in Plant City and Ruskin. By using multiple different farm sources, Tungett always offers a wide selection of items, including tomatoes, berries, corn, and even tropical offerings like avocados and mangos. Or, check out the local honey from Joyce the Beekeeper.
If you're more of a meat eater, Florida Fresh Meat Company provides local, sustainably cultivated meats. They specifically sell gourmet meat including beef, pork, lamb, goat chicken…even duck and gator. One of my favorite items to stock up on is their house made bone broth–healthy and delicious.
Vegan? Benito's Vegan is just for you, a local shop selling artisanal vegan delicacies. Here you'll find Italian inspired goodies like vegan "cheeze," meats, and specialty bread – all vegan! They sell gorgeous braided breads which go perfectly with their applewood smoked bac'n to make the perfect meat-free BLT.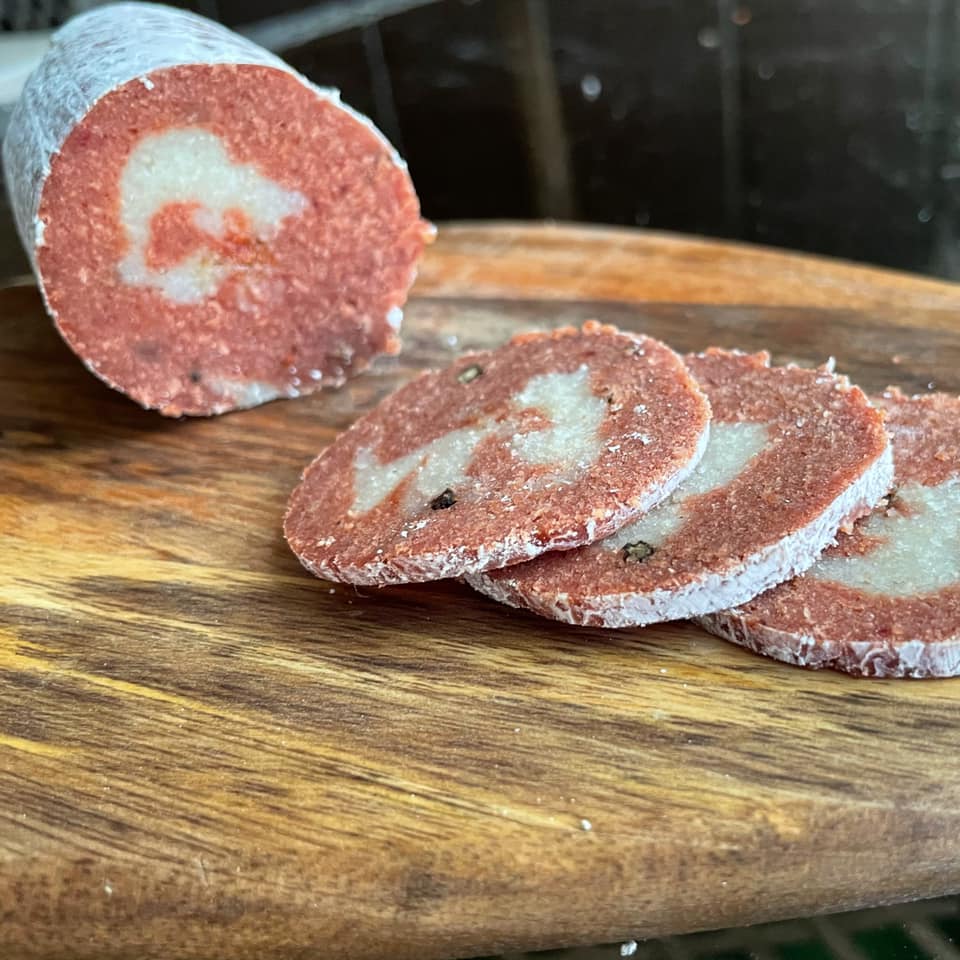 Snack on local gourmet treats
Calling all foodies! The Ybor City Saturday Market is your spot for delicious, photo ready food from cupcakes to even pet treats. Wake up with a quick breakfast of moist banana bread from The Happy Baker. They have a number of different types of fresh-baked breads and sweet breads too, like pumpkin bread, zucchini bread, and Jumpin' Jack with rum. If you want an even sweeter treat, you can check out the tempting treats at Summer Joy's Bakery for muffins, cookies, and scones. Make sure to get a couple of the tart and Florida-inspired Key Lime Sugar cookies!
Wash down your breakfast with some ice-cold local tea from Regalitea. Their creative tea ideas are mixed by Dylan, a local tea mixologist in the Tampa Bay area. His attention to quality, taste, and color are unmatched, you'll have to stop by for some samples just to see. From flavors like Strawberry Sunrise to Sacred Rose and spins on your personal favorites, there are so many to choose from.
When time comes for dessert, you need to check out Alice's Macarons. These perfectly crispy on the outside and soft on the inside treats go quickly, especially with the wide range of flavors. Try the strawberry lemonade macaron or the rich s'mores macaron.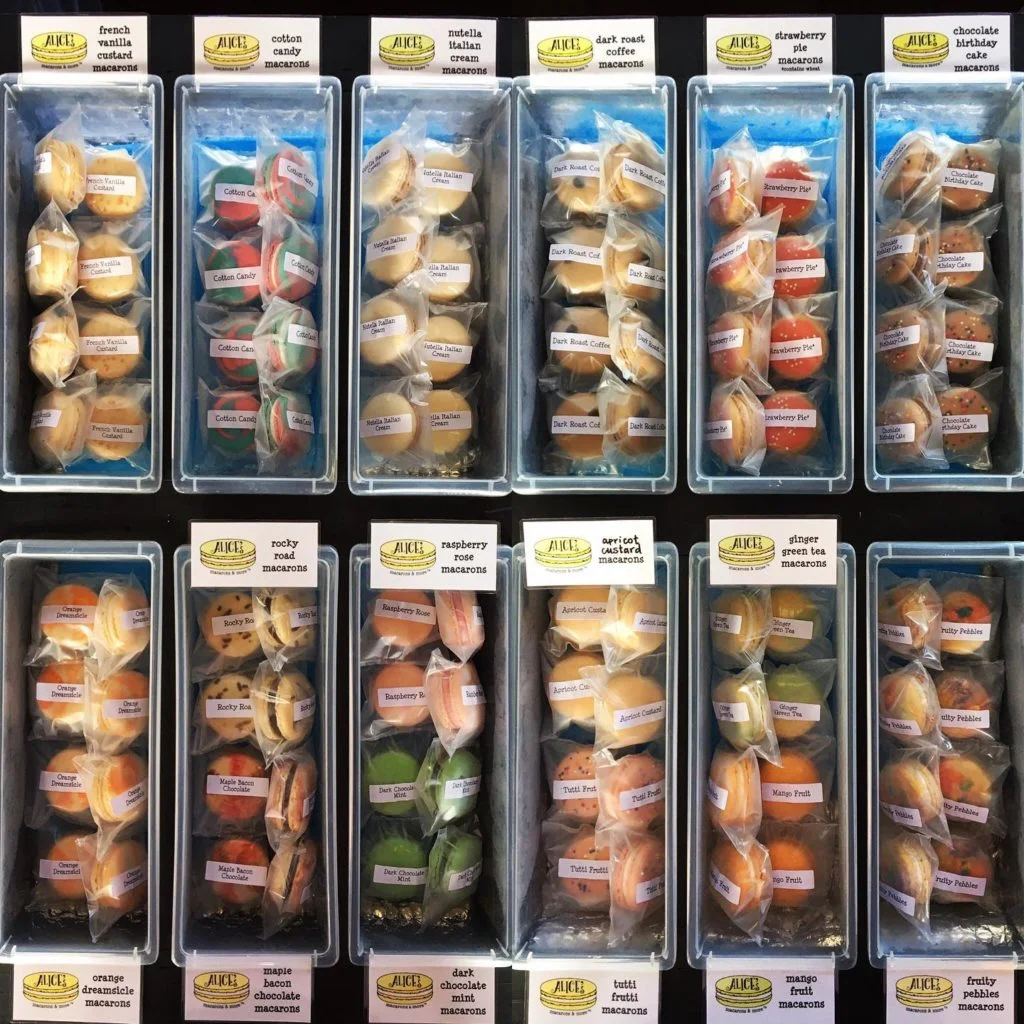 Pick up a gift for you or a friend
Start off with the all-natural skincare line and body products from Body Silk by Robin. These handcrafted items are the perfect pick for those who have sensitive skin or want to stray away from chemical commercial products. Try the tea tree soap, organic shampoo, and shea butter body balm.
Fill your home with luxurious scents when you pick up a candle from Taking You There Candle Co. Their uniquely named candles describe their scents perfectly, like Bad Apple and Tea Time in the Hotel Parlour, and make for the perfect gift.
For the friend who loves to live a sustainable lifestyle, treat them to a present from ReUsin By Susan. This crafty shop creates jewelry using recycled materials, including maps, credit/gift cards, soda can tabs, vintage buttons, and more.
If you love clothing and accessories, you need to check out the Floridian stylings of Aquiser Boutqiue, a local boutique. I love their focus on beachwear, beachy apparel, accessories, and souvenirs. From muted tie dye dresses to crocheted tops, the fun and breezy styles are the perfect addition to your closet. If you ask me, their hats are a must get and are perfect to bring along to the beach.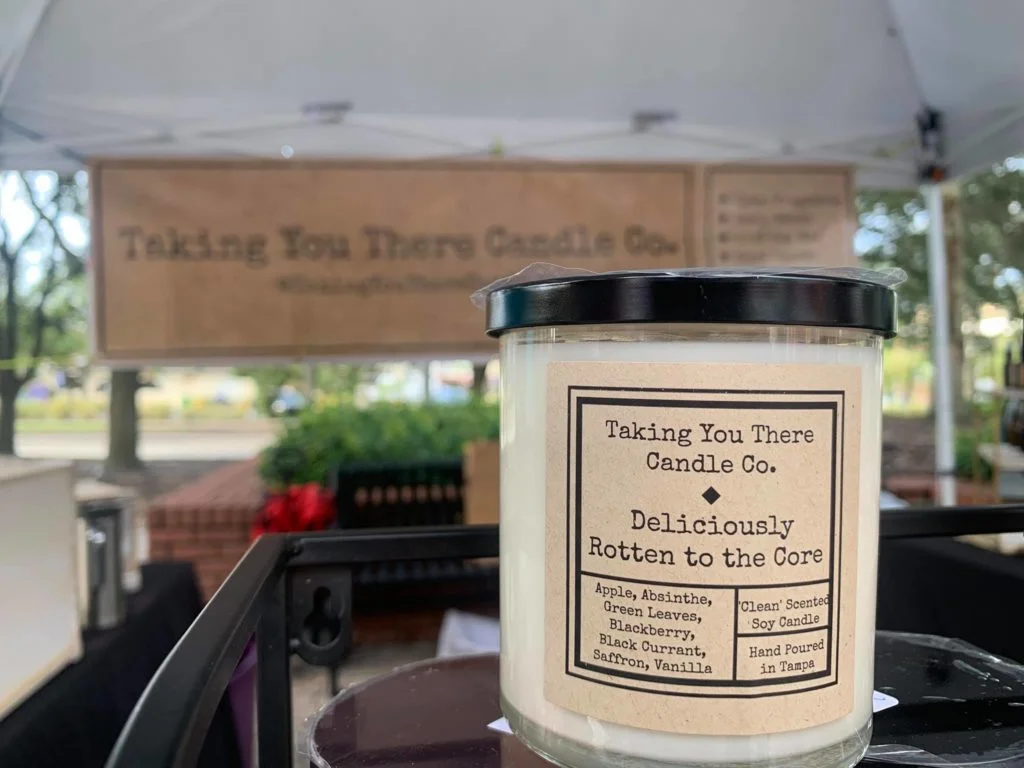 View art from local artists, sculptors and photographers
Whether you fall in love with her photography or are looking for a decor piece for your home, the place to be is Kayleen Krystal Photo. This local photographer carries gorgeous landscape and detailed nature prints, perfect for sprucing up your walls.
For interesting sculptures, come to the American Attitude artist's table. This veteran owned and created art collective specializes in industrial inspired lighting and decor.  This is a great spot to pick up some decor for your home or to meet the artist to plan out any commissions for custom purchases. I love that you can actually meet the different artists behind the work and connect even more with your purchase.
Continue the date…
This list is just the start of so many different shops, products, and food vendors at the Ybor City Saturday Market!  After taking a stroll in the market and doing your fair share of shopping, the different Ybor City bars and restaurants will be open for you.  Cool off in one of the local bars like Acropolis or Gaspar's Grotto (also a fun spot for brunch).
Feature image credit: @ybormarketarturo