Brunch in Tampa is no joke – the locals take it super seriously! Want to sip on endless mimosas and Bloody Marys? Looking for a culinary masterpiece or want something hearty to recover from the night before? Or a boozy breakfast?  There are so many options in Tampa Bay to choose from.
Brunch in Tampa offers delicious eats, gorgeous views, and amazing drink specials – the best excuse to drink before noon. Whether you prefer the classic omelets and breakfast home fries or want something unique like breakfast tacos, there are tons of great spots around. Keep scrolling to find the best brunch Tampa has to offer.
Updated July 2023, by Zoë Joiner.
Best Brunch Spots in Tampa
Located right off Bayshore Boulevard on W. Bay to Bay, Counter Culture is a Tampa brunch foodie's best kept hidden gem. Upon entering, you'll be greeted by a refreshing and clean atmosphere with white décor, light wooden accents, and a large bar that opens the dining room to the outdoor patio.
Reminiscent of brunch spots in Los Angeles, this is a great spot to dress up for and enjoy chef-inspired dishes. Counter Culture is also great for a large group Tampa brunch, as the breakfast menu is huge! From sweet pancakes and flavorful waffles to creative egg dishes, there is something for everyone.
Offering a few ways to enjoy Brunch, and not just on the weekends, Counter Culture serves "BrunchLunch" Monday-Fridays from 11am-3pm in addition to the regular lunch menu. On the weekends, pick and choose from the extensive Brunch menu or, instead, make no decisions at all and enjoy the rotating, chef-selected 3-Course Brunch Menu for $44 per person. 
And don't forget about the champagne! Manager and certified sommelier Romeo Patron's wine selections are amazing! This may just end up being your new go-to brunch spot.
Tampa Brunch hours: Saturdays and Sundays from 8am-3pm, Monday-Friday from 11am-3pm
Must-try dish: Cardamom sticky bun, Macadamia nut pancakes, Poached eggs Bourguignon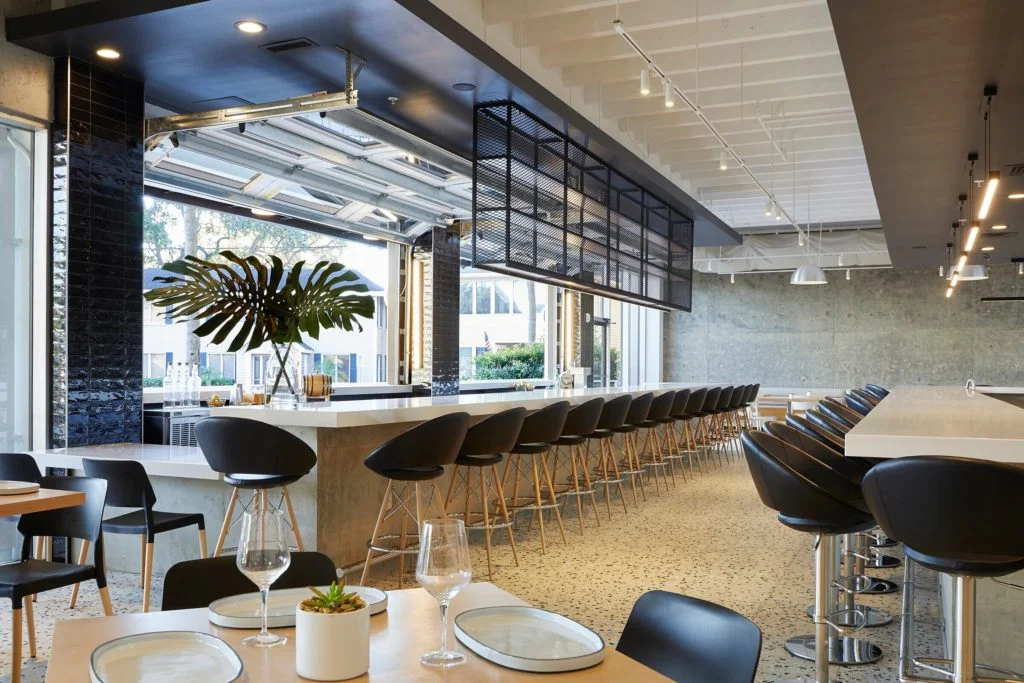 Oak & Ola, Tampa Heights Brunch
Looking to catch up over some of the best food in Tampa's brunch scene? My favorite spot for a low-key Sunday brunch is Tampa's Oak & Ola brunch, located in Armature Works as a standalone restaurant. The patio view is beautiful – opening up to the Armature patio and the Tampa Riverwalk.
Filled with plants and chic decor, it's the perfect spot to relax. Order from the brunch and lunch menu on the weekends. One of their signature dishes is the Endive Salad, which is a must-get as it helped Oak & Ola earn the coveted James Beard award. Craving something savory? Their Annie's French Onion Soup is a classic staple.
I love this spot because there's plenty to do after you eat. After enjoying your meal, you can explore Armature Works, grab a popsicle cocktail or go for a walk on the Tampa Riverwalk.
Tampa Brunch hours: Saturday and Sunday 10am-4pm
Mimosa deal: Single mimosas for $8; Bottle for $25 (choose: orange, grapefruit, or cranberry)
Must-try dish: Fried Frenchie, Endive Salad, Lobster Roll
Steelbach, Tampa Heights Brunch
Also situated at Armature Works, Steelbach has a laid-back vibe with an ambiance that can be described as "modern homage." Start off your brunch experience with their sticky sweet Monkey Bread made with salted caramel and toasted pecans, and then indulge in their Pork Belly Benedict or Avocado Toast.
If you're looking for something on the lighter side, their Farmhouse Salad includes radishes, berries, and candied pecans for a sweet and savory combo.
Want to treat yourself to a liquid brunch? They've got that covered too with a menu filled with signature brunch cocktails or the Brunch Punch – a large format cocktail that serves 3-6 people because sharing is caring.
Tampa Brunch hours: Saturday and Sunday, 9:30am-3:30pm
Mimosa deal: Flight of The Mimosa for $16, or the Brunch Punch to share.
Must-try dish: Banana Fosters French Toast, Bleu Caesar Salad, Monkey Bread
Feel like you're far away on vacation in this traditional English pub. Located in downtown Tampa, Yeoman's is the perfect spot for a hearty brunch with British flair. Try their traditional English Breakfast (the fresh sage sausage alone is worth it) or their London Eye – a mega grilled cheese sandwich made with five cheeses and topped with bacon and eggs.
Of course, what would a true brunch be without their bottomless Bloody Marys and mimosas?
Tampa Brunch hours: Saturdays and Sundays 11am – 2pm
Mimosa deal: Bottomless mimosas and Bloody Marys for $14.99 each or $16.99 for both
Must-try dish: Pot Roast Benedict and Breakfast Mac and Cheese
For a fun weekend brunch, check out 7th & Grove in Ybor City. Ybor has never disappointed when it comes to a good time and 7th & Grove is no exception.
You'll love their Southern inspired brunch dishes, which are indulgent and delicious. If you can't pick just one, indulge in the $49 Bottomless Brunch Buffet. It's served in the lounge area, featuring a Live DJ and endless mimosas. Note, there is a 90 minute table time enforced, a 20% auto-gratuity and a 2 credit card/table maximum.
Tampa Brunch hours: Saturdays 11am – 3:30pm; Sunday 11am – 4:30pm
Mimosa deal: 2 for 1 Mimosas during brunch, or get a whole bottle of sparkling wine with your choice of juice for $27.
Must-try dish: "Welcome to Atlanta" Peach Bourbon Glazed Wings; Peaches and Cream Flap Jacks, "All About the Benjamins" Jumbo Crab Cake and Shrimp entrée with Smoked Gouda Grits, Fried Okra and Creole Sauce.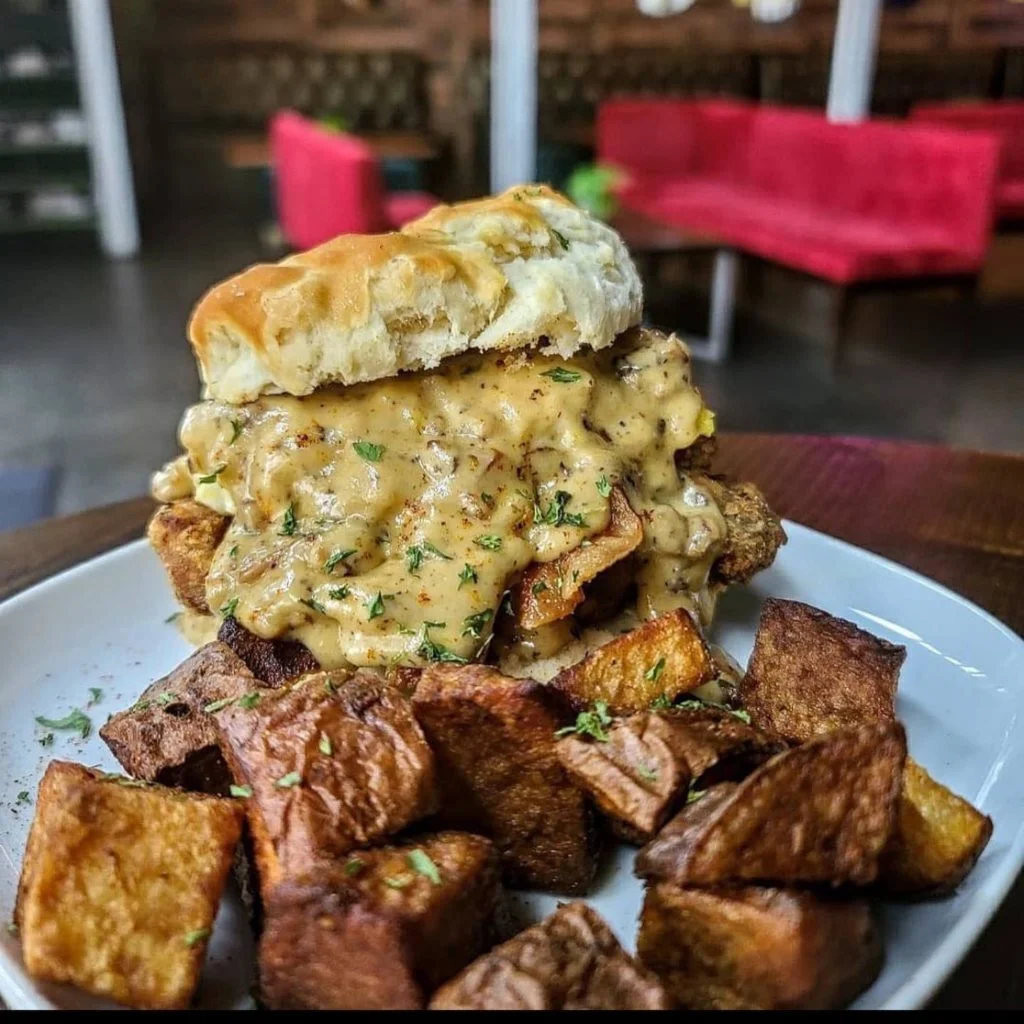 Recover from your night out in South Howard with a solid Tampa brunch at WATER + FLOUR. A hit amongst the college crowd and their families (with $4 mimosas!), everyone can enjoy this spot's diner-style eats.
I love WATER + FLOUR any day of the week for their delicious pastas and yummy sushi, but you can't beat their brunch drink deals! Enjoy an overflowing mimosa brunch with your crew and fill up on Tres Leches French Toast. They also have several gluten-free options to indulge in as well.
Tampa Brunch hours: Saturday and Sunday 11:30 – 3pm
Mimosa deal: Mimosas $4 each; Heavy Pour – Champagne bottle and a side of orange juice $18
Must-try dish: Tres Leches French Toast, Breakfast Burrito, Warm Cheddar Biscuit with Mike's Hot Honey
Feature image credit: Water + Flour
Ava, SOHO Tampa Brunch
Enjoy an Italian-inspired breakfast at one of SoHo's most notable brunches. Ava offers a great spin on the classic brunch, with Italian takes on some of your favorite dishes like eggs Benedict and steak & eggs. Savor the Italian Eggs Benedict with yummy pancetta on the restaurant's beautiful outdoor patio. The space is gorgeous and serves as a prime spot for people-watching on South Howard.
Ava is also a great pick if you're looking to bring the kids along. They have a special children's menu for brunch, including chicken fingers and chocolate pancakes.
Brunch hours: Friday and Saturday, 10:30am – 2pm, and Sunday from 10:30am – 2:30pm
Mimosa deal: Bottomless mimosas for $20
Must-try dish: Italian Benedict, Wagyu Steak & Eggs, Breakfast Pizza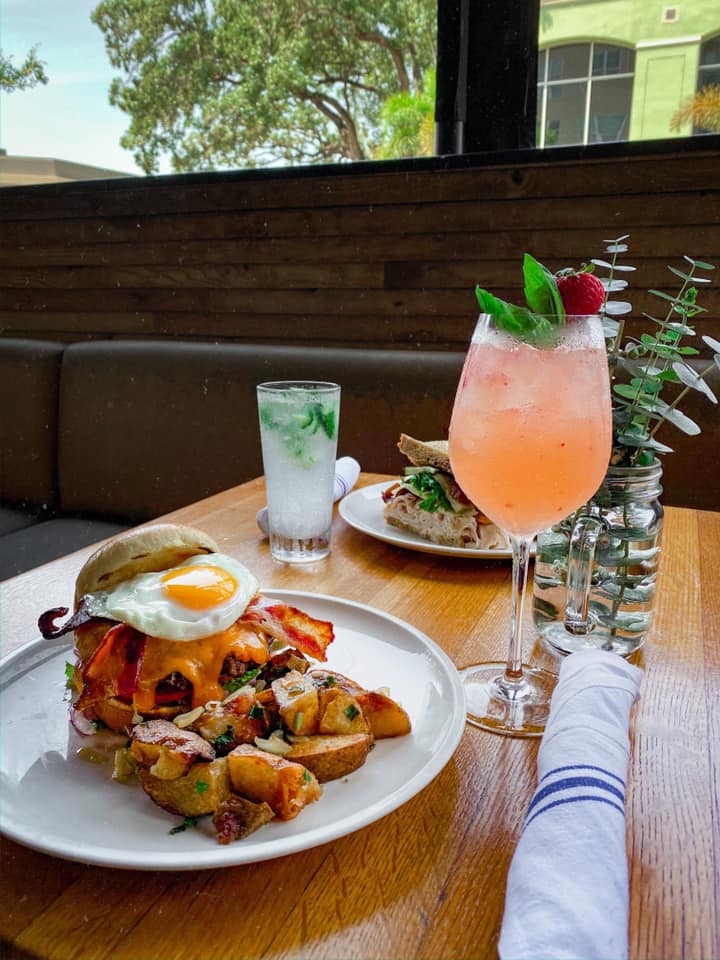 A diner for brunch?  When it's Pinky's, heck yea!  Stomach growling? You need to visit Pinky's Diner in South Tampa. This is the spot to go to if you're looking for the best neighborhood breakfast spot and hearty breakfast meals. Get there early, though, since there's always a wait.
The eclectic decor will help you feel at home in this cozy breakfast shop. The menu features breakfast classics, breakfast sandwiches on Cuban bread, and amazing pancakes made on the griddle. Remember to order a brunch cocktail, like a jalapeno-cilantro Bloody Mary or a peach mimosa.
Brunch hours: Saturday and Sunday from 8am – 1pm
Must-try dish: Ultimate Fried Egg Sammy, South Carolina Grit Bowl, Stuffed Cuban Bread French Toast
Back with another fun Ybor City hit, who knew that one of the best places for a brunch in Tampa would be in a bar? Gaspar's Grotto is Tampa's "Notorious Pirate Bar and Restaurant", which totally lives up to the name. If you're looking fun brunch, then this is the spot for you.
Gaspar's Grotto serves a delicious, savory and Cuban-focused brunch menu in their cool Ybor City setting.  This is a great option if you're looking for outdoor seating, great for people-watching on the Ybor City strip.  Complete with mimosas and bloody Mary's, Gaspar's is a top pick for showing Tampa newcomers around town.
Brunch hours: 11am – 3:00pm
Must-try dish: Biscuits and Gravy, Chorizo Hash, Bag of Beignets
Bulla's Tampa location is home to one of the area's coolest rooftop bars, the Luna Lounge. It's also a top spot for brunch with bottomless drink deals and a special prix fixe brunch menu. Pair bottomless mimosas and sangria with the indulgent three-course brunch prix fixe feast for $30 or order from the a la carte brunch menu. Make sure to share an order of the heavenly churros con chocolate!
Note, Bulla does not accept cash payments.
Brunch hours: Saturday and Sundays from 11am – 4pm
Mimosa deal: Bottomless mimosas and sangria for $20
Must-try dish: Braised Pork Hash, Churros con Chocolate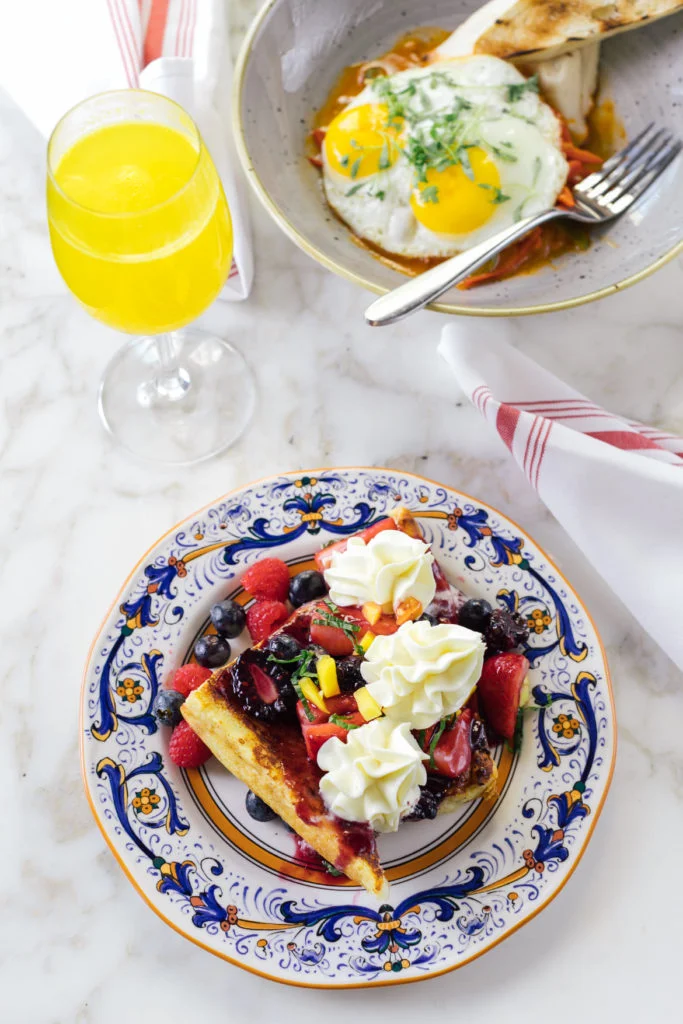 Enjoy a relaxing waterfront view with a fresh seafood plate and brunch favorites. Oystercatchers has one of the best raw bars in Tampa Bay with shrimp cocktail and oysters on the half shell. This is a Tampa favorite not only for seafood but also the delicious brunch options like Nutella stuffed pancakes.
Brunch hours: Saturdays 11:30 – 2:30pm, and Sundays 10:30am-2:30pm
Mimosa deal: $10 per mimosa or $32 for bottomless
Must-try dish: Lobster and Crab Omelet with Brie and Truffle Butter, Short Rib and Eggs, Nutella Stuffed Pancakes
If you're looking for another brunch spot with a view, look no further than American Social. Located across from the Tampa Convention Center, this is the perfect place to chill out before the work week begins. I recommend requesting a table on the huge outdoor patio, which offers a beautiful waterfront view of the boats and live music.
Besides the stunning view, the food is a hit as well. Refined spins on American comfort food classics accompany the beloved mimosas.
Brunch hours: Saturday and Sunday 11am – 3pm
Mimosa deal: Mimosas $4
Must-try dish: Candied Bacon Deviled Eggs, Cinnamon French Toast Crunch, Ham and Cheese Strata
Named one of the top 10 brunch places IN AMERICA by TripAdvisor, you can't mention brunch without a nod to Oxford Exchange. A brunch at Oxford Exchange turns any Sunday into a special occasion. Even as you wait for your table, you're transported to a world of elegance.
Browse through the shop of curated gifts and goods or make a stop at the Champagne Bar for luxury champagne cocktails with floral details in the glass. When making a reservation at Oxford, we recommend asking to sit in the courtyard – a glass greenhouse with a huge fountain in the center. It's the perfect setting for indulging in brunch classics.
Try one of their yummy Grilled-Cheese + Soup combo's, or a delicious salad. While you're waiting on your table or after you're done, be sure to take a stroll through the bookstore, featuring reads from tons of local authors. You can also grab an espresso drink or a freshly brewed cup of tea from the Coffee and Tea shops on-site.
Brunch hours: Saturdays and Sundays from 9am – 5pm
Must-try dish: Lemon Poppy Seed Pancakes, Brunch Flatbread with sunny side egg, roasted pepper, caramelized shallots, goat cheese, arugula pesto.
EVEN MORE Tampa Brunch Ideas:
Best Brunch Spots in St. Pete
Cassis, St. Pete Brunch near the Pier
We LOVE Cassis for the food, atmosphere and location. Reserve your table ahead of time so you don't have to worry about the wait. You can't go wrong sitting inside our outside–there is plenty of shade and a gorgeous view of Beach Drive if you snag a table outside. Cassis offers brunch daily (although they're closed Mondays), so they've got your brunch cravings covered no matter which day it hits.
As far as what to order, for drinks…we highly recommend the Cassis Bloody Mary. It's made from their homemade Bloody Mary mix, so it's one of a kind! If you're into Mimosas, they make theirs with hand-squeezed fresh juices (available by the glass or caraffe) and offer a Mimosa for Two for $23.50.
The brunch menu top pick for those of you who prefer something savory is Maine Lobster Benedict on brioche toast. If you like something sweeter, we highly recommend the Brioche French Toast which is topped with honey mascarpone, bananas, and strawberries.
Brunch hours: Tuesday – Thursdays from 11am – 3pm, and Friday – Sundays from 8am – 3pm
Must-try dish: Smoked Salmon Benedict, Brioche French Toast, Bananas Foster Pancakes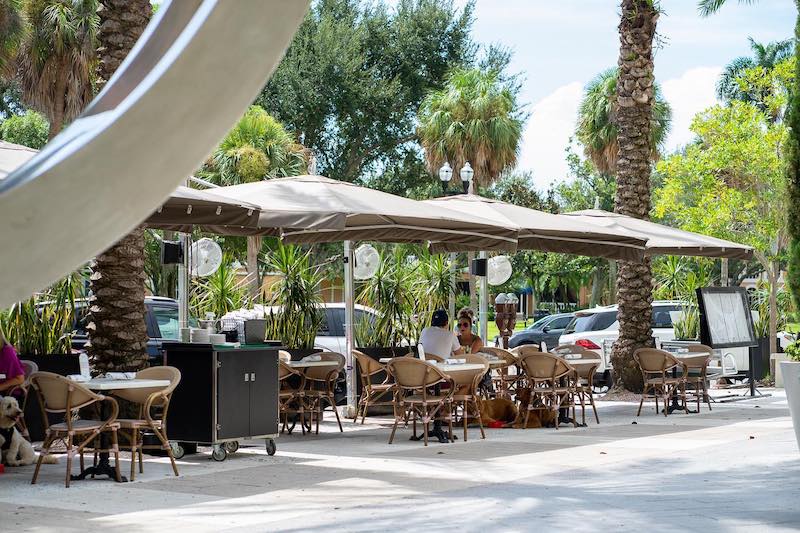 Brunch at the Birch & Vine at the beautiful Birchwood is a must-try. It's fine-dining with a laid-back approach with unbeatable outdoor views. The food is pretty spectacular too, and the outdoor café is even pet-friendly.
The brunch menu features items for all tastes, from their delicious Pull Apart Sticky Bun appetizer to the yummy Smoked Fish Dip.
If a salad is topping your list, give the Green Goddess a taste. For something heavier, you can't go wrong with the Braised Short Rib Benedict. They also have plenty of cocktails and a huge wine list to select from.
Brunch hours: Tuesday – Fridays from 11am – 4pm, and Saturday and Sundays from 10am – 4pm
Mimosa deal: Saturdays and Sundays during brunch save up to 40% Off select bottles of bubbles served with your choice of juice.
Must-try dish: Braised Short Rib Benedict, Chicken and Waffle, Cheesecake French Toast
If you love wine, champagne, cheese and charcuterie, then Sauvignon's brunch is where you want to be! Not only do they offer a variety of options for cheeses and meats, but their wine list is so vast you'll surely find something you love.
Now that we've gone over wine and cheese, let's talk brunch because the brunch menu is pretty good too. There are sweet and savory offerings as well as salads and sides. For the sweet tooth, give the Bananas Foster French Toast a try. For a savory splurge, try the Creekstone Farms 16 oz Ribeye and Eggs for $56. This is also a dish you can share if you're not starving.
Brunch Hours: Sundays from 10:30am – 3pm
Mimosa deal: Half-off all 750 ml bottles of wine under $100 on Sundays
Must-try dish: Bananas Foster French Toast, Smashburger, French Rolled Omelette
Allelo Brunch on Beach Drive Downtown St. Pete
The much-anticipated replacement to both Annata and Alto Mare on Beach Drive is a fresh new Mediterranean concept from the team behind nearby 400 Beach Seafood & Tap House. Allelo is a beautiful designed restaurant focused on shared plates.
Brunch on the weekends features a Family-Style tasting menu: for $32 per person you can choose pancakes or French toast (both are included if there's more than 2 of you), plus 8 other chef-selected courses – what a deal!
Take in the teak woodwork, brass lighting, and admire the tile-encased open kitchen designed by award-winning New York-based firm AvroKO. There's also a beautiful mural by local artist Annette Gloomis. Parking gets tricky in the area so valet may be your best option.
Brunch hours: Saturday & Sundays from 11:30am – 2:30pm
Mimosa deal: All Sparkling Wine Bottles $150 and under are 50% off during brunch hours.
Must-try dish: Thick Cut Bacon, Shakshuka, Olive Oil Pancakes & Cardamom French Toast
EVEN MORE St. Pete Brunch Ideas:
Morre Brunches Near Tampa Worth the Drive
HEW is located inside the Fenway Hotel in Dunedin and serves up brunch seven days a week. Their a la carte menu is filled with brunch favorites that have a unique spin like Confit Duck Croque Madame and French Toast L'Orange.
HEW has a laid-back atmosphere but provides upscale taste. While dining at the view, you can take in the waterfront views, and hop on the Jolly Trolly before or after your meal to go back and forth to Clearwater Beach, Tarpon Springs, and other surrounding areas.
Brunch Hours: Monday-Friday from 8am-2pm and Saturday and Sunday from 8am-1pm.
Must-Try Brunch Items: Grand Lady Parfait, Key West Pink Shrimp Remoulade Salad
For another 7-day-a-week brunch option, head to Gigglewaters in Safety Harbor. This 1920 restaurant and bar is also a classic movie theatre influenced by the old speakeasies.
They offer a Boozy Brunch menu that includes specialty breakfast cocktails like the OJ & Waffles (bourbon-spiked orange juice and spiced maple syrup served with a waffle wedge) or the Signature Mary, topped off with roasted garlic and salt and pepper (you can add a skewer of butcher block bacon for $2). You can upgrade to "Drunch" and order a carafe of mimosas, bubbly of the day, sangria, or Signature Mary).
Their brunch menu is filled with staples like omelets, handhelds, pancakes, and more. Bunch is a flat fee of $18 and includes your choice of entree plus any one of the following: mimosa, bubbly of the day, orange juice, coffee.
Brunch Hours: Monday-Friday from 11am-2pm, Saturday from 10am-2pm, and Sunday from 9am-2pm
Mimosa deal: Carafe of mimosas for $25 (serves 4)
Must-try brunch items: Churro French Toast, Brunch Burger, The West Egg (omelet stuffed with mac and cheese, crumbled bacon, and topped with cheddar)
And for some family-friendly things to do this weekend in Tampa Bay check out Tampa Bay Parenting's list of local events and things to do near me!