Anyone who's been in the Tampa area for a while has probably heard of Riverwalk and has maybe even visited once or twice. It's a great location for a date night spent enjoying the company of your significant other. If you've been and loved it, then you'll probably love this, too.
You can take your date on a Downtown Tampa Food Tour to visit and taste food and drinks from some of downtown Tampa's finest establishments along the Riverwalk. If this sounds like your kind of date, stay tuned to find out exactly how an afternoon on this tour would go down.
Related: Tampa Riverwalk, Armature Works & Sparkman Wharf 
Downtown Tampa Food Tour
If you like wine and good food, you're in for a treat on this tour. The Downtown Tampa Food Tour takes you through up to five different restaurants in the downtown Tampa area, starting with Malio's Steakhouse. Each stop will showcase their finest tastings along with a wine pairing.
From there, your Taste Ambassador tour guide will lead you from place to place, getting you enough food tasting that you'll get a full meal out of it. The different stops are subject to change. The tour will last for three hours as you visit the different restaurants. You'll even get to meet some of the chefs and owners of the different places!
When and How
The Downtown Tampa Food tours take place on select Tuesdays at 5:30pm, meeting first at Malio's Steakhouse. You are encouraged to buy your tickets well ahead of time because tours do fill up quickly! Each tour is limited to 12 spots to preserve the intimacy of the experience, so make sure to reserve your spot online early.
Tickets are $94 per person. Must be 21 and up.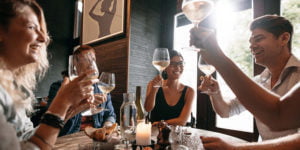 Other Food Tours to Check Out
If you love the idea of a food & wine tour and want to try a different location, there are several other tours you can go on! You and your date can experience St Pete food culture in the St Pete Downtown Food Tour or head to Dunedin for the Dunedin Food Tour. Make sure to reserve your spots early for these, as well!
Feature Image Credit: tampabayfoodtours.com