A trip to Italy feels like a far off dream sometimes, but there's nothing stopping you from capturing just a fraction of the romance and magic of a European jaunt right here in Tampa Bay. We have a wealth of places to enjoy a slice of Italy. From authentic Italian cuisine and mouth-watering gelato to where to make your own pasta and more, enjoy this guide to planning your very own Italian date night in Tampa Bay.
Updated July 2023, by Zoë Joiner
Romantic Italian Restaurants in Tampa Bay
With a fresh Michelin Star to add to its belt, Rocca is sure to please for date night. The ever-changing menu by Chef and Owner for Bryce Bonsack includes fresh, handmade pasta, hand-pulled tableside mozzarella, dry aged meats, and also boasts an extensive Italian wine list. Note: Rocca is closed Mondays.
If you're looking for the most romantic and authentic Italian vibe, this is the place. Donatello oozes Italian charm and flavors. The servers wear black ties, the wine is divine, and there is often live jazz in the bar. Donatello has been serving authentic Italian cuisine for nearly 40 years in Tampa.
This modern Italian restaurant is located within the Grand Central building in the middle of Tampa's ever-growing Channelside District. Diners should expect fresh Italian flavors with a twist along with an excellent wine list. A brand new courtyard offers plenty of ambiance for outdoor dining. Chef Michael Buttacavoli even recently won a head-to-head battle with Bobby Flay on Food Network's Beat Bobby Flay. Note: Cena is closed Mondays and Tuesdays.
Casa Santo Stefano comes from a family with more than a century of Tampa Dining history — the Gonzmarts of Columbia Restaurant Group. This Sicilian eatery, housed in a former macaroni factory in Ybor City, truly brings out the old world charm and pays homage to the Sicilian immigrants who came to Tampa in droves in the early 20th century. End the night at Santo's Drinkeria, the restaurant's indoor/outdoor rooftop patio with cocktails, Sicilian street food and tasty desserts.
This South Tampa SOHO staple has something for everyone (including a plant-based section of the menu). The Italian-inspired cocktail menu is the perfect jumping off point for a classic and delicious meal. Bella's has been awarded the Best Italian Restaurant in Tampa crown by Creative Loafing readers again and again for good reason. Be warned, the portions are enormous, so plan to bring home leftovers!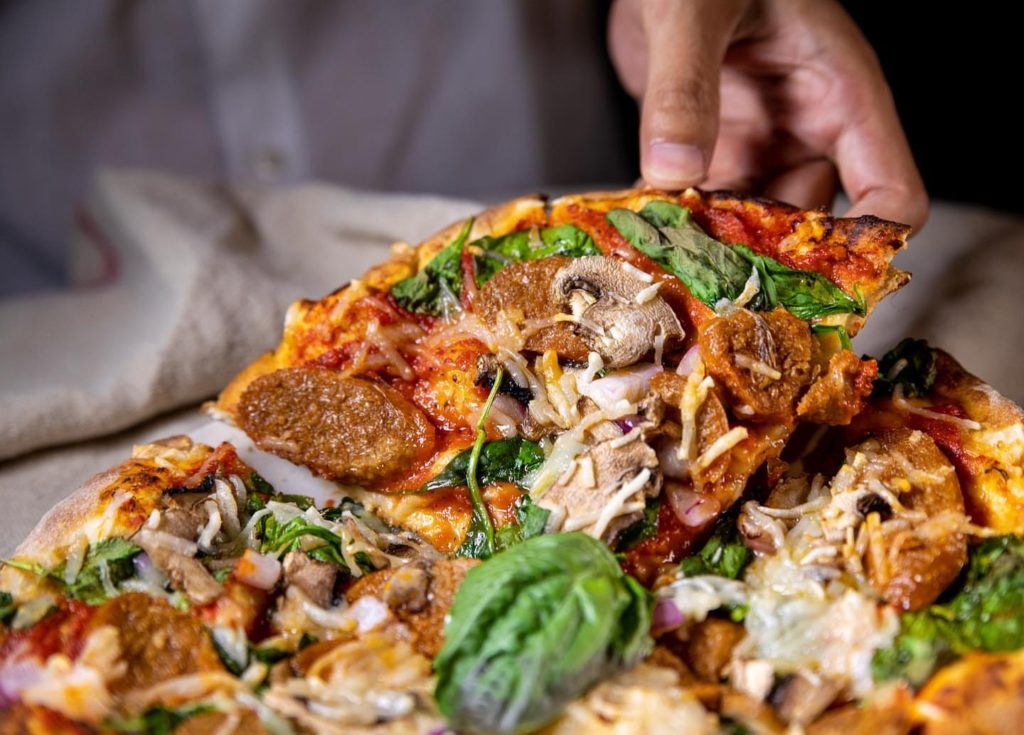 Another true Italian restaurant in the heart of South Tampa, Osteria Natalina's amazing food isn't the only thing that makes it perfect for date night. They do not allow kids under age 9, which keeps the vibe quiet and intimate so you can focus on conversation. Osteria Natalina is on the small side and does not take reservations, but there's a cute wine bar, Cheese Please, just down the block that is the perfect spot to wait with a charcuterie board.
We weren't sure whether to place Ava under romantic dining or pizza, since it has both in spades. Fresh ingredients dominate the menu with incredible modern Italian flavors. We love Ava especially because it has a great vegan menu for couples who need both vegan and non vegan options.
OK, not an Italian restaurant itself, but St. Pete's Beach Drive evokes a strong Italian vibe. Cute restaurants dot the waterfront street, all with ample outdoor seating. You can't go wrong but to keep the Italian mood, try Bella Brava for a new world Italian dinner or Allelo, the replacement to beloved Annata and Alto Mare restaurants, and walk to Paciugo Gelato and Caffe for dessert and espresso.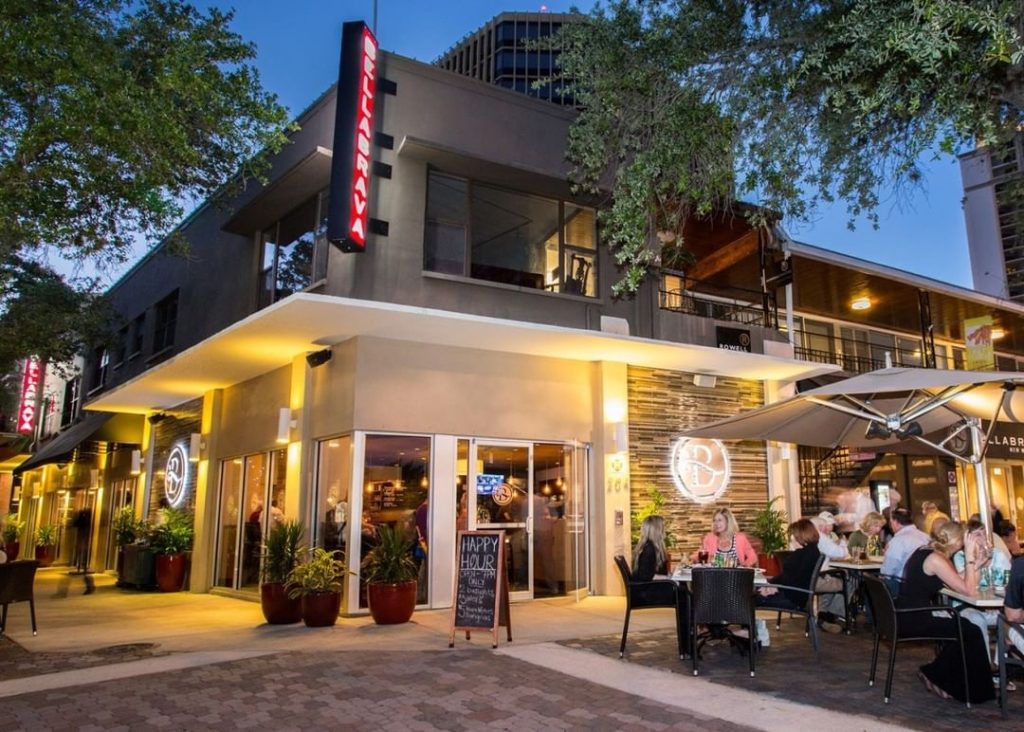 It doesn't get more quaint Italian ambiance than Pia's in Gulfport (pictured in feature image). Sit back, relax, and with enough wine, you might believe you're dining on a cobblestone street in Rome. Everything at Pia's is cooked to order with fresh ingredients.
Founded in Italy, DalMoro's has brought its fast, casual and fresh pasta concept stateside for the very first time right here in downtown St. Pete. Snag an elevated cup of noodles done your way and stroll the streets of St. Petersburg with someone special. You can even pick up bags of fresh pasta to take home with you, if you'd prefer to cook up an Italian meal together.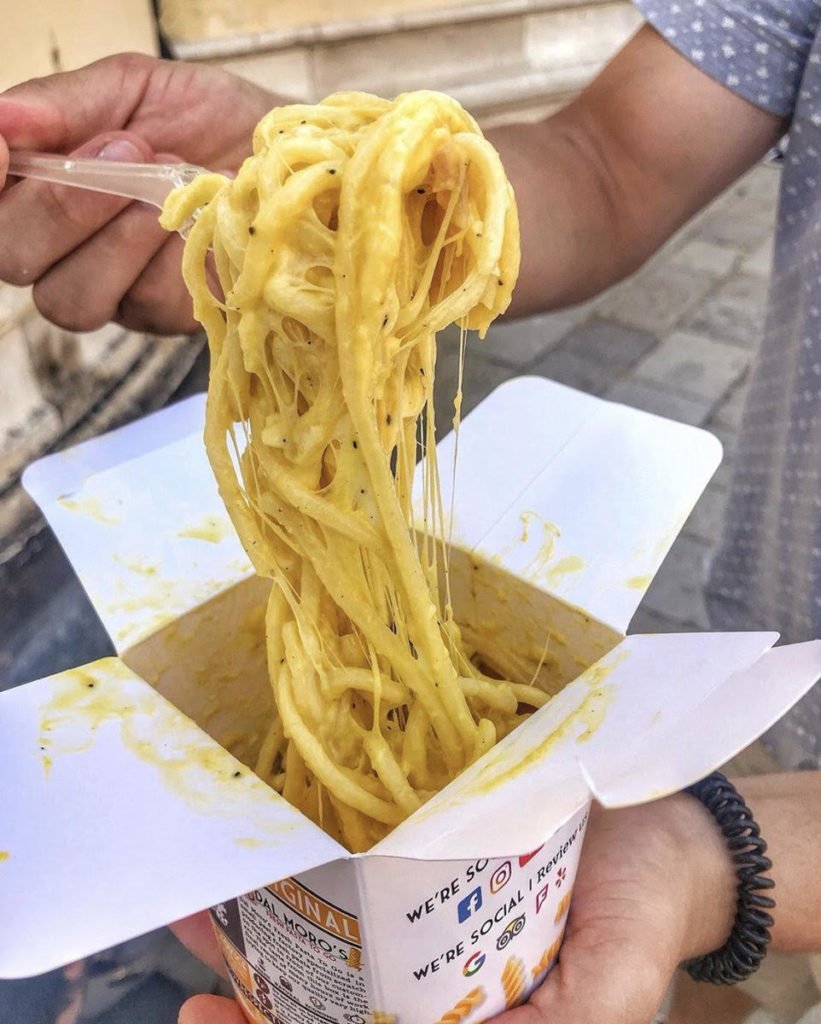 Pizza
Bavaro's has been growing its presence in Tampa Bay in recent years, and now has four locations serving up authentic Neapolitan pizza (Downtown Tampa, Downtown St. Petersburg, Sarasota and Tampa International Airport). The downtown Tampa location is perfect for dinner before a waterfront stroll on the Tampa Riverwalk. It's not the canals of Venice, but a fair substitute for Florida!
Located in the bustling Channelside District, Fabrica's wood-fired Neapolitan pizza is so good they started a monthly subscription service to ship them frozen (within the state of Florida). For restaurant dining, Fabrica is contemporary and casual and also serves yummy salads and treats like gelato and Nutella pizza.
For delicious pizza al fresco, Forbici is a local favorite in Tampa's trendy Hyde Park Village. This modern Italian eatery features classic Italian cocktails (including the beloved Aperol Spritz), and mouthwatering traditional Roman-style pizzas. For a true Italian experience to mimic a classic aperitivo, visit during happy hour from 3-6pm for deals on cocktails and light bites, including $3 pizza by the slice.
At-Home Italian Date Night
If you want to bring Italy to you, there is no better place to make that happen than Mazzaro's. This enormous Italian market has everything you need to create the perfect at-home date night. There is an on-site butcher shop and seafood market and aisles are stocked with imported cheeses, oils, truffles, spices, sauces, artisanal chocolates and candies. Pick up some fresh handmade pasta and a couple bottles of Italian wine and you're all set! You can also grab some insanely delicious premade sandwiches, bread and pastries.
We've got the full scoop in our post on about a Day Date to Italy at Mazzaro's Italian Market.
Note: Mazzaro's is closed on Sundays, and closes at 2:30pm on Saturdays (regular hours 9am-5pm weekdays).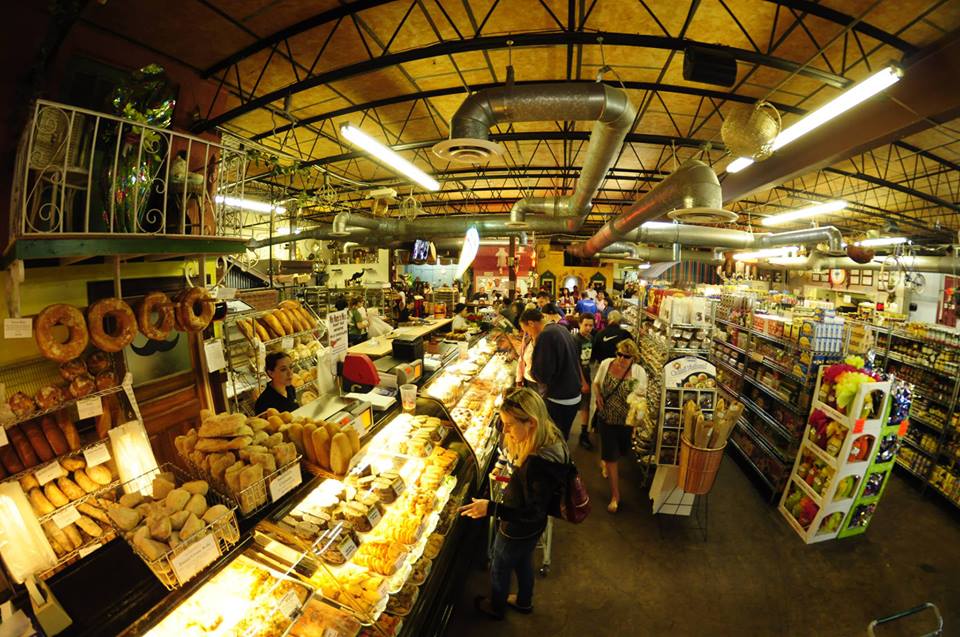 Alternatively, head outdoors to one of our local farmer's markets to pick up fresh, locally-made ingredients for an Italian feast at home. St. Pete's beloved Saturday Morning Market is one of our favorites. Aside from the fantastic selection of fresh produce, you'll also find unique items like truffles from Casa Truffle, multiple bakeries, artisan cheeses, dried pastas and more to take your at-home dishes to the next level.
Gelato, Coffee and Dessert
A newer spot in South Tampa, SucreTable has truly beautiful (and delicious) desserts and custom cakes. Not necessarily an Italian place, SucreTable's amazing pastry display and well stocked coffee offerings bring the Italian spirit to Tampa. Chef Brenda Villacorta is from Tampa, but spent years in Michelin-rated kitchens before coming home to open SucreTable. They're only open until 5 p.m. Tuesday-Thursday and 6 on Saturdays, so we recommend picking it up for dessert after date night. Or, visit in the morning for a traditional Italian breakfast of a cappuccino and a pastry.
This is our absolute favorite spot for ultra fresh Italian gelato. Tack-on a stop at Gelato-Go on your next trip to Channelside and you won't regret it. Get a scoop (or two) of fresh-made gelato along with a cup of coffee and take home some fresh pastries. They use super fresh and curated ingredients from around the world for their recipes (including locally-grown fruit for their sorbets as much as possible) and milk which does not contain artificial hormones or antibiotics.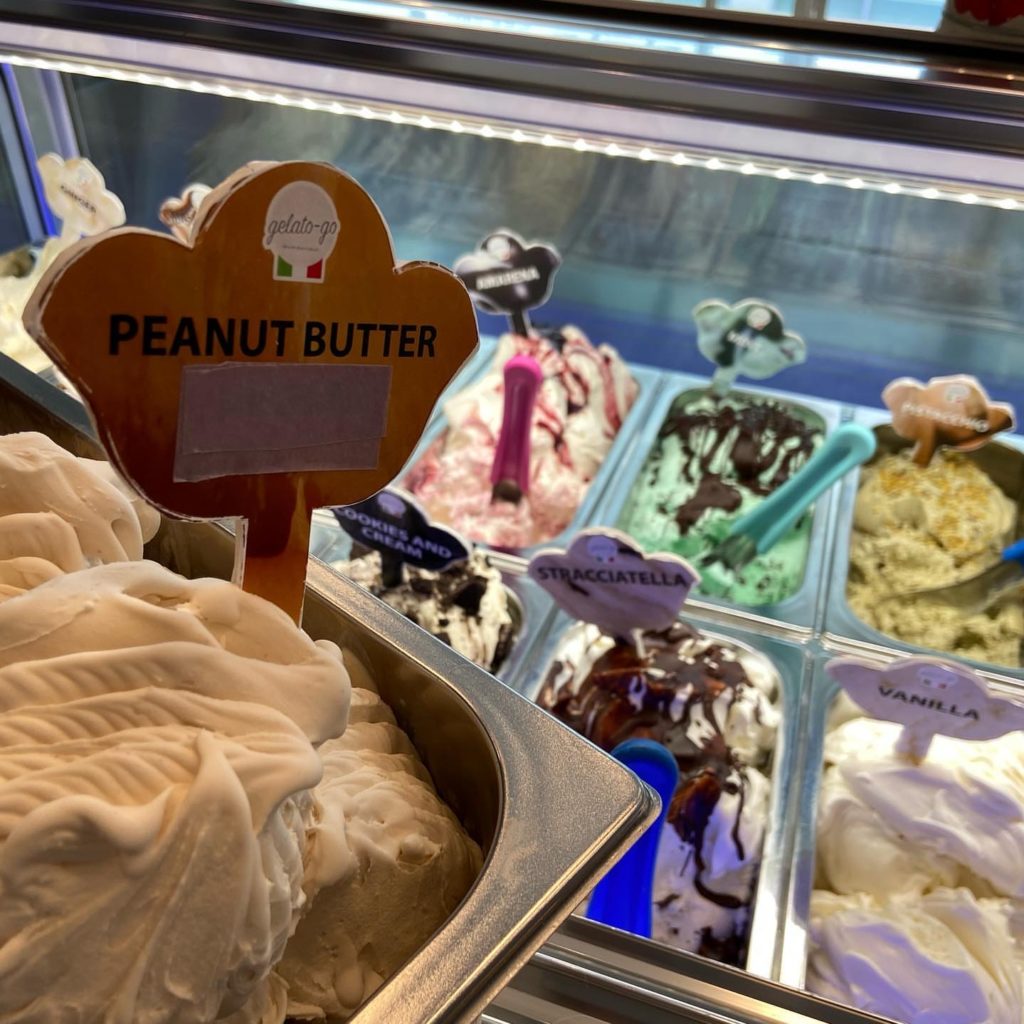 Pick up some Italian treats and take a stroll through Hyde Park Village. Sorrento Sweets is the Tampa outpost for this Pasco County bakery, which churns out Italian cakes, pastries, cookies and cannoli's. They also have gelato shakes and floats for those warm Florida evenings. Combine the best of both worlds with an delicious Affogato: your choice of gelato topped with Italian-style espresso.
APERITIVO
Because Italians typically eat late, around 9pm, aperitivo (aka Italian happy hour) is enjoyed during the stretch between lunch and dinner. Typically, there's a spread of free finger foods with the purchase of a drink. Replicate this experience in Tampa Bay by seeking out a happy hour with traditional Italian aperitifs for a similar experience.
Forbici Modern Italian offers a daily happy hour from 3-6pm with $8 Aperol spritzes alongside an assortment of light bites for $10 or less each. You can also sip on the classic Aperol Spritz at Bulla Gastobar's rooftop Luna Lounge, which offers happy hour daily from 5-7pm.
Sip on wines by the glass for $8 while snacking on pizzas and more during happy hour at Bella's Italian Cafe weekdays from 3-6pm.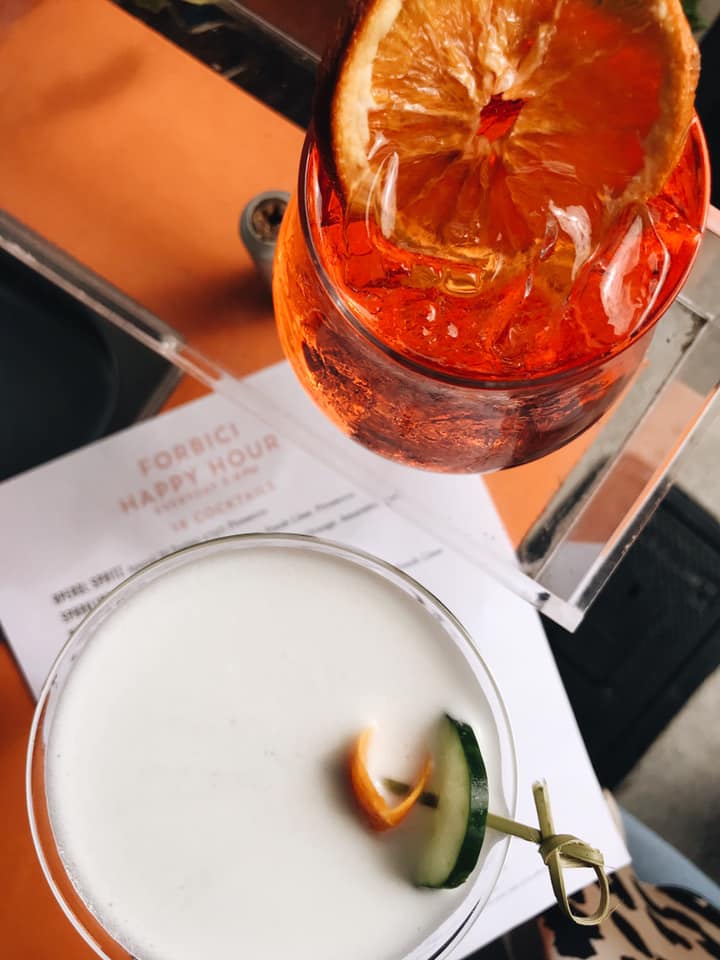 Make Pasta
Roll up your sleeves and be prepared for at least a light dusting of flour — a pasta making class is the perfect way to soak in the essence of Italy without the long flight, plus, it's a skill you can bring home to use again and again for date night!
Publix offers an array of cooking classes, and there are occasional pasta making classes on the calendar. You can also find tons of Italian-inspired cooking classes on the calendar at Sur La Table Hyde Park Village. Past classes have explored everything from pasta making to Sicilian and Tuscan flavors. See what's on the calendar here. Just be aware that these classes tend to fill up quickly and sell out well in advance, so plan ahead!
---
Now that you know how to have the perfect Italian-inspired date night in Tampa Bay, take your next date night on the road to experience the tastes of Italy in Orlando.
Feature image credit: Pia's Trattoria