One of Tampa Bay's restaurant staples is Oxford Exchange located on Kennedy Blvd directly across the street from the University of Tampa. Oxford Exchange, or OE, is a local hot spot for brunch, lunch, tea, and coffee and features a unique selection of stores inside with one of a kind products and bites. Whether you're popping in to sip a caramel latte, munch on a delicious stack of pancakes, or find a beautifully recovered edition of  The Great Gatsby, Oxford Exchange has something exciting for everyone.
Shop and Bookstore
Depending on which entrance you choose when walking up to OE, you will either be immersed into a beautiful bookstore or a one of a kind shop! The bookstore is filled with newly recovered timeless classics as well as books from all over! Enjoy best-sellers, new releases, signed first editions, children's classics, and even magazines and newspapers. Whether you're looking to browse the selection or you're trying to find your new favorite book, Oxford Exchange is sure to have something to catch your eye.
Also ,across the hall from the bookstore is a Warby Parker "shop" with designer eyewear at a reasonable price with tons of trendy and unique lenses to fit any face.
Leaving the bookstore and the beautiful lenses, past the coffee, tea, and dining area, is the Shop. The Shop has beautifully unique items that are eccentric, timeless, and homey. Enjoy a selection of candles, furnishings, soaps and lotions, as well as apparel, and more!
Nestled in the corner of the Shop by the restaurant is Aesop. The newest partner to OE, Aesop offers body, skin, and hair care crafted with stunning detail to delight all who try their products!
The Shop and the Bookstore are the perfect places to explore before and after a meal or if you're ever in the mood for a one of a kind shopping experience!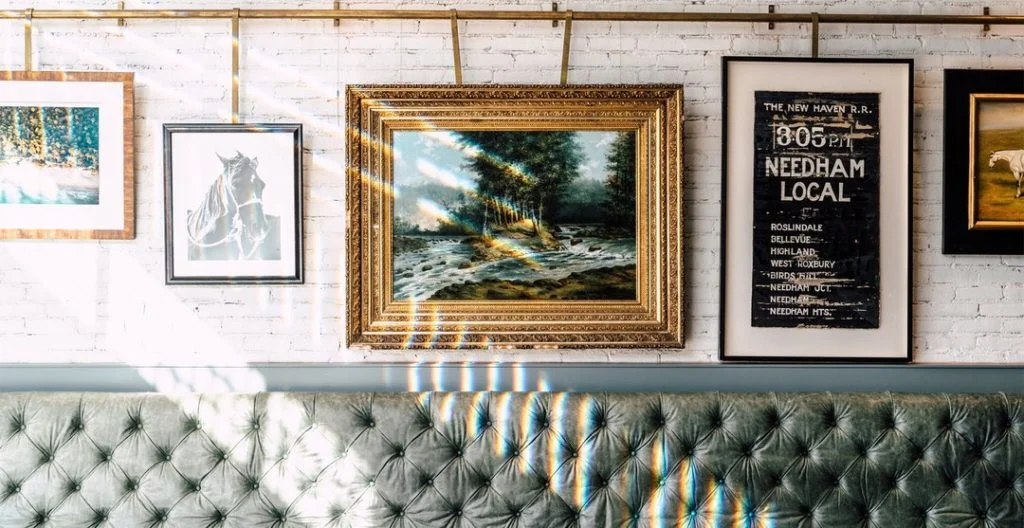 The Restaurant
Be sure to dine with Oxford Exchange for an unforgettable meal with efficient wait staff and a beautiful atmosphere. Stop in for breakfast weekdays from 7:30 a.m.- 10:30 a.m. or brunch on Saturdays and Sundays from 9:00 a.m. through 4:00 p.m.
Enjoy delicious menu items such as the OE Scramble, Avocado Toast, Chocolate Chip Pancakes, and drinks for breakfast! If you're craving a later breakfast, stop by for brunch served basically all day long and sink your teeth into similar items from the breakfast menu plus lunch menu items such as Fried Brussel Sprouts, Fried Avocado Wedges, the all-time favorite Club sandwich or a tasty flatbread! All meals can be served with a hot cup of Buddy Brew Coffee or tea as well as handcrafted cocktails and drinks such as their OE Bloody Mary.
Be sure to stop on Friday-Sunday for Afternoon Tea served from 3-5 p.m. with a delicious assortment of classic and unique tea options. There is also the option to enjoy a "Tea Experience" where guests can enjoy an assortment of bites as well as their tea with options for added Champagne and more!
Oxford Exchange is a must-visit experience in Tampa Bay! The atmosphere and décor alone are sure to stop you in your tracks while you visit if the food and drinking and shopping didn't already! There is no way you can visit Oxford Exchange just once! It will have you dying to return every time you walk out the door.
The Champagne Bar
Oxford Exchange recently opened up its very own Champagne Bar! Located in the shop area of the eatery and local hot spot, the Champagne Bar is the best new spot for all of your champagne needs! Expect to indulge in delicious beverages including champagne, rose, and cocktails. When you walk into the Champagne Bar, prepare to be amazed. Delight in a gorgeous maximalist style, pink and red colors, all of the lushest fabrics, and all of the best, most aesthetic textures. You've got to check this out!