Just across Tampa Bay lies St. Petersburg, the once sleepy town that was transformed thanks to a thriving arts and food scene. Known as the "Sunshine City" (thanks to a record 361 days of sunshine), the peninsula-within-the-peninsula has Tampa Bay to the east and the Gulf to the west, making it the best of both worlds. With so many things to do, we wanted to provide you with the ultimate St. Pete date night guide.
And if you're looking for other things to do in St. Pete and events, we've got you covered with our constantly updated list of great, fun, exciting things to do in St. Pete, Tampa and Clearwater!
St. Pete Date Night Food & Drink Guide
There is no shortage of excellent bars and restaurants in St. Pete. Whittle down your dining options using our Central Avenue Culinary Guide. Central Avenue is a great jumping off point for your St. Pete Date Night. While you're there, consider following our Beer Lover's Guide to St. Pete Breweries – which are all situated on or near Central Avenue and within walking distance of each other.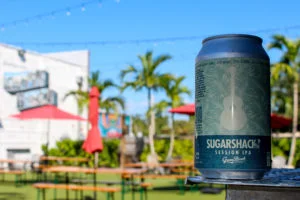 If beer isn't your thing, snag a cocktail at a discount using our St. Pete Happy Hour Guide. Sip a craft cocktail or glass of wine while saving some cash for your next St. Pete date night.
Keep the evening going at Dirty Laundry, a fun speakeasy with a laundromat aesthetic. Use a payphone, crack the codeand open the door/washing machine to kick off a super fun date night. If you're wanting to hit the beach instead of downtown, try out one of our favorite St. Pete Beach Bars.
Not all drinks have to be of the alcoholic variety. St. Pete is full of adorable little coffee shops for great conversation with your date and a nice caffeine boost.
What is St. Pete Known For?
St. Pete is known for its beaches filled with beautiful white sands, parks, arts and culture, and eclectic restaurant and brewery scene. Whether you're looking for a sunny day date at the beach, a brewery tour, or a stroll through an art gallery or museum, St. Pete is the perfect setting for a laid-back date.
St. Pete Culture Guide
St. Pete is definitely the arts and culture hub of Tampa Bay, so why not add a mural tour or museum to your St. Pete Date Night plan? The Salvador Dali Museum is a can't-miss. The collection is incredible and there is almost always a fun, unique exhibit on display, as well. The Dali is gorgeous and right on the water, making it a great spot for cute couples pics as well (be sure to check out the sculptures in the garden). 
MORE: St. Pete's Most Instagrammable Spots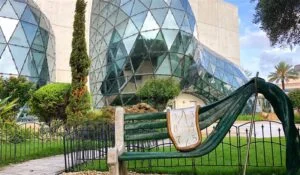 Once you've knocked the Dalí Museum off your St. Pete Date Night list, you'll want to try another fun arts and culture date. See a concert at Ruth Eckerd Hall, explore the Museum of Fine Arts, go on an art walk or tour some of St. Pete's best murals. The James Museum is also a must-see for their beautiful displays of western and wildlife art. 
With so much creativity in St. Pete, it's also the perfect city for checking our art galleries and fun, creative shops.
St. Pete Outdoor Activities
Looking to step outside the usual dinner and drinks for your St. Pete Date night (or day)? With ample waterfront and gorgeous parks in St. Pete, there are quite a few activities to choose from. 
The St. Pete Pier is a great all-in-one spot with a beach, several picnic areas and restaurants to choose from and even a fun rooftop bar at the end of the pier. Take the opportunity for a breezy stroll to look for dolphins and manatees or use the provided tram transport up and down the pier. Saturdays and Sundays also feature a market on the boardwalk for some shopping with your date.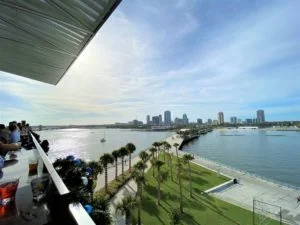 Just a hop skip and a jump from the pier you'll find the Pinellas Trail. The trail spans from the northern reaches of Pinellas County all the way south to St. Pete. The southern end of the trail begins at Tropicana Field (home of the Tampa Bay Rays) and goes west toward St Pete Beach before turning north.
We love the Pinellas Trail for a fun St. Pete date because it's an easy way to get some miles in on your bike and stop by plenty of St. Pete parks and attractions.
Boyd Hill Nature Preserve is a unique spot that boasts trails, a campground, and a 19th century pioneer settlement.
Another place you can bike, or simply lounge in the sand and enjoy the pristine Gulf of Mexico beaches and ample wildlife, is Fort DeSoto Park. Visitors can pack a picnic or make a stop at the well-stocked snack bar and gift shop.
Fort DeSoto is also a great starting point to take a canoe trip or hop on the ferry to Egmont Key. There you'll find an untouched paradise, home to ample wildlife and a popular nesting ground for sea turtles.
Fort DeSoto isn't the only place to hit the water, there are quite a few excellent kayaking spots in St. Pete. Our favorite is Weedon Island preserve for a romantic date on the water.
A little bit history, a little bit culture and totally gorgeous, Sunken Gardens is the perfect spot for a St. Pete date. This gorgeous botanical garden features abundant tropical plants and flowers, landscaped miniature waterfalls and even flamingos.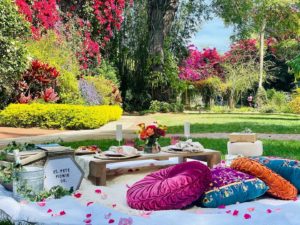 No matter what you choose to do, St. Pete is definitely worth a visit for a unique and unforgettable date!
Even More St. Pete Fun