There is truly nothing sweeter than a beach day in Florida. Unless you spend it slurping down piña coladas with your loved one, that is. Check out these popular beach bars on St. Pete beach for your next day or date night. These beachy and boozy St. Pete bars are casual and sun soaked. Come as you are and raise a glass to the St. Pete lifestyle.
We love this part of Tampa Bay and all the St. Pete date ideas that can be enjoyed here!
5 Boozy Beach Bars in St. Pete
Address: 900 Gulf Way, St. Pete Beach, FL 33706
Located in the center of Pass-a-Grille beach, which is the furthest end of St. Pete beach, Paradise Grille offers a variety of boozy beverages to beach-goers. They pour up beers on tap, spiked seltzers, and of course, piña coladas. In addition to drinks, Paradise Grille also offers a variety of delicious beach food, including classic BLTs, grouper sandwiches, loaded shrimp quesadillas, buffalo chicken wraps, and much more. Although your mind may be booze-focused while ordering, the food is not to be missed here at Paradise Grille.
Couples can order at Paradise Grille and enjoy their food and drink at the picnic tables across the way. With live music often playing, it is a relaxing break from the heat. Affordable too, as Paradise Grille is one of the more reasonably priced places on the beach.
Address: 6300 Gulf Boulevard, St Pete Beach, Florida 33706
The Postcard Inn (also referred to as "PCI") is a hip hotel located on St. Pete beach. Young and old couples alike stay at this clean, comfortable inn while vacationing, but the beach bar out back is the real draw. It doesn't matter if it's a Monday or a Saturday, as PCI St. Pete is always on island time.
The PCI Beach Bar is always crowded with couples – jamming out to live music and sipping on PCI's famous Miami Vices (a blend of piña colada and strawberry daiquiri). They are known to whip up fancy cocktails and tasty appetizers, all for a good price. In addition, the PCI St. Pete is the oldest bar on St. Pete beach!
Next time you and your loved one are bar hopping on the beach, PCI is a must-go.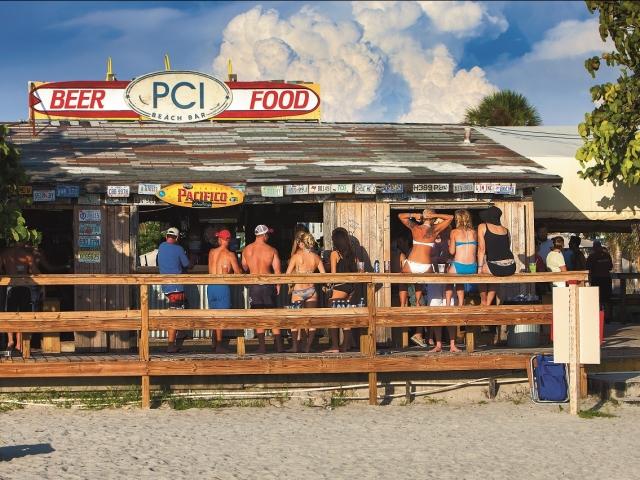 Address: 3850 Gulf Boulevard, St. Pete Beach, FL 33706
Located very near the Don CeSar, Undertow Beach Bar is a fun, casual bar for beach-going couples. In addition to serving up quality beer and mixed drinks, Undertow Beach Bar offers a variety of different games – pool for those wanting a break from the sun and beach volleyball for the active couples trying to break a sweat. There are also TVs for those eager to watch a sports game, however you can't beat Undertow's beautiful view of the bay.
The Undertow staff is friendly and welcoming, always making a visit there a memorable one. Stop by Undertow Beach Bar for a quick drink before heading back out to your lounge chairs or choose to stay a while. Regardless of what you decide, you can always count on leaving Undertow buzzed and happy.
Address: 3400 Gulf Boulevard, St. Pete Beach, Florida 33706
Speaking of the Don CeSar, if you and your loved one are feeling "bouije" make sure to check out the Beacon Pool Bar & Lookout. This spot is inspired The Don Cesar's legendary status as a nautical marker.
Offering poolside bites such as the Grilled Mahi Sandwich and Beacon Burger, this sunny spot also has an array of beach-inspired cocktails. One sip of the Raspberry Lemon Beacon of Light and you'll feel like you're on vacation. The rooftop lookout boasts incredible views of the sunsets over the Gulf of Mexico.
By the way, Don Cesar is one of our favorite places for Hotel Day Passes and Pools in Tampa Bay – that's right, you can enjoy the pool here without a hotel room!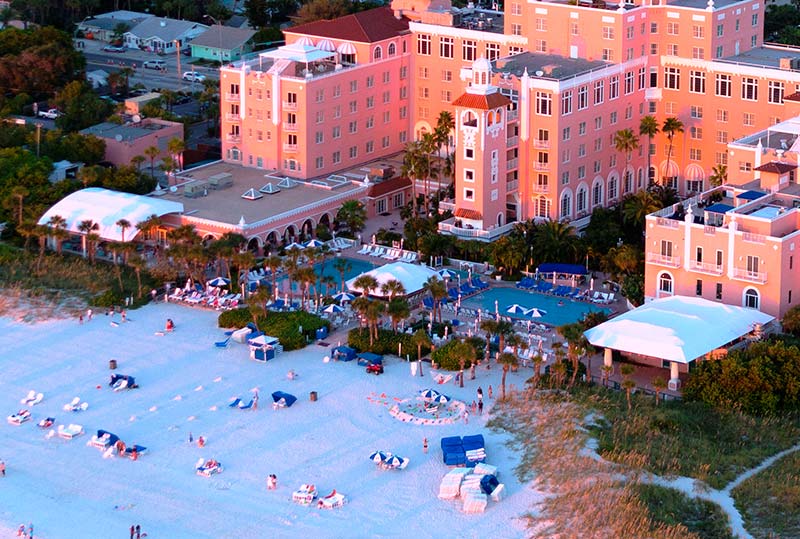 Address: 9000 West Gulf Boulevard, Treasure Island, FL 33706
Caddy's Waterfront is located on beautiful Treasure Island – a little farther down from St. Pete Beach. Caddy's is a local favorite and considered one of the "best beach bars in Florida." In addition to tasty cocktails and ice-cold beer, Caddy's serves up locally caught fish and other delicious beach food to couples.
In terms of seating, there are picnic tables on the white sand, but what really makes Caddy's unique is its top deck. Couples can enjoy their food and drinks from above while admiring the beautiful view of the Bay's crystal-clear blue waters.
Caddy's cannot be missed on your next beach date.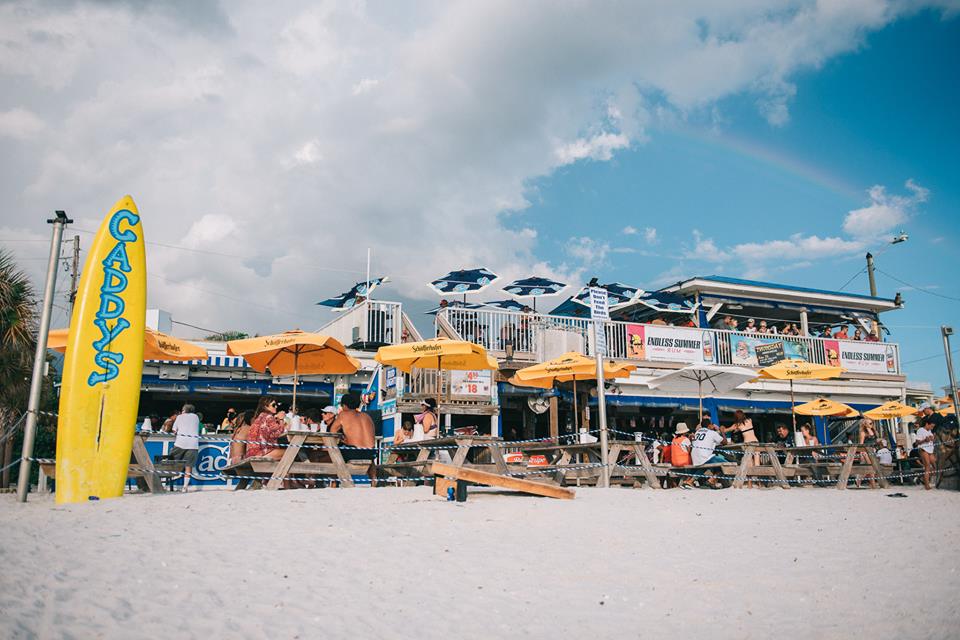 There you have it, folks. Some of the best beach bars in the state of Florida can be found right in your backyard. Grab your significant other and check out one (or all) for a magnificent day on the beach. You'll leave buzzed and more in love than ever.