St. Pete is known for its beautiful and unique street art, which can be found throughout the entire city. Buildings are decorated with exquisitely detailed painted murals from local artists and they are truly a sight to see. Although there are some guided tours you can sign up for, it is just as easy to create your own walking tour. Next date with your loved one, check out the following St Pete murals in the Central Arts District.
Witness the local favorites and get to know the colorful city of St. Petersburg in more ways than one.
Time to Think
Address: 501 Central Ave, St. Petersburg, FL 33701
Time to Think is the largest mural in St. Pete and draws couples in daily. This unique painting was created in 2014 by artists Derek Donnelly and Sebastian Coolidge. Located behind the Florida CraftArt Building in the Central Arts District, this mural represents big corporations incorporating community creativity.
Although the picture below is a nice representation of this mural, seeing it in person is a must.
Space Rainbows
Address: 628 1st Ave N, St. Petersburg, FL 33701
Well-known graffiti artist Ricky Watts created this mural during the 2015 SHINE Mural Fest. His pieces can be found throughout the country, and St. Pete is lucky to have one of his bests.
He really put his heart and soul into this piece, which is evident with Space Rainbow's unique shapes and vibrant colors. Also located in the Central Arts district, couples can find this piece painted against the Sage Building.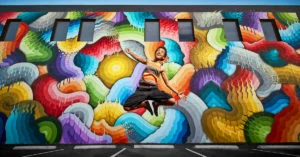 You Are My Sunshine
Address: 719 Central Ave, St. Petersburg, FL 33701
You can see couples and friends alike taking pictures at this mural during all hours of the day. A simple "You Are My Sunshine" painted on a Central Avenue building represents St. Pete's love for the sunshine state.
Artists Jeffrey Sincich and Josh Stover are the masterminds behind this one.
You are destined to smile when visiting this work of art.
Twiggy
Address: 648 1st Ave N, St. Petersburg, FL 33701
Unlike many of the bolder murals in the area, Twiggy is lighter, softer, and more feminine in an attempt to represent the famous model and actress from the 1960's. The artist, Chad Mize, wanted to bring light to a legendary human, which he certainly does in this fascinating work of art.
Whether you and your loved one know of Twiggy or not, this mural cannot be missed during your walking tour. Once again, it is located in the Central Arts District, making it easy to get to from the others.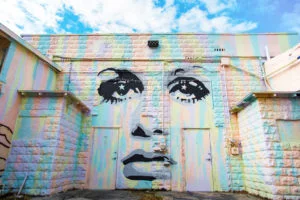 MR SUN
Address: 648 1st Ave N, St. Petersburg, FL 33701
Located right next to the Twiggy mural, and also created by Chad Mize, MR SUN is another local favorite. A smiling sun, wearing sunglasses of course, was originally designed in the late 1940's to promote the city of St. Petersburg. Mize decided to honor this idea and paint a beautiful mural that is visited by thousands of couples each year.
Together, the Twiggy and MR SUN murals make for a great photo opportunity.
Snake Woman
Address: 687 1st Ave N, St. Petersburg, FL 33701
Just how it sounds, Snake Woman is an incredible piece representing a fierce snake along with a beautiful woman. Bright oranges and blues, paired with dark blacks and greys makes for a real treat for the eye. So much is going on in this mural it is hard to look away.
Chris Parks from Pale Horse Design paired with Tes ONE to create this legendary piece on the side of the famous St. Pete State Theatre. Snake Woman is must-go when on a walking street art tour with your significant other.
Faces
Address: 648 Central Ave, St. Petersburg, FL 33701
Created in Summer 2014, Faces represents a whole row of unique faces. This piece, done by BASK, is meant to put it all into perspective. It reminds couples to embrace our differences, but to also remember that we are all more similar than it may seem.
Located on the east wall of the popular Foolish Pride Tattoo Shop, Faces is one of the most inspiring pieces on the block.
St. Pete Mural
Address: 689 1st Ave N, St. Petersburg, FL 33701
Last but not least, The St. Pete Mural was done by Matt Callahan, Man Made Murals, and Angela Delaphane of Delaphane Studios for the SHINE St. Petersburg Mural Fest in 2015. It spells out St. Petersburg and incorporates fun colors, eye-catching designs, and is a must-visit by couples.
This piece just gives a little shout out to the extraordinary city we call home.
This is a hearty list of some of the most popular street art murals in the city, however there are about 50 more if you and your loved one are up for a little more walking.
For more information regarding St Pete murals and street art within the Central Arts District, as well as other areas in St. Pete, check out the Ultimate List of Street Art in St. Pete.
Have fun, street art walkers.
Featured Image St Pete Murals Photo Credit: stpeteartsalliance.org