In the mood for a tapas style Spanish meal? Head over to Bulla (pronounced Boo-Ya) Gastrobar for a dining experience unlike any other in Tampa! Located right off of S. Howard Blvd, Bulla Gastrobar is inspired by the world famous gastrobars dotted throughout Spain and features a fun, casual atmosphere that is sure to pack a punch with their flavorful Spanish Mediterranean style cuisine.
The Menu
Bulla offers brunch, lunch and dinner, as well as desserts and a Luna Lounge. Their brunch menu features the option for a three course meal or their usual tapas style menu items! Choose from delicious cured meats and cheeses to delicious smaller plated, larger plates, eggs, sweets, sandwiches, you name it, Bulla's got it! Be sure to head over on Saturdays and Sundays for bottomless sangrias and mimosas with brunch, too.
Their lunch and dinner menus are similar to their brunch menu, however lunch comes with the options for a two or three course meal! Start with a delicious appetizer such as their Garbanzo Frito and finish the three course option with a mouthwatering bite of Flan de Coco, or choose from any one of their Spanish style entrees.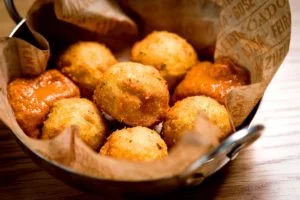 Luna Lounge
Unique to the Tampa location of Bulla Gastrobar is the electrifying new Luna Lounge. Bypass the downstairs dining room for a rooftop bar dining experience where guests can choose from a fantastic assortment of wines and beers as well as other handcrafted cocktails! To amp up your rooftop experience, try delicious food from their special tapas menu to pair with your crisp wine or fruity cocktail. Be sure to take in the breathtaking views of the surrounding Tampa Bay area.
Whatever the occasion, Bulla Gastrobar is sure to delight the local foodies in Tampa Bay and is the perfect cozy setting for a romantic date night or special occasion! Don't miss out on one of Tampa's newest eateries!
Feature Image Credit: bullagastrobar.com