Cuban food: savory, flavorful, and never skimping on delicious! With Tampa's rich Cuban history, it's no surprise there is a surplus of incredible Cuban restaurants. Cuban eateries in Tampa range from counter-service quick bites all the way to white tablecloth sit down dinners. Whether you're in the mood for something quick or something classy, the Tampa area has it all. Check out our top six Cuban restaurants in Tampa Bay.
Updated September 2022 for National Hispanic Heritage Month 
Cuban Restaurants In Tampa Bay
Okay, so if you're relatively familiar with the Tampa area, it should come as no surprise that the Columbia is listed first. A local staple, the Columbia has been owned and operated for 110 years by 5 generations. With multiple locations and an incredibly rich history in and of itself, the Columbia is the spot for quintessential Cuban eats.
Read more —> The Columbia
Carmine's is another quintessential Cuban restaurant. For the past 35 years, Carmine's has provided its patrons with Italian, Cuban, and Spanish flavors, all three reflective of Tampa's history. At Carmine's, you can get a bite out of everything with Cuban options such as Cuban Roast Pork, Cuban sandwiches, and more! Take a trip down 7th Avenue and make a pit stop at Carmine's!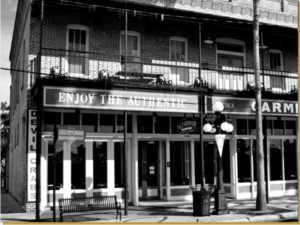 Mandy's is one of the quick-stop options that's been in the Bay area for nearly 30 years. Located on Waters Avenue, Mandy's serves up delicious Cuban food that won't break the bank. Come in for a Cuban sandwich, yellow rice, black beans, tostones, and more! See you at Mandy's!
With locations in both Seminole Heights and St. Pete, Bodega is a great quick-stop Latin spot with a flare! According to their spot, Bodega was inspired by the Latin American islands with a commitment to freshness. Best known for their Cuban sandwich, Bodega is a must-stop spot for your Cuban cravings.
Read more —> Bodega on Central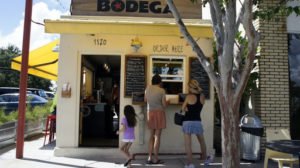 The Floridian's claim to fame is its Cuban sandwich! They've been awarded "Finest Cuban Sandwich on the Plant", "Best of the Best 2019", 3 Time Winner of the Latin Times Best Authentic Cuban Sandwich Competition, AND they've been inducted into the Cuban Sandwich Hall of Fame….convinced yet?
Last on our list is Hemingway's. Located inside Heights Public Market at Armature Works, this quick-service Cuban restaurant is serving up all of the Cuban eats that you know and love but with a modern flare. Hemingway's mission is to change the Cuban food landscape in Tampa. You definitely want to try this spot on your Cuban foodie excursion.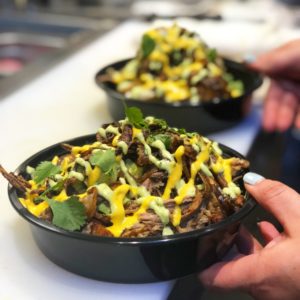 Whether it's classic or nouveau that you're after, the Tampa area has a ton of great options for you to enjoy! Pop into one of these awesome Cuban restaurants and let us know which you pick, what you ordered, and what you thought!
---
Featured Cuban Restaurants Image Credit: Columbia Restaurant Facebook Page