Trying to save a little money this Valentine's Day season? You don't need a huge budget in order to plan a romantic and memorable date with your partner. We've compiled a list of our favorite free things to do in Tampa Bay, Clearwater and St. Pete for Valentine's Day.
Keep scrolling for our top free activities to celebrate Valentine's Day in Tampa Bay this year.
Discover 40 FREE Things to do in Tampa for Valentine's Day
If you're looking for a constantly updated list, see our post on Things to Do in Tampa, Clearwater & St. Pete.  This is our constantly updated list of activities on a month to month basis – and it's filled with fun, interesting and unique curated ideas, activities, and experiences.
In need of even more Valentine's Day ideas? Our Tampa Bay Valentine's Day guide has everything you need to plan a special day, night, or even a whole weekend.
---
PS — Feel like a road trip? Check out 35 Free Things to do in Orlando for Valentine's Day!
---
1. Tampa Riverwalk
It doesn't cost a dime to take a stroll along the scenic Tampa Riverwalk with your date this Valentine's Day. Stretching 2.6 miles, the waterfront walkway is popular with walkers, bikers and joggers alike. Free things to do and activities include monthly outdoor concerts, sightseeing, a self-guided public art walking tour and the spacious Curtis Hixon Waterfront Park which is the perfect place to set up an afternoon picnic.
2. Pinellas Trail
Stretching from Tarpon Springs to St. Petersburg, the 38-mile Pinellas Trail is a former railway that was repurposed as a multi-use trail, and is a great free Valentine's Day activity in St. Pete. Bring along your bike and hit the trail on two wheels making pitstops to check out the Tarpon Springs sponge docks, park for a refreshing brew (I love 7venth Sun Brewing in Dunedin) and stroll through hip downtown Dunedin. If you feel like making a side trip to the beach, you can follow another pedestrian trail across the Dunedin Causeway for a visit to Honeymoon Island State Park. Admission for cyclists is $2 (close enough to free for a mention!).
3. Fourth Friday Tampa
This one will have to be a slightly delayed Valentine's Day celebration — every fourth Friday of the month (in this case February 24th), head to the Tampa Riverwalk for an arts and culture crawl in celebration of Tampa's downtown!
Grab your lanyard at the Straz Center for access to free admission at the Henry B. Plant museum and other discounts and cultural exhibits that vary month-to-month. Some venues along the Riverwalk also offer drink specials if you're looking to sip and stroll on a budget – or for a beautiful free thing to do, just enjoy the sunset!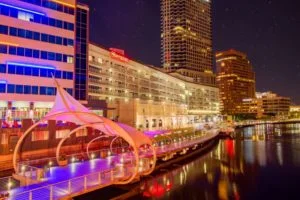 4. Hit the beach
A major perk of living in the Tampa Bay area is close proximity to the area's incredible, award-winning beaches. Going to the beach is one of the great free Things to do in Tampa for Valentine's Day.
Head to Madeira Beach to stroll the shops at John's Pass Village & Boardwalk, or laze the day away on the quaint and full of character Anna Maria Island. Other local go-tos include St. Pete Beach, Indian Rocks Beach, Fort De Soto ($5 beach parking), and Clearwater Beach.
Or, do as the locals do and watch a sunset from Ben T. Davis Beach.
5. Gizella Kopsick Palm Arboretum
Walk just north of Vinoy Park in St. Pete and you'll find Gizella Kopsick Palm Arboretum, a lush park filled with hundreds of palms. This tropical paradise offers 2 acres of waterfront zen where you can see more than 500 palms and cycads from around the world. Winding red brick paths lead you through the park and past open green spaces which serve as the perfect location for setting up a picnic.
Parking and admission are free.
6. Sunsets at Pier 60 Festival
Soaking up a spectacular Gulf coast sunset is a favorite pastime of Tampa Bay locals. Why not turn the event into a full blown celebration by attending the nightly Sunsets at Pier 60 Festival on Clearwater Beach? Nearly every night of the year visitors, street performers, and artisans gather for a lively sunset celebration that's a must anytime you're in the area.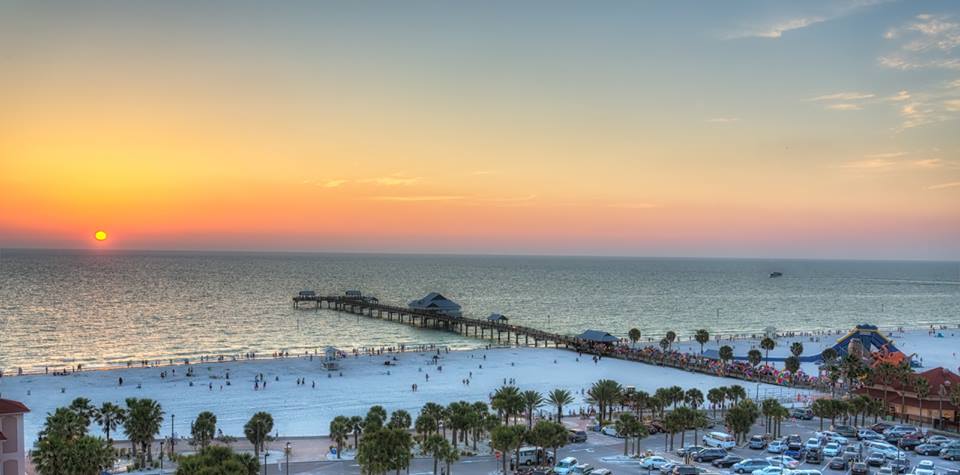 7. Curtis Hixon Waterfront Park
This waterfront park located steps from the Tampa Riverwalk offers abundant open-air breezes and draws many couples to its beautiful and sprawling green-filled space. It's also home to a variety of recurring events, including monthly free outdoor Rock the Park concerts and more.
8. Pinellas County Heritage Village
Home to 33 historic structures, the Heritage Village bills itself as a "living history museum." Step into Pinellas County's past while exploring bungalows, homes, a sugar cane mill, church, store, and more in addition to the museum exhibits located within the Welcome Center.
There's also a native plant trail and sensory garden. Best of all, admission is totally free making this a great free thing to do in Pinellas County – home to Clearwater and St. Pete!
9. St. Pete Second Saturday ArtWalk
On the second Saturday of each month (just three days before Valentine's Day this year), galleries throughout St. Petersburg's Waterfront Arts District, Central Arts District, EDGE District, Grand Central District and the Warehouse Arts District stay open from 5-9pm for an epic art walk. Featuring pottery, glass, paintings, sculpture and more, this monthly free event hosted by the St. Petersburg Arts Alliance is a must-do for art lovers.
10. Explore local nature preserves
The beach is always a solid choice for a free outdoorsy date, but for a different experience head to one of Tampa Bay's local nature preserves. Boasting 3,190 acres, boardwalk trails and scenic observation decks, Weedon Island Preserve is ideal for nature lovers.
Just 45 minutes from downtown Tampa you'll find Brooker Creek Preserve, another free preserve spread out across 8,700 acres. Discover six unique hiking trails of varying lengths weaving through wetlands, oak hammocks, pine flatwoods and cypress swamps.
11. Self-guided mural tours Tampa/St. Pete
Get your art fix by embarking on a self-guided tour of Tampa Bay's impressive murals. The City of Tampa has a helpful list of murals and their locations, and Tampa Downtown Partnership's Downtown Mural Tour lists even more murals around town. But Downtown St. Pete is the best place to discover colorful murals and snap a few new photos with your boo.
Go on a self-guided adventure for free with this mural map or spring for an organized walking mural tour of the area (this option isn't free, but worth the splurge if you're interested).
12. Florida Botanical Gardens
De-stress this Valentine's Day amidst spacious themed gardens and natural areas at Florida Botanical Gardens. Admission is free to this lush oasis and it's also picnic-friendly, so pack a blanket and some snacks! Stroll the boardwalks, listen to the soothing water fountains, spot unique art and visit themed areas like a butterfly garden and succulent garden.
The gardens are pet friendly and are open daily from 7am-5pm.
13. Saturday Morning Market Free Things to Do
Experience one of the top farmer's markets in the US right here in St. Pete! Every Saturday morning, including the one right before Valentine's Day, the Al Lang Field parking lot in downtown St. Pete comes alive with around 170 vendors during the Saturday Morning Market.
Besides fresh produce and artisans selling unique goods, there's live music and multiple options for grabbing a bite. The Saturday Morning Market runs from early October through late May, while the Summer Market, located at Williams Park, runs from June to August.
14. Sunday Yoga in the Park Curtis Hixon Waterfront Park
Unwind every Sunday at Curtis Hixon Waterfront Park for the Tampa Downtown Partnership's free community yoga class, Yoga in the Park. Held on Sundays at 5pm (6pm in the summer months), each class is led by instructors from local studio Lucky Cat Yoga.
While this class is technically free, there's a suggested donation of $5.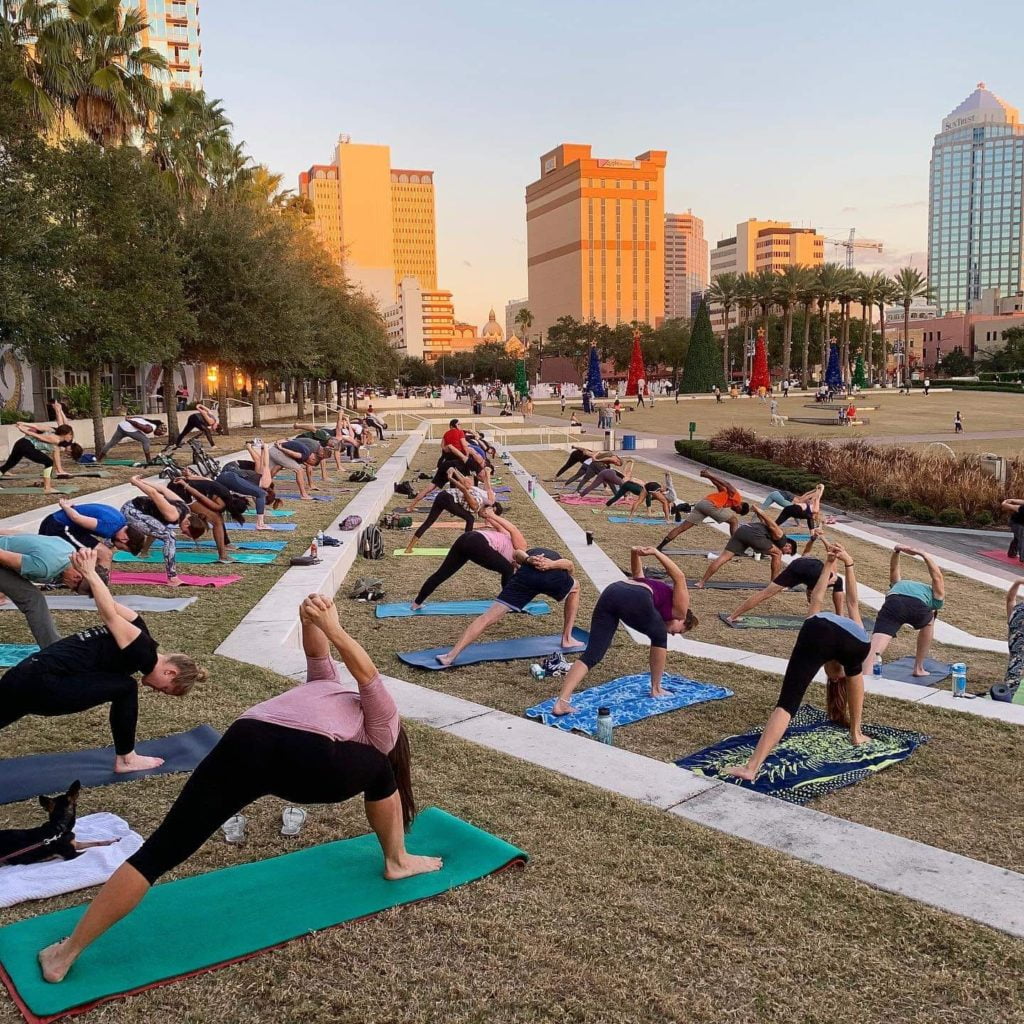 15. 3rd Thursday Tampa
Enjoy a trifecta of food trucks, cocktails and live music at 3rd Thursday Tampa (this year just 2 days after Valentine's Day), a monthly food truck street festival taking place in Downtown Tampa's Channel District. You'll typically find 15+ food trucks set up at each event, which takes place at the Grand Central at Kennedy.
16. Jose Marti Park
Visit Cuba without leaving Ybor at Jose Marti Park. This small park (it's only 0.14 acres) has been owned by the Cuban government since 1956, so yep, you're basically going on a visit to Cuba when you step inside! The park honors José Martí, a poet, writer, literary figure and Cuban national hero.
Combine this park with a visit to Florida Cane Distillery which is less than a 5-minute walk away.
17. Pack a picnic
Tampa Bay is home to dozens of scenic parks and trails that serve as the ideal setting for a romantic picnic. Pack up some gourmet cheese, meats and snacks and set up your own DIY feast with a scenic park as your backdrop to celebrate Valentine's Day on a budget this year in Tampa Bay.
A few of our favorite options include Curtis Hixon Waterfront Park, Vinoy Park, Lettuce Lake Park ($2 entry fee) and Gizella Kopsick Palm Arboretum.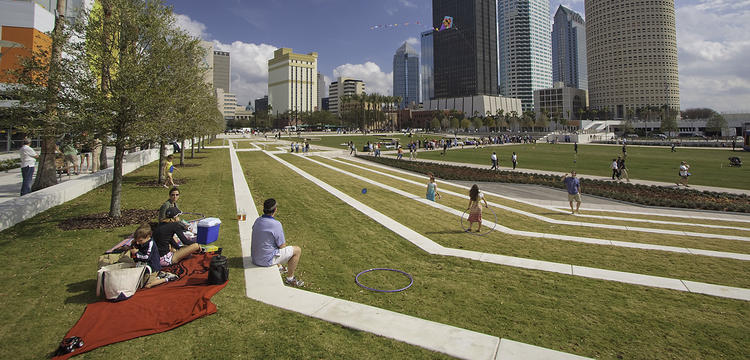 18. Bar trivia
Inject a bit of healthy competition into date night by playing bar trivia. We love to play at 3 Daughters Brewing (Monday nights at 7pm).
19. J.C. Newman Cigar Co.
An important piece of Tampa's history and identity ties back to the cigar industry, which was booming in Ybor City from the late 1800s-early 1900s. Today you'll find dozens of cigar shops throughout Ybor City, but there's only one factory still actively producing cigars in Cigar City: J.C. Newman Cigar Co.
The recently restored factory, which includes a three-floor museum, is free and open to the public. But, consider the splurge for a guided 1-hour behind the scenes tour to learn more about this slice of Tampa history.
20. Courtney Campbell Trail
Looking to burn some serious calories this Valentine's Day? Pack up your bike and hit the Courtney Campbell Trail, a great free thing to do which stretches over Old Tampa Bay for 10 miles connecting Tampa and Clearwater. Make sure to stop periodically to look for dolphins or just soak up the view. Parking is available at Ben T Davis Beach.
Check out more bike ride ideas here.
21. Wat Mongkolratanaram Buddhist Temple
Looking to do something out of the ordinary? Wat Mongkolratanaram of Florida (Wat Tampa) is a gorgeous waterfront Buddhist Temple that's free to visit.
The best day to go is on Sunday for the weekly Sunday market, which features an assortment of Thai food plus Thai tea and coffee. The market typically runs from 9am-1pm. You can also visit the main Temple when the grounds are open to the public, but make sure to respect Temple etiquette as outlined here.
22. Robinson Preserve
Instead of spending a full day at the beach, visit Robinson Preserve during your next visit to the quaint and full-of-character Anna Maria Island. It's a free thing to do, explore the preserve's multiple hiking trails and observation deck with views of the Sunshine Skyway Bridge.
There's also a designated kayaking trail. The park is open year round from sunrise to sunset.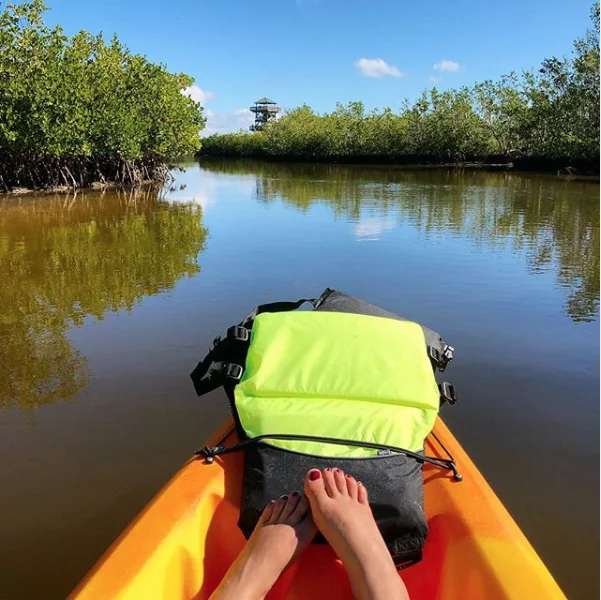 23. Beach Market at Coquina Beach
Whether you want to pick up some produce or browse artisan goods, the Beach Market at Coquina Beach on Anna Maria Island is a fun addition to a beach day.
Find dozens of vendors set up at Coquina Beach select days of the week from 10am-4pm. The days the market operates change throughout the season, so check Facebook for the current schedule. Parking is plentiful and free at Coquina Beach, which is Anna Maria Island's southernmost public beach.
24. Sunrise at Ballast Point Park
If you don't mind rising early on Valentine's Day, make your way to Ballast Point Park to take in a beautiful sunrise over Hillsborough Bay. Stroll out along the 600-foot pier, soak up the views of the Tampa skyline, and bring along a picnic breakfast to enjoy afterwards.
There are multiple picnic tables and open space throughout the park to sit and stay awhile.
25. Stroll Ybor City
Take a scenic stroll through the Ybor City Historic District for a fun way to spend an afternoon doing a free thing to do on Valentine's Day.
Enjoy a free visit to Jose Marti Park and the Oakwood Cemetery or peruse the local art galleries. And for a nominal $4/person, you can stop by Ybor City Museum State Park housed inside a historic bakery from the 1920s. You'll also be able to check out the museum's cozy Mediterranean-style garden.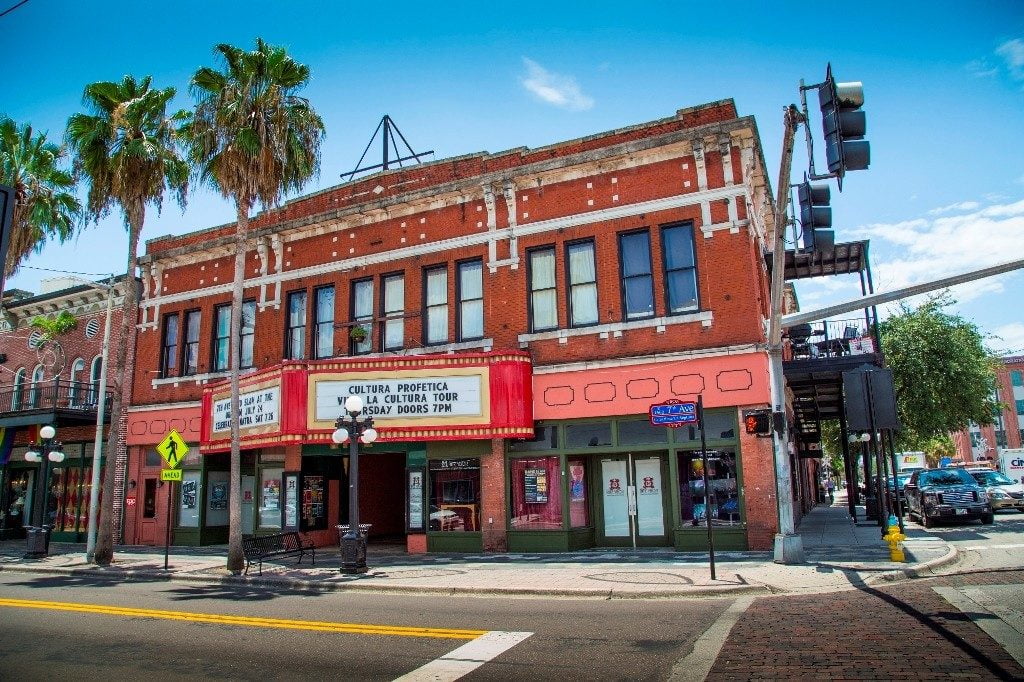 26. Tampa Riverwalk Public Art Walking Tour
Looking for a new way to explore the beautiful Tampa Riverwalk? Embark on a self-guided walking public art tour with this handy map as your guide. The tour includes 16 stops highlighting various works of art including sculptures, murals, mosaic and more.
27. Oaklawn Cemetery Walking Tour
Dating back to 1850, the historic Oaklawn Cemetery is an interesting, if a bit morbid, way to expand your knowledge of Tampa history. Here you can visit the graves of local historical figures, including Tampa's first mayor, Joseph B. Lancaster, and Henry Laurens Mitchell, the 15th Governor of Florida. Follow the cemetery's self-guided walking tour to visit the most notable graves, most of which include intriguing stories.
28. Heights Night Market
Celebrate the middle of the workweek with a relaxing stroll through the Heights Night Market, which takes place on the 2nd Wednesday of every month (this month that's February 9, just in time for Valentine's Day) from 5:30 – 9:30pm in front of Armature Works, another great free thing to do.
Listen to the live music as you mingle with local artisans and makers displaying their handmade crafts and art.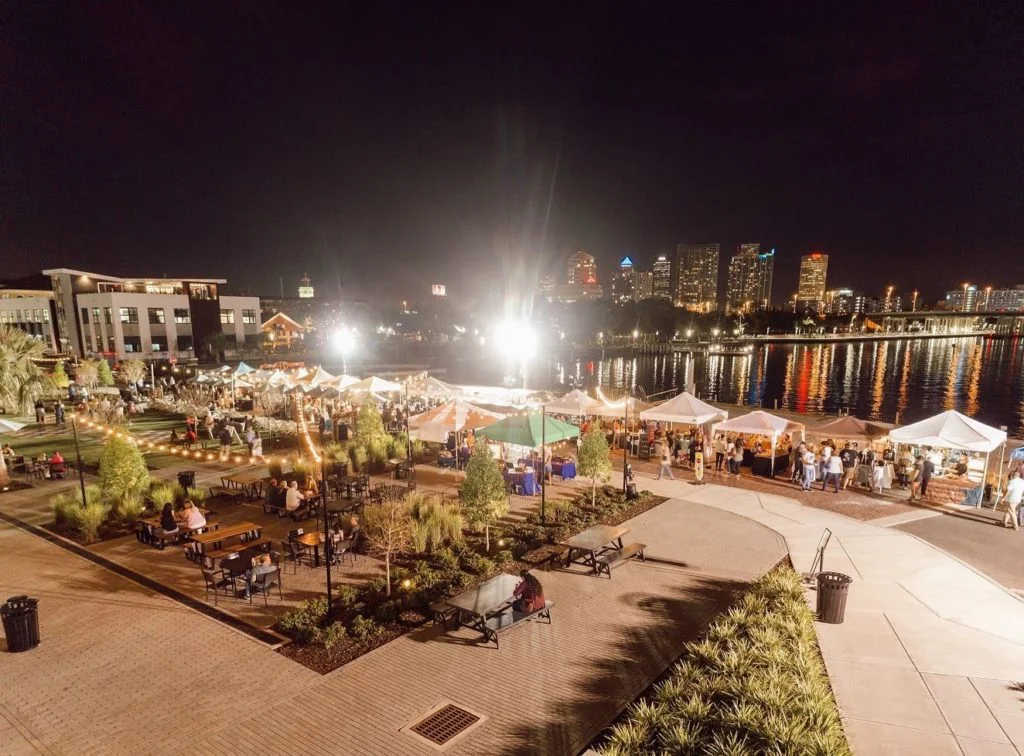 29. Upper Tampa Bay Trail
The Upper Tampa Bay Trail offers 7 beautiful miles of smooth riding for bikers (it's great for walking, too!) in the northwest section of Hillsborough County and is a great free thing to do in Tampa this Valentine's Day.
Bathrooms are plentiful along this scenic rail trail, as are picnic areas for snack breaks. Six trailheads provide access depending on where you want to kick off your ride, and a connection meets up with the Suncoast Trail for a longer ride. FYI: there is a $2 admission fee per vehicle if arriving by car.
30. Tampa Electric's Manatee Viewing Center
Warm water discharging from a canal at Tampa Electric's Big Bed Power Station has drawn manatees since 1986, and today the designated Manatee Viewing Center is a free place to see these gentle giants.
The area is a designated manatee sanctuary and it's best to visit during manatee season (winter months). While you're there, walk the trail and boardwalk to climb the 50-foot observation tower.
31. Ringling Museum of Art Free Mondays
Score free admission to The Ringling Museum of Art every Monday! The museum is home to 21 galleries plus a spacious courtyard filled with sculptures. Note: free admission only applies to the Museum of Art, not the Circus museum or Ca'd'Zan.
32. Free Things to Do – Walking Tours
You don't have to pay to join a tour to explore the city; many self-guided walking tours are available online and in person for free. Marvel at local buildings on an architecture tour through Downtown, Ybor City and Hyde Park.
Or, join one of the Tampa Downtown Partnership's free walking tours ($5 donation suggested if you can) October-May on select Fridays at noon.
Or, enjoy the free Postcard Tour, an audio tour that will take you around the grounds of the historic Tampa Bay Hotel.
33. Tarpon Springs + Sponge Factory
Learn about Tarpon Springs' Greek heritage and learn about the city's sponge divers with a stop by the Historic Sponge Docks. Tarpon Springs is a great day trip destination where you can indulge in delicious Greek cuisine, learn about the city's history and walk around enjoying the sights.
Make sure to stop by the Sponge Factory (you can't miss it) to check out the sea sponges plus handmade soaps and other wares.
34. Catch a sunset
For a romantic and totally free thing to do in Tampa this Valentine's Day, head to a local park or beach for spectacular sunset views. A few of our favorite local spots include Davis Islands Beach, Clearwater Beach (pair it up with the nightly sunset festival at Pier 60), and Anna Maria Island.
Check out our post on the Best Places to Watch a Tampa Bay Sunset Together for more ideas.
35. Explore Bayshore Boulevard
Bayshore Boulevard is a beautiful road to explore on foot or by bike as a free Valentine's Day activity. Throughout the 4.5-mile, 10-foot wide continuous paved path, there are no intersections, breaks, or obstacles in your way.
Time your ride to soak up views of the bay during sunrise or sunset. Looking at the mansions lining the other side of the road is fun, too!
36. TECO Line Streetcar System
The TECO Streetcar is a convenient and free way to get around Ybor, Channelside and parts of downtown.
The 2.7-mile route gives you hop on, hop off access that'll plant you within walking distance of stops like the Ybor City Museum, The Florida Aquarium, Sparkman Wharf, and Amalie Arena. Depending on the day, service starts either at 7am or 8:30am and continues late until 11pm, or 2am on Fridays and Saturdays.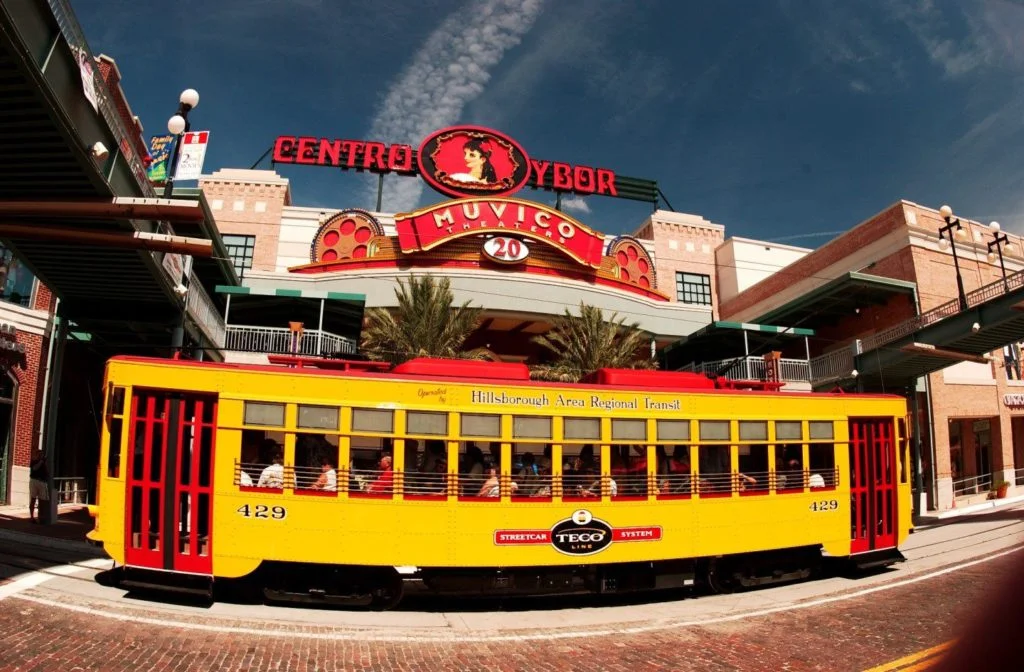 37. Ben T Davis Beach
After a workout on the Courtney Campbell Trail, reward yourself with some beach time at Ben T Davis Beach as a free Valentine's Day activity.
This sunny bayfront beach is a chill place to spend a few hours or catch a sunset. FYI: parking fees do apply here.
38. North Tampa Market at Carrollwood Cultural Center
Held outdoors on the second Saturday of each month from 10am-2pm, the North Tampa Market is a gathering of 70+ vendors selling a variety of goods, handcrafted items, collectibles, baked goods, plants, flowers, and more.
Park yourself at a picnic table under the oaks to listen to live music and enjoy the atmosphere.
39. Free Friday Planetarium shows at SPC's Planetarium & Observatory
Stargaze with someone special select Wednesday and Friday nights at St. Petersburg College's Planetarium & Observatory. When school is in session, the Planetarium opens up to the public for Friday night shows at 7pm and again at 8:15pm. Admission is on a first-come, first-served basis so arrive early to snag a seat.
After the show, head up to the rooftop observatory to gaze at the night sky through the 20-inch reflecting telescope.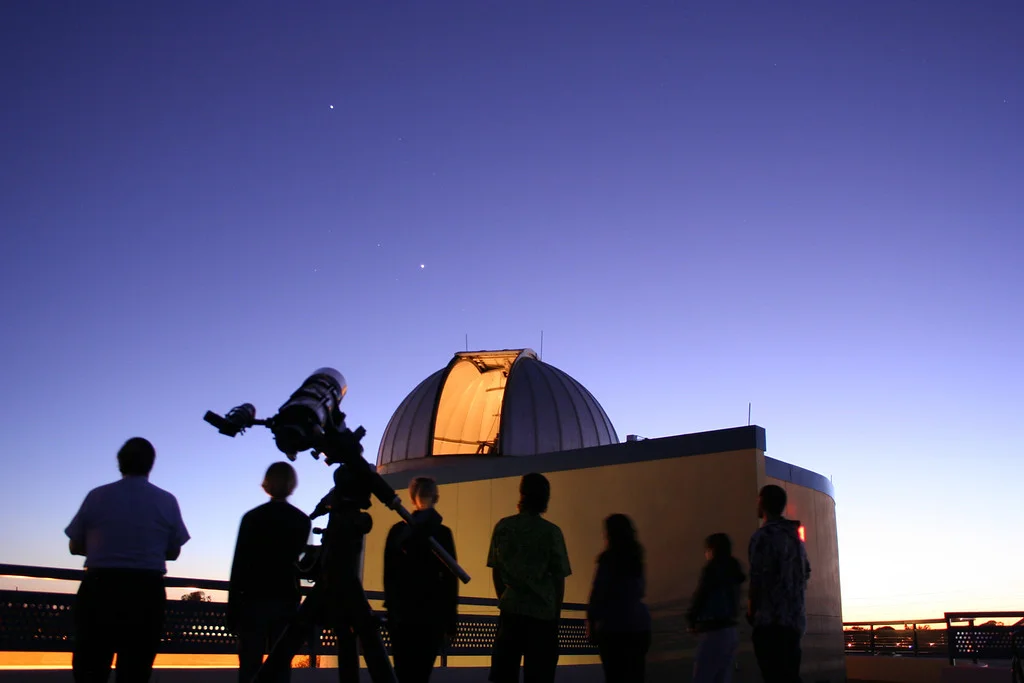 40. Instagrammable spots
Play tourist for the day and snap some new couple selfies together at some of the most picturesque locations in town, many of which are free to visit. Explore our picks for the best spots in Tampa and St. Pete.
Feature image credit: Tampa Riverwalk