Over the years, we've discovered quite the assortment of romantic locales throughout Tampa Bay worthy of inclusion in your date night rotation. To help you sift through all of the options and to better aid you in your quest to have a perfect romantic evening for Valentine's Day, here's a summary of top picks for romantic restaurants in Tampa, based on accolades and ambiance.
You'll want to make your reservations at any of these romantic restaurants for Valentine's Day ASAP.  And don't forget – there are so many other fun and romantic things to do around the Tampa Bay area every month, too!  Enjoy!
Romantic Restaurants: Tampa Restaurants with Valentine's Day Specials
January 31-February 28
Celebrate your loved one all month long with Noble Crust's Valentines Cocktail Specials!
I Love You Cherry Much – Filthy Cherry Infused Jameson Black Barrel, Filthy Cherry juice, lemon, egg white
Gins & Roses – Bulldog Gin, creme de framboise, raspberries, lemon, egg white
Specials By The Glass or Bottle – Frank Valley Cabernet Napa Valley 2018 and Maison Foucher Cremate Rosé France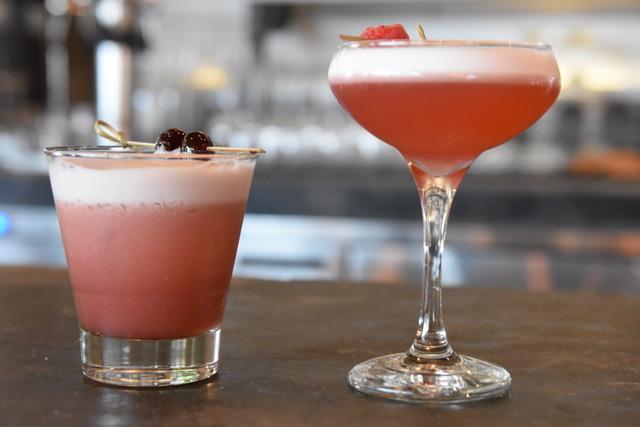 ---
February 14, 5-10pm
Celebrate a romantic evening with a special four-course chef-curated meal at Ocean Hai located inside the Wyndham Grand on Clearwater Beach. Dine Gulf front in a delightfully intimate setting, perfect for connecting with your loved one and creating memorable moments. Select from a delicious menu including sushi to start, fresh seafood, steak, and raspberry Brulé for dessert. Enhance your dinner with a 2oz wine pairing with each course for $25 per person.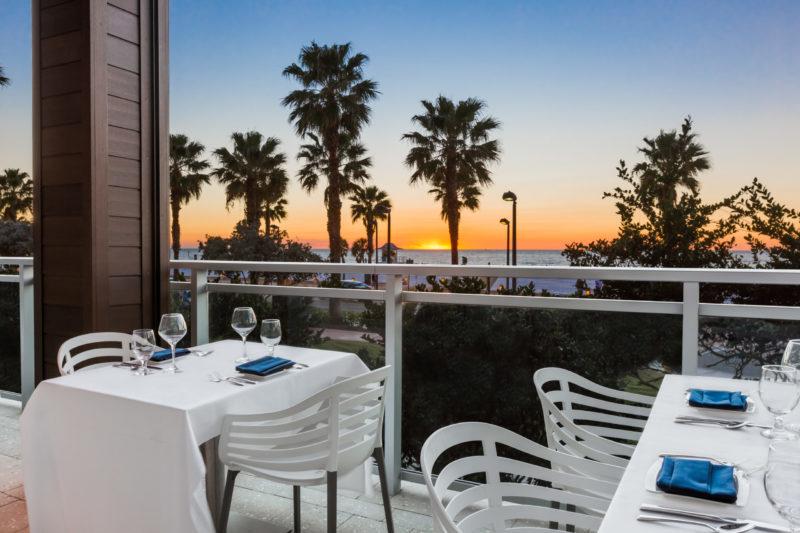 ---
The Tampa EDITION
Several of the restaurants at the Tampa Edition are offering Valentine's Day Specials. Head to the roof at Azure for a prix fixe menu exclusive to Valentine's Day. The menu includes oysters to start, dips, branzino, filet and a dark chocolate heart for dessert. Reservations are available and the experience is $125 per person.
For an even more upscale experience at the Edition, Lilac is offering a a prix fixe menu from February 10-14 for $175 per person. Enhanced Valentine's Day offerings include spiced braised rabbit, Beausoleil oysters and Berkshire pork. A wine pairing add-on is also available.
Keep things super romantic this Valentine's Day with a fine dining experience at Ponte Modern American in Midtown Tampa. Reservations are available for a 4-course prix fixe menu for dining at the bar or on the patio. There is plenty to choose from on the menu, including a caviar starter and black truffle risotto. Cost is $175 per person.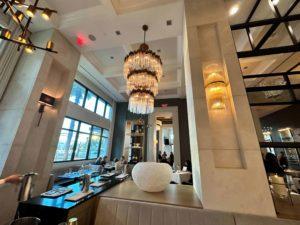 Enjoy a special Valentine's Day experience at the Rusty Pelican this year. Enjoy water-front dining and a special four-course menu. For $98 per person, indulge in a complimentary glass of champagne followed by a selection of appetizers and plated entrees, including black truffle and duck gnocchi. Cap off your evening with a Midnight in Paris dessert.
Start your night off with a prosecco toast and select your dishes from a special Valentine's Day menu this year at Trattoria Pasquale. Enjoy four courses specially designed for a romantic evening. Cost is $85 per person.
Rooster & the Till's 5-course Valentine's Day dinner special is sold out, but you can join the waitlist. Be sure to pass along any dietary restrictions when you make the reservation. Cost is $145 per person and a $20 deposit is required per person.
Treat your date to a 3-course dinner, open bar and dancing with live DJ entertainment aboard the Yacht StarShip. Dinner cruises depart February 14, 2023 in Tampa and Clearwater.
Tickets $139.95 – $189.95 in Tampa, and $99.95 – $149.95 in Clearwater. Additional cruise options are available including lunch, brunch and even happy hour cruises. Valentine's Chocolate & Champagne Cruises are also offered.
Even more Tampa Bay Valentine's Day Specials
Society Table
Monday, February 14, seatings from 5-9:45pm
The Don CeSar
Specialty three-course menu featuring dishes such as butternut squash soup with smoked pepita and pumpkin oil, braised beef short rib with potato puree, spinach and pickled root vegetable, and a raspberry rose tart with raspberry sable, berry jam, raspberry confit, rose water almond biscuit, and white chocolate rose water ganache. Reserve online.
$98 per person (inclusive of tax + gratuity).
Ocean Hai
Monday, February 14
Wyndham Grand Clearwater Beach
Special four-course menu with optional add-on wine pairings. Call( 727) 281-9544 to reserve.
$89 per person; wine pairings additional $25 per person
Rivers Edge Restaurant & Bar
Monday, February 14
Sheraton Tampa Riverwalk Hotel
Four-course meal with appetizers, salads, entrees and desserts.
$75 per person
RumFish Grill at RumFish Beach Resort
February 14 – 15, 5-9pm
Food Network celebrity Chef Marc Cummings has created a special Valentine's Day menu exclusively for RumFish Grill at the RumFish Beach Resort. Reserve online.
$56 per person plus tax and gratuity
Rooster & the Till
Monday, February 14
Enjoy Rooster & the Till's 5-course Valentine's Day dinner special. Be sure to pass along any dietary restrictions when you make the reservation.
$145 per person and a $20 deposit is required per person.
We've got even more romantic ideas listed in our full Valentine's Day guide.
What are the Most Romantic Restaurants in Tampa for Valentine's Day?
When it comes to Valentine's Day, don't settle for just any old restaurant. Impress your date by reserving a table at one of the most romantic restaurants in the Bay! Whether you're looking for a fancy night out with fine dining or keeping things simple and classy, here are our top picks.
1208 S Howard Ave, Tampa, FL 33606
Open since 1956, this classy, award-winning restaurant is the best place to enjoy a classic steak house experience and an exceptional dessert spread. It's also one of the most romantic restaurants in Tampa Bay. From selecting your preferred cut of steak and weight to expert wine-pairing advice and savoring each delicious course, Bern's Steak House really can't be beat when it comes to celebrating a special occasion.
This much-loved steakhouse was again named Best Steakhouse in Tampa Magazine's 2022 Best Restaurants List. It also boasts the most extensive wine list in Tampa and one of the largest wine collections in the world. See it for yourself on a special behind-the-scenes tour of the kitchen and wine cellar.
Make sure to save room for a selection of 50+ specialty desserts and 1,000+ dessert wines and spirits. After dinner, you'll be led upstairs to the Harry Waugh Dessert Room for your after-dinner treat. Here you can snuggle up in a cozy booth for decadent treats and live entertainment amidst the moody ambiance.
Tip: Reservations for this romantic restaurant typically book up sometimes weeks in advance, so plan ahead. Dinner reservations include a reserved table at the dessert room.
Reserve online or call (813) 251-2421.
1010 Gramercy Lane, Tampa, FL 33607
Show your date a little sophistication at Ponte Modern American. This gorgeous addition to Midtown Tampa is Chef Chris Ponte's latest fine dining triumph in Tampa Bay. Modern American cuisine with French and Italian influences makes for a sumptuous and diverse menu. Impressive, romantic and delicious. Start with a caviar course before moving on to entrees like Chilean Seabass or a prime steak topped with a cognac truffle cause or blue cheese cabernet butter. Ponte is made for a special occasion like Valentine's Day.
Reserve a table with Resy or call 813-582-7755 for groups of seven or more.
323 W. Palm Ave, Tampa, FL 33602
Rocca was awarded the Michelin Guide's Bib Gourmand award, and there's a good reason why. The pasta-focused menu features Italian fare and uses seasonal ingredients as its inspiration. In addition to their rotating pasta dishes and meat and fish entrees, two must-try staples that are permanent fixtures on the menu are the Caviar Service and the Mozzarella Cart.
Fresh mozzarella is created tableside and paired with heirloom tomatoes, basil, and 10-year aged balsamic vinegar to share. If you're looking to celebrate an anniversary or special event, you can reserve a spot at the Officina – a semi-private chef's table located in the kitchen.
Reserve online or call 813-906-5445
2208 W Morrison Ave, Tampa, FL 33606
Enjoy exotic flavors and an upscale ambiance at Haven, a contemporary romantic restaurant and wine bar serving up small plate creations and craft cocktails. The dark and moody ambiance is the perfect backdrop for a romantic Valentine's Day celebration. Start by sharing a cheese and charcuterie board featuring selections straight from the chef. You can make a full meal, however, out of a selection of salads and fresh seafood. Don't miss the dirt pie or sticky toffee pudding for dessert.
Reserve online or call (813) 258-2233
2109 Bayshore Blvd, Tampa, FL 33606
Want to really wow your date with a romantic restaurant this Valentine's Day? Take a step back in time to the roaring twenties at Ciro's Speakeasy. This New American romantic restaurant was designed with a Prohibition-era theme and offers speakeasy ambiance. The cocktails are exquisite — with a blend of classics and avant garde options. You won't find the venue easily, but here's a tip: the speakeasy is tucked inside the historic Bayshore Royal building.
Ciro's Valentine's Dinner
February 14, 5pm (2023 details TBA)
Four-course prix fixe menu including a glass of complimentary champagne. Call (813) 251-0022 to reserve.
$110 per person
Call (813) 251-0022 to reserve and obtain the daily password.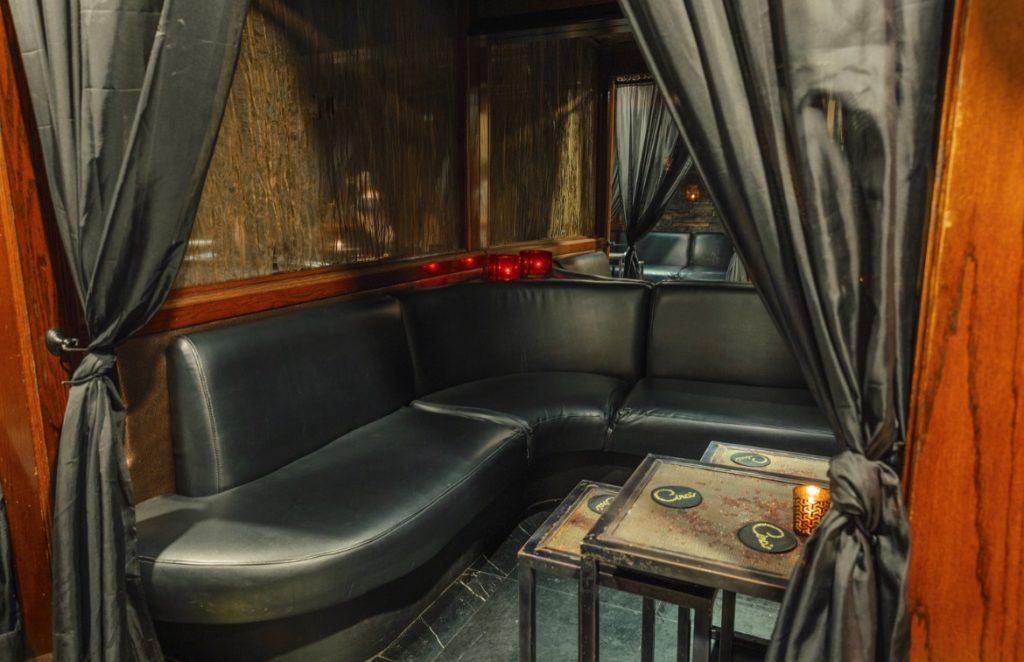 500 Channelside Drive, Tampa, FL 33602
While every restaurant at the Tampa Edition is romantic, the sultry vibe at the Arts Club makes it one of our top picks for romantic restaurants. Deep red tapestries, low lighting, comfy chairs and disco balls — The Arts Club is the perfect place to sit close and enjoy an evening just the two of you. The decor screams "Valentine's Day." Arts Club offers light bites and tableside cocktail service so you won't waste any time waiting at the bar for drinks.
Call 813-771-8022 for reservations
1606 W Snow Ave, Tampa, FL 33606
Meat Market is a contemporary steakhouse located in Hyde Park Village. For a romantic Valentine's Day, treat yourself to one of the house creations, like an American Style Kobe Meatloaf with bacon, mango BBQ, sweet and sour onion rings, and a buttermilk potato mash. Or go all out with something from the reserved cuts section, like the 7oz Wagyu Filet Mignon. The wine list is also spectacular.
Make sure to adorn your meat with something special from the sauces & butters menu.
Reserve online or call (813) 280-1113
1610 W Swann Ave, Tampa, FL 33606
After an extended hiatus for renovations, Timpano Hyde Park re-opened last year. This classic spot is a great romantic restaurant to enjoy when in Hyde Park Village. Specializing in Italian cuisine, the menu features an assortment of classics and modern dishes. Dive into decadent bites like truffle arancini, pesto pasta prepped tableside in a parmesan wheel, Wagyu beef, Mostro Shrimp, and more.
The elegant decor acts as the perfect backdrop for snapping a few Valentine's Day photos together.
Reserve online or call (813) 254-5870
1501 W Swann Ave, Tampa, FL 33606
Looking for a super romantic restaurant with a buzzy vibe for Valentine's Day? Be sure to check out On Swann, a contemporary American restaurant with food that is locally sourced with a seasonal flair. Grab a bite of the Portuguese chicken for a unique but delicious blend of flavors. Complete your night out with a stroll around the surrounding area in the hip Hyde Park Village.
Read more about this date night favorite in our post about Date Night at On Swann.
Reserve online or call (813) 251-0110 (between 10-11am or 3-5pm)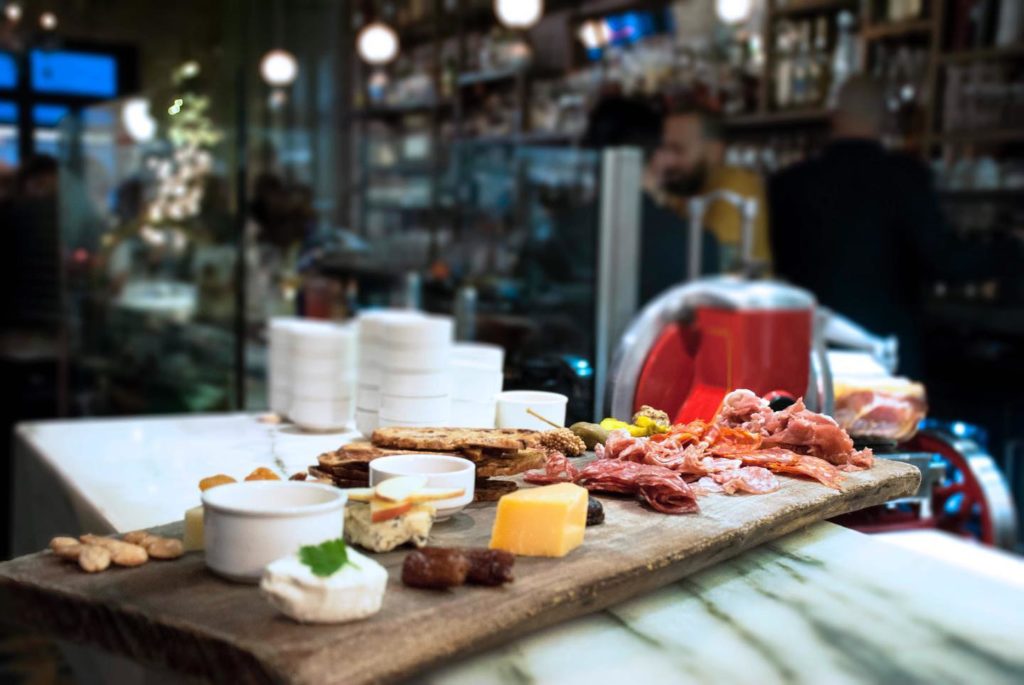 912 W Kennedy Blvd, Tampa, FL 33606
Helmed by Chef and Owner Jeannie Pierola, Edison: Food + Drink Lab is a must-visit for foodie couples. Featuring an ever-evolving menu rooted in flavor experimentation, creativity and fresh ingredients, date night dinner at this inventive restaurant is sure to spark conversation. Pair Valentine's Day dinner with inventive craft cocktails, some of which feature Florida spirits.
Feeling adventurous? Opt for the 5-course tasting menu, which can be upgraded to include optional wine pairings. This is a pricier spot, so plan accordingly.
Reserve online or call (813) 254-7111
2900 Bayport Dr, Tampa, FL 33607
If you're in the mood for an amazing dining experience while catching the sunset, Oystercatchers is the place to go. This romantic waterfront spot features incredible views of the gulf. Their menu features an array of some of the best seafood dishes in Tampa. Their starters include Oyster Rockefeller and Charred Octopus, and their raw bar boasts everything from fresh oysters to ahi tuna and lobster. The Grilled Grouper in Gauzetto and Pan Seared Scallops are two of their standout main dishes that are not to be missed.
Oystercatchers also features an extensive menu of wine, local beer, and craft cocktails, and their Sunday Brunch includes two mimosas or Bloody Marys with each entree.
Reserve online or call 813-207-6815
442 W Kennedy Blvd, Tampa, FL 33606
Treat the Francophile in your life to a fancy date night dinner at Mise en Place. This incredibly romantic restaurant is the brainchild of renowned chef Marty Blitz. It features modern cuisine with a French twist and the vibe is upscale and contemporary, perfect for a romantic Valentine's Day on the town. If you love a good cocktail, check out the cocktail menu to sip on a selection of classics plus modern offerings.
A well-known Tampa staple for 35+ years, this romantic restaurant recently underwent a major facelift and interior design upgrade; the beautiful interior design is a great compliment to the always-amazing food and wine.
Reserve online or call (813) 254-5373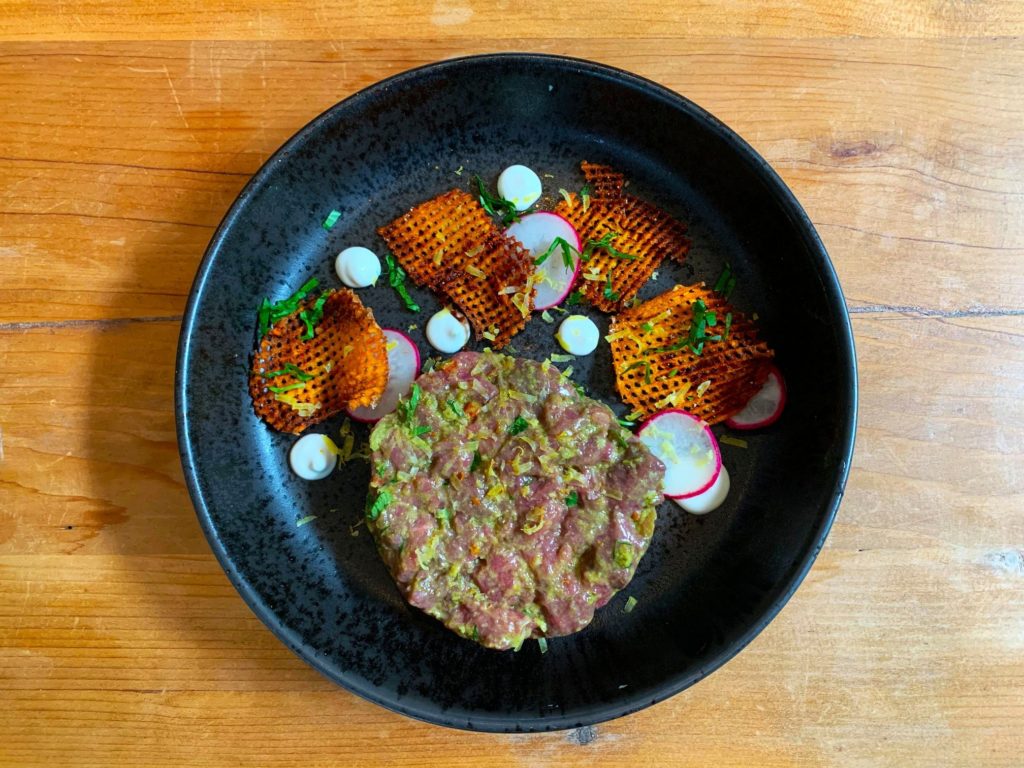 615 Channelside Dr, Tampa, FL 33602
Conveniently located at Sparkman Wharf, The Battery is a nice upscale addition to this lively waterfront hub. It serves as a sister restaurant to The C House (another one of our favorites!), with a specialty in fine bourbon, wine, and elegant fare.
Nibble on decadent charcuterie boards loaded with house-cut meats, cheeses, and goodies, or split a few appetizers to start. Entree selections include everything from steak to salmon and pasta, best enjoyed with a fancy cocktail from the bar menu.
Finish the evening with a slice of cheesecake to end on a sweet note. The Battery also offers Sunday brunch from 11am – 3pm.
Reserve online or call (813) 498-0008
1208 E Kennedy Blvd, Tampa, FL 33602
Treat your date to an Italian-inspired Valentine's Day at Cena, a modern Italian eatery located in Tampa's Channelside District. Come for the date-night worthy romantic ambiance and stay for Italian favorites with a twist and delicious wines.
The restaurant also hosts regular wine tasting events — check social media for details. Enjoy your meal indoors or outside in the restaurant's courtyard.
Reserve online or call (813) 374-8840
1607 N 22nd St, Tampa, FL 33605
Treat your date to a taste of Sicily at Casa Santo Stefano, a lovely addition to Ybor City's dining scene. The historic building and decorative touches enhance the romantic experience.
For a complete Valentine's Day date, plan to head upstairs after dinner at Santo's Drinkeria, the restaurant's rooftop bar. Sip wine while enjoying gorgeous views of historic Ybor City.
Reserve online or call (813) 248-1925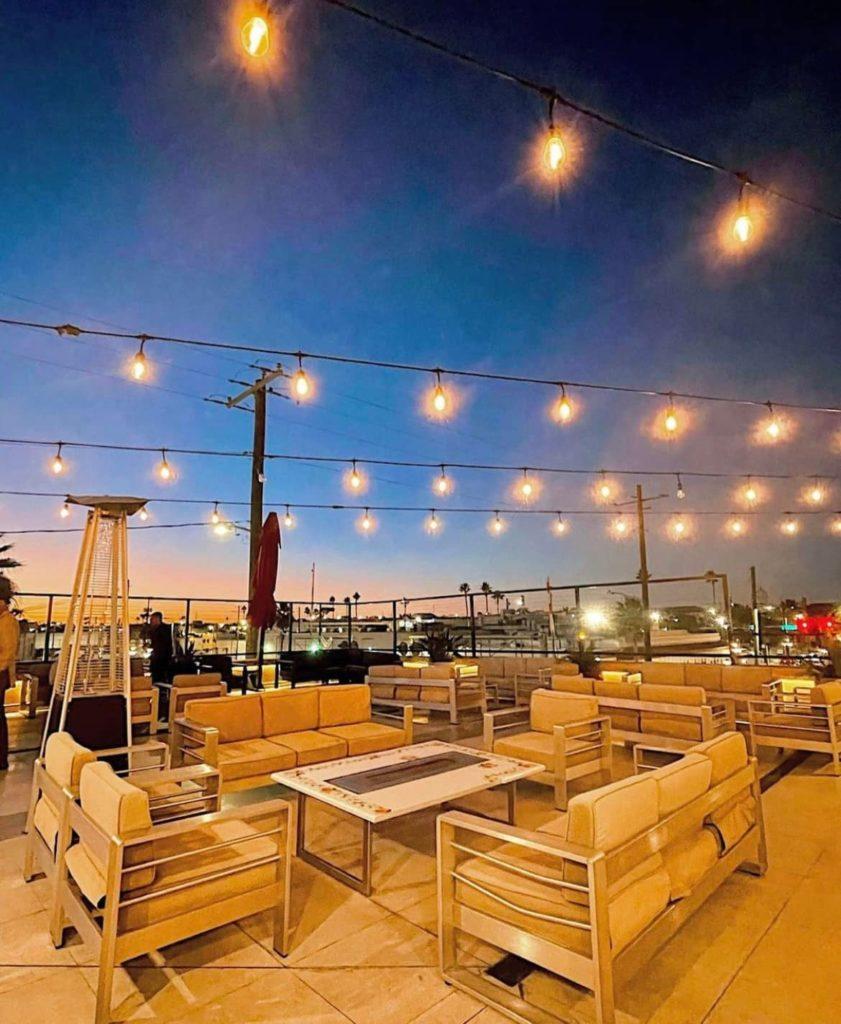 2117 E 7th Ave, Tampa, FL 33605
Open since 1905, this Ybor City staple serves up Cuban cuisine and boasts the title of Florida's oldest restaurant, and it's a great choice for a romantic restaurant, too. While there are multiple Columbia Restaurant locations throughout the state, the Ybor City institution is where it all began.
The layout is well known for being a "city within a city." Maxing at over 1,700 people, this restaurant has customers spread throughout fifteen distinct spaces each with their own story.
Make sure to share the 1905 Salad, which got an award from USA Today for being "One of the 10 Great Places to Make a Meal Out of a Salad." I can personally vouch for its deliciousness. Get the full scoop on this must-visit restaurant in our write-up, The Columbia.
Tip: Can't make it to Ybor? You can visit one of their other locations in Clearwater or Sarasota too.
Reserve online or call (813) 248-4961
1902 N Ola Ave, Tampa, FL 33602
A steakhouse known for its excellent marbling and premium flavor, Steelbach should definitely be on your list of romantic restaurants to experience here in the Tampa Bay area. Located inside Armature Works, the chophouse menu includes local grass-fed beef and Southern-inspired favorites.
Steelbach Valentine's Dinner
Tuesday, February 14, 5-10pm (2023 details TBA)
Special prix fixe menu for Valentine's Day. Reserve online or by calling (813) 693-5478.
$125 per person plus tax and gratuity
Reserve online or call (813) 693-5478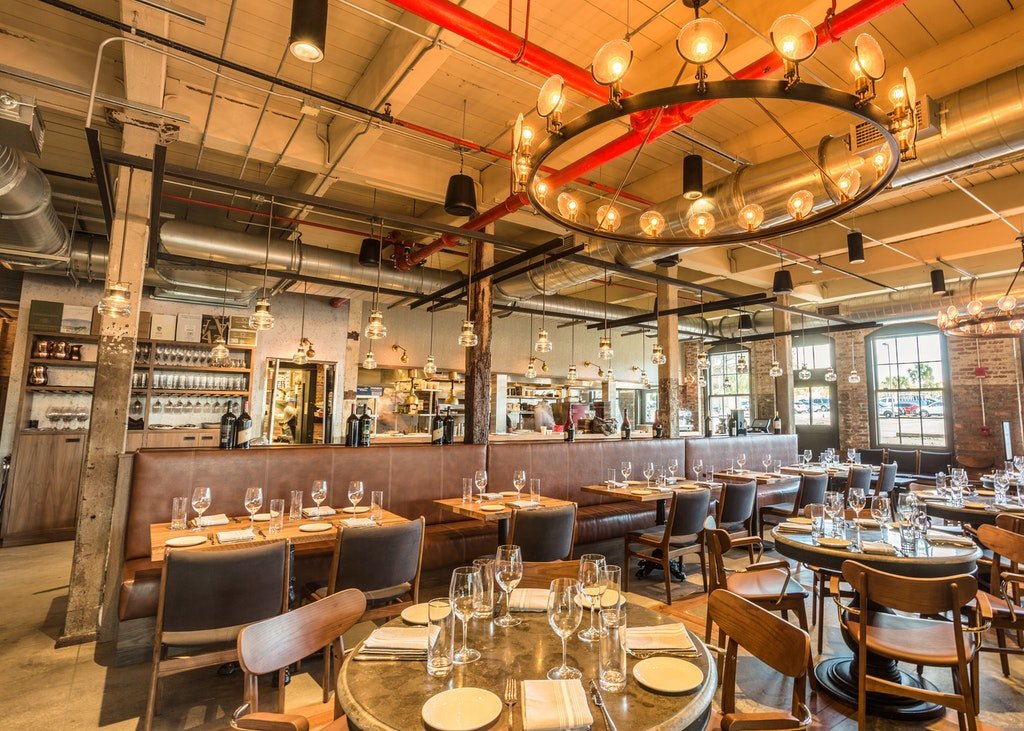 1910 N Ola Ave, Tampa, FL 33602
Created by a group of close friends, Oak & Ola is a EuroAmerican romantic restaurant located right in Tampa's Armature Works. Enjoy a classic and comfortable setting with a timeless design.
Check out the Blue Crab Spaghetti for a fun twist on a classic Italian dish and try one of their amazing handmade craft cocktails.
Reserve online or call (813) 773-1901
1810 N Highland Ave, Tampa, FL 33602
Named after the Native American princess by the same name, Ulele offers a vibrant fusion of ingredients all wrapped up into a visually appealing romantic restaurant experience. Speaking of fusion, Ulele recently received the honor of being named "Best Fusion Restaurant" in Tampa Magazine's 2022 Best Restaurants List. It took home accolades in the "Best Waterfront Restaurant" category, too.
Ulele is the perfect place for indoor or outdoor dining. Diners will love the romantic restaurant's waterfront location, situated along the Tampa Riverwalk overlooking the Hillsborough River. When it comes to the menu, all of the food is harvested in the United States and comes from family or independently owned companies.
Check out the seafood risotto for a fun twist on a classic dish. They also have some of the best-chargrilled oysters in Tampa.
Reserve online or call (813) 999-4952
3650 Midtown Dr, Tampa, FL 33607
Find this rooftop roost located atop the Aloft and Element Hotel at the fast-growing Midtown Tampa. Drawing inspiration from Tulum, Mexico, Sal Y Mar features an assortment of elevated Latin-inspired dishes and artisanal cocktails that will get you in a vacation state of mind. Sip libations while taking in the beautiful skyline views of Tampa, Westshore and St. Pete.
Call (813) 692-3330 to reserve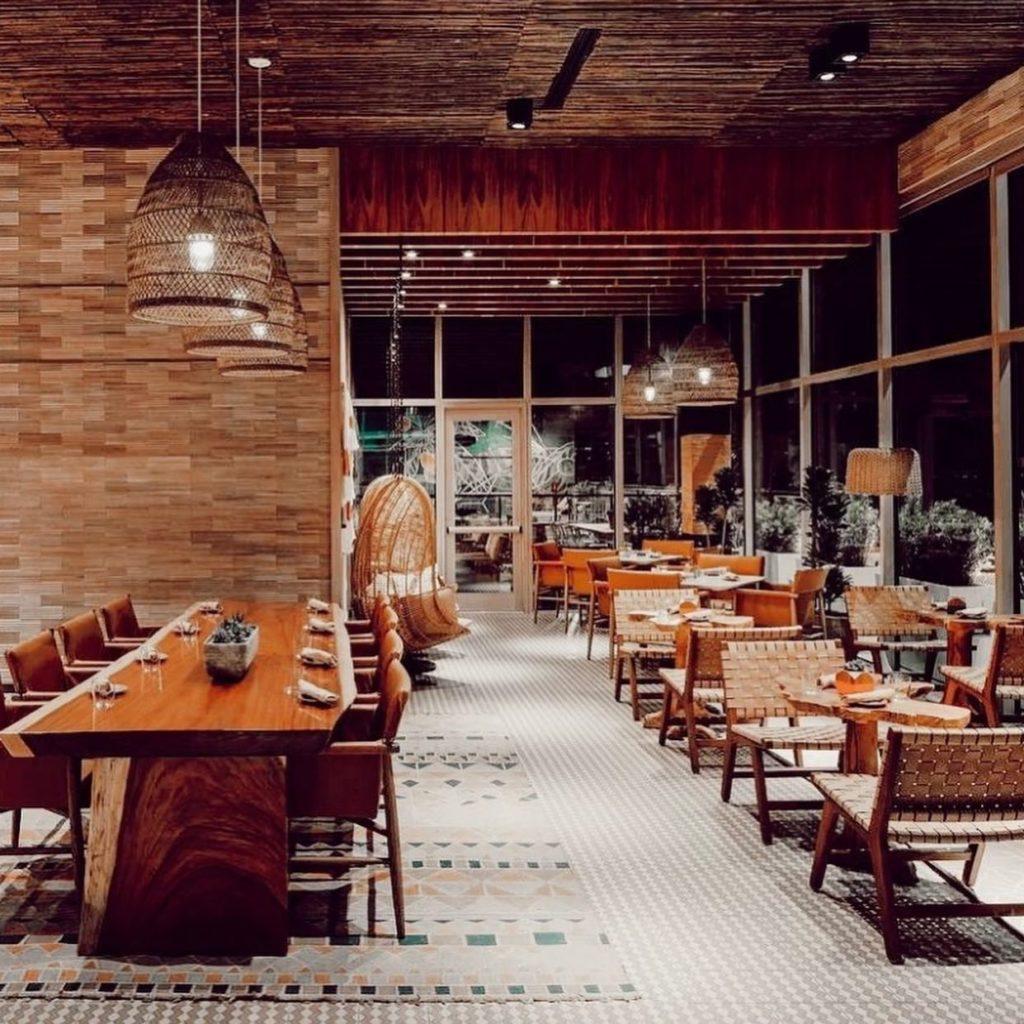 1015 Gramercy Lane, Tampa, FL 33607
Already a favorite in St. Pete, BellaBrava opened an additional location in Tampa in 2021. Head to this romantic Italian eatery in Midtown Tampa for fresh pasta dishes, wood fired pizzas, classic Italian cocktails and an assortment of wines.
Reserve online or call (813) 524-5226
2205 N Westshore Blvd, Tampa, FL 33607
Ocean Prime's Tampa outpost features a stunning interior and vibrant energy with a tasty menu to match. At this Tampa romantic restaurant, feast on classic surf & turf options paired with excellent wines.  Wine lovers will be impressed with the Wine Spectator-honored wine list.
Tip: Plan your visit during the weekly happy hour for a budget-friendly dining experience in the lounge. Select small plates are $5 off and pair wonderfully with featured wine and cocktails. Order the Berries & Bubbles, a smooth blend of Belvedere citrus vodka, Cassis, Domaine Chandon Brut, marinated berries and lemon. This showy cocktail is poured tableside into a frozen glass, causing the drink to bubble as dry ice envelopes the glass in smoke.
Reserve online or call (813) 490-5288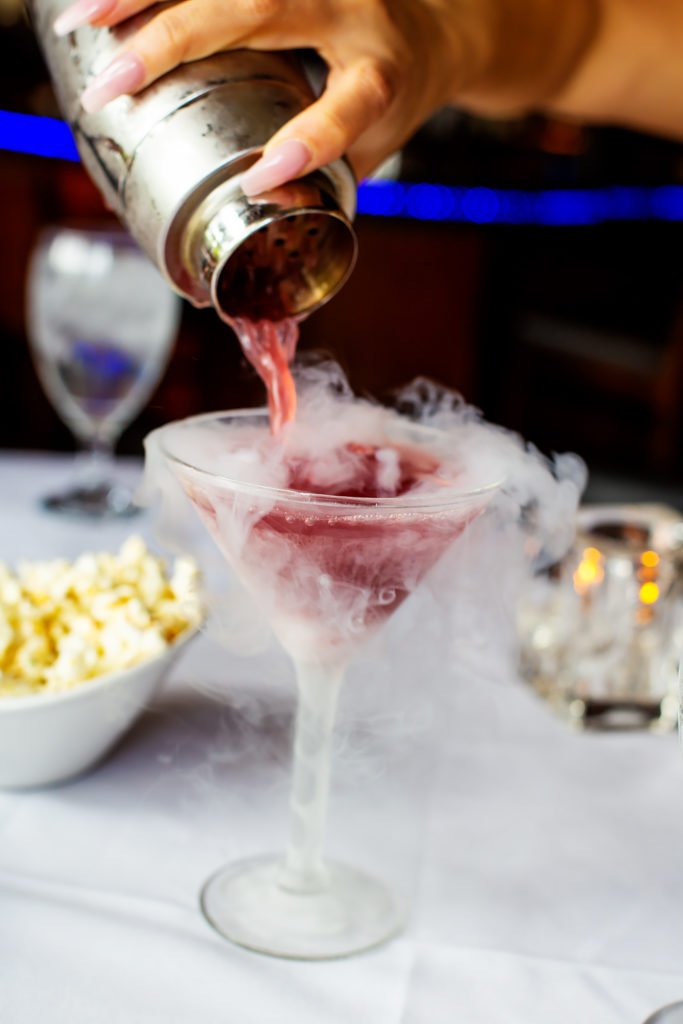 Feature image credit: Oystercatchers
And if you're looking for family-friendly things to do – ok, not so romantic with kids involved – but hey, kids and families need things to do too – check out the best list of kids and parents activities to do this week!