The fun and excitement of Friday and Saturday have passed, but you still don't have to go back to work until Monday. You've got a whole Sunday in Tampa ahead of you. We're here to help you make the most of the last day of your weekend. Stave off the Sunday scaries with our ample suggestions for how to spend your next Sunday in Tampa.
Lazy Sunday in Tampa
Would you rather have a relaxing Sunday than an adventurous one? These lazy ways to spend a Sunday in Tampa are for you!
Head to the spa
Browse a local farmers' market
Relax in one of Tampa's many great coffee shops
Or sip some boba tea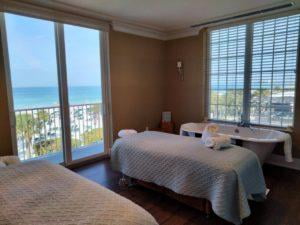 There are plenty of ways to relax on a Sunday in Tampa. For the ultimate relaxing Sunday, try a couples spa day at the Hyatt Clearwater Beach, Seminole Hard Rock or one of the other luxe spas in Tampa Bay. If you need to refuel from the weekend, there is an abundant supply of brunch spots. Bask in the waterfront views and serene vibe at Oystercatchers or grab a seat outside at Birch & Vine at the Birchwood in St. Pete. There's a little something for everyone in Tampa's Sunday brunch scene. 
If relaxing at home sounds better, stop by a local farmers' market and pick up snacks and treats for yourselves. Seminole Heights, St. Pete, Plant City and Hyde Park Village all have Sunday markets, but double check dates and times before you go!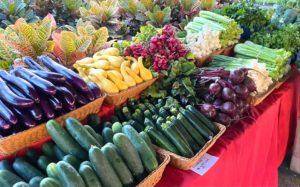 Nothing says Sunday like sipping on a handcrafted coffee or specialty drink. One of the many great things about the Bay is the variety of coffee shops all around. Browse our favorites with our Ultimate Guide to Coffee Shops in Tampa Bay.
If coffee isn't your thing, have you tried Boba Tea? Check out one of these great Places for Boba Tea in Tampa Bay on your next Sunday off together.
Sunday Funday
Boozy brunch
Go kayaking
Epperson Lagoon
Tampa Riverwalk
St. Pete Pier
Pass-a-Grille Beach
We've already covered brunch, but if you're looking to get started early, we've rounded up our favorite places to grab an early boozy brunch in Tampa. 
Feel like hitting the water? From natural springs to preserves to serene islands, there's so much water ready to explore via kayak in the Tampa Bay area. If you've never been kayaking before, definitely try Sweetwater Kayaks at Weedon Island Preserve. They rent kayaks and provide lessons and expeditions for those hoping to get their feet wet figuratively and not literally.
For something modern, relax and have fun on the water at Epperson Lagoon. You can soak up some sun or get in on the action with the water obstacle course. Food and drinks available for purchase mean you can spend all day in this paradise.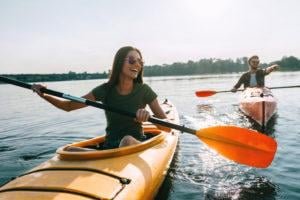 If you haven't been to the Tampa Riverwalk lately, Sunday is a great time. Perfect for strolling or biking, explore 2.6 waterfront miles dotted with parks, restaurants, bars and museums. At the southern tip of the Riverwalk you'll find eBoat rentals, waterbikes, a water taxi and fun booze cruises like Cruisin' Tikis and the Kraken Cycleboat. From there you can also continue your stroll to Tampa's legendary Bayshore Boulevard for dolphin-spotting and admiring some seriously beautiful mansions.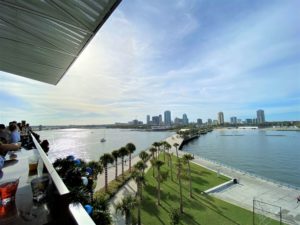 We haven't forgotten about the other side of the bridge. The St. Pete Pier is an excellent Sunday spot.
Bike, grab coffee, soak up some rays at the beach (they already have chairs and they're not hard to snag if you arrive early). Boat tours, sunset cruises, fishing, dining – there's no shortage of ways to spend a Sunday in Pass-a-Grille. This cute beach town is just enough of a getaway to feel special but not so far you can't go just for the day. 
More ideas for Sunday in Tampa: