Impressing your date can be as simple as knowing what's new in town. Luckily there are plenty of new restaurants, experiences and attractions on the way, and many are already open. 2023 is looking like a bright year for Tampa Bay.
Read on for the scoop on the best new date night experiences for couples in the year ahead. Check back often as we update this page with new info!
More date ideas: There are always Things to Do in Tampa Bay with monthly events added regularly.
New Restaurants in Tampa Bay for Date Night
Updated October 2023 by Brie Gorecki
Fancy Date Night Restaurants
Quite a few date night spots opened up in Tampa Bay in 2023 – making them prime for new date ideas.
Ro Hyde Park, a modern Asian and sushi concept is now open in Hyde Park. At the new hot spot, with a menu by Chef Kiichi Okabe, a multi-Michelin-starred Japanese chef, guests can enjoy unique, immersive tableside presentations. You and your date can grill your own Wagyu steaks, splurge on caviar service, or indulge in their signature sushi dishes made with ingredients like Maine lobster and king crab. If you're a fan of Peking duck, plan ahead since this dish is so meticulously prepared, it must be ordered three days in advance. 
Ponte is one of the latest additions to midtown Tampa and is the perfect choice if you're on the hunt for a new special occasion date night location. Ponte is led by Chef Chris Ponte, the man behind other beloved Tampa Bay restaurants Cafe Ponte and On Swann.
Over at Water Street Tampa, the Tampa EDITION opened in late 2022 with multiple restaurants and bars to choose from for many date nights to come, including Michelin Star winner, Lilac. But that was just the beginning for new Water Street restaurants. This year alone, Water Street has welcomed a ton of new date night spots including Predalina.
Predalina serves up seafood-driven Mediterranean cuisine for lunch, brunch, and dinner in their dining room or two outdoor patios. As a unique touch, they also have an in-house retail store where you can purchase any of the tableside wares, oils, and seasonings used in the dining room. 
THE DAN (formerly known as the Sapphire Lounge) recently opened its doors to the public. THE DAN combines the heritage of New Orleans with a heavy influence from the Roaring Twenties, and inspiration from the new generation of Gulf Coast dining. The cuisine highlights both local ingredients and classic dishes. A variety of raw oysters, steaks, and local seafood are featured alongside a historically-inspired cocktail program. 
READ: Complete Guide To Water Street Tampa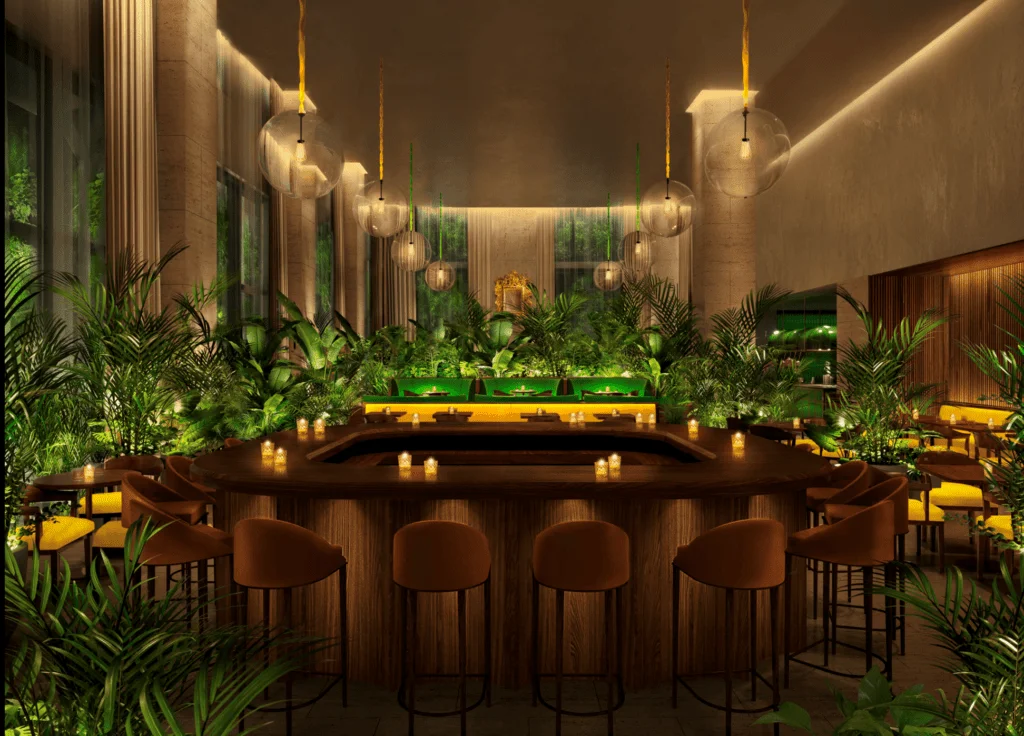 The bar is a stage at Koya, another Michelin Star winner offering the ultimate, exclusive tasting experience for diners. With only 8 seats at the tasting bar (yes – 8 total seats for the whole restaurant), no children under the age of 12 permitted (and only if they're well-behaved), and extremely limited dietary restrictions that can be accommodated (let them know at booking), guests are encouraged to adopt the mindset of Omakase, or "I Leave it Up to You, Chef".
Another Omakase experience, Kosen, is now open. From executive chef Wei Chen, a 3-star Michelin-star winner, this 10-seat restaurant provides a unique reservation-only experience.
Focusing on the highest quality fish and freshest ingredients flown in from Japan, guests experience the Japanese concept of shun, where particular ingredients are selected only during their peak harvest season and each shun is passionately anticipated every year.
Among them is The Pearl from Cameron Mitchell Restaurants. Menu highlights include seasonal oysters, craft cocktails, scratch-made entrees, a curated wine list and more.
Another high-end spot, Boulon Brasserie, has also opened its doors on Water Street. Former Bern's head chef Hab Hamde brings an innovative French dining experience to Tampa Bay.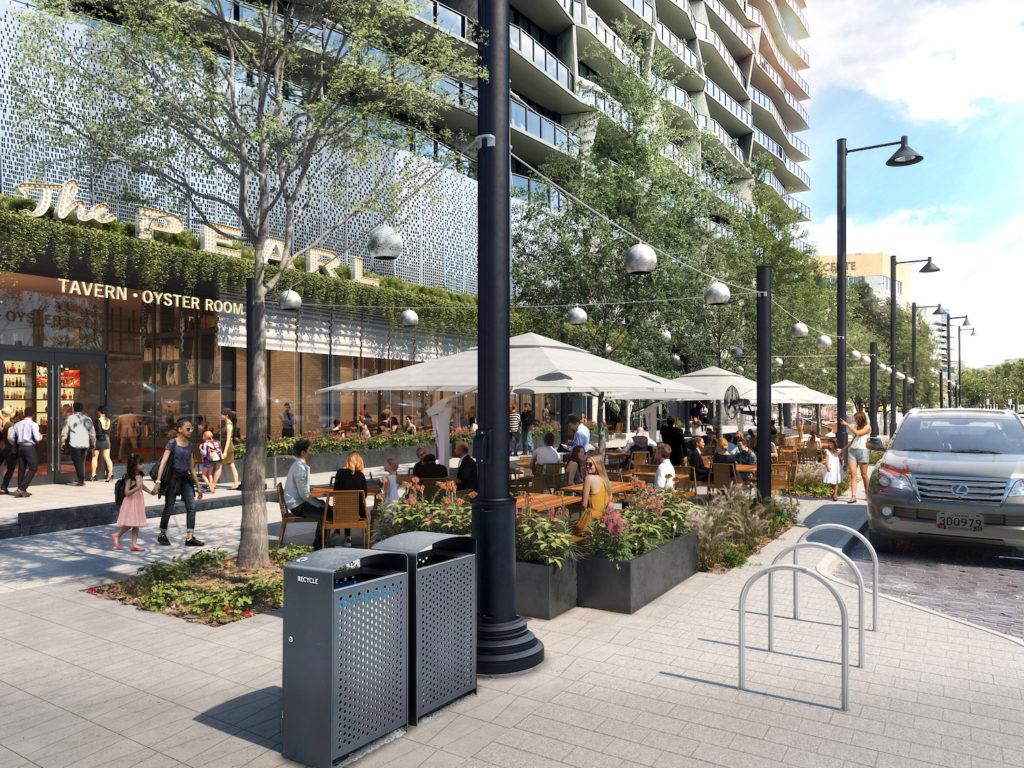 New Wine and Cocktails
JW Marriott Tampa Water Street just unveiled a NEW rooftop lounge! Beacon is Tampa's highest (and second highest in Florida) public rooftop cocktail and dining destination, offering breathtaking panoramic views of the city skyline and Tampa's waterfront. This midcentury-meets-modern bar serves up signature drinks and delectable tastes. We recently had the chance to check it out and are sharing all the details about downtown's newest hot spot.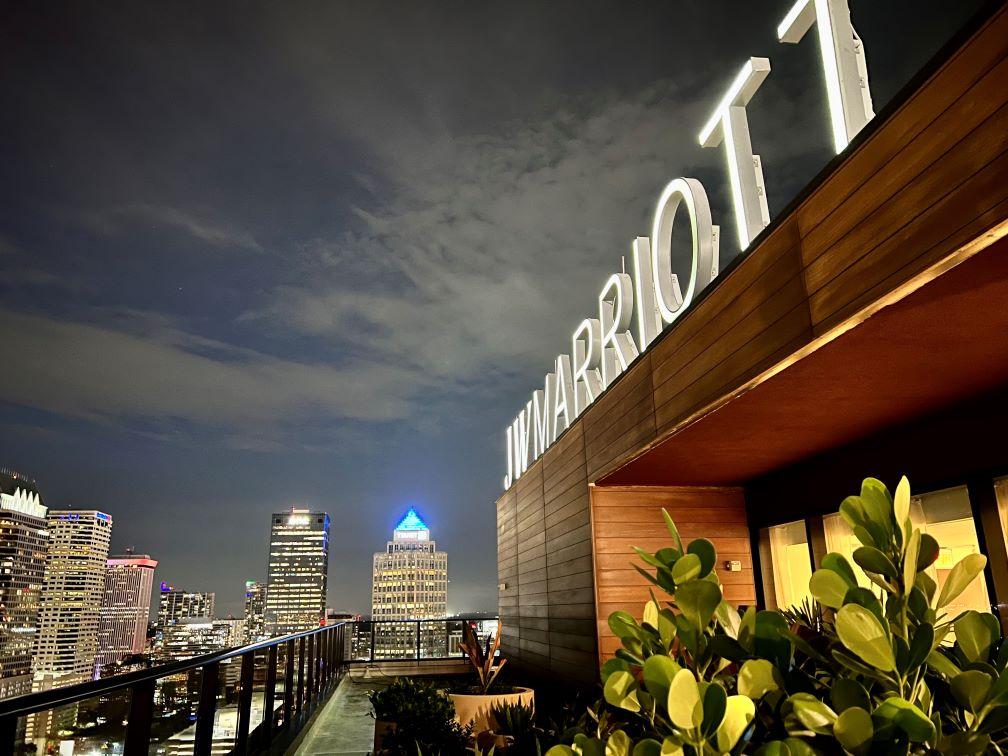 The vodka-infused spin on the popular drink is the namesake for St. Pete's newest hot spot. Dirty Shirley Bar + Kitchen serves up a menu filled with craft cocktails, whiskey, bourbon, beer, wine, and of course, the Dirty Shirley. Along with a full food menu, they also offer brunch and boozy milkshakes.
The folks behind Cru Cellars have also opened two new concepts on Water Street — Wine on Water and Small Giant. The first is a wine and liquor shop with an outdoor wine garden to enjoy select wines by the glass. Small Giant describes itself as a little bar with a big heart and that's not to mention the excellent food menu.
The same restaurant group has another new concept bubbling in Hyde Park Village — a new champagne and cocktail bar with a 'fizz-first" menu dubbed Bouzy. 
Another newly opened spot to add to your date night repertoire is Madame Fortune's Speakeasy. You've got to be in the know for this one. By day the space is a grab-and-go sandwich spot called Roast, but at night (and Sunday brunch), behind a secret passage, it transforms into a cozy restaurant with West Indian food and classic cocktails. The name is an homage to former slave Fortune Taylor who became a successful businesswoman in 1800s Tampa.
Recently opened, Union New American is a two-story restaurant and lounge with a focus on modern American eats located in the Westshore area.
READ MORE: Speakeasies in Tampa Bay
Tampa Bay's first zero proof lounge opened earlier this year. Lucid Zero Proof Lounge in Valrico intends to make date night great, no alcohol necessary. If this piques your interest, check out our list of alcohol-free date ideas in Tampa Bay.
Over in St. Pete, we've added a new rooftop bar to our must-visit list. Located on the roof of the AC Hotel St. Pete, you'll find Cane & Barrel in the heart of downtown.  The rooftop bar/cocktail lounge features Cuban-inspired cocktails and bites.
Quirky and Fun
A new sushi concept is now open in St. Pete. Nomi Nori Handroll and Sake Bar brings several unique concepts to the neighborhood – a full-service dinner experience showcasing high-end ingredient, a cocktail bar with sake and soju, and regular live performances and music. They also have a walk-up counter that offers roll sushi and poke dishes to go.
LALA St. Pete is the most recent addition to Central Avenue. The new entertainment restaurant concept has both indoor and outdoor seating, a full food and drink menu, and features seven private karaoke rooms with over 70,000 songs to choose from.
A new concept from country star Chase Rice has opened up at the former St. Pete MacDinton's location next to Jannus Live. Welcome to the Farm has live music and lots of country fun for everyone.
For those wanting something delicious and a little quirky, Doodle Noodle Bar opened in the heart of Westchase in March. The funky new concept is a 2D restaurant serving up noodles, rice, dumplings, poke, and more. When you step inside, you feel like you're in the middle of a black and white drawing.
Even though the ambiance stands out, the food does as well. Their pho bowls are huge and everything is made fresh. Make sure to wash everything down with one of their flavorful boba drinks.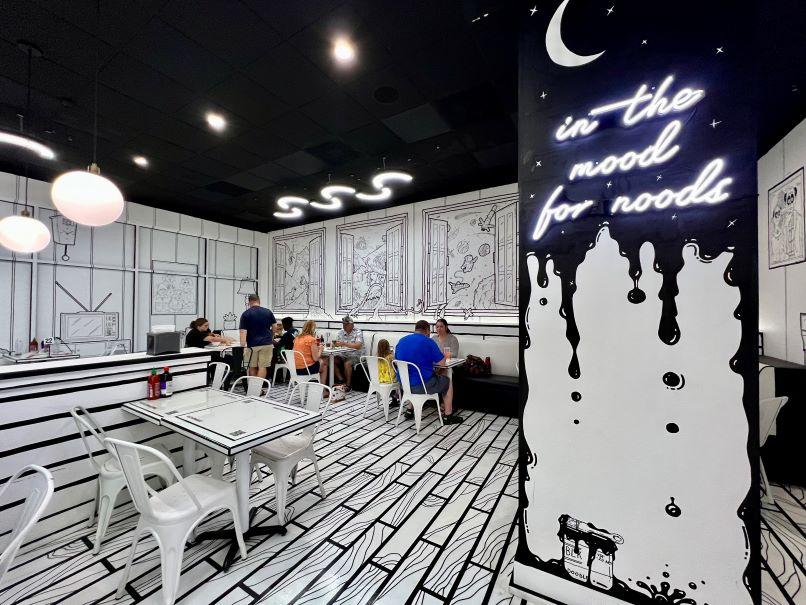 Sesh St. Pete is a must visit for those into quirky new restaurants. Located inside a historic building in St. Pete, just down the road from Sunken Gardens, this restaurant blends modern with historic. Above all Sesh St. Pete takes the rumors that it is haunted (by friendly spirits only) quite seriously.
The decor is equal parts modern and equal parts spooky fun. Famous ghosts like Beetlejuice, Slimer, and more adorn the walls. And if spookiness is not really your thing, then the outdoor bar and front porch seating area will do the trick.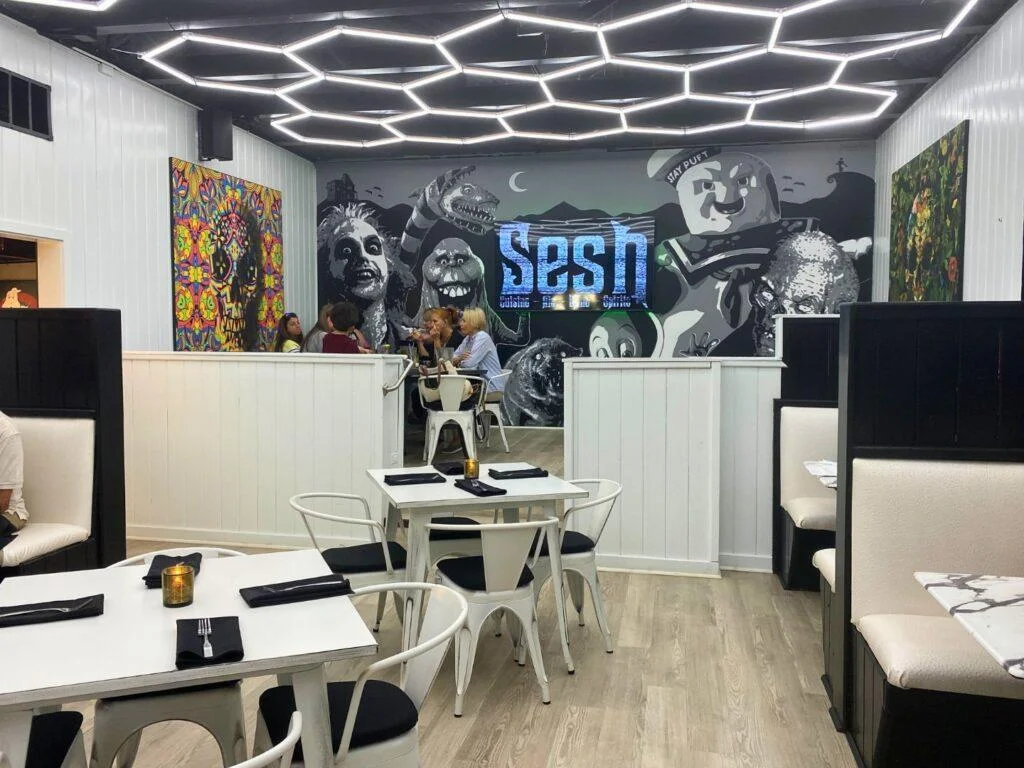 The craft beer list is impressive and the menu presents lots of variety like fresh fish, custom rice bowls, massive salads, and hearty burgers. Be sure to walk around and check out all the art and spooky decor.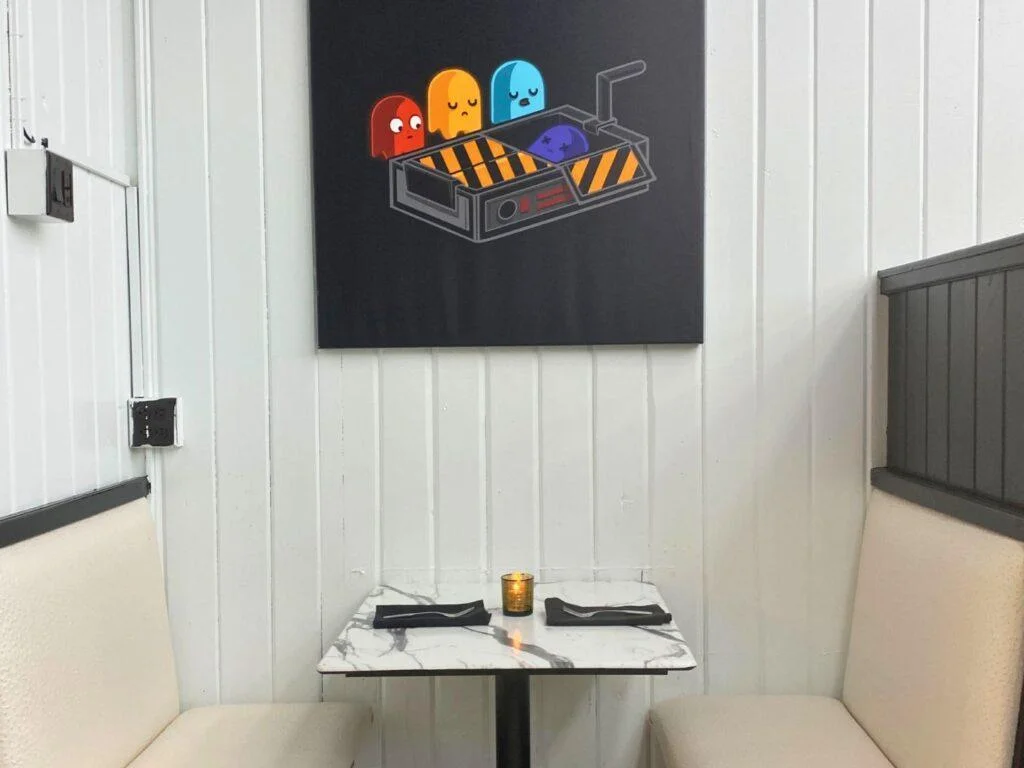 Date-Worthy New Tampa Restaurants + Bars to Arrive in 2023
Looking for new places to do date night with your partner later this new Tampa Bay year? Loads of noteworthy new restaurants are set to open in 2023.
Despite all the places that have already opened this year, Water Street is nowhere near done growing. The minds behind Tampa favorites Rooster & the Till and Nebraska Mini Mart are set to be bringing an Italian-inspired concept named Ash into their expanding repertoire of restaurants. Ash will be located in The Asher building at Water Street Tampa.
Date-Worthy New St. Pete Restaurants + Bars to Arrive in 2023
Over in St. Pete, locals can look forward to several new restaurants and an exciting new food hall. Steak, seafood and cocktails will be the focus at The Crane. The much-anticipated, multi-story Central Park Food Hall is also underway. Although the opening was originally anticipated for late 2022, it's now looking to be more like late 2023. The food hall will include several concepts, including a St. Pete location of Speaks Clam Bar.
We are big fans of the Shiso Crispy food truck, and luckily for all of us, they will be opening a permanent location in St. Pete in 2023.
Summer Camp St. Pete will also be a unique experience where guests can feel like they're back at their childhood summer camp. This new concept will combine a modern day with nostalgia with indoor and outdoor seating, including custom tents.
The much anticipated re-imagining of Coachman Park is now open in Clearwater. Situated along the waterfront, this massive space has a new park space, gateway plaza, pedestrian promenade, scenic overlook, playground, splash pad, and performing arts venue, The Sound.
Daily recurring events will include health and fitness classes, food and beverage experiences, exhibitors, and children's games. A variety of activities,park amenities, walking trails, and more round out the long list of offerings.
Check out their Facebook page for a list of events and concerts.
Busch Gardens Tampa Bay is always aiming to be bigger and better when it comes to its rides and attractions. Serengeti Flyer, the new ride at Busch Gardens Tampa Bay is not only the world's tallest, but it also the world's fastest of its kind. The ride opened earlier this year and provides two different types of experiences – ride after 1:00 and you'll go even higher!
While you're checking out what's new at Busch Gardens, they also just opened the Springs Taproom, a new casual and laidback lounge that serves cocktails and frozen beverages. It is located in the Bird Gardens area of the park.
Related: Thrill Seekers Date Night At Busch Gardens Tampa
PopStroke Now Open in Wesley Chapel
Two 18-hole experiential putting courses designed by THE Tiger Woods are now open in Tampa Bay. PopStroke combines putt courses and food and drink for the ultimate date spot. Keep score on the course via PopStroke's in-app scorecard and see top scores on the leaderboard. This is PopStroke's 6th location.
Get an idea of what to expect with our review of Date Night at PopStroke Orlando from OrlandoDateNightGuide.com (one of our other publications).
More Fun New Places for Date Night In Tampa Bay
Elevenses is set to open its first storefront in Ybor soon. This bakery is already making gorgeous treats with amazing flavors and colors so we can't wait to see what they do! Also on the sweet treat horizon, make it a breakfast date at the Lukamaki Greek donut food truck. The donuts are made to order and completely and look amazing. They're set to open sometime in January in downtown Tampa.
The JW Marriott Clearwater Beach is a perfect way to spend a day date or staycation. Situated along the crystal-clear waters of Clearwater, it's the perfect way to spend the day relaxing in the sand. Reserve one of their beachfront rooms with a balcony overlooking Clearwater Beach, unwind at their resort spa, or take in panoramic views in their rooftop restaurant, Nikki-Peruvian.
Want even more date night ideas for 2023?