A local guide to the most romantic experiences in Tampa Bay for couples
From sunset tours and horseback riding on the beach to beautiful gardens and intimate dining, the Bay is full of romantic escapades for couples. Need a little help planning an enchanting date? Here's our guide to the most romantic experiences in Tampa Bay.
Horseback riding on the beach
Wade into the water and trot along the beach on horseback with your love. Head to Bradenton, where C Ponies, Florida Beach Horses & The Real BeachHorses offer this unique beachfront experience for horse lovers. Tours last an hour and a half and start at $160/person.
For extra romance, opt for a sunset tour. All three companies offer inland trail rides as well.
Full Moon Kayaking
The Little Manatee River is one of the best kayaking spots in Tampa Bay. Travel just 30 minutes outside of downtown to the Canoe Outpost – Little Manatee River for a totally different paddling experience: moonlight kayaking. These monthly trips begin after dark and will take you on a 4-hour adventure.
After paddling for just over an hour, stop for live music and a meal around a campfire. You'll then hop back in your kayak to continue the journey, enjoying the serene sounds of the river at night.
The cost for this trip is $79/couple (double kayak, includes food and drink) and reservations are required in advance by calling 813-634-2228.
Dinner + Dessert at Bern's Steak House
Bern's Steak House is legendary for a reason, and it's also one of Tampa's most notable romantic eateries. Reservations are needed and can be tricky to secure (they recently launched a new reservation policy offering them on a rolling 60-day window) – but it's worth the extra effort. The service is attentive, the wine list extensive, and the food indulgent.
But our absolute favorite part of the Bern's experience is heading upstairs after dinner to the sultry and romantic dessert room. You're guaranteed a table with your dinner reservation. Listen to live piano music while snuggled in a private booth, treating yourselves to one of dozens of the available desserts. (Note: Bern's will be closed for renovations from July 4-July 24).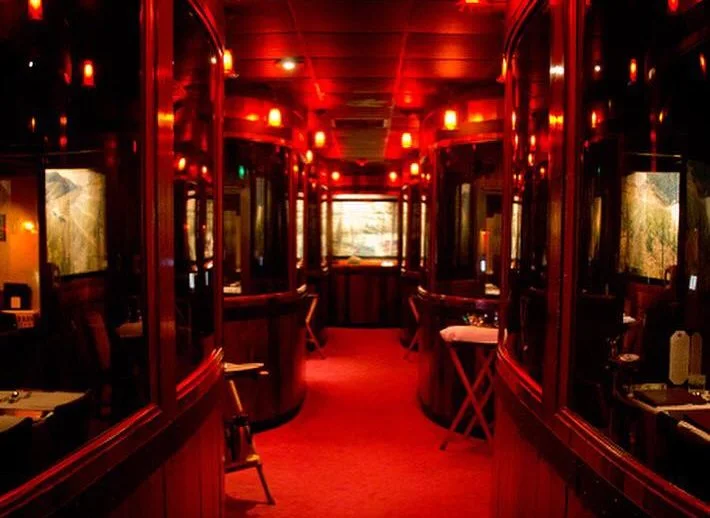 Drive-in movie date
For a nostalgic date, pack snacks and park the car to snuggle up at the local drive-in. Multiple drive-in move theaters are accessible from Tampa including Ruskin Family Drive-In and the Silver Moon Drive-In in Lakeland, just 30 minutes away.
Admission is affordable at $6-$7/adult for both movies being screened that evening.
Listen to live jazz
From the stylish Lakeland Loft jazz club just 40 minutes outside of Tampa, to monthly jazz nights at local bars and restaurants, exploring Tampa Bay's jazz scene together makes for a great date. Here's a list of our go-to spots for live jazz.
Spice things up with the #1 home date night program.
Date Night Dancing is an easy to follow program that will have any couple laughing, loving and most importantly dancing together in no time. All from the comfort of your own home!

**NO dance experience needed
**Perfect for anyone with "two left feet"
**Fun & entertaining lessons
**Universal moves taught: dance to any music
**Instant streaming access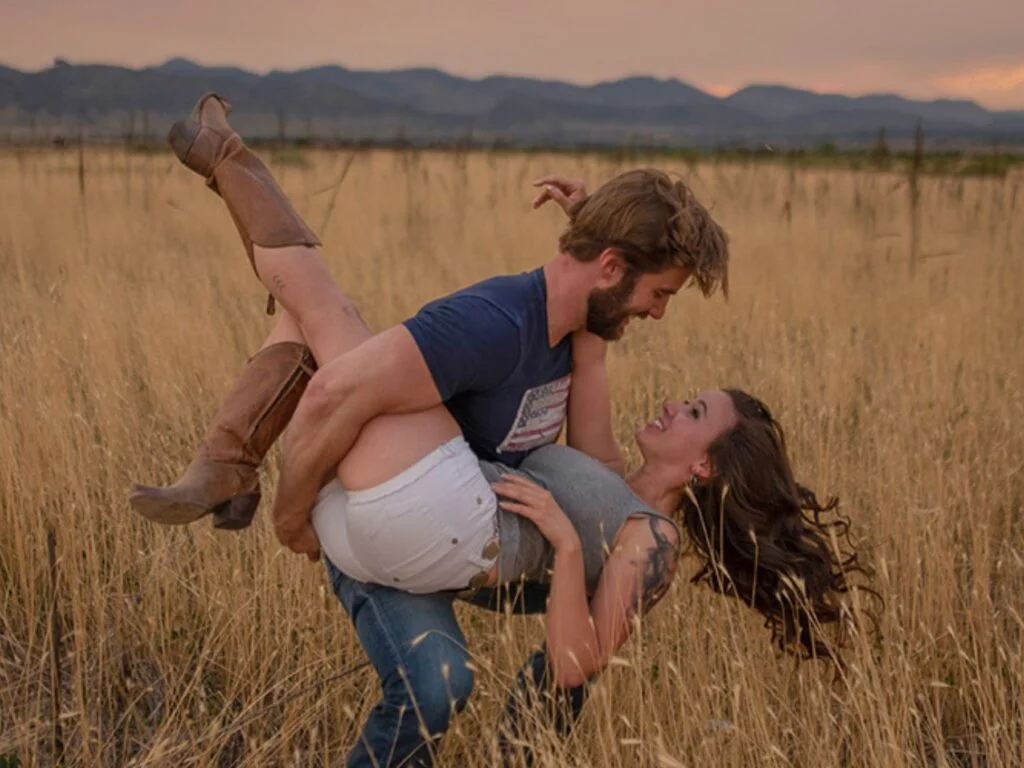 Helicopter Tour
You've likely appreciated the sparkling waters of Clearwater from the beach, but how about from the air? Tampa Bay Aviation offers helicopter tours throughout Tampa Bay perfect for celebrating a special occasion. Or, go all out with a surprise date Just Because. Flights depart from Clearwater and St. Pete and will give you a unique vantage point of your favorite local beaches and attractions.
You can even upgrade your flight to include chocolate covered strawberries, champagne and roses for an additional fee (sounds perfect if you're planning to propose, wink wink).
Tour options and prices vary, but begin at $102/couple for a short flight. The romantic add-on is an additional $99.
Take a step back in time to the roaring twenties at Ciro's Speakeasy and Supper Club. You won't find the venue easily, but here's a tip: the speakeasy is tucked inside the historic Bayshore Royal building. True to speakeasy form, you'll need to knock — and offer up the daily password — to get in. Private booths are available, too! Call (813) 251-0022.
Alternatively, head to St. Pete to check out Dirty Laundry. At first glance it appears to be a cafe and laundromat, but pick up the phone and obtain the password for entry to the speakeasy, accessed through a washing machine. The café at Dirty Laundry is currently open every day but the speakeasy section is only open Thursday-Sunday. Call (727) 493-0040.
Visit a Romantic garden
Meander flower-lined pathways and pack a picnic to enjoy at one of Tampa Bay's scenic and romantic gardens. You'll find flora and flamingoes at St. Pete's Sunken Gardens, a host of tropical palms and zen vibes at Gizella Kopsick Palm Arboretum, and spacious themed gardens at Florida Botanical Gardens.
Or, make the trek over to Sarasota to wander through the waterfront Marie Selby Botanical Gardens.
Sunset boat tours and cruises
One of the major perks of living close to the coastline is the abundance of sunset tours and cruises available. Pretend you're on vacation by reserving a spot on a local sunset dolphin watching cruise, dinner cruise or sunset sailboat tour. A few of our favorite local options are the Yacht Starship (with options to include dinner and dancing), the ParrotDise Express (sunset dolphin watching from Indian Rocks Beach), and the more intimate St. Pete Beach Sunset Cruise by Island Ferry St. Pete Beach, which is limited to just 6 passengers.
For more recommendations, refer to our post on Sunset Cruises and Tours for a Romantic Night Out.
Patio and Courtyard Dining
Take your food, drinks and conversation outside with this guide to outdoor dining in Tampa Bay. A few of our personal favorites include Ulele, Pia's Trattoria, and Red Mesa Cantina.
If you're in search of a dining spot with an extra romantic setting, head to a local restaurant that has garden or courtyard seating. Our guide to Gardens & Courtyards: Tampa's Prettiest Dining Spots includes several options.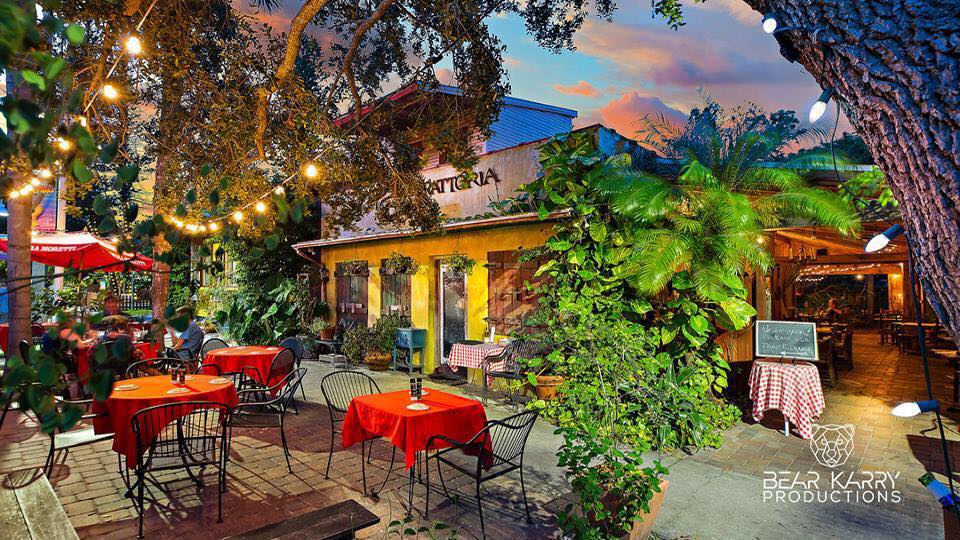 Want to feel super chic? Make a dining reservation at one of Tampa's three Michelin Star Rated restaurants.
See a show at The Straz
Impress your date with tickets to see a Broadway production at The Straz Center. Tampa's top performing arts center features an annual Broadway season plus a lineup of stand-up comedy performances, concerts, opera, and more each season. Check out what's on the calendar.
Riverwalk power boat rentals
Did you know you can rent a mini powerboat for two to cruise Tampa's waterways? Riverwalk Boating Company rents two-seat mini powerboats for $79/hour or $149 for two hours, as well as retro era (1958-1963) speed boats from $129/hour. Pick up your rental along the Riverwalk and then head out on a self-guided adventure in any direction you choose.
The boats go between 10-20mph, so plan for a relaxed trip on the water with your love.
ZooTampa Animal Encounter experiences
ZooTampa isn't just for the kiddos, it makes for a super date day as well. Couples can enhance the experience by booking an animal encounter. Get up close and personal with elephants, penguins, giraffes, Aldabra tortoises, koalas, manatees and more. This is the perfect surprise for the animal lover in your life.
Check out all of the available animal encounters here, Experiences start at $15 for members/ $20 for non-members.
Book a Private Cabana at a local resort
Have you heard of ResortPass? This website allows you to book day passes to visit local hotels and resorts without an overnight stay. For a more romantic experience, spring for a private cabana rental. You can lounge poolside with views of Tampa Bay at The Godfrey Hotel & Cabanas, switch between the pool and the beach at Hyatt Regency Clearwater Beach, hang out on the rooftop pool at Art Ovation Hotel and more.
Cabana rentals range in price depending on the property.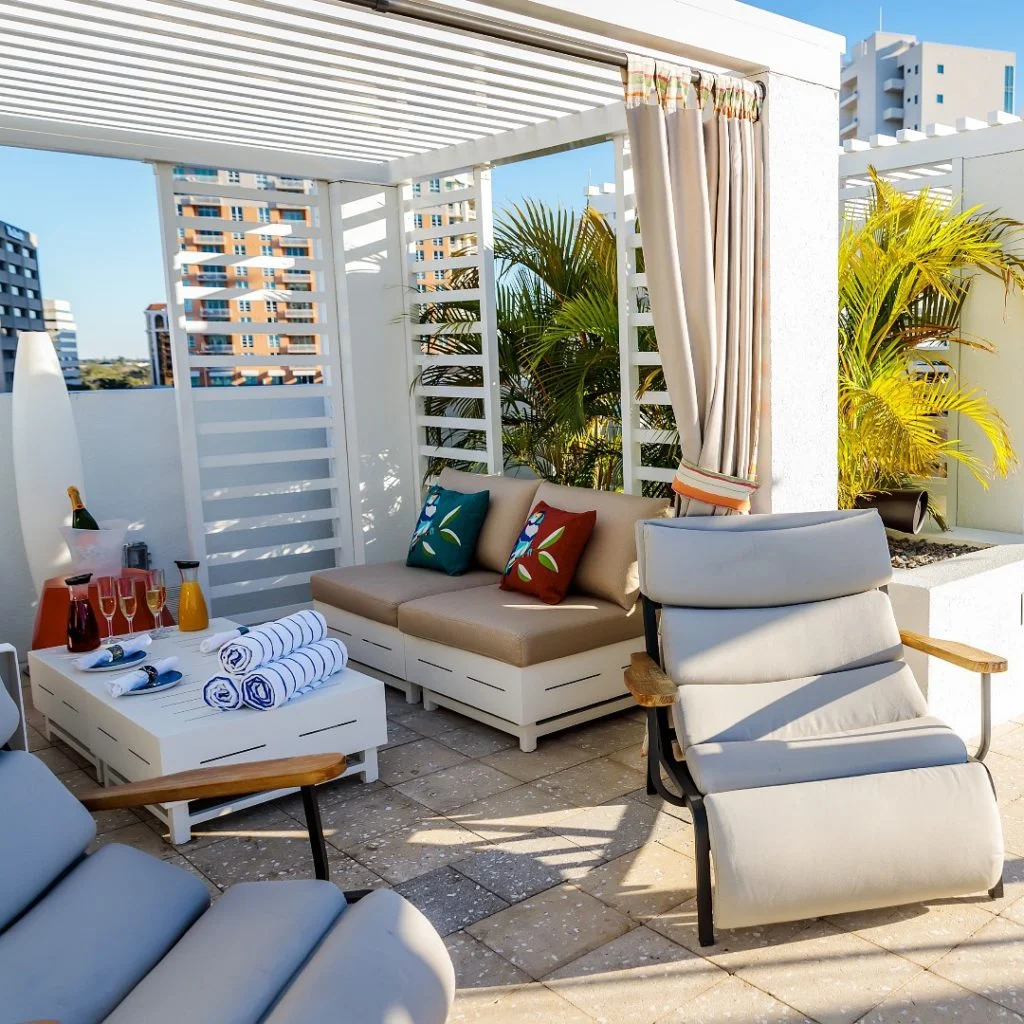 Couples Massages at a local spa
Several Tampa Bay area spas offer luxurious and unique options for couples. Book wine-inspired treatments at Spa Evangeline, unwind with a custom playlist and feel the bass through the massage table at The Rock Spa & Salon, or release stress together side by side in a spa suite at Spa Jardin.
Rooftop Drinks
Take in scenic views of the Tampa skyline or toast to a beach sunset at a local rooftop bar. We've got quite the assortment to choose from in the Tampa Bay area, from swanky beachfront bars to downtown terraces and cocktail lounges.
Try Pier Teaki on the St. Pete Pier for beautiful views and tropical crafted cocktails, M. Bird in Armature Works for sunset and skyline views, and Armani's Lounge when you're feeling extra fancy.
Book a Staycation
The Tampa area is home to plenty of great hotel options with a smaller, boutique feel that will set your stay apart from the big chains and their hundreds of rooms. Typically, boutique hotels are hotels with 10-100 rooms with a unique atmosphere. Check out our personal favorites in our Guide to the Best Boutique Hotels Across Tampa Bay.
Thanks to the plethora of nearby beaches, we've also got tons of resorts to choose from for a beachfront staycation. A few of our go-tos are the luxurious Don CeSar, the cozy Postcard Inn and the sprawling Tradewinds Island Grand Resort, all located along St. Pete Beach. Plan your next getaway with our comprehensive Guide to Tampa Bay Getaways.
Lastly, our Three Perfect Days getaway series is a resource for full itineraries, lodging recommendations, and tips on where to stay, plan and dine at multiple locales throughout Florida. We've covered Indian Shores, Anna Maria Island, St. Pete and Boca Grande, among others.
Wine Bars
Wine and dine your date, literally, by hitting up a cozy local wine bar for your next night out. Sip on a glass of your favorite red or white wine while sharing a cheeseboard and indulging in light bites. Get inspired with our list of the Best Wine Bars in Tampa for Date Night.
Sunset Dining + Drinks
Want to dine with spectacular sunset views? Located at the Grand Hyatt Tampa Bay, Oystercatchers makes for a romantic date to dine and watch the sunset. This upscale restaurant features a dockside lounge, outdoor deck & seating, a private beach and an interior that is framed by large windows.
Other local spots with sunset views include M. Bird, Santo's Drinkeria (rooftop venue at Casa Santo Stefano in Ybor) and Level 11 Rooftop Bar at the Bellewether Beach Resort in St. Pete Beach.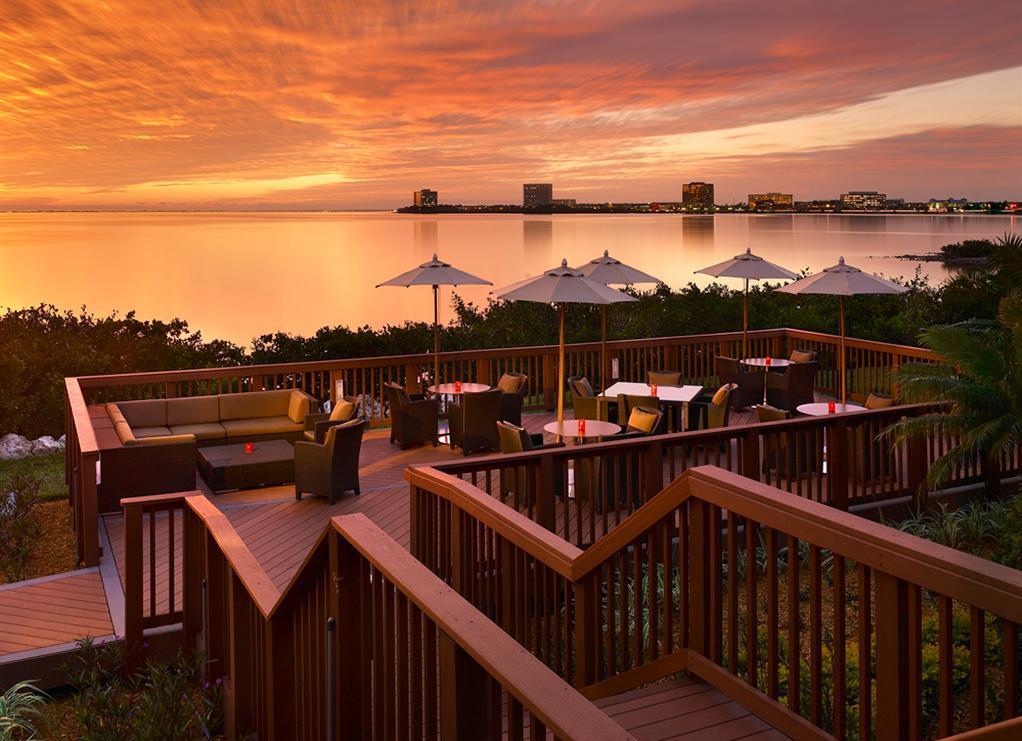 ---
Feature image credit: Get Up and Go Kayaking Tampa Bay