Located in the heart of St. Petersburg, La V Vietnamese Fusion is dishing out authentic and delicious Vietnamese cuisine to couples that can't quite afford to travel halfway across the country for the real stuff, or just looking to branch out from their regular date spots. Vietnamese food is not only hard to perfect, but is often hard to come by in the States. With that being said, Tampa Bay residents are lucky to have La V in their backyard.
La V offers a variety of local Vietnamese dishes, including the infamous Pho.
The standard bowl of Pho consists of a 12 hours stewed beef broth, rice noodles, slices of beef, white onion, green onion, and cilantro. It is served with a side of basil, lime, bean sprout, mint, jalapeno, and sweet and spicy sauces that you can choose to include in your warm bowl of goodness.
La V Noodle Soup, the restaurant's most popular bowl of Pho, includes slices of steak, meatballs, soft tendon, and beef flank. This dish is chewy, tasty, and like the menu advertises, is a perfect "hangover cure." If you are feeling run down from a crazy night spent with your significant other, La V has a dish that will have you feeling rejuvenated in no time. In addition, for those of you who steer clear of meat, La V has vegetarian and seafood pho options as well. All noodle soups cost around $12, which is a steal for the huge bowl that can often serve as two meals.

In addition to Pho, La V's menu is filled with many other delicious Vietnamese dishes including beef stew, fusion fried rice, chicken curries, spring rolls, and of course, the famous Vietnamese sandwich: Bahn Mi. The traditional Bahn Mi is made up of a variety of pork cold cuts, but La V also offers it with meats such as lemongrass chicken, sesame beef, sautéed shrimp, as well as tofu.
Aside from the meat, the sandwich also includes pickled carrots, daikon (radish), cucumber, fresh jalapeno, cilantro, and La V's secret smear served on a fresh, toasted French baguette. You can also add egg or avocado for extra cost. These sandwiches run for $6.50, making it a cheap, yet insanely delicious meal for couples to enjoy.

Aside from its cuisine, La V also offers refreshing beverages of all sorts.
They have Asian and Vietnamese beers, including Sapporo and Hanoi, cold and hot sake, wine, and last but not least, their famous Boba tea. Boba tea, or bubble tea, is originally from Taiwan but is popular all over Southeast Asia.
It is a thick substance, almost like a smoothie, complete with tapioca pearls that pop in your mouth when bitten. If the tapioca is a little too outside the box for you and you and your significant others' liking, you can substitute for pearls of fruit, lychee, or coffee jelly. The following flavors are some of the Boba tea options offered by La V: Almond, Banana, Blueberry, Coconut, Ginger, Green Apple, Green Tea, Honeydew, Java Chip, Pineapple, Rose, Vanilla, and White Chocolate. This is only a glimpse into the dozens of flavors available.
La V is the place to go if you're craving a little Vietnamese food or if you and your loved one just want to try someplace new. With a swanky interior design, cozy environment, and excellent food, you'll want to check out La V Vietnamese Fusion next date night. Trust me, you won't be disappointed.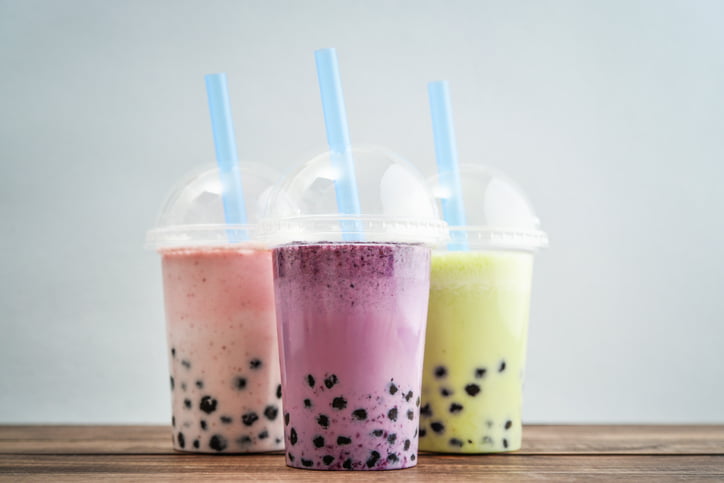 Address: 441 Central Ave, St. Petersburg, FL 33701
---