Nowadays, knowing your date's dietary restrictions is just as important as finding out their favorite movie or song. You want to make sure you and your significant other are stress-free when you sit down for a meal. I am gluten-free and my boyfriend is vegetarian, so we have to get creative when we eat out. Luckily, there are delicious and healthy diet friendly dates in St. Petersburg to make sure each of you leaves date night with a happy belly!
The mecca for healthy diet friendly dates! This Central Avenue hotspot offers 100% vegan and gluten-free comfort food. The cozy diner-inspired space has indoor and outdoor seating with bar stools, tables and couches giving it a chill vibe. Grab an avocado bagel and nut milkshake with cacao nibs for a light and casual date. If you're really hungry, I highly recommend the pulled bbq sandwich with coleslaw or tempeh reuben to satisfy your comfort food craving. Don't stop until you've tried an ice cream cookie sandwich or slice o' pie! I recommend parking downtown and either walking or taking a city bike here. Stop at local shops along the way!
Address: 2057 Central Avenue, St. Petersburg FL
This is the finest raw vegan restaurant in downtown St. Pete! The Cider Press Cafe is the perfect spot if you're up for a tastebud adventure together. You will eat food you've never tasted before and get to know each other a little better. The chic eatery offers Florida inspired, plant based cuisine. Nothing on the menu is cooked so that all ingredients maintain their natural taste and vitality. When you walk inside you'll be greeted by a 19th century apple press, the restaurant's mascot and best representation of its food philosophy. I recommend the buffalo bites or cuban platter. This would be fun for a lunch or dinner date.
Address: 601 Central Avenue N, St. Petersburg, FL
Located at the Sundial in downtown St. Pete, Locale Market is a gourmet market and farm-to-table immersion experience. You could spend hours here, and it's perfect for diet friendly dates! The bottom floor is a classic indoor market with gourmet prepared foods and grocery items. Order a freshly made dish from one of the food counters, grab some cheese and a bottle of wine, and wait for your prepared meal at a table outside. For a sit down experience, head upstairs to FarmTable Cucina. This Italian-inspired restaurant offers fresh cuisine with seasonal, regionally sourced ingredients. There's a full bar serving cocktails and wine, too. Top it all off with a coffee or Kombucha and walk just a few yards to AMC Sundial to catch a movie.
Address: 179 2nd Ave N, St. Petersburg, FL
Calling all Mediterranean food lovers! Oh yes, even all you gluten-free beauties! I have finally found a place that does not roll bread into their falafels. Zaytoon Grill is an unsuspecting flavor haven tucked away on Central Avenue. Owned by the Khalel family, the restaurant offers Palestinian-inspired food with flavors and recipes from the family's hometown in Jerusalem. This is the perfect spot for vegetarian and gluten-free couples who want a quick bite or carry-out order for perfect diet friendly dates. Be sure to ask for the spicy salsa and don't leave without the baklava!
Address: 1618 Central Ave, St. Petersburg, FL
Located just one block off Beach Drive, this trendy juice bar and healthy eatery offers acai bowls, cold-press juices, smoothies, and fresh snacks. If you love acai bowls, this is the best place to get one in downtown St. Petersburg. The price is just under $10 and it's all made right in front of you. We love coming here during the day for a bowl and juice then taking a walk along the water.
Address: 209 1st St NE, St. Petersburg, FL
And if you're looking for some other great St. Pete date ideas, check out our Ultimate Guide!
---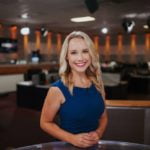 About the Author: Hilary Zalla is an Emmy award winning Traffic Anchor at 10 News in Tampa Bay. She is also a practitioner of Rocket yoga and a health advocate for Crohn's Disease patients. Originally from Cincinnati, she now calls St. Petersburg her forever home. The city stole her heart almost immediately when she met the love of her life the second week after she moved. Fast forward 3 years and you'll see Hilary and her boyfriend, Kalpesh Patel, all over the city. They love trying out new restaurants and bars, catching a movie in the park, hitting up weekend festivals and biking along the water. Hilary has Crohn's Disease and eats a gluten-free diet, so she brings a unique perspective to healthy date nights. Check back often for her fun and memorable date night recommendations! Follow along on her health and fitness journey on her blog www.lifeoutsidethelights.com.
Connect with Hilary on social:
Facebook: www.facebook.com/Hilary.Zalla
Instagram: Hilary Zalla