Prepare for the next best place to book your staycations! Clearwater's Karol Hotel is ready to open this Fall 2019! Led by Mainsail Lodging, The Karol Hotel will be the first Tribute Portfolio Hotel in Pinellas County!
Located in the Feather Sound area of Pinellas, The Karol Hotel will enchant each of its guests! The Karol will be home to 123 guest rooms, a restaurant, and the best rooftop bar for all the views. Not to mention, The Karol Hotel will also be home to a 2,500 sq. ft ballroom, a fitness center, a pool, and more!
The name "Karol" comes from Karol Kelly Bullard, the wife of Fred Bullard, CEO of The Bullard Group. The Bullard Group are in charge of developing the property. Why does this matter? Check out what Mr. Bullard has to say about Karol, "With her personality and drive, Karol was destined for greatness, whether as a radio DJ, finishing school founder or Florida's first weather woman. Now she devotes herself to various charities and philanthropies, generously working to support the arts, families, and children in need. It's just who she is." After hearing about Karol, the name just makes sense!
About the Rooms
Because The Karol Hotel celebrates the Bullard's serendipity, this new hotel will leave nothing to be desired! Due to the old Florida roots that the Bullard's hold dear, expect a hotel full of personality, charm, and perfection for countless memories.
In each of the rooms, enjoy a gorgeous palette of white marble, beige, grey, and stunning accents to bring out all things "Florida"! Enjoy blue carpets, feather motifs, and so much more to truly envelop you in a modernized version of what Old Florida truly means.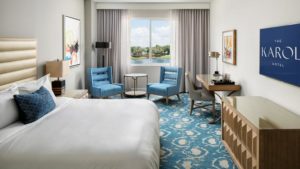 As previously mentioned, The Karol Hotel will be the first Tribute Portfolio Hotel to grace Pinellas County! Tribute Portfolio Hotels are a part of Marriot International Inc. and consists of a group of independent boutique hotels. These boutique hotels all offer something different to their respective areas and plays heavily on their respective communities. Tribute Portfolio Hotels take pride in connecting visitors to the places in which they stay.
Joe Collier, Mainsail Lodging & Development's president says: "The Karol Hotel is going to be a showcase property – in this market, in our collection, and in the Tribute Portfolio. The Karol will be a hideaway of classic, refined comforts, with a personality built on the charm, generosity, and tasteful indulgence of the finer things – the same spirit embodied by its namesake." He continues, "That makes The Karol a perfect fit!"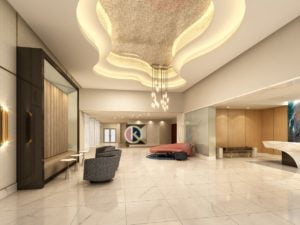 This Fall, be sure to check out The Karol Hotel for your chance to immerse yourself into a serendipitous paradise! Be sure to book your room, dine at the K Club Bar & Bistro, grab a drink at the Vantage Rooftop Bar, and relax. Not to mention, The Karol Hotel is only 15 minutes from Westshore and TIA providing easy access to all conveniences.
Featured Image Credit: Mainsail Lodging and Development
For more great hotel option around Tampa Bay, check out The Epicurean or the Hollander Hotel!