Take some time off or pick a weekend and head over to The Florida School of Woodwork for a day full of carving and tuning. The Florida School of Woodwork offers a totally immersive way for novelists and novices to enjoy woodworking in a safe, educational environment. Since its founding in 2004 by Kate Swann, the school has provided an environment with well-equipped workshops in a professional environment for anyone looking to sharpen their woodworking skills. The school's mission is all about the "soul-satisfying craft" that is woodworking and bringing both "thinking" and "doing" together.
The Florida School of Woodwork offers classes in a large workshop, located within the walls of a 1920's building right near the heart of downtown Tampa. In fact, the building is on the National Historic Register—talk about a cool spot to get your woodworking on!
The layout of the facility is manufactured in such a way that each student is doused in light and space so to make the best use of their time and projects. The facility is home to all of the equipment necessary to create almost any woodworking project—basically, supplies are in abundance, as well as hands-on instructors!
Once there, each student is assigned their own work area where they can work effortlessly on a suspended floor. Also known as a 'sprung floor', the suspended floor is a more comfortable platform to work and stand upon, allowing for sharp focus and focused thoughts, clear from painful toes after hours of standing! For any other need, while in the workshop, there is a small conference room with kitchen facilities and bathrooms. The space is also wheelchair accessible.

Within the school's walls, lie many tools, ready to be safely used to create your beautiful creation. Every single piece is maintained to the utmost care for proper use and safe handling. The tools are both high-end professional grade and small shop grade, perfect for those looking to experience different types of tools, to help you hone in on your craft. Some of the onsite tools and machinery include:
2 Saw top Table saws
20" Minimax bandsaw
20
Powermatic planner
20" Dewalt Scroll Saw
Oscillating spindle sander, belt sander
Multiple Festool dust collection and sanders
Bessey Clamps
Vacuum press
Drill Press
This is nowhere near close to the full list of equipment! They are fully stocked and ready for all of the woodworking and tuning you can imagine.
The Florida School of Woodworking offers a variety of classes perfect for everyone! Classes are organized by date and time with detailed information regarding the specifics of the class as well as a photo of what you may be creating. There is also a search bar at the top of the page with a Keyword search by specific creation as well as by date.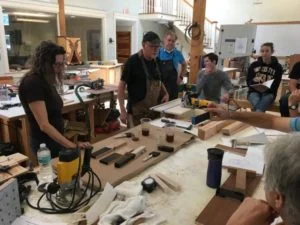 Try something new this summer and head over to The Florida School of Woodworking! Take the time to create something incredible to 'wow' your friends and family and put your hands to good use! Happy Woodworking!
Featured Image Credit: Tampa Downtown Partnership