Florida is famous for our lovely beaches, but we've got a few springs around that are definitely some of our best hidden treasures. If you're looking for a date that's perfect for the hot summer days Florida is also known for, head to Rainbow River Springs! Here, you'll find yourself having a day full of fun in the sun.
Check out Rainbow River Springs
Rainbow River is a spring located in Dunnellon, Florida. That's less than a two hour drive from Tampa, making it the perfect location for a day trip. For tubing, you'll want to head to K.P. Hole, making the drive in the morning to be at the there bright and early. In the summertime, the park will close once the parking lot is full, so make sure you plan to arrive early! Usually, the lot is full by around 10am in the summer months, so the earlier the better.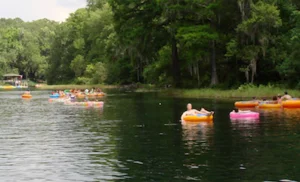 Once you make it to the springs, you'll have the choice to rent a tube or use your own! If you'd like to bring a tube, make sure it's less than 60 inches in diameter to comply with park rules. You can also bring food and drinks along for the ride, as long as it's all in reusable containers. Here's a tip: a lot of coolers will float, so you can even bring a small cooler along to keep your snacks chilled. However, it would be best to bring your own flotation device for the cooler to ensure it floats.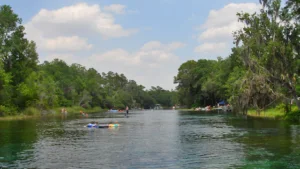 You'll float down the river in your tube for approximately 4 hours. To make sure you and your significant other stay together, you can tie your tubes together with rope. As you float,, you'll see some Florida wildlife, including birds, fish and more. There may even be some rope swings you can use to jump into the river. The float itself is fairly slow and relaxing. with an average water temperature of 72 degrees keeping you cool.
At the end, you'll exit the river at the tuber's exit. Here, there will be a shuttle that will take you and your float back to the starting point where your car is parked.
The details
To tube down the Rainbow River, there is a $20 fee including park admission, the shuttle ride back to the starting point, tube rental and tax. If you bring your own tube, the fee is $12 including park admission and the shuttle ride. Additionally, the last ticket sales will occur at 12:45pm and you must be on the river by 1pm. The last shuttle will run at 6pm. You can find more information and frequently asked questions here.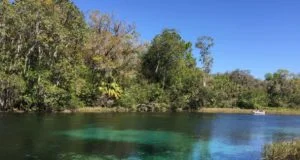 Feature Image Credit: therainbowriver.com