It's time for all things springtime and Easter! Lucky for us, there are tons of events in and around the Tampa Bay area to celebrate. Our guide to Easter Events for 2023 covers all things from egg hunts to Easter Bunny photo ops and more.
Looking for somewhere to enjoy some Easter eats? Check out our guides to our favorite local restaurants for Easter Dinner in Tampa, our favorite spots to enjoy Easter brunch, and the best Easter buffets.
Easter Events in Tampa Bay
April 7-9 from 9 am – 7pm
Expect decorations, photo ops and tons of holiday activities at Raprager Family Farms this Easter. They're doing a fun combo hay ride/egg hunt this year to control crowds, but there will be more than 50,000 eggs over the course of the weekend. The field will be restocked for each group. Tickets are $15 per person, with kids 2 and under free.
Saturday, April 1 from 9am-1pm
Head to the farm to celebrate the holiday with photo ops with the Easter Bunny, an Easter cow, egg hunts, farm animals, farm tours and more! General admission tickets are $15 for all guests 2 and older. It's an extra $5 for the Easter egg hunt. They are also offering a Tea Party with Alice and White Rabbit for an additional $15 as well!
Saturday, April 1 from 11am-2pm
KRATE and Life Church are teaming up to host a free community egg hunt along with a day filled with fun family-friendly activities! There will be 100,000 eggs hidden throughout KRATE for you to find, a rock climbing wall, obstacle course, carnival rides, and more!
Saturday, April 1 from 11am-2pm
Celebrate Easter and snap photos with the Easter Bunny (pets are welcome, too!) for a suggested $10 donation. There will be other fun activities including an Easter egg hunt for $5 for dogs and kids -there will be several timed Easter egg hunts for kids, toddlers and dogs!
Saturday, April 1 at 1pm and 3pm
Take a tour of the Mary-Stringer House and take part in one of two timed Easter egg hunts! It is free to take part in the Easter egg hunt, but you can also go on a tour and experience the indoor bunny hunt for $10 (ages 13 and up) and $5 (ages 6-12). Make sure to bring your own blanket and snacks.
Saturday, April 1 from 6pm-9pm
Head to Safety Town for an evening of Easter themed fun! There will be a glow-in-the dark Easter egg hunt, free Easter bunny photos, dinner, face painting, a petting zoo, touch-a-truck and so much more. Tickets are $18 for adults and $7 for kids.
Sunday, April 2 from 1pm-4pm
BYOB — Basket! There will be three egg hunts at the Westchase Recreation Center. Register for which time you'd like at $15 per kid. There will be entertainment for the family including a DJ, face painting and pics with the Easter Bunny.
Friday, April 7 from 9am-11am
We picked this event as a top pick since it's so unique! There will be an Easter Egg hunt in the sand, photos with the Easter Bunny and bagged breakfast. It's $10 for visitors and FREE for Beach Club guests.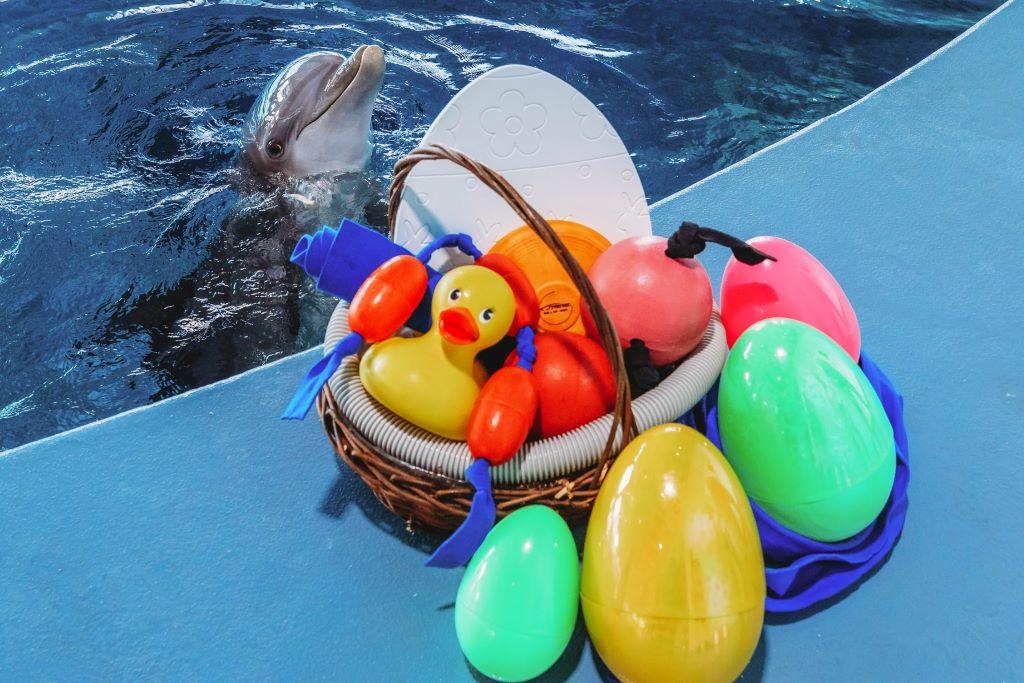 Friday, April 7- Sunday, April 9
DK Farms and Nursery is hosting several Easter egg hunts each day for three different age groups. There will also be plenty more farm activities like a free petting zoo, bunny zone, photo opps and of course, meet and greets with the Easter Bunny. You can also pay extra for pony rides. Learn more here and book your ticket since a pre-ordered ticket is required to participate in the Easter egg hunt.
Saturday, April 8 at 10am
The Harley-Davidson store is hosting an Easter event that will feature free photos with the Easter Bunny from 10am-12pm and then timed Easter egg hunts beginning at 12:30pm. Make sure to bring your own basket. There will be 1,000 Easter eggs for kids to find!
Saturday, April 8 from 7:30 – 9 pm
Egg hunts aren't just for kids! Join the after dark egg hunt at Boyd Hill Nature Preserve this year to get in on the fun. Prizes include walking trail passes, gift baskets and vouchers to St. Pete shops and restaurants. Cost is $10 per person to join the hunt and participants must be 18 and up.
Saturday, April 8 from 9am-1pm
This massive Tampa Easter Event includes an egg hunt for adults! All participants must register and obtain their age cards before hunting for any eggs. Age card ranges: 3 and under, 4-8, 9-13, 14-17, and 18 and over (Grand prize is a Downtown Staycation! Recipient must be 18 years or older to claim.
Saturday, April 8 and Sunday, April 9
During the Spring Festival, attendees will experience free family-friendly entertainment acts, including Silly Sam, a Bubble Sphere Show, DJ performances, Kid Bands and more. On Easter Sunday, attendees are invited to the mega Easter Egg Hunt with the Easter Bunny to collect more than 20,000 eggs filled with candy and toys for the kiddos. The Rockin Roller Rink will also be open during the festival for attendees that wish to skate around with the Easter bunny.
Sunday, April 9 from 11am-3pm
Armature Works will be once again hosting its annual Easter egg hunt, but you'll want to purchase your Eventbrite tickets in advance for Hop on the Lawn to secure your spot. The egg hunt will take place on the West Lawn and there will be multiple time slots to ensure it doesn't get overcrowded. Each wave will include 100 kids between the ages of 3 and 10. There will be separate egg hunts for kids younger than 3. You can also purchase a $10 pass for unlimited bounces in the kid zone, take free photos with the Easter Bunny and more!
Featured image credit: St. Pete Pier