ANNUAL GUIDE TO THE BEST THINGS TO DO FOR EASTER IN TAMPA!
It's time to celebrate springtime and Easter. Our official guide to things to do for Easter in Tampa 2023 is full of fun. There's something for every couple to enjoy in the city this year, from joyous events to sumptuous Easter brunch.
Below you'll find ideas for Easter 2023 divided into these categories:
Saturday, April 8 from 7:30 – 9 pm
Egg hunts aren't just for kids! Join the after dark egg hunt at Boyd Hill Nature Preserve this year to get in on the fun. Prizes include walking trail passes, gift baskets and vouchers to St. Pete shops and restaurants. Cost is $10 per person to join the hunt and participants must be 18 and up.
Saturday, March 25 from 10:00 am to 4:00 pm 
Kids and families can enjoy a wide array of activities to celebrate the holiday at the Florida Pioneer Museum. The Easter bunny and egg hunts for each age group will be available. Beyond this, families can expect a petting zoo, games, food vendors and complimentary family photos. Tickets are $10 for adults and $5 for kids.
Saturday, April 1 from 11am-2pm
Celebrate Easter and snap photos with the Easter Bunny (pets are welcome, too!) for a suggested $10 donation. There will be other fun activities including an Easter egg hunt for $5 for dogs and kids -there will be several timed Easter egg hunts for kids, toddlers and dogs!
Saturday, April 1 at 1pm and 3pm
Take a tour of the Mary-Stringer House and take part in one of two timed Easter egg hunts! It is free to take part in the Easter egg hunt, but you can also go on a tour and experience the indoor bunny hunt for $10 (ages 13 and up) and $5 (ages 6-12). Make sure to bring your own blanket and snacks.
Saturday, April 8 from 9am-1pm
This massive Tampa Easter Event includes an egg hunt for adults! All participants must register and obtain their age cards before hunting for any eggs. Age card ranges: 3 and under, 4-8, 9-13, 14-17, and 18 and over (Grand prize is a Downtown Staycation! Recipient must be 18 years or older to claim.
St. Pete Pier Spring Festival and Easter Egg Hunt 
Saturday, April 8 and Sunday, April 9
The St. Pete Pier recently announced this new event – while we wait for details on what to expect, be sure to save the date!
SUNDAY, APRIL 9, 10 A.M. TO 3 P.M.
Join Wyndham Grand Clearwater Beach this Easter Sunday for a special brunch at Ocean Hai! Brunch includes a variety of food stations including charcuterie, sushi and brunch classics. Enhance your brunch with bottomless mimosas for $10. Take in the spectacular Gulf views and enjoy fun for the whole family with Easter Egg Hunts available at select times. $65 adults, $30 kids 5-12, *4 & under complimentary with a paying adult.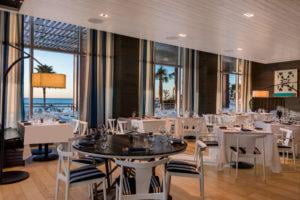 SUNDAY, APRIL 9 
The Easter Bunny is ready to welcome you and the family aboard the Yacht Starship for a family-friendly dining cruise! In addition to your meal and live entertainment, the Easter Bunny will be hopping around to take photos with everyone. There are brunch and dinner cruise options at the Tampa and Clearwater locations. Prices start at $69.95 plus taxes and fees for adult brunch cruises and $54.95 plus taxes and fees for kids. Yachtstarship.com
Sunday, April 9 from 3pm-9pm
SHOR American Seafood Grill at the Hyatt Regency in Clearwater Beach is hosting an Easter dinner for locals to enjoy. Take in the beautiful views of the Gulf of Mexico as you indulge in a buffet of holiday favorites including chilled seafood, charcuterie, and more. Pricing has not been listed for this event yet.
For waterfront views, head to the Rusty Pelican for a four-course Easter brunch in Tampa Bay from 10am-4pm. They are also offering Easter dinner from 5 pm-9 pm. Easter brunch is $82 for adults and $35 for kids.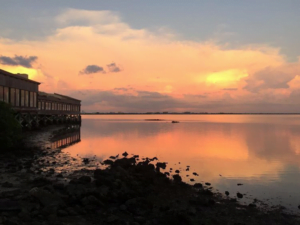 Pack an Easter Picnic
Tampa Bay is home to dozens of scenic parks and trails that serve as the ideal setting for a romantic picnic — the perfect free things to do in Tampa for Easter. Pack up some gourmet cheese, meats and snacks and set up your own DIY feast with a scenic park as your backdrop. A few of our favorite options include Curtis Hixon Waterfront Park, Vinoy Park, Lettuce Lake Park ($2 entry fee) and Gizella Kopsick Palm Arboretum.
Wat Mongkolratanaram Buddhist Temple 
Looking to do something out of the ordinary? Wat Mongkolratanaram of Florida (Wat Tampa) is a gorgeous waterfront Buddhist Temple that's free to visit. The best day to go is on Sunday for the weekly Sunday market, which features an assortment of Thai food plus Thai tea and coffee. The market typically runs from 9am-1pm, but this year they're hosting their Songkran festival and will be open 9am to 3pm on Easter Sunday. You can also visit the main Temple when the grounds are open to the public, but make sure to respect Temple etiquette as outlined here.
Sunrise at Ballast Point Park
If you don't mind rising early, make your way to Ballast Point Park to take in a beautiful sunrise over Hillsborough Bay. Stroll out along the 600-foot pier, soak up the views of the Tampa skyline, and bring along a picnic breakfast to enjoy afterwards. There are multiple picnic tables and open space throughout the park to sit and stay awhile.