One of the absolute best ways to celebrate the Florida lifestyle is to dine on the water. Thankfully in Tampa Bay we have plenty of seafood restaurants and great places to dine and watch the sunset. And for one of the best restaurants for waterfront dining in Florida, Crump's Landing is worth a day trip.
Crump's Landing is a sprawling restaurant and entertainment venue that is the perfect destination for a day out. Whether you head out for a date together or have kids along with you, it's going to be a great time. As a Florida native, I absolutely love waterfront restaurants like this. The sparkling water, the casual food, the tropical music and decor, and the frosty drinks, it all adds up to Florida paradise.
Keep reading for all the highlights including the best things to order from the menu.
Crump's Landing at Homosassa / Crystal River
One of the most beautiful destinations near Tampa is Crystal River, and right next door is Homosassa. This town is located on the Homosassa River. There's air boating and manatee spotting to enjoy. And the Homosassa Springs Wildlife State Park is worth a visit – where you can see manatees year-round!
It's all about a 75-minute drive from Tampa, and totally worth it!
With tiki-thatched roofs and tropical music wafting over the air, Crump's Landing brings together everything we love about living in Florida. There is plenty of parking and the seating is all outdoors. On hot summer days there is plenty of shade and cold drinks. And on rare chilly nights, there are heaters and fire pits.
If you love the Florida lifestyle and fresh seafood, you're going to have a great date here.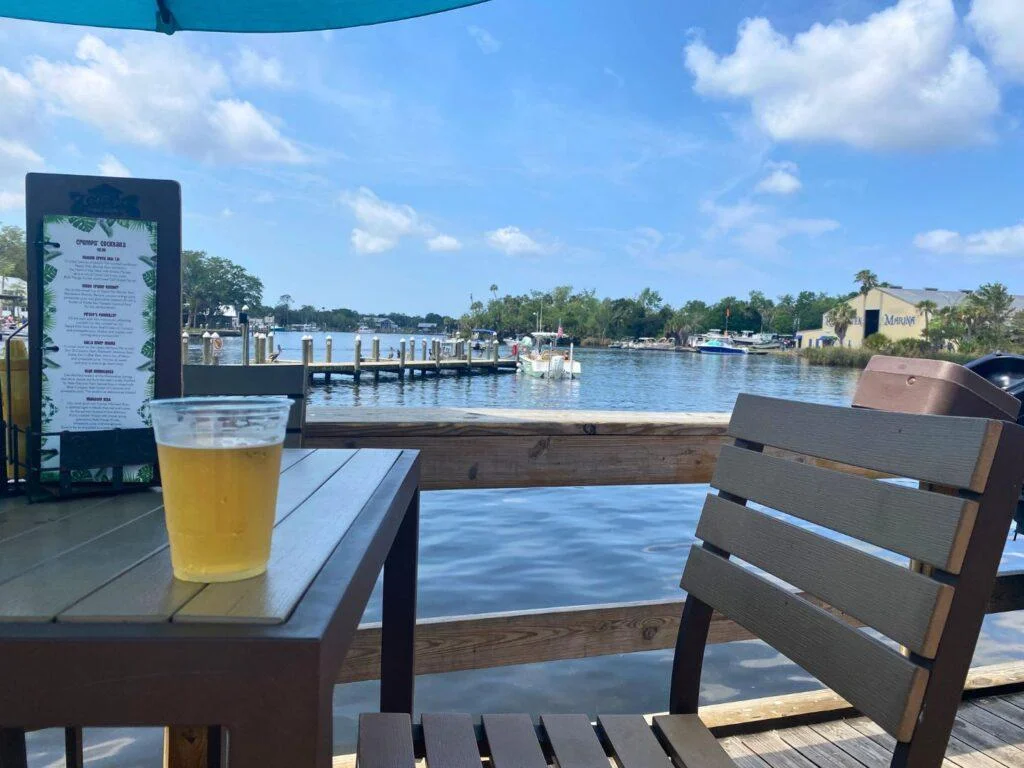 Dining at Crump's Landing
With a gorgeous waterfront location, Crump's Landing could easily have simple food and let the location do the talking. But I am happy to report the food at Crump's Landing is outstanding!
We started off with an appetizer platter for sharing called Crump's Pick Three, and we selected Gator Bites, Fried Pickles, and Cajun Popcorn (crawfish tails). As a party of five this appetizer gave us enough to share.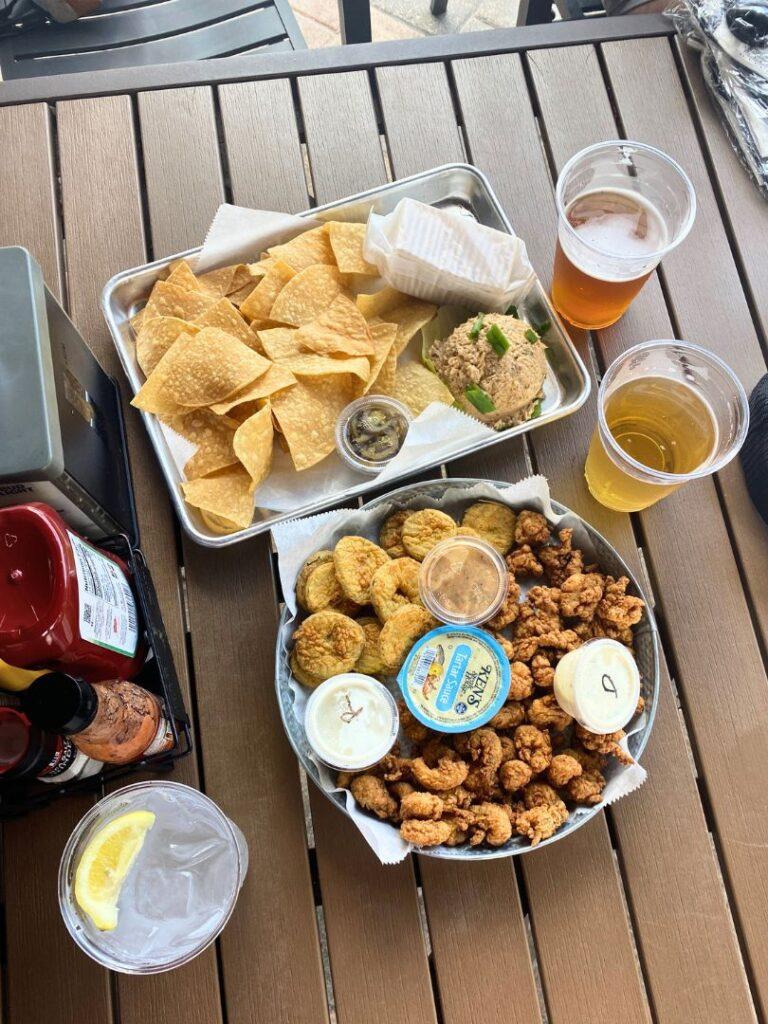 Of course, you'll find casual eats like burgers, fried shrimp, and sandwiches on the Crump's Landing menu. The fried grouper basket is a Florida staple. And yet there are elevated dishes like the Polynesian Style Ahi Tuna – which my husband absolutely loved. He ate every last bite with delight.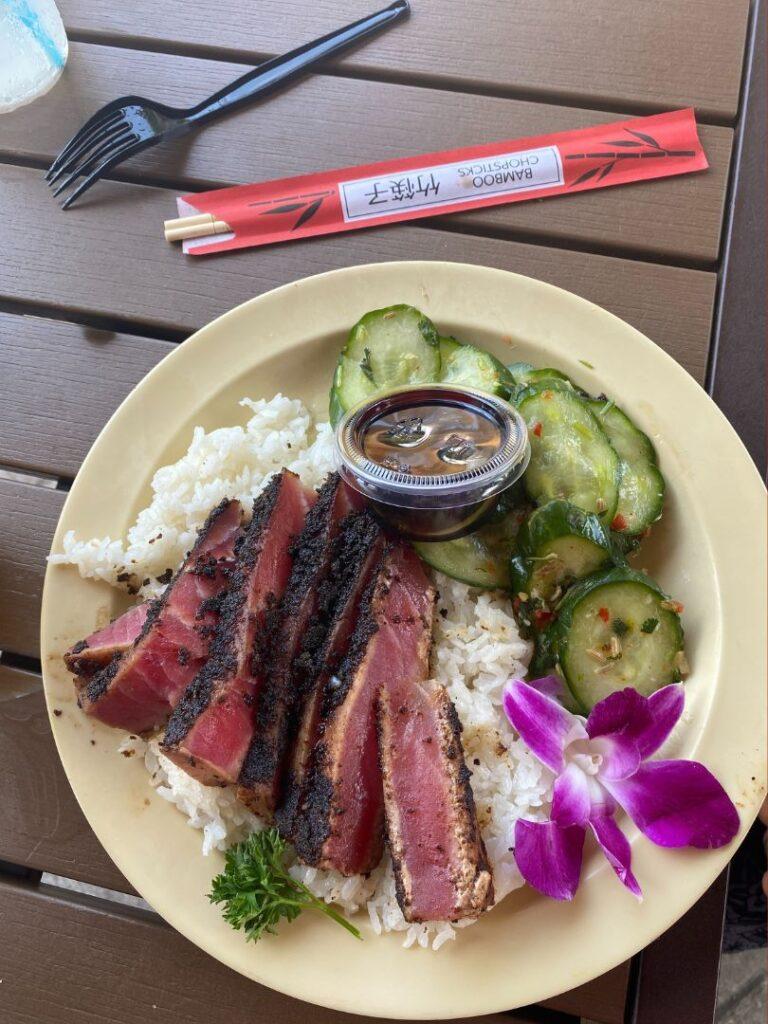 Crab Cakes are a big deal in my family. I am a Florida native, going back many generations on my father's side. But my mother's side of the family hails from Baltimore, Maryland – a place that makes the most phenomenal crab cakes. We've learned over the years to set our expectations low if we order a crab cake anywhere in Florida.
And yet the Crab Cake Sandwich at Crump's Landing is a creation so unique it is absolutely worth mentioning. As I bit into my crab cake sandwich the blend of sweet and spicy flavors delighted me. It's a great choice for any seafood lovers who want something different.
The cocktail menu at Crump's Landing is almost overwhelming. And the draft beer selection changes based on what's fresh and seasonal. You can also enjoy many of the cocktails without alcohol – the tropical mojitos are a great choice for a nice mocktail!
Playground at Crump's Landing
We arrived 15 minutes before opening time which is 11:30am, and asked for a table near the playground since our five year old son was with us. The pirate-themed children's play area is small and could use a bit of a facelift, but it still enabled us to relax and dine while our son had fun.
The entertainment lineup includes five nights a week of live music, with a special Kid's night on Wednesdays featuring a live DJ and complimentary face painting.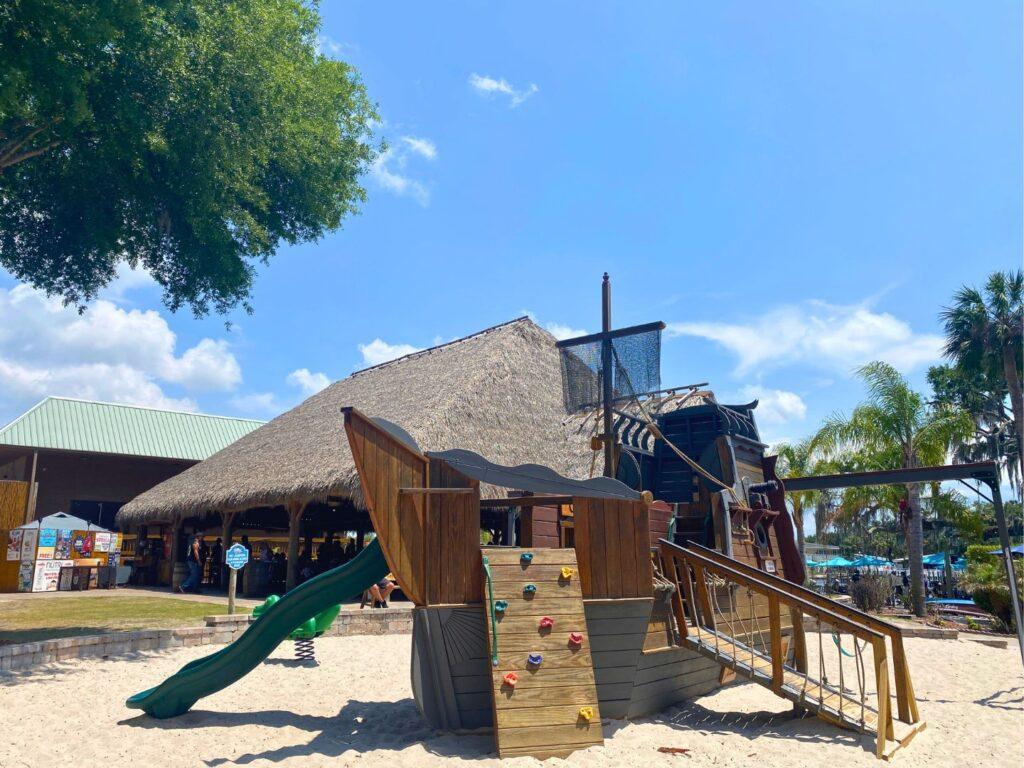 Besides the playground, there are multiple sand areas for playing. The beach areas have corn hole boards and Adirondack chairs providing a relaxing spot to soak up the sun and enjoy the stunning river views.
And if you're feeling adventurous head out on an airboat ride! PT Airboat tours on the Homosassa River is part of the Crump's Landing complex.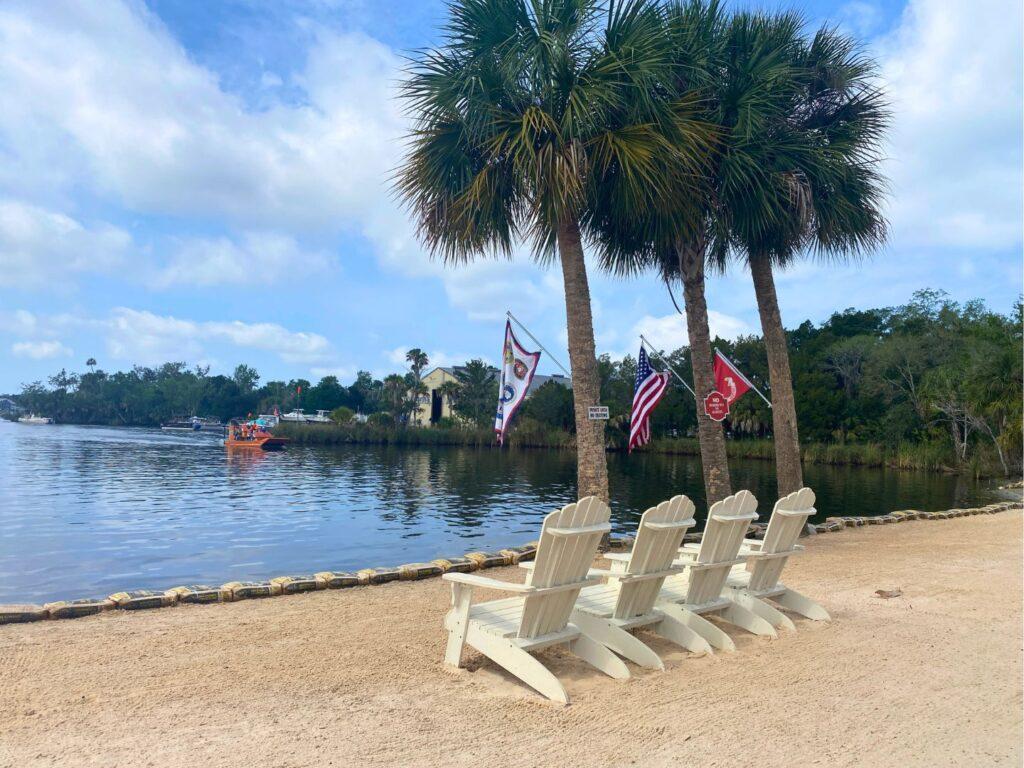 Cabana Rentals
Make it an awesome birthday party or anniversary celebration with a private rental Cabana or the 20×30 tent option. These cabanas are perfect for larger groups or for those looking for a more intimate experience.
There is also a dance area and boat slip parking for up to 40 boats making it easy to get out on the water and enjoy the beautiful Homosassa River.
If you're interested in hosting a private cabana party, the staff are happy to help! Simply contact Crump's Landing in advance to reserve a cabana (at least 10 days' notice is required).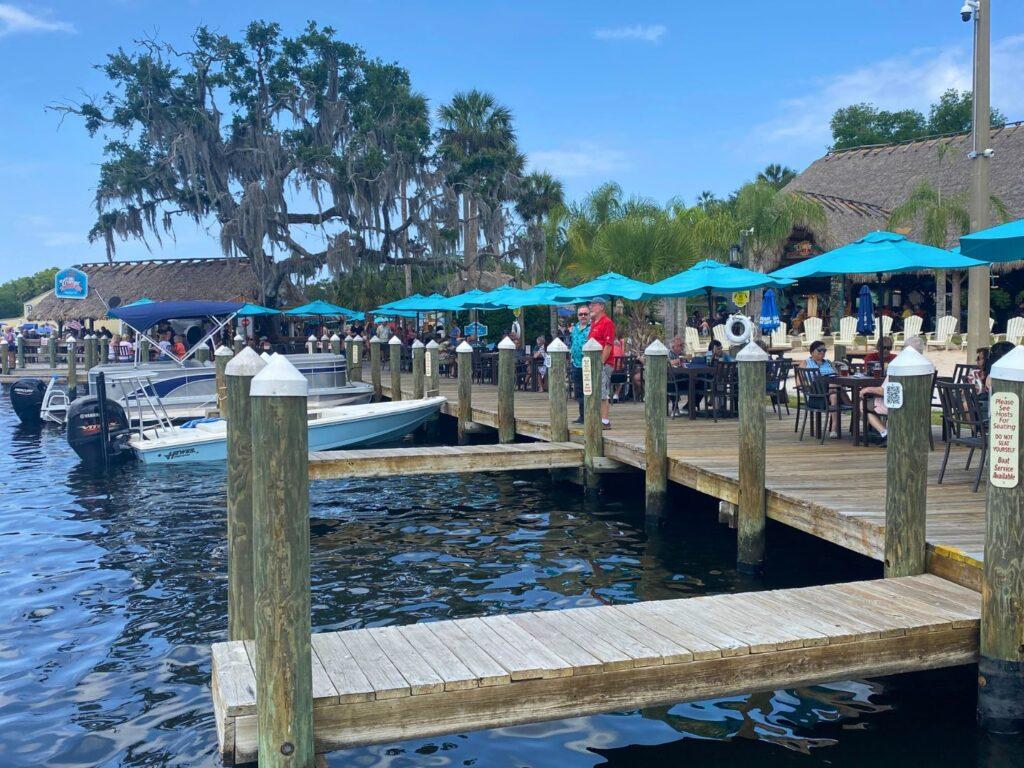 Important Info
Crump's Landing
11210 W Halls River Rd, Homosassa, FL 34448
(352) 765-4942
Hours:
Saturday 11:30 AM–11 PM
Sunday 11:30 AM–10 PM
Monday Closed
Tuesday 11:30 AM–10 PM
Wednesday 11:30 AM–10 PM
Thursday 11:30 AM–10 PM
Friday 11:30 AM–11 PM
Please note that at this time, they do not accept reservations or online waitlists.