Being near the ocean, it's no surprise that Tampa has some amazing seafood restaurants serving up fresh seafood straight from the Gulf. Whether you're looking for fine dining, waterfront, or casual spots, there are plenty of places to get your seafood fix. Our favorite seafood restaurants in Tampa include classic spots in Tampa itself, and a few highlights nearby.
While there is no shortage of seafood restaurants around town, we've narrowed down our top ten places to check out for a delicious date day or night. And if being out in the fresh air is your focus, you can also jump over to our favorite outdoor dining in Tampa.
Our Top Ten Favorite Seafood Spots
Frenchy's
The Salty Crab & Grill North Beach
Crabby's Beachwalk Bar & Grill
400 Beach Seafood & Tap House
Parkshore Grill
Carvor's Fish House
Olde Bay Cafe
Jackson's Bistro, Bar, & Sushi
Oystercatchers
Big Ray's Fish Camp
Multiple locations – Clearwater and Dunedin
Frenchy's is a staple in the Tampa area. The original location opened in 1981 and has since expanded to multiple restaurants and cafes, a specialty to-go spot, and even a hotel. It's a great place to check out for an evening ate or during the day straight from the beach. They're known for their famous Grouper Sandwich and their menu is filled with other fresh mouthwatering items like the She-Crab Soup, Cracked Conch, and Fried Shrimp.
Make sure to keep an eye out in October for their annual Snow Crab Festival.
Certain locations – especially Frenchy's Rockaway Grill – can get busy during seasonal times and on weekends so be patient. We promise, it's worth it!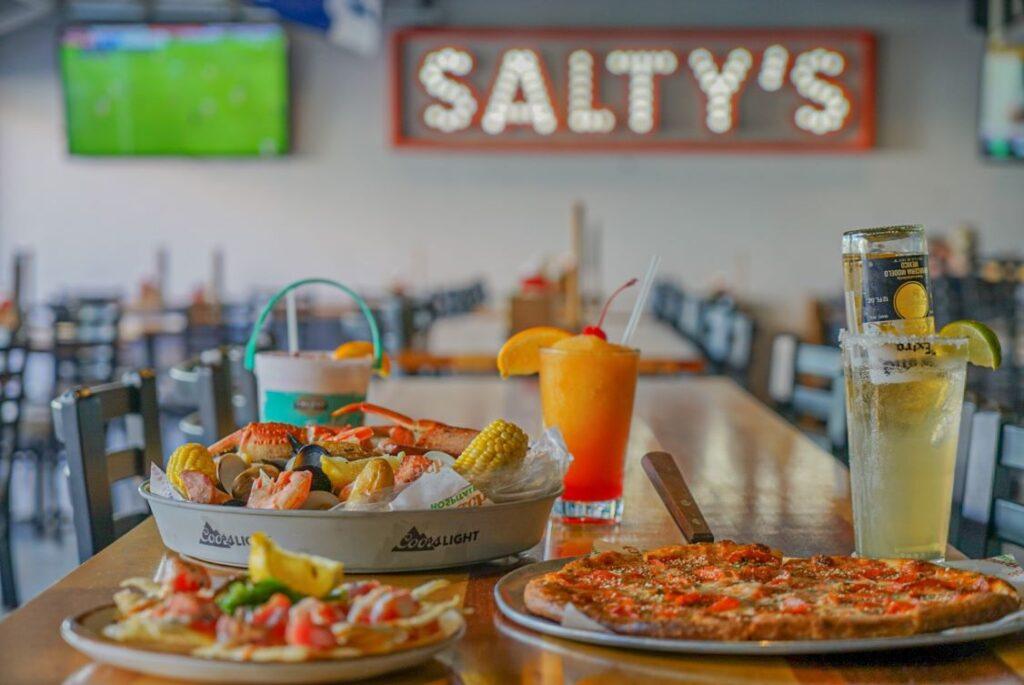 462 Mandalay Ave., Clearwater, FL 33767
Salty's is a casual joint and is a great place for a laid-back day date (or night) or to catch the game on one of their bar TVs. They serve breakfast with a menu that includes items such as Crabby Benedict and Grouper and Eggs. If you're there for lunch or dinner, you can't go wrong with the Ahi Tuna Nachos, Seafood Pasta, Hogfish Snapper, Shrimp or Crab Boils, or their 1.5 pounds of Bairdi Crab.
ou can wash it all down with a shareable cocktail bucket or Ultimate Bloody Mary with Bacon and Shrimp.
333 S. Gulfview Blvd, Clearwater, FL 33767
Located in the heart of Clearwater Beach, Crabby's has become a tradition for locals and visitors. It's the perfect spot to grab lunch or dinner after a day at the beach or for a romantic date night watching the sun set over the Gulf. Their seasoned Easy Peel Shrimp and Crab and Spinach Dip are staples on their menu. Other must-try options include their Garlic Mussels, seafood boils, Salmon BLT, Fish and Chips, and Florida Grouper.
Wash it all down with a refreshing glass of their world-famous peach and strawberry white sangria.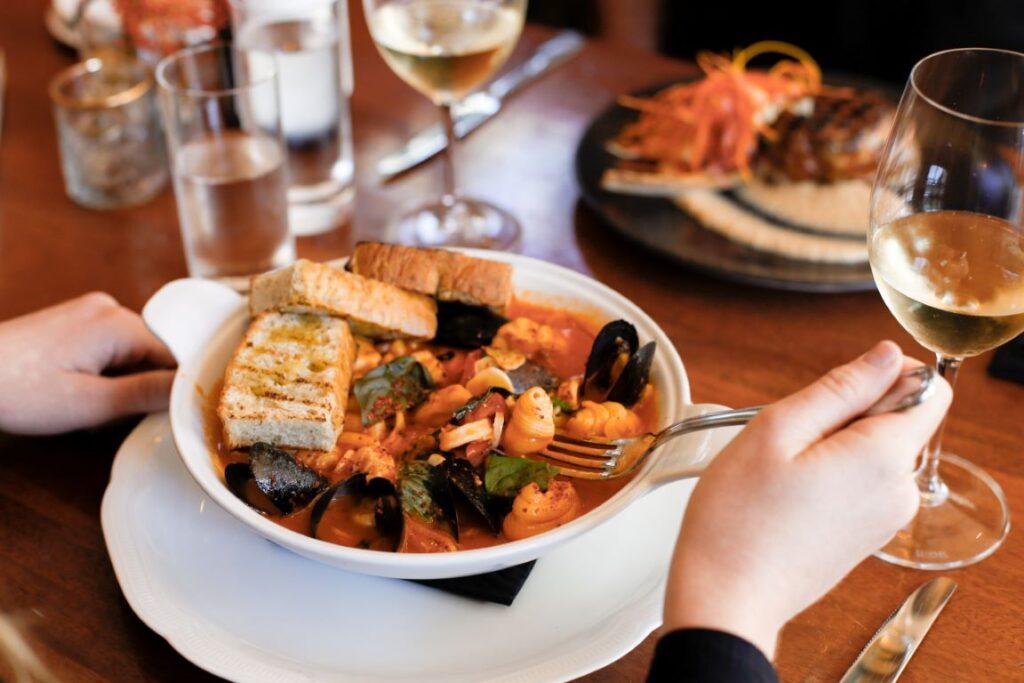 400 Beach Drive NE, St. Petersburg, FL 33701
Across the street from the St. Pete Pier, you can find 400 Beach Seafood & Tap House. Their menu puts a strong focus on local farmers and ranchers and features food with an upscale American flair. Relax indoors or out while taking in the waterfront views of St. Petersburg and enjoy a selection from their raw bar or one of their signature entrees such as Blackened Shrimp and Grits, Cioppino, or Florida Grouper Oscar. They also offer salads and sandwiches like the Blackened Fish Sandwich and New England Lobster Roll.
Planning a date during the day? Their lunch menu is served seven days a week and features items like Crab & Avocado Toast, Salmon Benedict, Fish Tacos, and a Fried Chicken and Oyster Tower.
300 Beach Dr. NE, St. Petersburg, FL 33701
This award-winning St. Pete favorite is open for lunch, dinner, and weekend brunch and serves up Contemporary American Cuisine. Their ambiance is cozy, with mahogany walls and waterfalls inside and open-air dining outside. Start off with their Jumbo Lump Blue Crab & Grouper Cake or their Sauteed PEI Mussels or something from their raw bar.
Dive into one of their main entrees like the Blackened Yellow Fin Tuna, Lobster Pasta, or Roasted Scottish Salmon while taking in the waterfront views.
907 Douglas Ave, Dunedin, FL 34698
Carvor's serves up prepared dishes and lunches daily and have quickly become a fan favorite since opening their doors in June of 2018. Grab some of their smoked fish, salmon, or crab and cheese spreads, Conch Fritters, Salmon Burger, Crab Cake Sandwich, or one of their fried baskets.
You can also grab some specialty take-home items from their case like the Crab N' Shrimp Seafood Salad, Scallop Skewer, Teriyaki or Italian Scottish Salmon, Key Lime Pie Bar, and more. It's a great spot to grab and go for a relaxing and romantic picnic on the beach.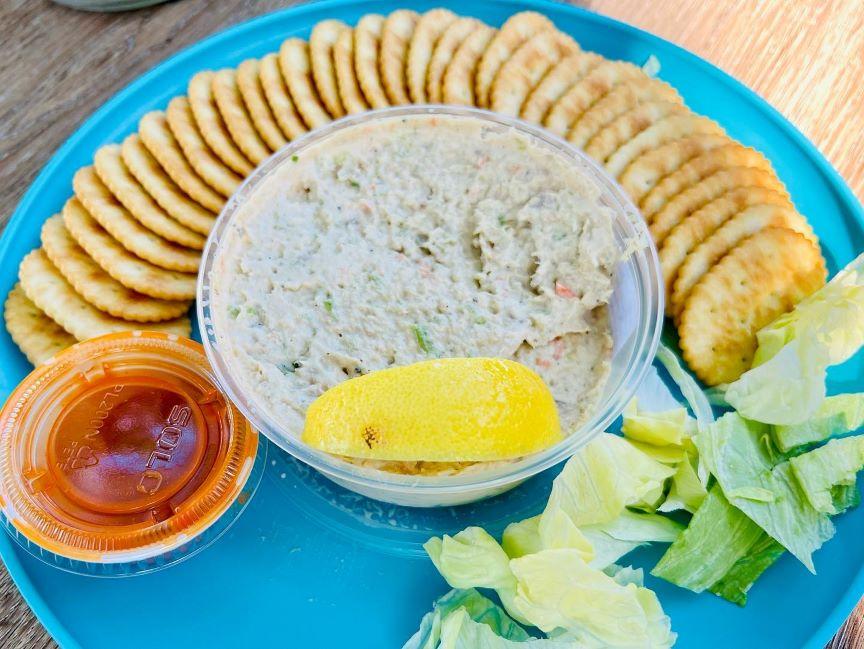 51 Main St., Dunedin, FL 34698
This outdoor waterfront cafe is simple but the menu is anything but. In addition to their savory menu, they're known for their perfect marina views. Catch some sunshine or watch the sun set while enjoying Stone Crab Claws, Ahi Tuna Poke Bowl, or their famous Olde Bay Peel & Eat Shrimp.
They also have a menu full of soups and salads, sandwiches and wraps like the Blue Crab Salad Roll or the Blackened Scallop Wrap, or their seafood samplers and fresh catch of the day.
601 S Harbour Island Blvd, Tampa, FL 33602
Situated along the waterfront just outside downtown Tampa, Jackson's serves up classic American fare. Their menu is filled with seafood options such as oysters, coconut shrimp, crab cakes, grouper, salmon, and much more. They also have an extensive menu of sushi including specialty rolls, poke bowls, and sashimi.
Pair with one of their handcrafted cocktails and it makes for the perfect date night. It's also an ideal spot to catch dinner before heading to a Lightning game or concert at Amalie Arena.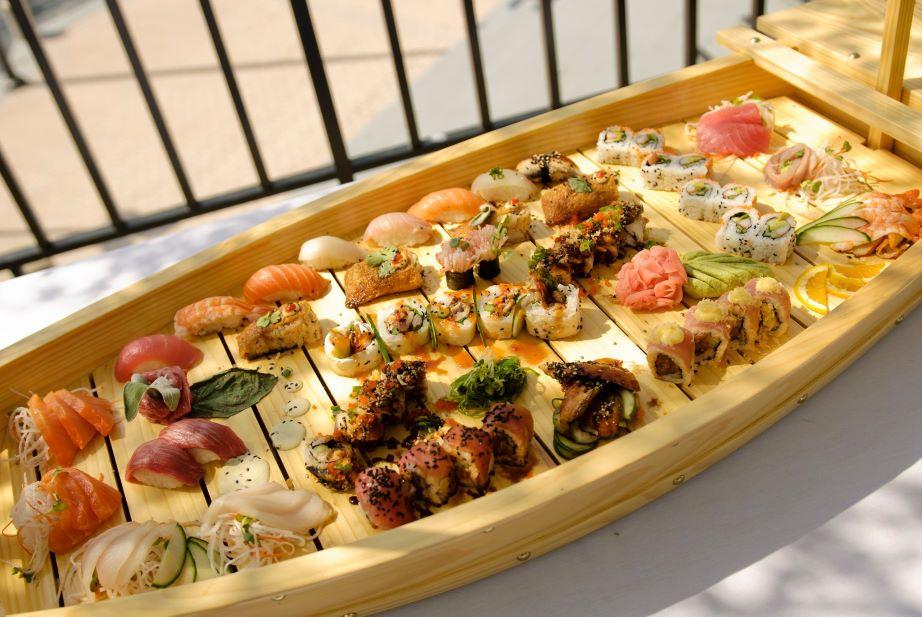 2900 Bayport Dr., Tampa, FL 33607
Oystercatchers has been a Tampa seafood institution since 1986 and is known for its incredible menu and Sunday brunch. They're famous for their raw bar which includes a variety of oysters, ahi, shrimp, octopus, and lobster. Indulge in one of their signature dishes like the Halibut and Miso, Pan Seared Scallops, or Cedar Plank Verlasso Salmon accompanied by one of their shareable sides such as Whipped Cheese Potatoes, Kung Pao Brussel Sprouts, or Five Cheese Mac and Cheese.
It overlooks Tampa Bay and it's hard to be seated without an amazing view. Outside sits a private deck with patio seating and inside, a wall of windows overlooks the water from the interior.
DISCOVER: Best Places to Watch the Sunset in Tampa Bay
6116 Interbay Blvd., Tampa, FL 33611
This laid-back casual spot has an outdoor bar and cafe and is perfect if you're looking for something off the beaten path. This hidden gem is tucked away in Tampa's Ballast Point neighborhood and while the menu isn't huge, the flavor is. Nosh on their Smoked Fish Dip or Conch Fritters and follow it up with a Shrimp Po' Boy or Grouper Reuben.
Make sure to polish it all off with a piece of their Fried Key Lime Pie.
HONORABLE MENTION: Salt Shack on the Bay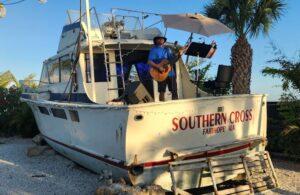 Looking for more restaurants for a date night around Tampa Bay?
Check out Best New Tampa Bay Restaurants for Couples.