Most people know that winter is the best time to see manatees. But where can you see manatees in Florida, any time of year? The answer is Homosassa Springs Wildlife Park.
Spark some romance and hit the road. A day trip is a great way to connect with your honey. Put together a playlist, grab a few of your favorite road trip snacks, and make the hour and 20-minute drive to Homosassa Springs Wildlife Park. There are multiple roadside stops along the way if you want to make it a real road trip, plus other springs and parks nearby if you'd like to make it a weekend getaway.
Updated October 2022
Homosassa Springs Things To Do
There is so much to love about Florida's State Parks, and Homosassa Springs Wildlife Park is a shining example of what makes our state parks so special. You get a little bit of everything here — natural springs and a river view, wildlife, boardwalks, and walkways. It's pretty easy to explore the 200 acres of this park.
Underwater Observatory of the "Bowl" – manatee and fish viewing
Wildlife Walk – view multiple habitats, home to rescued wildlife
Lu the resident Hippo
Visitors Center – showcasing this park's storied history
Springs at Homosassa Springs Wildlife Park
Trails and boardwalks
We parked in the parking lot on US Highway 98. This parking lot has a Welcome Center with restrooms, a small shop, and a few exhibits showcasing the park's history of nearly 100 years. From here we boarded a tram that drove us down to the park's visitor center and entrance. Expect crowds on the weekend. After purchasing our tickets ($13 per person), we passed through the doors and into Florida's beauty.
The Underwater Observatory in the "Bowl" of the springs is one of the very first attractions added to this park during its early years. In 1968 the underwater "fish bowl" was installed, back when this park was a roadside attraction, rather than a state park. This bowl is a great place to start your day.
By visiting the Underwater Observatory first, we caught some views of manatees in the wild before they moved on in the afternoon. We also enjoyed the boardwalk leading up to the Underwater Observatory. There are multiple photo opportunities here.
This simple spot, billed as a floating observatory, was once a main attraction for this part of the state of Florida.
After viewing the manatees and plethora of fish, we continued walking past the observatory, towards the river. Soon we came to a lovely wooden pavilion that enabled us to look out over the Homosassa River. Plenty of boaters enjoyed the weekend and safely moved slowly along the river to be mindful of manatees and other wildlife. It's important to enjoy the spring water safely.
We backtracked and followed the walkway along the riverbank. We saw turtles sunning themselves on logs and a few more manatees in the wild. Hiking along the park's walkways is fairly easy.
We noticed a few people crowding along a bridge-like structure and soon found that this is where some of the rescued manatees dwell.
Animals at Ellie Schiller Homosassa Springs Wildlife State Park
There are lots of animals to see at the Wildlife Walk. This winding walkway makes a complete circle, so there's no way to lose your way. All the animals along this lovely Wildlife Walk are rescued from various places around the state. As much as possible, such wildlife is rehabilitated and sent back into the wild.
However, if it is not safe for an animal to return to the wild for whatever reason, it finds a home here. Along our walk, we spotted Florida alligators, river otters, pelicans, flamingos, owls, deer, black bears, a Florida panther, and more. What a cool mix of native Florida wildlife and other fascinating creatures.
Some might compare this part of the park with visiting a zoo, and the experience is similar, but to see a sample of Florida's diverse wildlife in one spot like this is truly special. Speaking of special, you won't be able to overlook Lu the Hippo. A former animal actor, Lu is over 60 years old. He is a reminder of when this land was used to show off animals that were trained to perform in movies and television. Hippos certainly are not a Florida animal, but Lu the hippopotamus is considered an honorary Florida resident.
What a way to enjoy a blend of old school tourist attraction and beautiful natural habitat in Florida.
Special note – Homossas Springs Wildlife Park is adorned with Christmas lights in a few spots during the holiday season.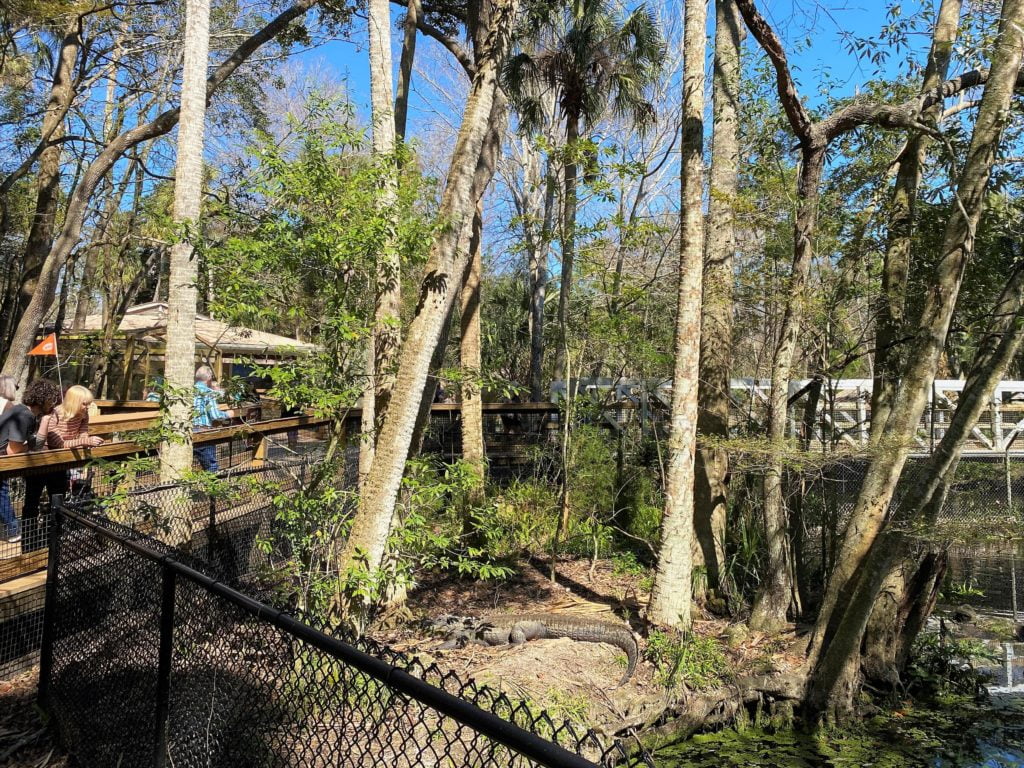 Where to See Manatees in Homosassa Springs Wildlife Park
One of the must-do experiences in Florida is seeing manatees in the wild. These native animals are so special. When entering Homossa Springs park, head to the left to the Underwater Observatory. Both inside the observatory and along the boardwalk leading to and from the observatory you may spot some manatees.
First thing in the morning and cool weather days are your best bet for catching views of manatees in the wild at Homosassa Springs. However, you can also view a few rescued manatees that remain at the park year-round. Their habitat is near the center of the park.
The manatee programs at this state park are crucially important.
Due to multiple environmental reasons, including over-development throughout Florida, wildlife experts are concerned about the increased mortality rate of manatees. One way to bond together is to do some good together, so I would encourage you and your honey to learn more about manatees and how we can help them.
Where else can you see manatees in Florida?
Practicalities: Parking, Food and Beverage, and Restrooms
Don't expect anything fancy at this state park. However, there are plenty of creature comforts. There are restrooms near the center of the park, as well as the Welcome Center at the Highway 98 parking lot, and the Visitors Center that you must pass through before entering the park itself.
There are two parking lots – one off County Road 490 and the other on Highway 98. Since we came from Orlando it was easiest for us to park at the parking lot on Highway 98. This is where the Welcome Center is, and where you will board a tram to head to the park entrance itself. The trams come and go about every 15 minutes. There is also usually boat transportation, but this is temporarily unavailable.
The parking lot off County Road 490 is smaller, but it does put you next to the park's actual entrance and the Visitor Center, with the ticket counters. At this visitor center, there is a casual cafe with sandwiches and snacks, as well as a gift shop. Some of the t-shirt designs in this shop are fun and attractive.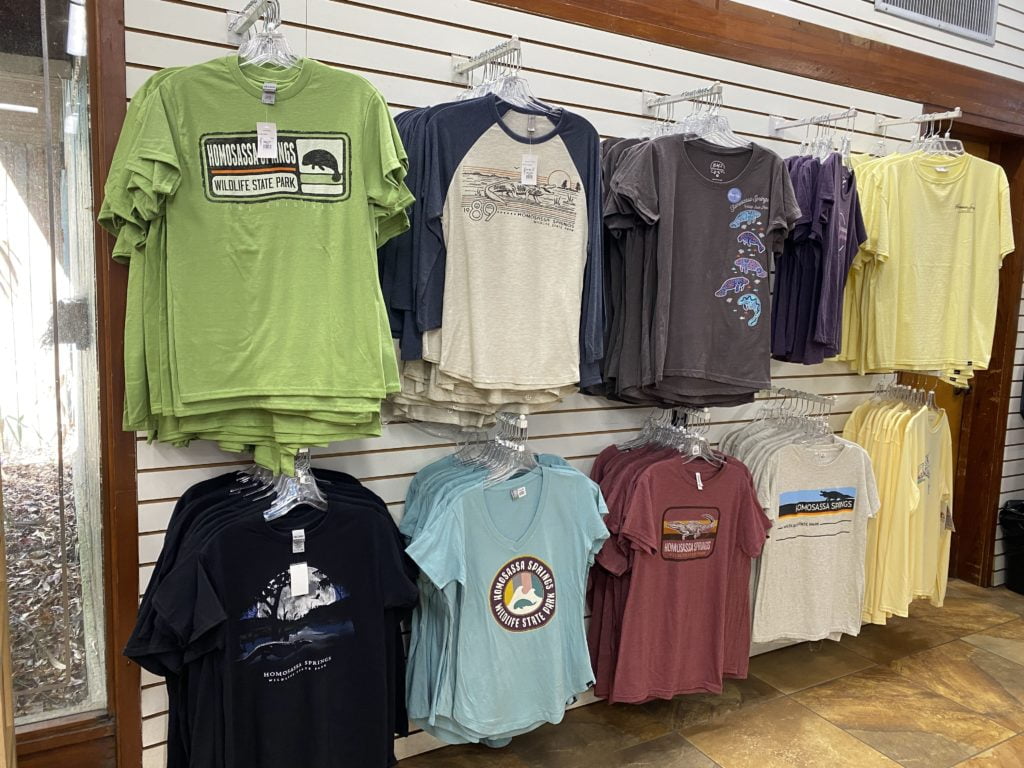 Dogs are not allowed in the park, but there is a kennel at the Welcome Center where your pup can hang out while you explore.
There is also a small snack stand near the center of the park. This is a good spot for a midday snack with cold drinks, ice cream, hot dogs, and other quick snacks.
Pack some water to keep yourselves hydrated. You don't want to feel rushed as you explore this lovely park.
What's Near Homosassa Springs State Park
Driving to Homosassa Springs Wildlife Park from Tampa takes about an hour and 20 minutes. It's not a very quick trip, but it is worth the drive. And if you want to make it a full day or a full weekend getaway there is plenty nearby.
Within 10 – 20 minutes drive of Homosassa Springs State Park, you'll find plenty of other parks, activities, and restaurants.
This state park is also an easy trip from Cedar Key, Florida if you're looking for a relaxing weekend getaway.
Dress comfortably and enjoy being in Florida's natural beauty, together.