Just south of Tampa, you can find a slice of paradise that will make you feel like you're on an exotic tropical getaway. Anna Maria Island is just a little over an hour away from the Tampa Bay area and is filled with some of the best beaches on the west coast. Whether you're just looking for a day trip or want to get away for a few days, Anna Maria Public Beach and other beaches on Anna Maria Island can help you relax and escape reality.
Anna Maria Island Beaches
Coquina Beach
Cortez Beach
Holmes Beach
Bean Point
Bradenton Beach
Manatee Beach
Bayfront Park Beach
Beer Can Island Beach
Important info: Since AMI is in fact an island, traffic on and off the island can be gruesome on weekends. Try to get to Anna Maria Island by 9am if possible to avoid traffic.
What is the best beach on Anna Maria Island?
The answer depends on what you're looking for. We love that Holmes Beach, Bradenton Beach, and Manatee Beach are walkable to each other. Bayfront Park Beach is one of the best Anna Maria Island beaches if you're bringing kids along.  More details on each beach are below.
Coquina Beach
Located on the southern tip of Bradenton Beach, this family-friendly beach is named after the tiny shells that can be found nuzzled in the sand on the island. In addition to the white sands and turquoise waters, it's surrounded by Australian pine trees that help keep the walkways cool. Amenities include parking, restrooms, picnic tables, and more.
On Wednesdays and Fridays, there is a pop-up farmer's market featuring local goods and fresh food. You can also explore along the boardwalk and bike path and grab a bite or enjoy a drink at one of the nearby restaurants such as the Coquina Beach Cafe.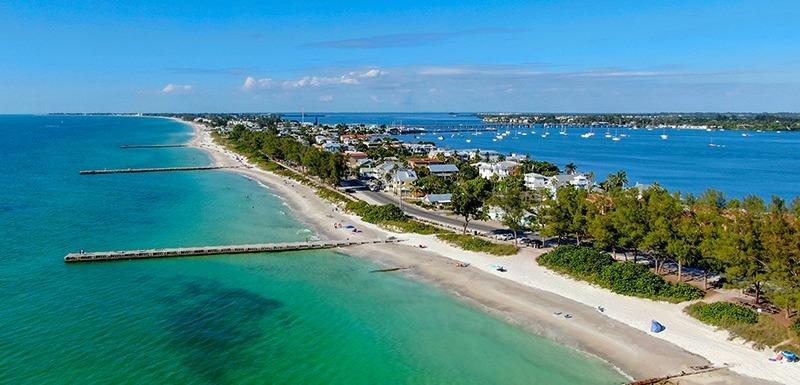 Cortez Beach
South of Bridge Street in the Historic Area, you can find Cortez Beach. Known as one of the best spots to catch a sunset, Cortez Beach is not as wide, and is typically less busy than some of the other beaches.
Three piers stretch out from the powdery white sand into the ocean which are designed to protect the beach during heavy rains and storms. They also help to provide some of the best waves on the island. Fishing is also abundant on Cortez with snook, trout, and snapper being among common catches.
Holmes Beach
Holmes Beach is one of the quietest little stretches of beach on Anna Maria. The crystal-clear water is ideal for surfing, bodysurfing, and bodyboarding. There are a few parking spots but it's also very walkable from Manatee Beach and Bradenton Beach.
Plenty of beachfront restaurants and shops lined up along the sand to check out once you've had your fill of the sun.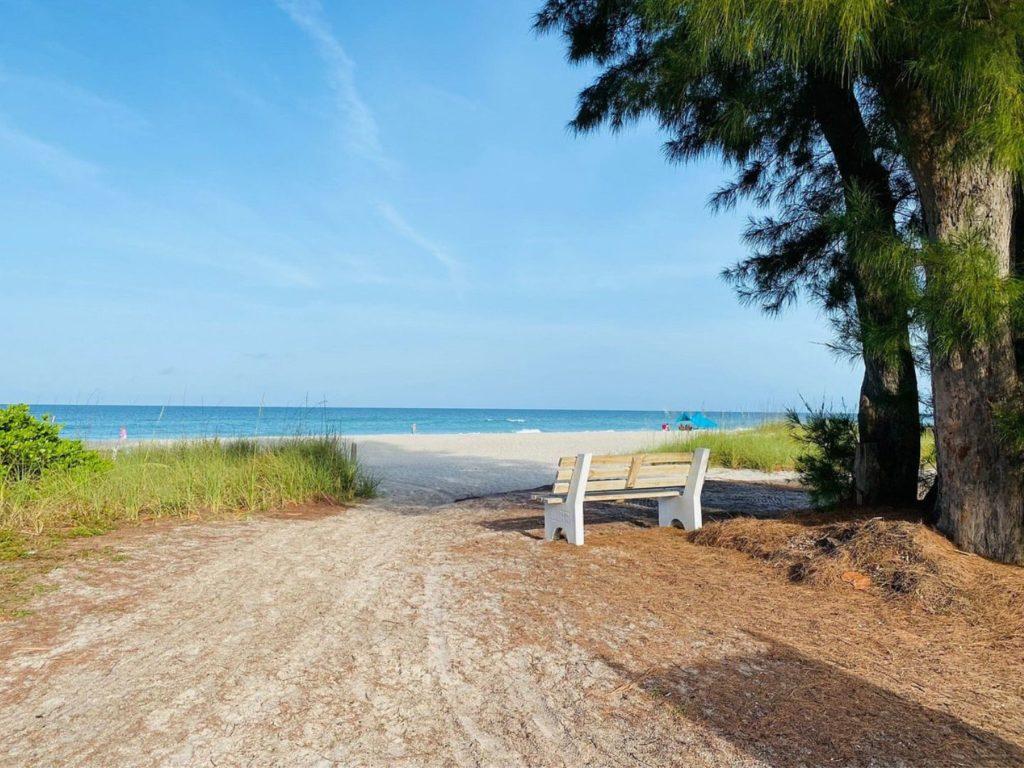 Bean Point
Up towards the northern end of Anna Maria sits Bean Point. This spot offers wide open views of the Gulf toward St. Petersburg and is known for its array of wildlife. It's typically a lot less crowded than other beaches and visitors can usually catch a glimpse of dolphins, birds, stingrays, and other wildlife.
There aren't any lifeguards and being on the north end, the current is strong, so swimming is not recommended. However, the serene atmosphere, white sands, and killer sunsets make it the perfect spot for a romantic stroll.
Bradenton Beach
For a livelier atmosphere, check out Bradenton Beach. The wide, long stretch of beach is walking distance to Holmes Beach and Cortez Beach and has tons of great shops, casual dining spots, and ice cream parlors.
Bradenton Beach House Restaurant is even said to be one of the best waterfront restaurants on Anna Maria Island. If you're feeling adventurous, you can even go jet-skiing, kayaking, or parasailing.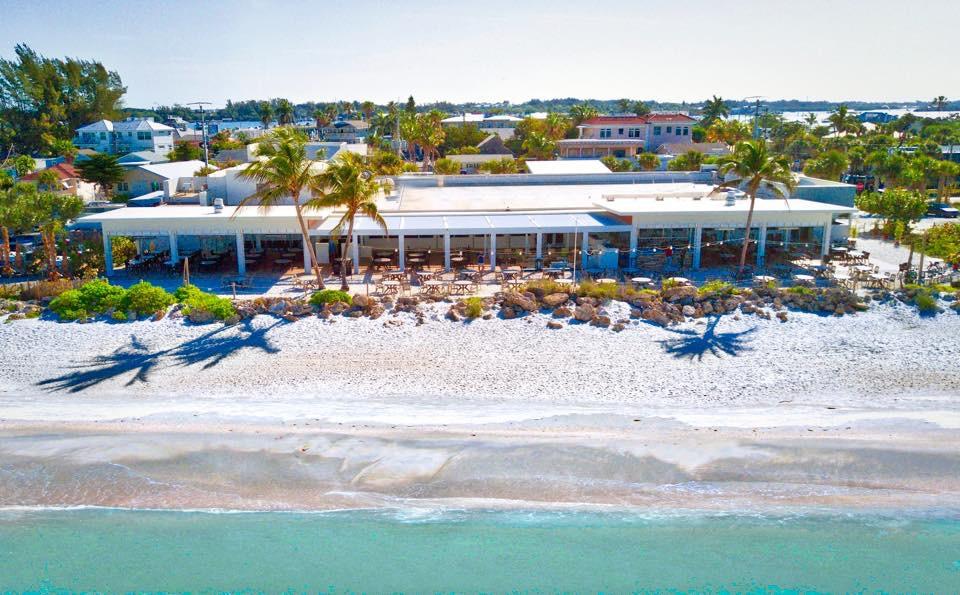 Manatee Beach
Manatee Beach is one of the most popular beaches on Anna Maria Island. That being said, you'll want to show up early to claim a good spot on the sand. Located at the very end of Highway 64, the warm, clear water is perfect for swimming.
There are lifeguards during peak hours, public restrooms, and showers. Just past the stretch of sand, you can find amenities such as shops, restaurants, and a full-service bar serving up some of the best drinks on the island. Forgot your beach equipment? There is even a spot to rent all the goodies you'll need.
Bayfront Park Beach
Situated on the northern tip near the public pier, Bayfront Park Beach provides stellar views of the Anna Maria Island Pier, Reel Pier, and Skyline Skyway Bridge. This is a slightly different beach experience than the other spots, since it provides more of a park-like atmosphere (making it ideal if you have kids in tow).
Though the stretch of sand is narrow, there are plenty of tables and grills, making it the perfect picnic spot. Kayaks and paddle boards can also be rented here and launched directly into the water. It's also been said to be a great fishing spot.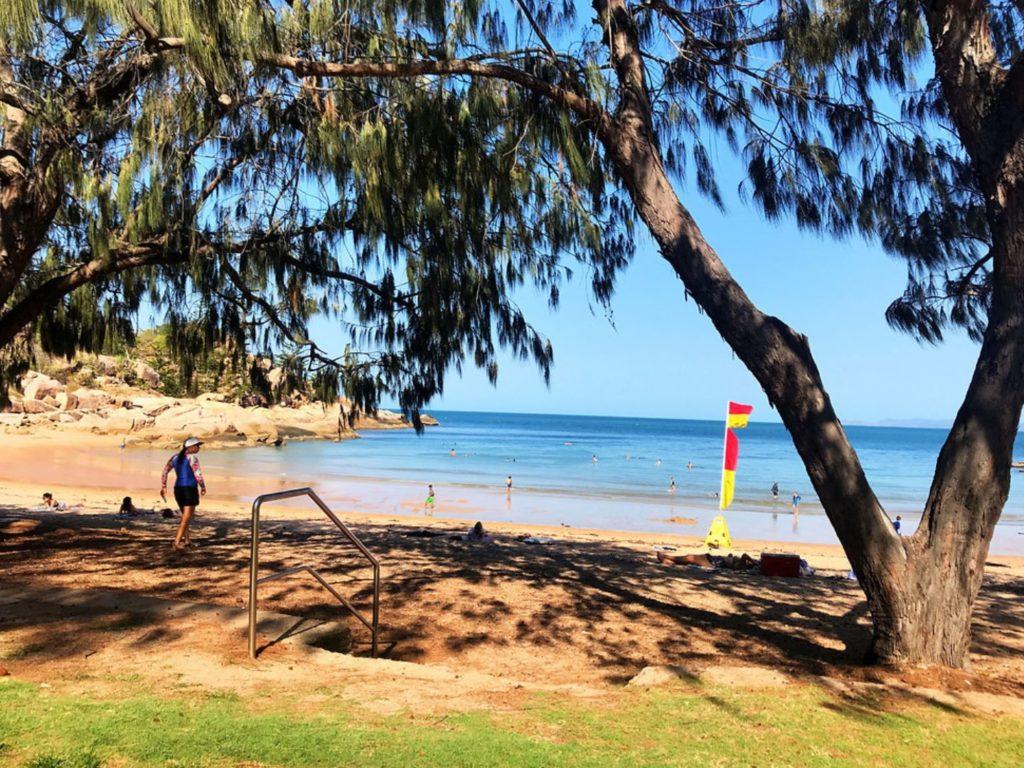 Beer Can Island Beach
Not to be confused with the old Beer Can Island in Tampa, Anna Maria's Beer Can Island (a.k.a. Pine Key) is just past Coquina Beach on the south end. Though it's not connected like the other beaches, it's still worth a visit.
Visitors can only get here by boat but can also bring a tent and set up camp. It's known for being filled with mangroves, lush trees, white sands, and clear water.