Looking to sweat? During times such as these where there hasn't really been much to do – it's so important to remain as active as possible to keep your mind and body healthy. And, while gyms are closed and most places aren't accepting new memberships, it's important to find a way to get back at it and burn some calories. Luckily, SweatNET is here for you! Check it out…
What is SweatNET?
If you haven't heard of SweatNET, we're proud to introduce you to your new fitness BFF. This site/app offers membership programs for individuals to meet instructors, discover fitness events, and attend them too! Plus, members have access to 4-8 FREE events each month while saving you time, building your community, attaining new healthy recipes, and streamed content right to your T.V.
At SweatNET they understand that a lack of fitness or exercise is deadly. So, they want to help you in any way you can and in any way that feels good for you! The best part about SweatNET is they are open to ALL. Whether you can do 1 push-up or 25, they can connect you to a studio or event offering classes and routines that are perfect for you, your level, and your body.
How Does it Work?
When you log on to SweatNET, you'll be prompted to fill out our city and any category that pertains to you and your interests. You can search for events and jobs too depending on your search parameters and city. Their memberships are non-committal and start at only $9.95 per month with the ability to cancel at any time. You can even sign up for online classes and get tickets for classes outside of your city depending on timing and availability.
With SweatNET you have the ability to make connections, share experiences, attend events, practice in the home, and more. Not to mention, keeping active and attaining a healthy lifestyle!
Check out this awesome quote from CEO and Owner, Taylor Smith: "Fitness is not one size fits all. So SweatNET Tampa Bay has found a way to package all things wellness that our community has to offer." – Love it!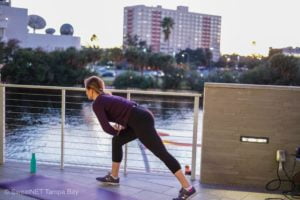 Membership Specials
For a limited time, SweatNET is offering a code for a FREE month! Locals looking to join SweatNET have the ability to access all that SweatNET has to offer for an entire month FREE. You'll have access to gyms, professionals, recipe ideas, classes, events, and MORE for an entire month when you use code "FREESWEAT". Check it out and get your sweat on!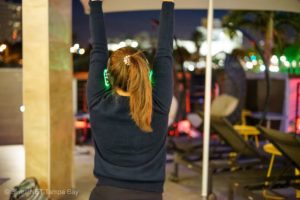 All Images Courtesy of SweatNET