Are you and your partner looking for a new place to dine? For a romantic evening with incredibly tasty and fresh Italian food, look no further than Pia's Trattoria located in the quaint beach town of Gulfport, FL. Dishing out some of the best Italian food in Tampa Bay, Pia's offers an experience that makes you feel like you are on a date in Italy itself. The atmosphere is cozy and inviting, making it a perfect date night spot for all- including those going on their first date or celebrating their 25th wedding anniversary. There are candles littering the restaurant and a large, warm outdoor seating area- meaning couples can choose to dine inside or outside among the rustic decor.
Pia's Italian meals are fresh, organic, and made to order. They offer standard Italian dishes such as gnocchi and lasagna served in an iron skillet, as well as an array of pastas and meat plates including Chicken Parmesan and Veal Marsala. Prices are extremely affordable, ranging from $10-25 a dish, which many people find a bargain for the high quality food they receive. In addition to the main courses, Pia's offers incredible appetizers including crisp salads, antipasta platters, and warm loaves of bread served with a seasoned olive oil dipping sauce. These first courses are around $10-15. Again, they are worth every penny.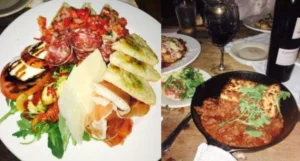 You may now ask, "What will my date and I wash all this delicious food down with?" To answer your question, Pia's has an excellent wine selection as well as a variety of beers, cocktails, and after dinner drinks. Couples can enjoy the savory Italian food and rich wines at Pia's on Sunday-Thursday from 4 p.m. to 9 p.m. and on Friday and Saturday from 4 p.m. to 10 p.m. In addition, Pia's is open for lunch on the weekends from 11 a.m. to 4 p.m. where they serve selected items from the dinner menu as well as a variety of delectable paninis. The Italian food from Pia's is unlike anything else in the Tampa area. The divine Italian tastes will make you question if there is indeed an Italian grandma in the kitchen cooking her beloved recipes.
Due to Pia's popularity, it is essential to make a reservation on weekend nights. You can do this by calling the following number: (727) 327-2190. Enjoy your evening in Italy, ladies and gentlemen. Ciao!
Address: 3054 Beach Blvd S, Gulfport, FL 33707