I think we can all agree we are happy to see 2020 is behind us. While some things may stay the same, 2021 is welcoming in an abundance of new experiences, and you can find a plethora of them on this list! As you begin the year anew, try one of these new ideas for date night in Tampa Bay to connect with your main squeeze. It's time to step out of "the usual" for date night and step in to new possibilities with all new memories!
NEW RESTAURANTS & BARS
There's a brand new urban district coming to Tampa in 2021! Midtown Tampa is a sprawling development that will combine residential, retail, dining and entertainment into one new walkable hub locals will love. Highlights include a food hall (an expansion of The Hall on Franklin), multiple restaurants (including the health-focused Kale Me Crazy), a central green space which will host concerts and events, and an Aloft & Element dual-branded hotel that will be home to Tampa's newest rooftop bar, Sal Y Mar (more on that below).
Head to Midtown Tampa for liquid libations and enjoyable eats at Sal Y Mar Rooftop Bar. This new rooftop roost is now open atop the much-anticipated Aloft and Element Hotel. Revel in the breathtaking skyline views of Tampa, Westshore and St. Pete. Open seating mixed with cozy nooks creates the perfect ambiance for a chill hangout or spicy rendezvous. Street tacos, tapas and entrees featuring grouper and chicken are highlights headlining the current menu. We can't wait to visit this addition to Tampa Bay's rooftop bar scene. Current hours are Sunday-Thursday from 4pm-midnight, and Friday and Saturday from 4pm-1am.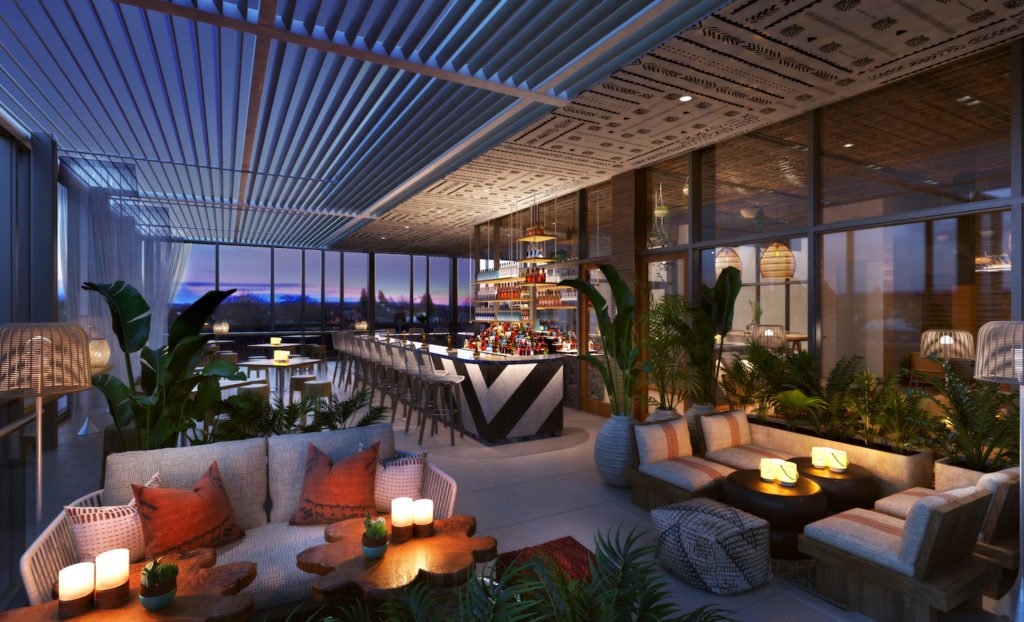 Sparkman Wharf celebrates what we love about Tampa; tropical climate, lots of water and a diverse culture which creates a hot spot for food and drinks. 7th + Grove just opened a second location, 7th + Grove South, at Sparkman Wharf in late January in a dining garden container. The menu features favorites like shrimp and grits alongside newly created dishes.
Also new at Sparkman Wharf, Murph's Barbeque made its debut on January 19 with slow-smoked meats, simple traditional sides and everything made-from-scratch. Sink your teeth into pulled pork, chopped chicken, brisket, mac-and-cheese, baked beans and coleslaw. Named after co-founder Scott Roberts' childhood canine, Murph's welcomes all friendly pups and even offers homemade dog treats for these loyal pets to devour.
Chef Jeffrey Jew will premier his first solo project in St. Pete with a Nordic and Asian inspired culinary experience called Lingr. As is implied by the name, Chef Jew welcomes locals to linger over the locally and sustainably sourced menu features, craft beer, cocktails and wine selections. Lingr will serve breakfast, lunch and dinner for a date outing at any time of day. This Top Chef and Guy's Grocery Games winner is sure to please every palate.
My family loves their kombucha! And with the many declared health benefits that come along with consuming this fermented fluid, it's easy to see why. Newly opened Flower Crown Kombucha is Tampa's first kombucha tap room. The three founders are friends who met through church and have become business partners. Patrons can expect to find several brews on tap during each visit. The current flavors are Pineappley Ever After, Mexican Hippie, Key Lime Mojito, Pink Passion Fruit and the just released Rising Thai'd, which is a nod to the Sunshine State with its fresh juiced Florida grapefruits.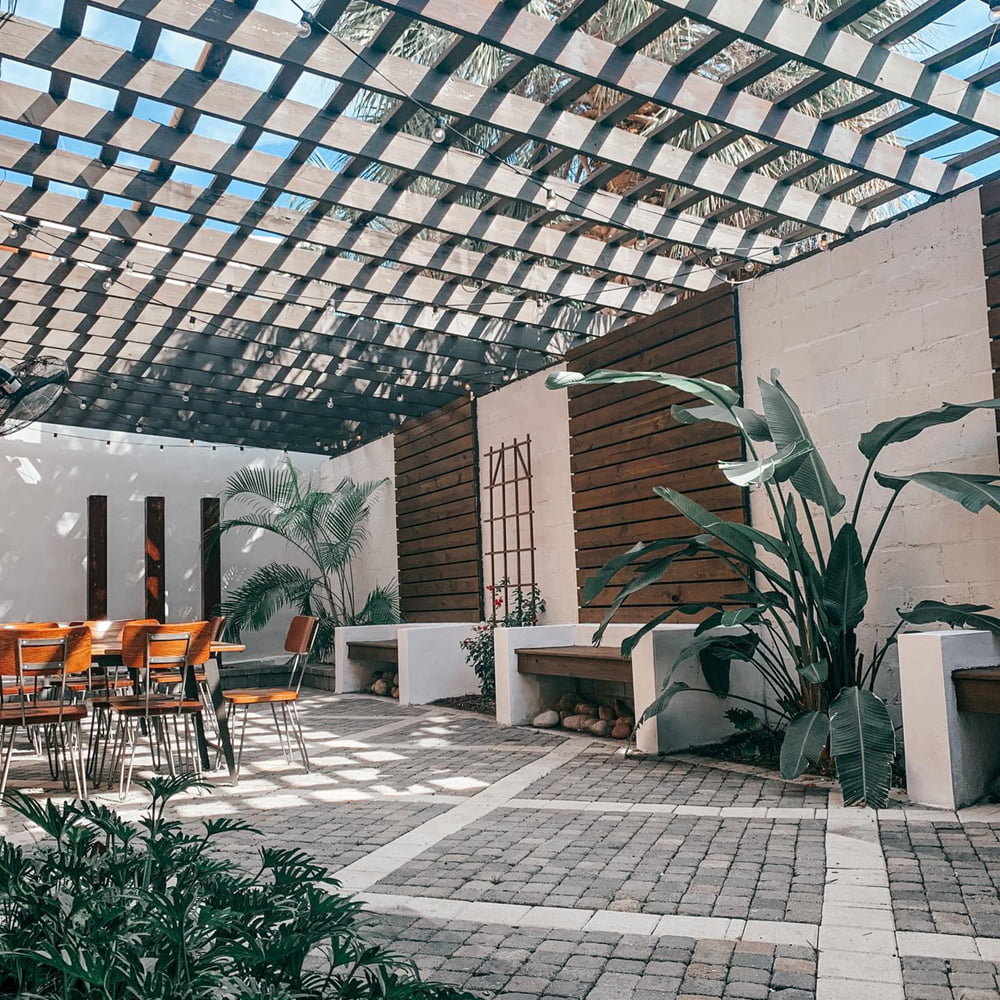 Hidden away inside the relocated Bodega in St. Pete you'll find Bar Chica, a newly clandestine getaway for intimate sips with your love interest. Bar Chica boasts its own food and drink menu, including rum-heavy curated cocktails. Since this small space seats a maximum of 22 patrons, expect a wait as word spreads into the 'Burg community. This classic cocktail bar is open every Thursday – Sunday starting at 5 pm.
Coming this Spring, you and your hottie can boost the feel-good hormones released by singing at LALA. This downtown St. Pete gem will shine with seven karaoke boxes included in the 4,500 sq. feet space. These karaoke boxes are private rooms for groups to enjoy each other's company without the embarrassment or fear of public singing. When you need to "take 5," order from the full menu of French-inspired cuisine and curated cocktails.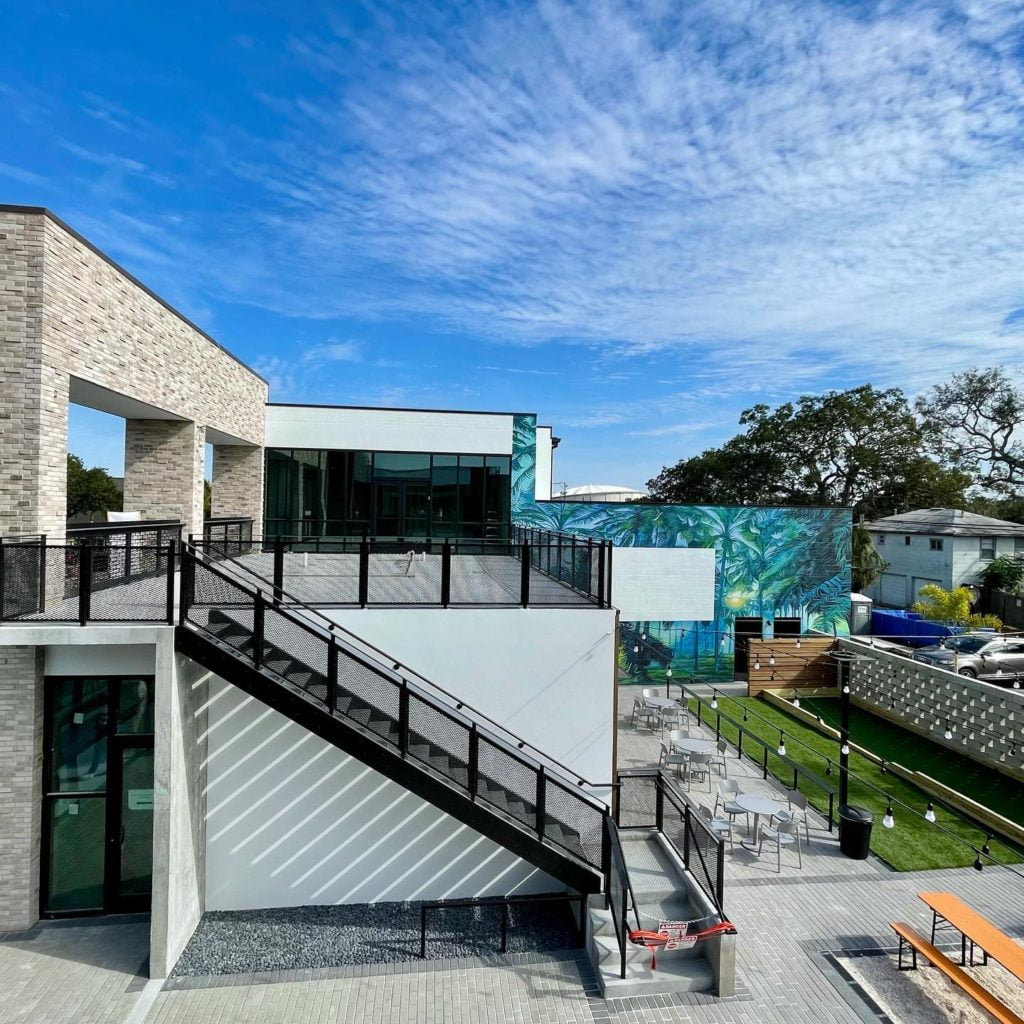 Hailing from Miami's South Beach, Bacon Bitch brings new breakfast and brunch options to St. Pete's EDGE District. Let your mouth savor flavors from a traditional bacon, egg and cheese sandwich to something fancy with salmon, tomato, onion, dill sauce and sour cream. The menu also boasts plates like chicken and waffles and steak and eggs.
More noteworthy food news:
Central Park Food Hall will be a new three-story food hall in St. Pete; opening date TBA
Willa's is a new neighborhood eatery specializing in American cuisine with French influences coming to Tampa's North Hyde Park in Spring 2021
VIP Mexican American Cuisine is opening a second location in March in Indian Rocks Beach
Orange County Choppers Roadhouse and Museum will serve up American fare, plus biker memorabilia and a 25,000 sq. foot entertainment pavilion for concerts, floor games and more
The City of Tampa now officially allows the sale of alcohol before 11am on Sundays; here's where to go for an Early Sunday Boozy Brunch
You'll be able to create your own stuffed burger this year at The Job Site
New Arts & Culture
Get out and enjoy some exercise and fresh air hand-in-hand with your love as you take in imaginative light artwork around Tampa. Lights on Tampa is back for another round of vibrantly beautiful light installations this year. Beginning in 2006, this unique project has brought us 21 permanent light displays and 60 temporary installations throughout downtown. Several new creative pieces have already been installed. Check out the interactive map to find current and new artwork.
Engage your senses at the Van Gogh Alive exhibit at the Dali Museum with larger-than-life, high-definition projections of Vincent Van Gogh's artworks synced to classical scores. This is the first North American location to host this inspiring and educational experience. The exhibit will run through April 21, 2021 and does require advanced timed-tickets.
Want to try something else new after seeing the show? Hop aboard the autonomous vehicle AVA which is on a testing basis through February 15. It moves people along Bayshore Drive from The Dali Museum to The Vinoy with stops in between. This free service runs Wednesday through Sunday from 10 am – 10 pm.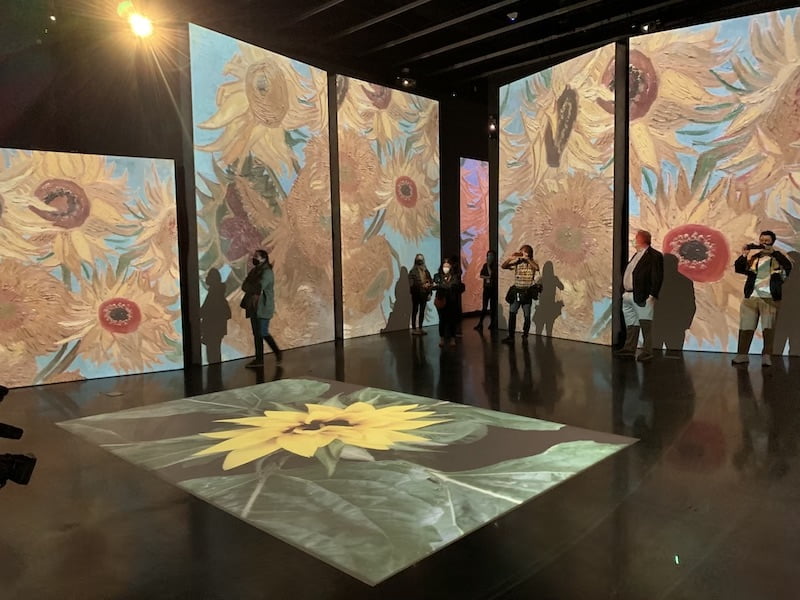 Immerse yourself in an artistic world that has a narrative – to celebrate Florida. Fairgrounds St. Pete will open to the public this spring to showcase over 60 local and national artists who have used their imaginations to create interactive installations. This 15,000 sq. foot space is for people of all ages and backgrounds to experience joy and play through the world of art. The signature installation, Floridarama, features tiny worlds of spaces in the Sunshine State through storytelling. These dioramas are the perfect balance of playful and thought provoking.
New Date Night Experiences
Hit the adrenaline target with an outing at Hatchet Hangout. No experience? No problem! "Axe"perts are always on staff to ensure you hit the bullseye in both axe throwing and in fun. Local craft brews are on tap with seltzer and wine options for the non-beer drinkers. While a food truck is available on the weekends, guests are allowed to bring outside food on premises any day of the week.
For the fifth time, Tampa Bay will host the Super Bowl while our very own Buccaneers challenge it out for the title of champion! On February 7, 2021, football fans from all over will ascend on Tampa Bay to watch two teams duel it out on the field. While the majority of us locals will not be purchasing tickets for the game, we can still enjoy football-related date outings and for FREE!! The Super Bowl Experience is a free event in Julian B. Lane Park on the Riverwalk through Saturday, February 6. And if you weren't lucky enough to snag a free spot, various Super Bowl happenings and live music can be found in Curtis Hixon Park and a technology village in Riverwalk.
Calling all mini golf fans! Par Bar will not only showcase an 18-hole mini golf course but a 1,400 sq. foot bar for added merriment in St. Pete. This pup-friendly and family-friendly hangout will offer golfers  ten taps, sake, cocktails and frozen drinks to choose from while putting their way through the greens. We can't wait to try this fresh twist on a classic pastime later this year.
New Staycations
This newly-opened hotel is unlike any other hotel property in Tampa Bay. It is connected to its Marriott counterpart via a sky bridge to create one large property between the two. Guests staying at either location can use the amenities in the adjoining hotel. The JW Marriott Tampa Water Street décor is sleek and modern with nods to the maritime theme of Tampa Bay. Two on-site restaurants are currently open with another one expected to open later this year or early 2022. The hotel is expected to offer day packages to locals for $55 per day per person which will include use of the facilities and the rooftop pool. Because of its location next to the Tampa Riverwalk, Amalie Arena and other venues, this hotel is worth looking into for an overnight getaway the next time you attend a nearby event.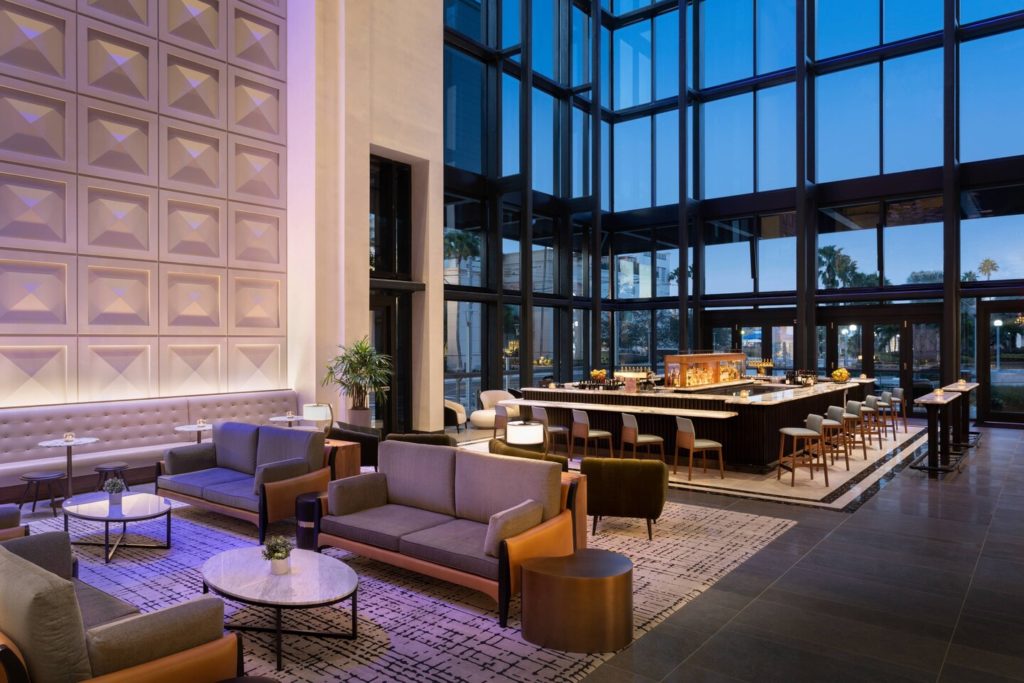 St. Pete Beach's iconic Pink Palace just got a bit more sparkly thanks to the completion of a 3-year renovation project. Book a romantic getaway to check out the new digs, including fully-renovated guest rooms with beachy touches and two new dining concepts. The brand new pool bar, Beacon Pool Bar & Lookout, also boasts a new rooftop lounge (opening soon!) for scenic views while you sip tropical cocktails. For date night, feast on Florida fare at the new dining concept, Society Table. The eatery will host complimentary chef-led tastings for guests.
The new Dream. Eat. Beach. package includes overnight accommodations, breakfast for two and a waived resort fee. Rates begin at $299/night.
It is prime time to view the manatees as they seek warmer waters in Crystal River. Plantation on Crystal River has an all new one-night package for West Indian Manatee enthusiasts to see these docile creatures up close. The "Swim with the Manatees" package starts at $299 for two guests and includes an overnight stay in a garden view room, manatee snorkeling for two with all gear, breakfast for two at West 82 Bar and Grill and a welcome bag with manatee related goodies. The tour captains are knowledgeable and jump in the water with guests for a guided experience. Don't wait too long to book adventure with your honey though; manatee season only lasts through March.
Read about our experience swimming with the manatees here.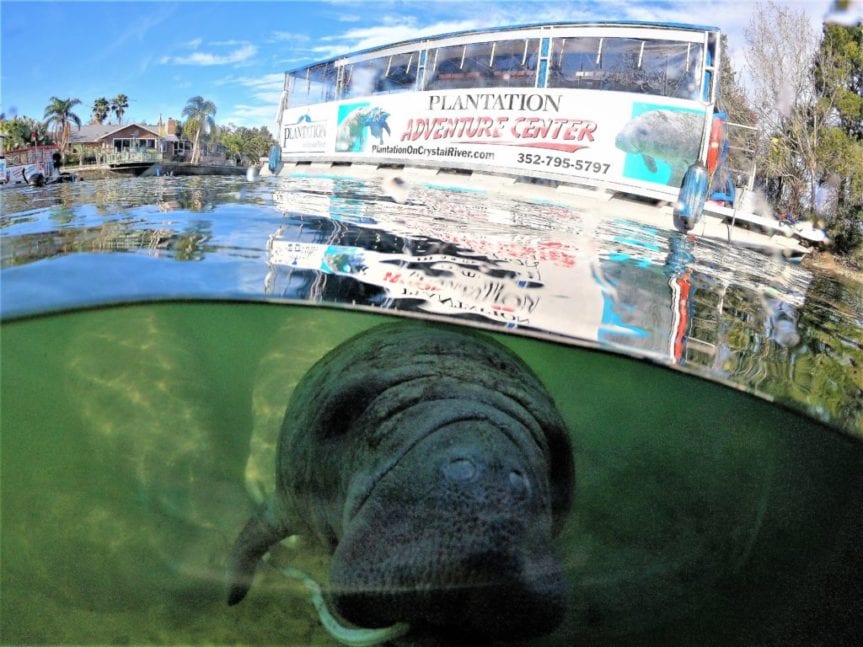 Ybor City is a thriving area of Tampa Bay with a colorful history. Hotel Haya celebrates the old and the new of Ybor as a host for history to unite with the modern era. This newly-opened boutique hotel is unique in that the architects sought out local artist collaborators to bring elements of the city into the heart of the hotel. Stay in a suite with a wraparound balcony or peer from a lush room at the radiating street below. Flor Fina is the cultural restaurant highlighting flavors from Cuba, Italy and Spain while Café Quiquiruiqui is the neighborhood spot for quick grab and go Cuban flavors.
Escape to the salty air and sandy ground of Madeira Beach at the new Cambria Hotel Madeira Beach on your next getaway. The new hotel, which opened in late 2020, boasts 360-degree views of coastline and the St. Petersburg skyline from the rooftop pool and bar. Soak in the sun while lounging on a chaise, or retreat to one of the poolside cabanas. Participate in the daily sunset celebration offered by staff as you welcome the tranquil air of evening. At night, rest in one of the spacious guestrooms with design elements that recognize pirate legend John LeVegue.
Feature image credit: Midtown Tampa rendering