Traditional margaritas are a popular summer drink. However, there are many kinds of margaritas that are perfect for summer and other seasons! Instead of going out to drink on the next girl's night or day, stay at home and make your own margaritas Try one from every color of the rainbow, and colors not in the rainbow!
Red
This recipe is the cherry on top of margaritas! You can make it just to drink or, get some vanilla ice cream, and instead of putting a cherry on top of some ice cream, pour the cherry margarita over it and create boozy ice cream!
Combine two popular summer fruits in one drink! This recipe has the margarita served in the watermelon but if you don't want to be that fancy, buy already cut watermelon and serve in a glass. It will be delicious either way!
Orange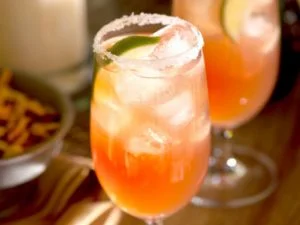 For a unique, fruity margarita flavor, try a Pomegranate Margarita! Drinking regular pomegranate juice might be hard to drink after you've tried this drink!
This recipe is from chef David Lebovitz, so it's going to be yummy. It might be a little fancy, but you don't have to use fresh-squeezed juice or add honey unless you want to. The orange flavor and color will still be there.
Yellow
Mango Margaritas are offered in some restaurants and bars, but why risk buying a drink that has too much alcohol or not enough, when you can make your own? With this recipe, you can make either frozen or on the rocks so there's no reason to go out just to get one of these tasty margaritas again!
Pineapple is a popular summer fruit and is delicious in margaritas. Pineapple margaritas are quick and easy to make and are sure to keep everyone cool in the summer heat.
Green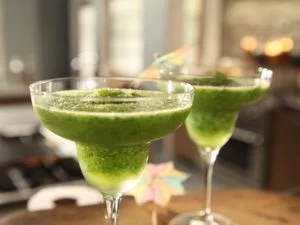 Cucumbers might be 96 percent water but that does not mean they can't be used to make a great margarita. Have a fancy at-home spa night and make these instead of cucumber water.
Taking only 5 minutes to make, this apple margarita is sure to be a fall, or St. Patrick's Day, favorite! You can also host a Disney night and serve it as a poison apple-themed drink. Make it on the rocks or frozen!
Blue
The sky is blue, the ocean is blue, the margarita is blue too! This simple margarita is a traditional margarita with blue curaçao added! The blue margarita can be enjoyed frozen or on the rocks and garnished with blueberries! Did you know curaçao is made from the Lahara orange that can only be found on the Caribbean island of Curaçao?
Purple
This Indian cocktail is unique to others because it has tea in it, instead of juice or fruit! It is easy to make, just make the tea and add it to tequila! It's sure to add an exotic feel to the night.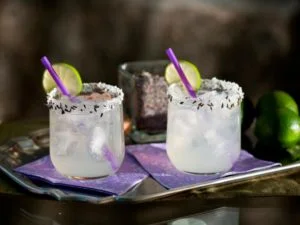 Lavender tastes great in ice cream, and now you can make lavender margaritas! This margarita proves that this flowering plant doesn't just belong outdoors or in food- but in margaritas too!
The Purple Margarita's bright purple color is sure to brighten up any girls' night! It's fruitier than a normal margarita, so it will add an extra tropical feel to the night!
This sophisticated margarita will add a high-end, gourmet feel to the night in! It will go perfect with cocktail meatballs, a cheese platter, or Mexican food. Grapes and chili may seem an odd combination, but they work well together in a margarita!
Pink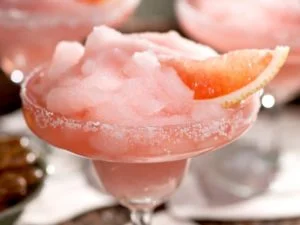 Florida nights may be hot, but this frozen, light-pink colored margarita will cool everyone off with its temperature and flavor.
If you've been wondering what a prickly pear is since you saw the Jungle Book for the first time, now is the time to find out in the best way possible- a flavored margarita! It'll have you and the girls singing "The Bare Necessities" all-night-long because this margarita will be the only necessity on the list! Fun Fact: the prickly pears origin is thought to be Mexico?
Combine two great drinks into one and have a cocktail for day or night! Hold a festive girl's brunch or breakfast-themed night in honor of friends and as an excuse to make a ton of these margaritas!
Brown
Floridians may not be able to go apple picking, but they can savor a fall-themed apple margarita! Perfect for a cozy girls' night in, these margaritas will make you feel like you're sitting in an apple orchard. The recipe does not say it, but you can finish with a cinnamon stick for extra fall flavor!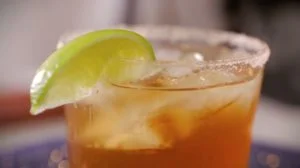 Turn up the margarita heat with this chili margarita! Gather the girls to make, or order out for, Mexican food and wash it down with this perfectly paired cocktail!
Black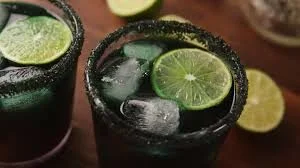 Yes, black margaritas are a thing. They're perfect for a horror movie night or a Halloween Party! This recipe does not call for them, but you can also add a couple of ounces of orange juice or agave nectar for a sweeter flavor. Black salt can be substituted for black sugar if you want to stick with a traditional margarita rim.
This Black Margarita has a couple more ingredients than the last one that gives it a fruitier flavor. It is made with gold tequila, instead of silver, so if you prefer gold tequila use this recipe!
White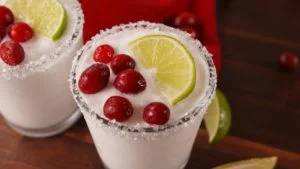 The ground may not be white in Florida at Christmas, but your drinks can be white. White Margaritas are perfect for Christmas. Have your friends over to celebrate and treat them to a drink that gives a new meaning to a white Christmas.
Feature Image Credit: Cooking Channel TV