Its primary purpose may be water storage and supply, but Lower Hillsborough Wilderness Preserve also serves as a natural resource conservation. The Preserve has many significant ecological features including wood stork rookery, a sawgrass marsh, a sphagnum bog and two sinkholes.
Within the Wilderness Preserve are six park sites: Dead River Park, Flatwoods Park, John B. Sargeant Park, Morris Bridge Park, Trout Creek Park, and Wilderness Park Off Road Loop Trail System. There are over 60 miles of forest and river trails guests can hike and canoe while looking for creatures and plants like wading birds, turtles, alligators, lilies and cypress swamps. There are also places to fish, picnic, camp, have a cookout and more. It's the perfect weekend getaway for adventurous people!
Dead River Park is the smallest, being only 21 acres. There is a two-mile unpaved road that can be ridden on a bike or walked. There is also a two-mile natural surface river trail along the Hillsborough River. Hikers, bikers, and dogs are allowed daily from 8 a.m. to 5:30 p.m. and vehicles are permitted Friday, Saturday, Sunday. Birdwatchers will enjoy it here because there is a bird-watching site on the western section of Great Florida Birding and Wildlife Trail.
At 5,400 acres, Flatwoods Park is by far the largest park site. Flatwoods features a 7-mile paved loop that is popular with joggers, hikers, and bicyclists. For convenience and safety, there are four shelters located throughout the trail with drinking water. There are a couple of smaller trails for those who want to visit the park but are not up for a seven-mile hike. The paths may be paved, but visitors will still get the feeling of being surrounded by nature and can enjoy being close to, but outside the city for a bit!
There are more than 13 miles of trail in this 23-acre park. The highlight of the park is its boardwalk that snakes through a swamp with cypress and oak. Alligators swim in the water below, including the resident alligator park rangers have named Waldo. Many types of native Florida birds, including the great blue heron, come close to the boardwalk providing excellent viewing and picture opportunities for these creatures. Adventurous hikers can trek the 6.7-mile Old Fort King Trail from the John B. Sargeant Park trailhead to Model Dairy trailhead at Hillsborough River State Park. Rabbits, otters, deer, wild hogs, hawks, and bald eagles live here, and sometimes hikers can catch a glimpse. Canoes and kayaks are available to rent for the two waterways. Less-experienced boaters can enjoy a casual, two-hour trip downriver to Morris Bridge State Park or a four-hour trip downstream to Trout Creek Park. Experienced canoeists and kayakers can revel in the remote wilderness of Seventeen Runs, a section of the Hillsborough River Canoe Trail. Despite its small size, there is something for everyone!
Morris Bridge Park is known for its wildlife and fishing. There are frequent sightings of alligators, turtles, water snakes, frogs, and wading birds. Fishing docks and covered shelters are available on either side of the park for anglers to use while they river fish. The section of the Hillsborough River Canoe Trail that runs through Morris Bridge immerses the boater in a rich wildlife and plant environment. There are several short trails under a mile that make it easy for inexperienced hikers to enjoy the scenery. For those who want to take it easy and look for wildlife, this park is the perfect one!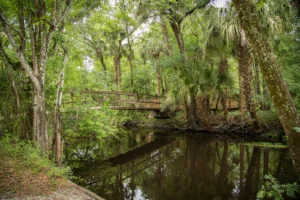 Trout Creek Park is the most family-friendly park. It's popular for fishing, canoeing and picnicking. Boaters can paddle a short distance to Trout Creek in easy-to-navigate water. Fishing is available on the boardwalk, riverbank, or from a boat. The nature trail has a firm surface that is easy for kids to walk on or be pushed in a stroller. There are picnic tables and three covered pavilions with grills that visitors can use to cook a hot meal. It's an easy location for a day visit!
This park system is a single-track woods trail with a natural surface and is covered by a shady canopy. There is a 20-mile main trail and 15 miles of side trails that pass through a couple of the other parks. Hikers enjoy a variety of habitats and environments along the trail including cypress swamp, hardwood floodplain forest, upland hardwood hammocks, pine flatwoods, oak scrub, dry prairie, wet prairie and lakes. Biking is allowed on the trail for those who don't want to walk. No one will be bored on this walk with so many different environments to see and so much wildlife to admire!
Equestrian Areas
For those who would rather ride a horse than bike or boat, there are two equestrian areas: Oak Ridge Equestrian Area and Jefferson Equestrian Area. Jefferson offers nine miles of canopied trail through surround by urban development. Oak Ridge is bigger with about 16 miles of multi-use trails that are shaded within the wetland forest but open through the pine flatwoods.