For those who appreciate the arts, we've got the perfect idea for you! The Gulfport Art & Gallery Walk is a bi-monthly event held in Gulfport, less than a fifteen minute drive from St Petersburg. If you're looking for a great date night, stay tuned to see more about this awesome event.
What It Is
During the Gulfport Art Walk, arts and crafts are celebrated in a special way. The Art Walkspans 6 city blocks and leads through more than 35 local shops and businesses selling their wares to passersby. These vendors include people selling anything from homemade candles to jewelry to wood crafts to sculptures and more. Whatever artsy thing you're looking for, the Gulfport Art Walk has probably got something you're sure to love.
Along with the many vendors and abundance of arts and crafts available for purchase, the Art Walk has live entertainment. Various local bands will perform at different venues throughout the Walk path. You can also stop for a snack at any of the restaurants near the path.

The Logistics
The unique event is held on the first Friday and the third Saturday of each month, rain or shine, from 6pm to 10pm. For the month of June, the Gulfport Art Walk will be held on June 1st, the first Friday, and June 16th, the third Saturday. For an unforgettable date, don't miss this!
Additionally, admission costs for this event are free for everybody. Parking is also free! There are even trolleys that will take you from the designated parking areas to any area along the walk. And, great news! This event is pet friendly, so feel free to bring your dog or other pet along for the date.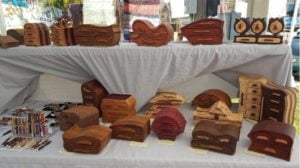 Do you need more ideas to plan that perfect date for your significant other? Try A Day in Key West for a getaway or Watersport Dates: A Day on the Bay for something closer to home!