With spring is upon us, there is no better date idea than a fun watersports day on the the bay. Check out these local places for jet skiing, parasailing, kayaking, wakeboarding, and more!
Clearwater Watersports
Located on the beaches of Clearwater in Tampa Bay, Clearwater Watersports offers couples with the opportunity to jet ski, parasail, or paddleboard on the beautiful blue sea, riding alongside dolphins. They have been up and running since 1999 and are committed to providing couples with a fun and safe experience. In terms of the waverunners (jet skis), they charge couples $60 per waverunner for a half hour and $100 for a full hour. However, if you get there before 11 am, you will receive $20 off! For more information regarding parasail and paddleboard prices, check out the Clearwater Watersports Website.
It is also important to note that couples must be 18+ to engage in any of these activities.
Address: 521 S Gulfview Blvd, Clearwater Beach, FL 33767
Suncoast Watersports
Suncoast Watersports is a watersports company located right on St. Pete Beach that provides couples with waverunners, paddleboards, parasailing, banana boat rides, kayaks, as well as a variety of boat cruises (dolphin watch, snorkel, and sunset). Enjoy a day on the pristine waters while engaging with one of these fun activities. Couples must be over the age of 18 and can visit Suncoast Watersports' Website to pre-book their day online. Prices and more information can be found here as well.
Due to their popularity in the area, Suncoast Watersports has three locations in St. Pete. They are as follows:
Address 1: 9540 Blind Pass Rd, St. Pete Beach, FL 33706
Address 2: 5900 Gulf Blvd, St. Pete Beach, FL 33706
Address 3: 5300 Gulf Blvd, St. Pete Beach, FL 33706
Elite Watersports
This watersports company provides couples with kiteboarding, paddleboarding, and wakeboarding, as well as fun sporty day on the water. Kiteboarding is extremely popular within Tampa Bay and Elite Watersports not only gives couples the opportunity to try it out, but also offers lessons if desired. The best package for couples is called the "Group Lesson," which includes one Elite instructor, all kiteboarding gear, private instruction, and jet ski support. If you are experienced, however, couples can rent the gear to take out on the water themselves. Prices for this are as follows: $90 for an hour and $200 for all day. Kiteboarding is a unique and fun date idea that all athletic couples should definitely check out. Visit Elite Watersports' Website for more information on booking and prices.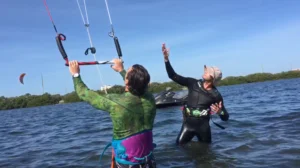 In addition, Elite Watersports has two locations—one in St. Pete and one in Tarpon Springs.
Address 1: 4100 34th Street S, St. Petersburg, FL 33711
Address 2: 935 E. Klosterman Rd, Tarpon Springs, FL 35689
United Park Services Kayak and Canoe Rental: Fort De Soto Park
Fort De Soto is ranked one of the most beautiful beaches in the country and we are lucky enough to have it in our own backyard. A perfect day date for couples wanting to paddle across the calm sea can be provided by the United Park Services, as they offer kayak and canoe rentals. For kayaking specifically, couples can choose to rent two single kayaks or a tandem (double) kayak for their day out on the water. The price for an "all day" rental for a single kayak is only $55 and $70 for a double kayak. This is an extremely affordable date for couples and one that will never be forgotten.
For more information regarding hours, prices, and booking, check out their Website.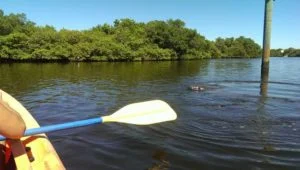 Address: 3500 Pinellas Bayway S., St. Petersburg, FL 33715
Tierra Verde Boat Rentals
According to their website, Tierra Verde Boat Rentals is "Tampa Bay's top choice for boat and waverunner rentals since 1994. Located in Tierra Verde, which is right by St. Pete beach, this boat rental company provides couples with a day of fun on the water. Couples can rent a boat all-day for around $400, which is a decent price for the surrounding area. With the boat, couples can add a wakeboard, a set of water skiis, a kneeboard, or water tube for a small additional fee. In addition, couples can rent out a jet ski for only $75 per hour. Tierra Verde Boat Rentals is the place to go if you are looking to make memories out on the big blue. More information regarding hours, prices, and booking can be found on their Website.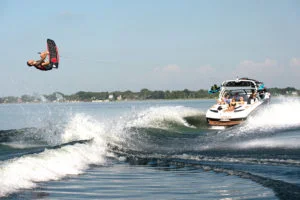 Address: 100 Pinellas Bayway S, St. Petersburg, FL 33715
Feature Image Photo Credit: All Island Watersports