The last Saturday in January is a big one for the city of Tampa, Florida — people from all over come to celebrate the pirate invasion of Jose Gaspar and his crew. About 300,000 people make their way to Bayshore Boulevard for the main parade of Gasparilla Pirate Fest in the afternoon after a morning full of mimosas and rum filled drinks.
With so many people coming to town from outside the Bay for the celebration, there is always bound to be chaos, and you need some Gasparilla survival tips from the pros! Even locals who have been to the parade for years make rookie mistakes on the big day. Make sure you make it through the day (at least to after the parade) with these Gasparilla survival tips.
(We've got your Ultimate Guide to All Things Gasparilla HERE!)
Gasparilla Survival Tip 1: Start Early
If you really want to get the full Gasparilla Experience, start early! The invasion starts at 11:30am when the Jose Gasparilla arrives at the Tampa Convention Center in Downtown Tampa. The mayor hands over the keys to the city and the party really gets started with parade, parties and fireworks to follow.
With all that partying you are going to need to start with a hearty brunch to help you last through the day. There are several options, including the official Gasparilla Invasion Brunch right at the convention center.
It's also a good idea to travel well before the festivities begin. Traffic will start getting crazy as early as 9am and will not slow down throughout the day. You may not be able to park close to your final destination so leave extra time to either a) find parking, or b) walk to your destination.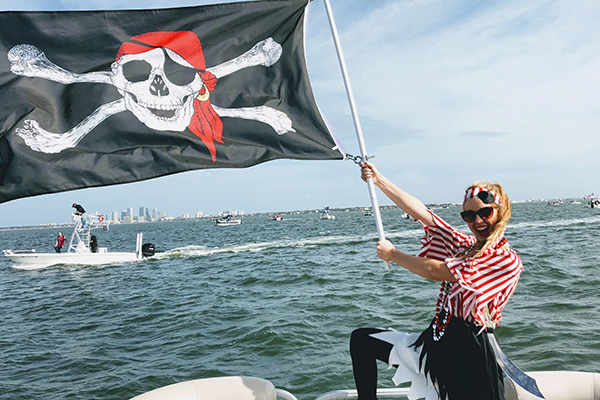 Gasparilla Survival Tip 2: Sun
Protection
The sun will still be shining bright in the sky during the parade even if the temperatures are a little cooler than what Floridians are used to. It is important to protect your skin and your eyes throughout the day. I recommend carrying around a little travel sized sunscreen, a hat (preferably pirate themed), and sunglasses.
Gasparilla Survival Tip 3:
Bring Snacks
Almost every bar in South Tampa hosts a Kegs and Eggs event in the morning. Breakfast is a big deal the morning of Gasparilla, but people tend to forget about food throughout the rest of the day once they have had a few drinks and their necks are filling up with Gasparilla treasures. It is important to have a few snacks in your coolers on hand or cash for food as you make your way to and from the parade.
Gasparilla Survival Tip 4:
Where To Park and Stand
If you are looking for a spot to catch a lot of beads, try to get to the Gasparilla parade early and stand at the beginning. Park by MacDill or Howard and walk to Bayshore Blvd. where the parade starts its course for great views and lots of treasure. If you want a dedicated seat, consider buying a seat in the bleachers for the parade or looking into some of the tents set up along the route.
Park in Ybor or Channelside if you're into the crazier side of the Gasparilla festivities. You can take the trolley from where you parked to the parade to catch the end of the annual parade. Make sure you have a designated driver — the Tampa Police Department will be out in full force. If you are planning to use Uber or Lyft, be ready to walk way outside the festivities to catch your ride.
Insider Tip: Bring posters, poster board or even a white board to write down your favorite krewe names as their float passes you by on the parade route. It will give you the upper hand on more beads and even the potential for special beads, bracelets, or special gifts.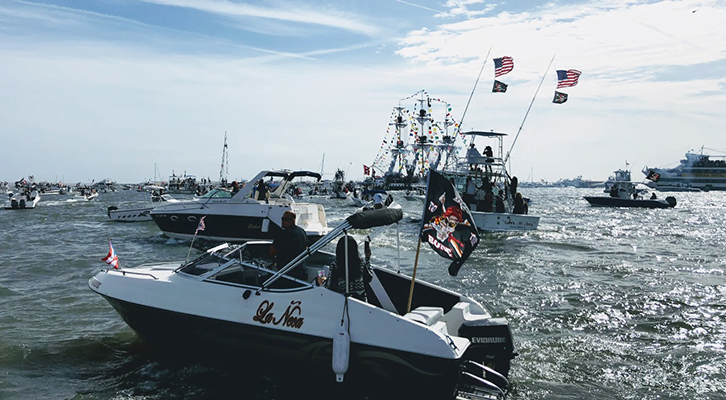 Gasparilla Survival Tip 6:
How to Gasparilla By Boat
If you are planning to travel by boat there are a few things to consider. First of all, know it will be extremely crowded. When the invasion flotilla starts out in the bay you will have your share of space, however if you think you are going to come into the channel and dock – you are sorely mistaken. Plan to stay on your boat in Hillsborough Bay for the duration of the invasion and return trip back to your docking location.
Boaters beware — docking in downtown is extremely limited and most likely will not be an option. (Plan accordingly for restroom breaks – take them when you can.) Also be aware that the invasion is heavily monitored by law enforcement, boating regulations do apply and a designated driver should be appointed.
All together being a part of the invasion and celebrating by boat is a great experience and a preferred way to enjoy Gasparilla. Just be prepared for the reality when the big day hits!  Learn about buying a ticket for a Gasparilla Invasion Cruise Here!
Gasparilla Survival Tip 7:
Have Cash on Hand
If you plan to eat a at a restaurant, have pre-purchased tickets to an event, or don't plan to purchase anything you should be fine without cash. However, it's a good idea to have cash on hand as Charity Beer Gardens and Event Vendors may accept cash only.
---