This holiday season it is so important to find ways to have quality time together. With gifts to purchase and other obligations, it is nice to enjoy some holiday cheer, for free. We've gathered up some of the best free holiday events in the Tampa Bay area to check out this season.
Note: This list of free holiday events is subject to change. Check event websites for the latest information on safety and potential cancellations.
We'll start off with one of the most Floridian ways to celebrate the holidays. And here in Tampa with our wonderful waterways, we've got quite a few of them. During the month of December, fill your calendar with these holiday boat parades around the Bay. All events are free to watch; registration fees may apply if you want to participate.
34th Annual Tarpon Springs Holiday Boat Parade
December 1, 2023, 8pm-10pm
Craig Park, Tarpon Springs, FL
Vessels will begin at the sponge docks and conclude at Spring Bayou. Public viewing areas include Sponge Docks, Whitcomb Bayou, Craig Park & Spring Bayou.
57th Annual Festival of Lights Boat Parade
December 9, 2023, 6:30pm
Best public viewing at ROC Park – Maderia Beach
The parade begins at the American Legion Post 273 at 6:30pm, travels all the finger canals through the city, and ends at John's Pass.
38th Annual Lighted Christmas Boat Parade
December 9, 2023
Begins at Gulfport Municipal Marina
See the parade from Osgood Point, Gulfport Municipal Marina, Williams Pier, Gulfport Beach and Casino, Town Shores, Pasadena Yacht & Country Club, Pasadena Golf Club Estates and Isla del Sol. Routes are subject to change.
38th Annual Treasure Island Holiday Lighted Boat Parade and Celebration
December 16, 2023, 6:20pm
Treasure Bay Recreation Facility
Watch the parade from a spectacular vantage point and participate in the events at Treasure Bay. A DJ, a visit by Santa and Mrs. Claus, interactive entertainers, and food/beverage concessions will be available.
Tampa Riverwalk Holiday Lighted Boat Parade
December 23, 2023, 6:30pm
Tampa Riverwalk
The parade begins in the Convention Center basin, travels to the Heights, and ends at Sparkman Wharf.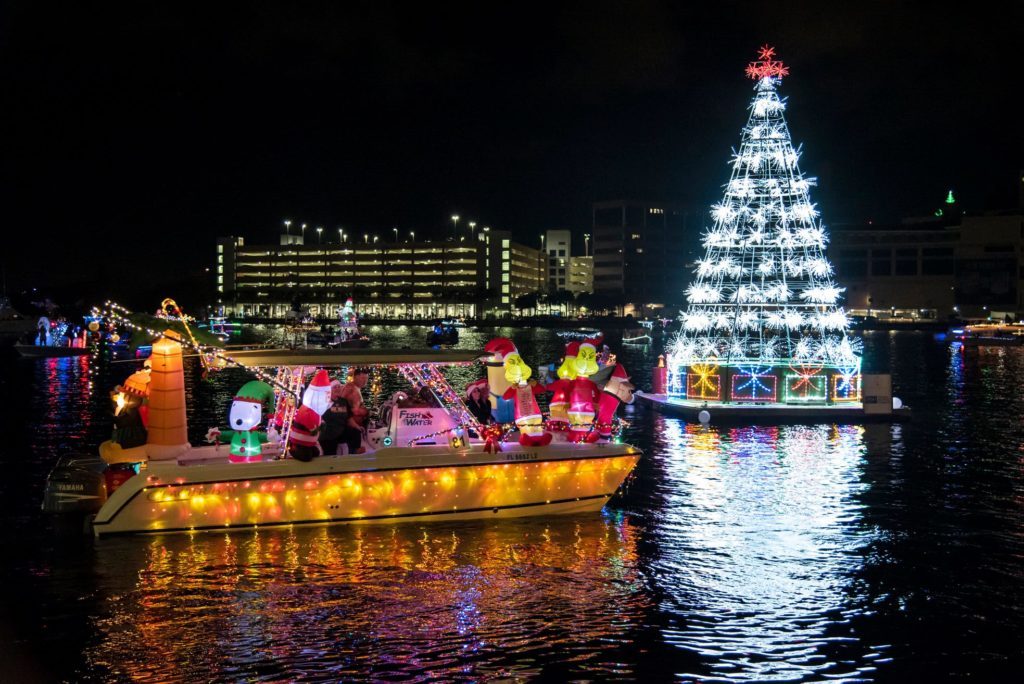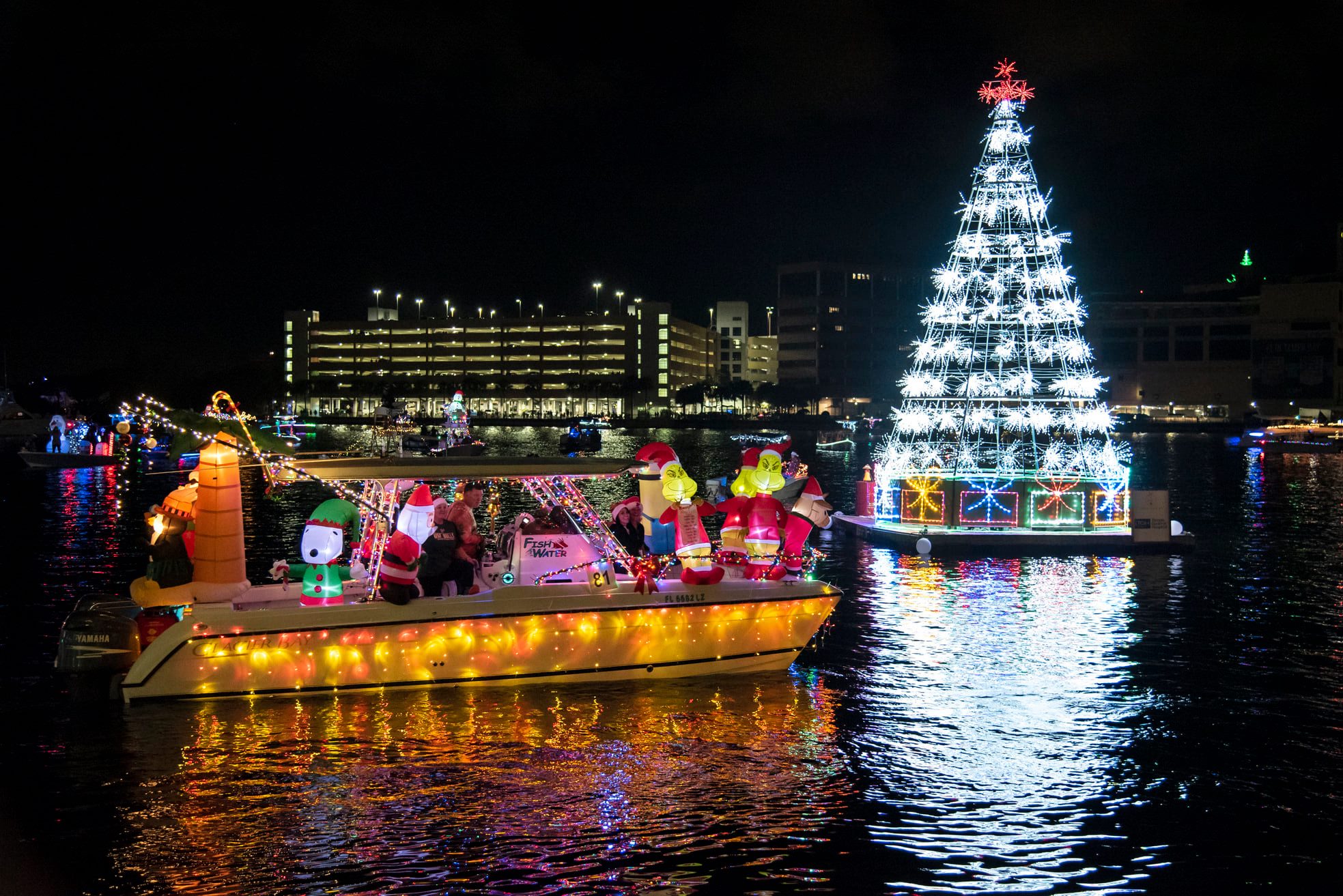 Indian Rocks Beach Holiday Boat Parade
December 16, 2023, 7pm
Parade lineup at Holiday Inn Harbor Side
Parade will begin at the Walsingham Bridge, winding through the fingers and ending at Harbor Drive North.
Free Holiday Events: Lights and Spectaculars
Stroll around to see a spectacular display of holiday lights at these tree lighting ceremonies, Christmas light spectaculars and more.
Tree Lighting + Symphony in Lights
November 11, 2023, 5pm-9pm
The Shops at Wiregrass
Santa will be lighting the Christmas tree, igniting the festive season, and a spectacular fireworks display will light up the night. Enjoy live music from a local live band, a Christmas village with local artisans, encounter strolling holiday characters, savor hot chocolate, take photos with Santa and much more!
Ybor City 13th Annual Tree Lighting Ceremony
November 15, 2023, 6pm-8pm
Centro Ybor
Holiday music will begin at 6pm in Centro Ybor, with Mayor Jane Castor lighting the tree at 7pm followed by photos with Santa.
Holiday Happening
November 16, 2023, 5pm-9pm
Hyde Park Village
Hyde Park Village invites the community to take part in the Holiday Happening benefiting Make A Wish Southern Florida. The annual tree lighting is more festive than ever featuring live holiday entertainment, a winter holiday market, visits with santa at Public Studio, sips & bites, and more.
Winter Wonder Wharf Tree Lighting
November 17, 2023, 6pm-9pm
Sparkman Wharf
Visitors of all ages will enjoy the 35-foot tree-lighting and photo-ops at themed areas, which include a colorful tree forest where guests can find Santa and holiday-themed performances at the Sparkman Wharf stage
Christmas Lights at Chick-Fil-A On Waters Ave. 
November 17-December 30, 2023 (closed on Sundays)
6299 W Waters Avenue, Tampa FL 33634.
This Chick-fil-A store has a tradition of taking Christmas lights in Tampa to a whole new level and they're back at it again with this year's Christmas lights display. Even Santa comes to visit! Add this annual Tampa Bay Christmas light event to your family's Christmas light holiday bucket list!
Holiday Spectacular
November 23-January 2024
Tampa Riverwalk
Displays include the 35′ tall LED lighted Christmas tree that floats in the harbor (tree lighting will take place on November 28), several other lighted displays floating on barges in the river and the lighted garland and red bows on the Riverwalk light poles.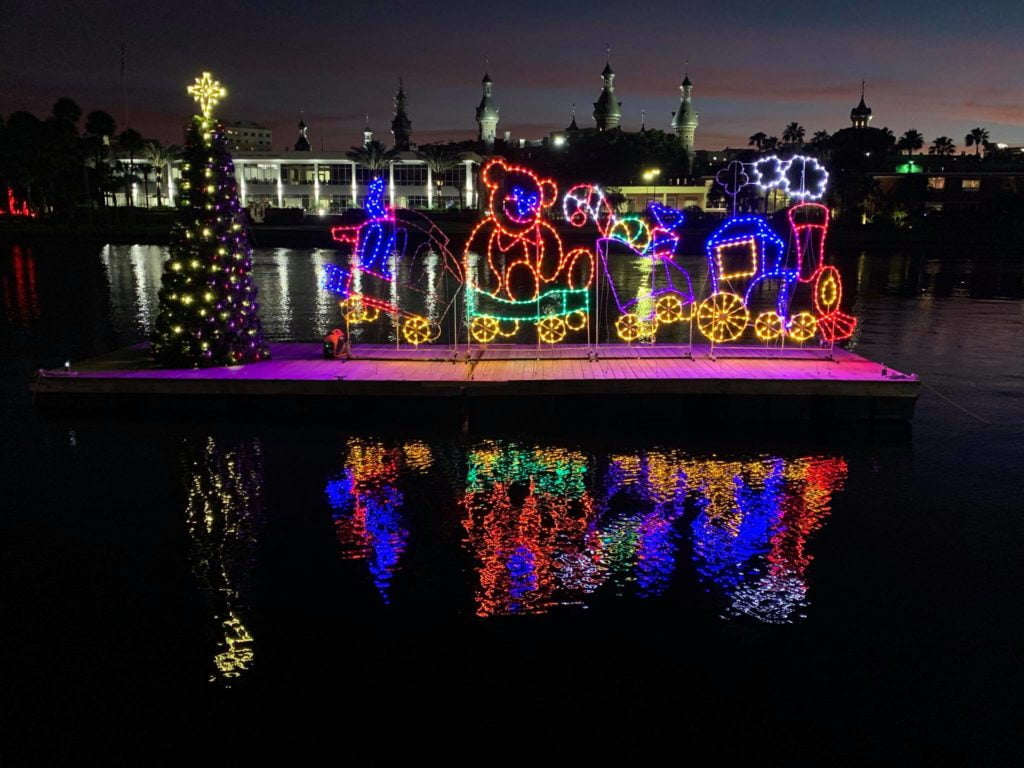 Oakdale Christmas Lights House
November 24, 2023 – January 3, 2024, 6-10pm
2719 Oakdale Street South, St. Petersburg, FL
Prepare to be dazzled by an array of half a million flashing colorful twinkles for a free holiday light display that garnered a top 3 showing as a finalist on NBC's "Today" show.
Holiday Lights in The Gardens at The Florida Botanical Gardens
November 24, 2023- December 31, 2023
The Florida Botanical Gardens
The gardens sparkle with one million LED lights that twinkle in a variety of bright colors. Vibrant laser lights and lighted figures are sure to wow guests of all ages.
Tree Lighting – St. Petersburg
November 25, 2023, 6:30pm
North Straub Park
Santa and Mayor Rick Kriseman will light up the tree and park. This holiday tradition promises to be a delightful evening for everyone.
Oldsmar Tree Lighting Ceremony
November 28, 2023, 6pm
Oldsmar City Hall
Enjoy this holiday tree lighting ceremony with Citizen of The Year. The program will feature holiday music performed by local groups.
Safety Harbor Tree Lighting Ceremony
December 1, 2023, 6-7:30pm
Gazebo at John Wilson Park
Bring out family and friends to enjoy the lighting of Safety Harbor's giant Christmas tree. Choirs will warm up the crowd for a visit from Santa Claus!
Holiday Tree Lighting and Stroll
December 2, 2023, 6pm-9pm
Largo Central Park
Largo Central Park has more than one million LED Christmas lights to enjoy as you stroll. $10 on-site parking. Park & walk from Largo Middle or Largo High School for $5.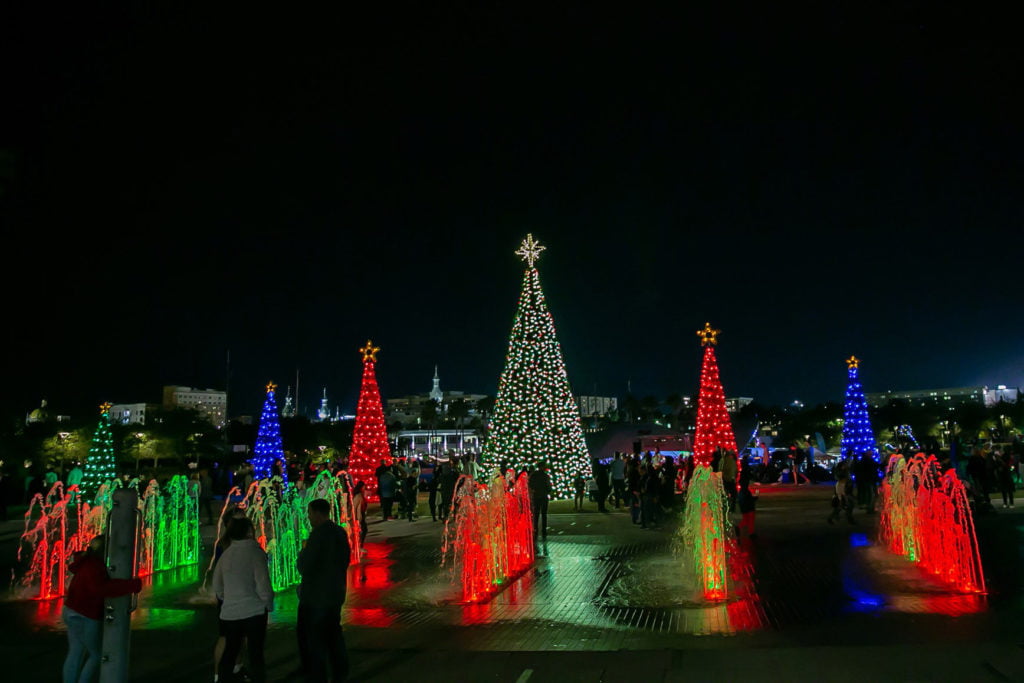 Festival of Lights – Tree Lighting
December 2, 2023, 4-9pm
Time Square, Downtown Zephyrhills
Annual Event in Main Street Zephyrhills. Enjoy an evening of Christmas cheer, festive food trucks, the tree lighting and more! Entry is free!
Tarpon Springs Tree Lighting
December 2, 2023 from 5:30pm-6:30pm. Tree lighting takes place at 5:45pm
Tarpon Springs Sponge Docks
A unique holiday tradition of Tarpon Springs. A place rich with history and fun.
City of Tampa Santa Fest
December 2, 2023 at 1pm
Curtis Hixon Waterfront Park
The parade steps off at 1:00 p.m. beginning at Morgan Street and Madison Street. It travels west on Madison Street to Ashley Drive, turns north and ends at Ashley Drive and Cass Street. Best viewing is along Madison Street. After the parade through downtown, come by Curtis Hixon Waterfront Park for Santa Fest entertainment and activities 3:30-5:30 p.m. Stay for the Tampa Tree Lighting entertainment 6-6:30 p.m. See Mayor Castor and Santa Claus light up the tree before a holiday movie plays in the park to end the day.
Santa in the Park – St. Petersburg
December 9-10, 15-23, 2023 from 6pm-9pm
North Straub Park
Enjoy a meet-and-greet with Santa in North Straub Park! Cameras welcomed. This year's event will feature Santa in a rocking chair with a designated area for participants to chat and take photos with Santa.
47th Annual Christmas Under the Oaks Holiday Market
November 12, 2023, 9am-4pm
St Petersburg College, Clearwater Campus
Shoppers looking for a distinctive "buy local for a cause" experience will be delighted by this year's marketplace of handcrafted holiday decorations, jewelry, fine crafts, gift baskets, candles, floral arrangements, artisan foods, and many more unique gift treasures
Winter Village at Curtis Hixon Park
November 17, 2023 – January 1, 2024
Curtis Hixon Park
Get some shopping done at the holiday shops, sip drinks at the café, ice skate at Downtown Tampa's only outdoor ice rink, and more at this iconic Tampa Bay Christmas event. Admission to the Winter Village is free, but some activities like ice skating require tickets.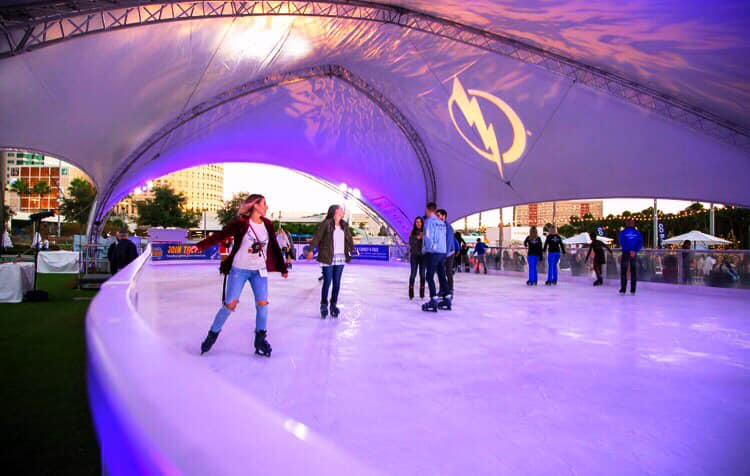 READ MORE: Downtown Tampa at Winter Village: A Holiday Date Idea with NEW Fun
Tampa Bay Holiday Market
November 18-19, 2023, 10am-5pm
The Coliseum, St. Petersburg
Local vendors will be offering everything you need to get in the holiday spirit. Start your Christmas shopping early, including home essentials, unique handmade gifts, cosmetics, holiday decor, food, apparel, accessories, and more! The first 250 attendees each day will receive a unique holiday ornament!
30th Annual Dunedin Arts and Crafts Festival
November 18-19, 2023, 10am-5pm
271 Main St in Dunedin, FL
Along Dunedin's Main Street, you will meet some of the country's finest artists and crafters with products all handmade in America. Ceramic planters, functional pottery, hair accessories, handmade one-of-a-kind jewelry pieces and an expansive Green Market offers something for every taste & budget.
Thanksgiving Arts and Crafts Festival
November 25-26, 2023, 10am-6pm
Tarpon Avenue, Tarpon Springs
Craft vendors set up tents on charming brick-paved Court Street. Get a head start on your Christmas shopping and help local merchants at the same time!
11th Annual OE Holiday Gift Bazaar
November 30, 2023, 6:30pm-9:30pm
Oxford Exchange
Inspired by eclectic and bustling European marketplaces, this space is transformed for one night out of the year into a diverse shopping venue, just in time for the holidays.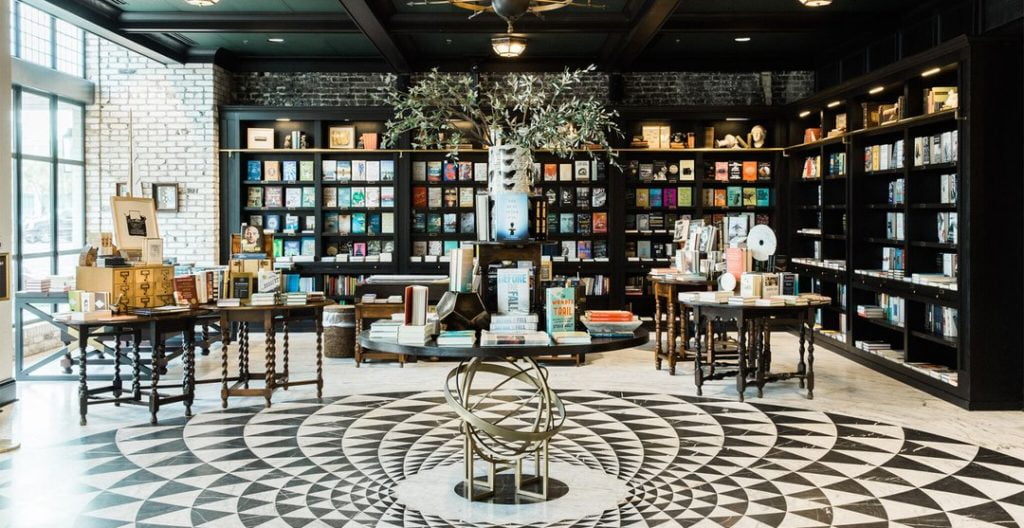 Seminole Heights Holiday Craft Fair and Bake Sale
December 2, 2023, 8am-3pm
Seminole Heights United Methodist Church
The Holiday Craft Fair, which has taken place annually for more than 50 years, features handmade Christmas gifts and decorations, a variety of vendors, and a bake sale.
Holiday Village
December 2, 2023, 11am-6pm
Carrollwood Village Park
Holiday Village, presented by the Carrollwood Village HOAs, is a family-friendly event with holiday-themed crafts, activities, food trucks, music, decorations, and more.
Holiday Market
December 9-10, 2023, 11am-5pm
Tampa Premium Outlets
Get into the holiday spirit and explore a wide variety of unique gifts, delicious treats, and seasonal delights. This in-person event is the perfect opportunity to find that special something for your loved ones. From handmade crafts to local artisan products, there's something for everyone at the Holiday Market.
5th Annual Merry Beach Market
December 9, 2023, 2-8pm
ROC Park
Over 50 Local vendors will delight holiday shoppers. Plus, live entertainment and food and beverage stands. The market is also a collection site for The Christmas Toy Shop to help make the holidays brighter for local children. Better yet, the event is pet- and family-friendly, and will be held rain or shine. Two special treats after the Merry Beach Market are having an ideal vantage point for viewing the start of the 57th annual Madeira Beach Lighted Boat Parade and the official lighting of the Madeira Beach Christmas Tree.
Avalon Aglow
December 9, 2023, 5pm-8pm
Avalon Park, Downtown Wesley Chapel
There will be Bounce Park, Food Trucks, Vendors, Community Performances, & Pictures with Santa. Fireworks will start at 8 PM.
Holiday Shopping at the Tampa Museum of Art
December 16, 2023 10am-7pm
Tampa Museum of Art
Explore a curated collection of unique gifts on the Museum's terrace. Our pop-up features local artisans, including Transitions Candles, GEMS, Campbell & Cope Accessories, Pop Yarn, and many more. As the sun sets over downtown Tampa, indulge in a refreshing cocktail and meet renowned artisan jewelry designers Cindi Samaha, Samantha Uttech, and Eric Folsom. Discover their exquisite pieces and make them yours.
4th Annual Urban Holiday WinterFest 
December 16-17, 2023, 10am-5pm (4pm on the 17th)
Waterworks Park
This market will showcase gifts from home decor, plants, local artwork, handcrafted jewelry, small batch & chef made foods, baked, honeys, spices, paper goods, apothecary goods, sauces and more.
READ MORE: Must-Visit Holiday Markets in Tampa Bay for Unique Gifts
Free Holiday Events: Holiday Movies + Celebrations
Water Street Season Spectacular
November 17, 2023, 5pm-9pm
Water Street Tampa
Enjoy live music, a holiday-themed silent disco. extra festive photo ops, hot chocolate bars, seasonal cocktails and bites, photos with Santa, and more. Afterward, stroll over to Sparkman Wharf to enjoy Winter Wonder Wharf, where you can find an array of instagrammable photo ops and a variety of special activities and treats to enjoy. A portion of Season Spectacular proceeds will be donated to the Tampa Bay Lightning Foundation – Bolts Giving Benefitting Feeding Tampa Bay and Metropolitan Ministries.
Oldsmar Christmas Wonderland
December 1, 2023 from 5pm-9pm
R.E. Olds Park
Annual free event featuring a giant snow slope, pictures with Santa, concessions, entertainment, and lots of family fun!
12 Days of Christmas on Clearwater Beach
December 2023
Pier 60 Park
Local Clearwater businesses are hosting this holiday celebration including a Christmas tree lighting, caroling, parade, doggie "paw-rade," a Christmas market and more. Free admission.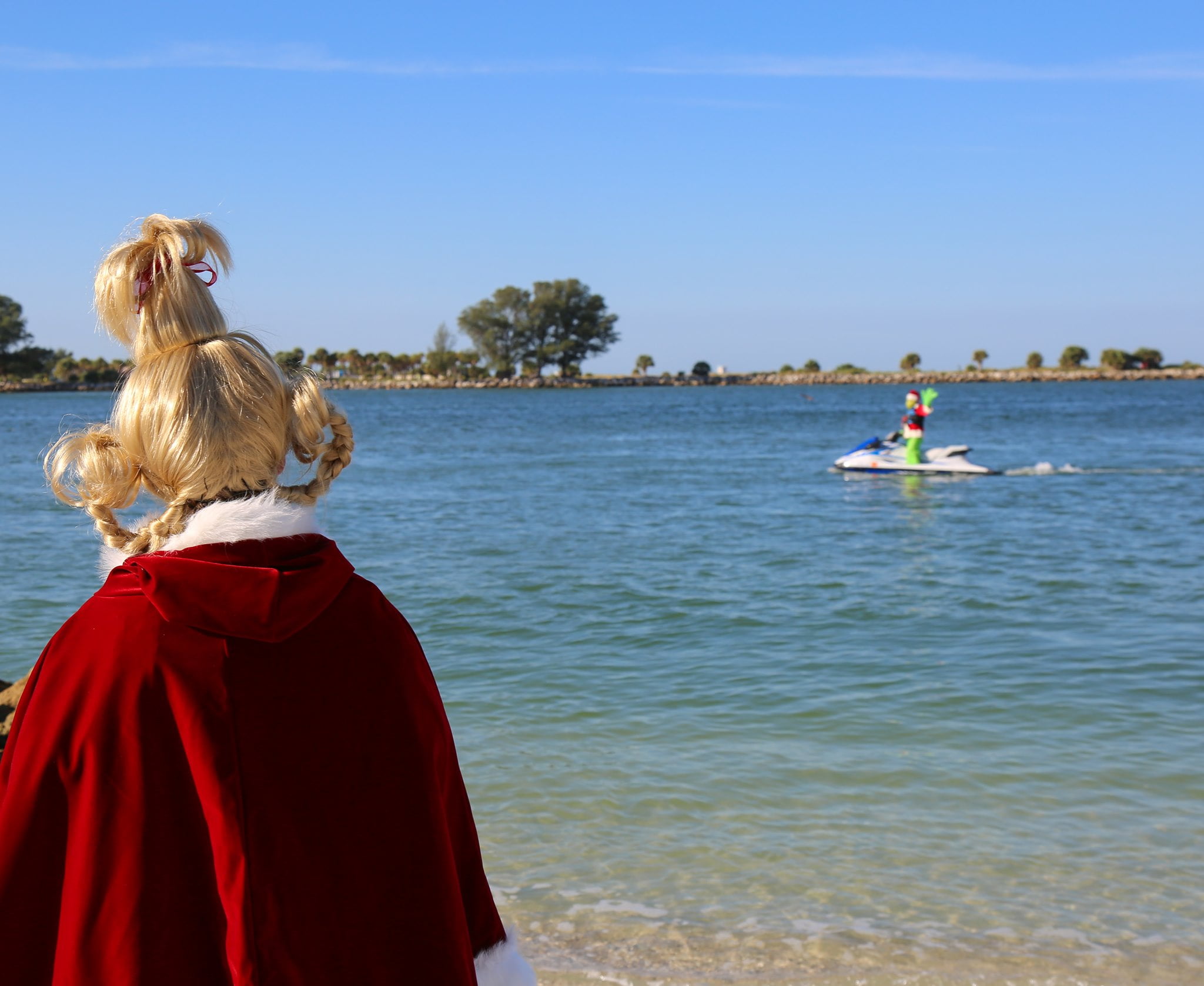 There's Snow Place Like Tarpon Springs
December 1, 2023, 5-10pm
100 E. Tarpon Ave. Tarpon Springs, Florida
This year's event will feature Tree Lighting at 6 pm in the Mother Meres Parking Lot. The Boat Parade will arrive in Spring Bayou around 8:00 pm. Other activities include children's crafts and activities, holiday performers, live music, holiday shopping, restaurants, food vendors, falling snow, outdoor movies, snow slide, and much more. Santa will also be in attendance!
Sip and Shop Downtown Safety Harbor
December 1, 2023, 5pm-8pm
Downtown Safety Harbor
Enjoy shopping and sipping specials, a holiday decorating contest, the Dickens Carolers, and a self-serve wrapping station at the Chamber of Commerce! Spend time sipping at your favorite downtown watering hole after your holiday shopping.
Holiday Parade at Safety Harbor
December 2, 2023, 10:00am-11:30am 
Main Street of Safety Harbor
Floats, old fashion cars, Shriners, and Santa are just a few of the highlights.
Winter Wonderland & Lighted Golf Cart Parade
December 2, 2023, 5:30pm-8:30pm
Temple Terrace Golf & Country Club
Winter Wonderland Activities include: an Ice Slide, Caroling, Food Trucks and Carnival Games plus Tree Lighting at 7pm. The Golf Cart Parade starts at 6 pm from the Family Recreation Complex and ends at Woodmont Park.
The Holiday Promenade
December 7, 2023, 5pm-9pm
Water Street Tampa
Enjoy this very festive market where you can discover unique gifts and delight in festive entertainment. During this seasonal market on Water Street, shop local vendors and enjoy seasonal activities and performances all under the picture-perfect backdrop of our neighborhood holiday décor.
Holiday Market
December 9, 2023, 10am-3pm
Coachman Park
This holiday market features over 120 vendors and includes a Meet & Greet Santa, Mrs. Claus and the Grinch, story time with Mrs. Claus, and a Paw-rade – Bring your fur baby!
Jingle Bell Bazaar At Centennial Park
December 10, 2023, 12pm-6pm
Centennial Park, Ybor City
The Annual Jingle Bell Bazaar is a fun, festive holiday event in Historic Ybor City. There will be live music, entertainment, food, craft vendors, and more!
Harbor Holiday Nights at Folly Farm
December 14-16,2023
Folly Farm Nature Preserve, Safety Harbor
Three nights of Holiday fun for the whole family! Event includes holiday lights, campfire, children's activities, and more.
Christmas in Brass
December 15, 2023, 7pm-9pm
St. James United Methodist Church
Get ready to be dazzled by the enchanting melodies of brass instruments that will fill the air with joy and merriment. This in-person event promises to be a delightful celebration of the Christmas season, where you can immerse yourself in the magical atmosphere and experience the true spirit of the holidays.
Holiday Movie in the Park – Movie TBA
December 16, 2023, 6pm-8pm
Craig Park
Grab your lawn chairs and blankets for a fun & free night out! Families can pick a special viewing spot in the park for the movie.
Feature image credit: City of Tampa