Good food is a great way to connect with someone. And when you're surrounded by lots of delicious choices it can be fun deciding together what to try. The restaurants at Sparkman Wharf are a great way to explore a variety of local food and have fun nibbling on different delicious eats. It's one of our favorite date ideas in Tampa Bay.
Sparkman Wharf is situated along the waterfront of downtown Tampa taking over the space formerly known as Channelside. They're known for their large, astroturf lawn and open-air dining garden that includes food truck style restaurants that are housed in old shipping containers. It's the perfect spot to go before or after an event at Amalie Arena or during one of their popular Lighting Watch Parties.
From authentic ethnic cuisine to gourmet ice cream, our to dining at Sparkman Wharf covers it all.
Outdoor Dining Restaurants:
Fit Bowl Co.
Jeni' Splendid Ice Creams
Murph's BBQ
edison's swigmajig
Gallito Taqueria
Dang Dude
Lunch Lady
JoDog
Fit Bowl Co. offers a fruit-forward menu including superfood bowls, smoothies, and plant-based treats. Choose from their menu or build your own. They also have adult beverages such as the Sorbet & Prosecco Float.
Must-try items: Island Bowl, Glow with Greens Smoothie, Pina Colada Smoothie
Jeni's originated in Atlanta and has made quite an impact in the ice cream industry. The ice cream comes in an array of unique flavors and boasts a smooth, buttercream texture.
Must -try items: Maple-Soaked Pancakes, Gooey Butter Cake, Brambleberry Crisp
Known for mouth-watering 12-hour smoked brisket, tender pulled pork, roasted chicken, and scratch-made sides, Murph's BBQ is not to be overlooked. To honor their namesake, a legendary pup named Murph, they also serve dog treats.
Must-try items: Texas-style Brisket, Crispy Brussel Sprouts, Charcoal Roasted Chicken Wings
Created by James Beard semifinalist, Chef Jeannie Pierola, this funky container reinvents Florida's iconic seafood shack. Though they have staple items on hand, their menu changes daily with the fresh catch.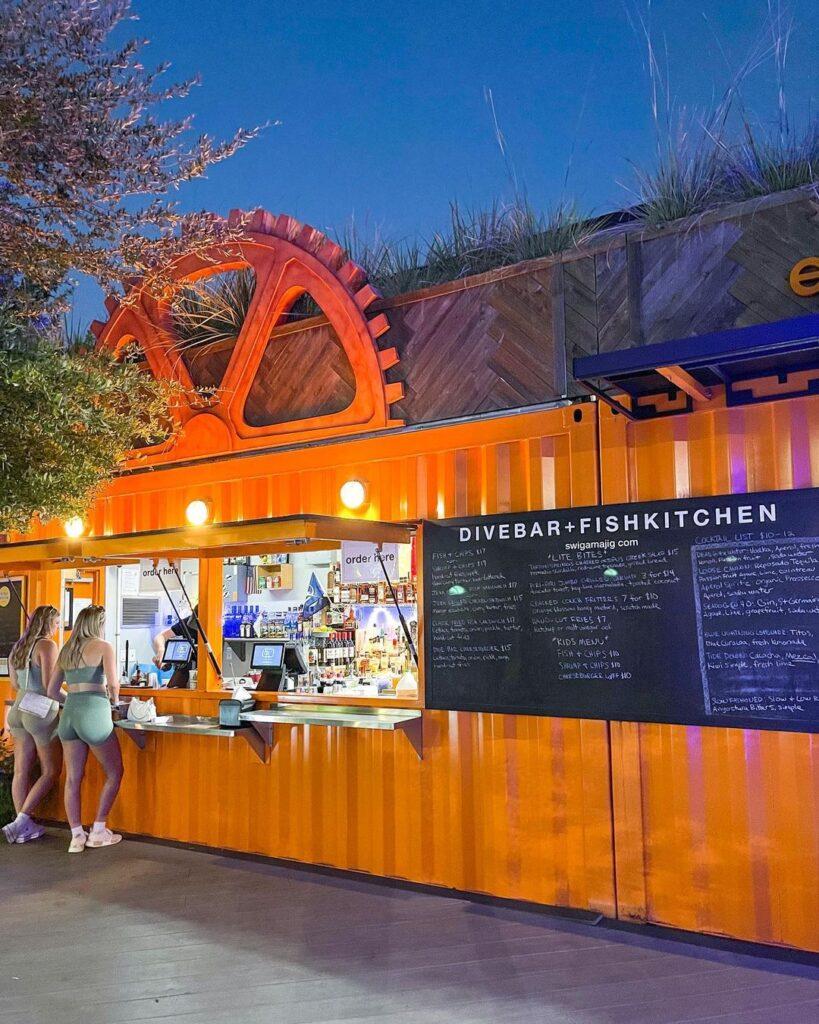 Must-try items: Tarpon Springs Charred Octopus Greek Salad, Jerk Chicken Breast Sandwich, Fries
Gallito is a modern taqueria that puts a spin on classic Mexican Street Food. Created by Chef Ferrell Alvarez, restauranteur Ty Rodeiguez, and Chon Nguyen, their menu is loaded with fresh, authentic ingredients.
Must-try items: Quesabirra Tacos, Grilled Mojo Chicken, Esquites (Street Corn)
From the same creators of Gallito, Dang Dude puts a unique twist on Asian-inspired street food, bringing together the diverse flavors of the region.
Must-try items: Steamed Pork Dumplings, Double Fried Chicken Wings, Chilled Dan Dan Noodles
Lunch Lady offers creative alternatives to the usual lunch fare. This container serves up scratch made pressed sandwiches, hearty salads, dressings, sauces, and more. Sandwiches in a classic form with a modern twist.
Must-try items: The Bada-Bing, The Shorty, Chopped Antipasto
JoDog offers chef-inspired riffs on one of America's most iconic food items, the hot dog. Created by Michelin-starred chef, Joe Isidori, they also serve up beer, sake bombs, and chilled signature cocktails.
Must-try items: Carolina Slaw Dog, New York Style Chili Cheese Dog, Joe's Famous Kimchee Dog
Eat indoors:
If you're looking for something a little more traditional, there are also several dine-in restaurants at Sparkman Wharf.
Battery
Noble Rice
Splitsville
BurgerFi
Half Moon Seafood
If you're looking for something a little more upscale, check out Battery. Known for fine bourbon, wines, and elevated plates. It's the perfect cozy date night spot to enjoy dinner before grabbing a cocktail and heading out to the lawn to watch the sun set over the water.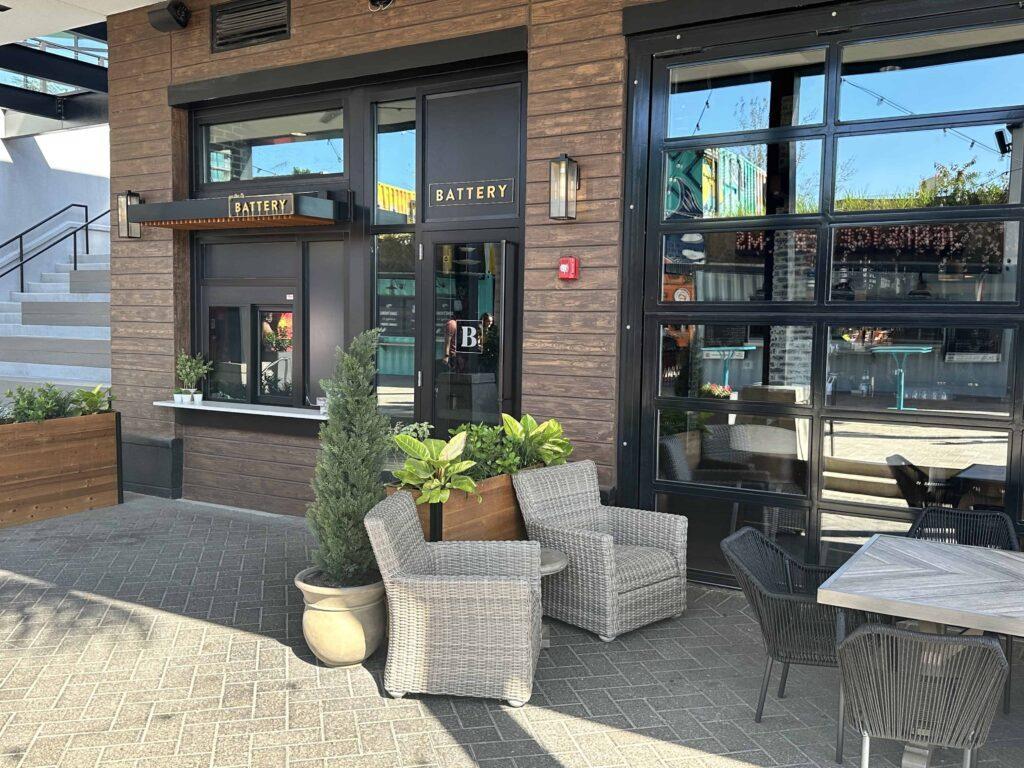 Must-try items: Charcuterie Boards, Bourbon-Glazed Salmon, Roasted Red Pepper Bucantini
You'll find a modern Japanese restaurant and a gorgeous space at the reimagined Noble Rice located at Sparkman Wharf. Dine on sushi and ramen while sipping from an amazing menu of Japanese whiskey and sake.
Most-try items: Sushi, Sa;mon Crispy Rice, Tan Tan Men
This isn't your average bowling alley fare. The reimagined Splitsville Southern + Social has a menu inspired by two-time James Beard award winner, Chef Art Smith. Their menu features made-from-scratch southern fare, specialty cocktails on tap, and 45 varieties of ice-cold canned beer. Eat, drink, and challenge your date to a game of bowling for a date night with a competitive twist.
Must-try items: Hot Honey Chicken Sliders, Southern Goddess, KBBQ Bacon Burger
BurgerFi serves up chef-created fresh food in an eco-friendly environment. From freshly made burgers, to fresh cut fries and beer-battered onion rings, it's simple fare with big flavor.
Must-try items: Spicy Wagyu Burger, Vegefi Burger, Fresh-Cut Fries with Truffle Aioli
Chef Isidori's Jotoro menu is filled with fine Mexican provisions and global inspiration in a rustic, industrial chic setting. You can also enjoy tequila flights and batched margaritas alongside your food.
Must-try items: El Gringo Beef Tacos, Steak Burrito "East L.A." Style, Tijuana Caesar Salad
Half Moon Seafood offers a menu that showcases responsibly sourced seafood, chicken, and an array of innovative sandwiches with a unique flair. 
Must-try items: Nashville Hot Fish sandwich, Po Boy
Coming Soon
Gordito's – serving up empanadas and shaved ice